South Korea to consider banning dog meat | World News
South Korea is launching a taskforce to consider making the consumption of dog meat illegal after the country's president offered to look into ending the practice.
The number of restaurants that serve dog meat in the country have fallen as younger people generally find it a less appetising dining option and pets are growing in popularity.
But recent surveys indicate more people oppose banning dog meat even if many do not eat it.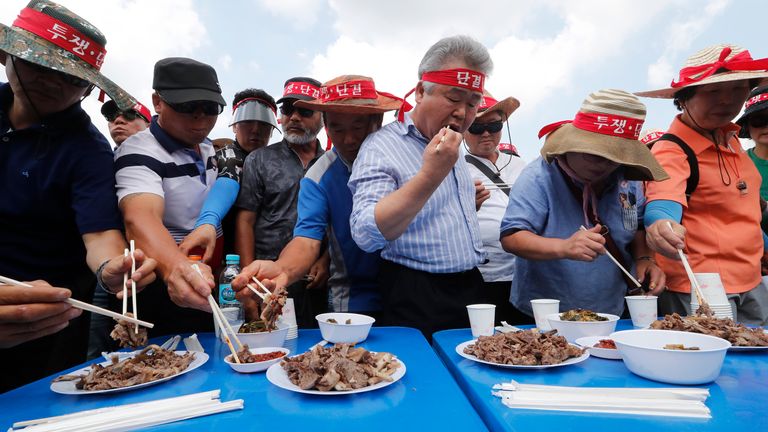 Seven government offices including the agriculture ministry said they decided to launch the group comprising officials, civilian experts and people from related organisations to deliver recommendations on potentially outlawing dog meat consumption.
It said authorities would collect information on dog farms, restaurants and other facilities while examining public opinion.
The statement said "public awareness of their basic rights and animal rights issues are tangled in a complicated manner" when it comes to dog meat.
Public opinion suggests "people have negative views both about eating dogs and legally banning it", it noted.
The government says the initiative does not necessarily guarantee a ban of the centuries-old practice, a stance that drew immediate protests from dog farmers and animal rights activists.
Farmers say the taskforce's launch is a formality to shut down their farms and dog meat restaurants, while activists insist the government's announcement lacks resolve to outlaw dog meat.
Ju Yeongbong, general secretary of an association of dog farmers, accused the government of "trampling upon" people's right to eat what they want and farmers' right to live.
Lee Won Bok, head of the Korea Association for Animal Protection, described the government's announcement as "very disappointing" because it did not include any concrete plans on banning dog meat.
About one million to 1.5 million dogs are killed each year for food in South Korea, a decrease from several million around 10-20 years ago.
Thousands of farmers raise up to two million dogs for meat, according to the association of dog farmers.
Mr Ju said the farmers, mostly poor, elderly people, wanted the government to temporarily legalise dog meat consumption for about 20 years, with the expectation that demand would gradually taper off.
But Lee said animal rights organisations wanted a more rapid end of the business.
"South Korea is the only developed country where people eat dogs, an act that is undermining our international image," he said.
"Even if the K-pop band BTS and the (Korean drama) Squid Game are ranked number one in the world, foreigners are still associating South Korea with dog meat and the Korean War."
He also accused many farmers of animal cruelty and other illegal activities when they raise and slaughter their dogs. However, Mr Ju argued activists "exaggerated" such information, and that it only applied to a small number of farms.
It comes after President Moon Jae-in, a dog lover, asked during a meeting with his prime minister in September "if it's time to carefully consider" a ban of dog meat, sparking a new debate.
Dog meat is neither legal nor explicitly banned in South Korea.
COVID-19: New coronavirus variant B.1.1.529 identified in Botswana as scientists play down concerns | World News
A new variant of the coronavirus with a "constellation" of mutations has been identified in Botswana.
Designated as B.1.1.529, scientists are still unclear whether existing antibodies would react well to the variant – which has 32 spike protein mutations.
Tom Peacock, a virologist at Imperial College London, branded the mutations "really awful".
Live COVID updates from across the UK and around the world
Just spotted: very small cluster of variant associated with Southern Africa with very long branch length and really awful Spike mutation profile including RBD – K417N, N440K, G446S, S477N, T478K, E484A, Q493K, G496S, Q498R, N501Y, Y505Hhttps://t.co/kgA9c1hKDa

— Tom Peacock (@PeacockFlu) November 23, 2021
Spike proteins are what viruses use to get into human cells, and some of the vaccines work by training the body to recognise the spikes and neutralise them.
Mutations on the spike can therefore potentially prove problematic for mRNA doses, like Pfizer and Moderna.
However, with only a handful of recorded cases – three in Botswana, six in South Africa and one in Hong Kong from someone who travelled from South Africa – scientists are hopeful that COVID cases caused by the new virus specimen will not be widespread.
Francois Balloux, professor of computational systems biology at University College London, said: "For the time being, it should be closely monitored and analysed, but there is no reason to get overly concerned, unless it starts going up in frequency in the near future."
She added that the "constellation" of mutations on B.1.1.529 could be because it "evolved during a chronic infection of an immunocompromised person, possibly in an untreated HIV/AIDS patient".
It comes amid reports that England may be nearer to the "end" of the pandemic than any other European country.
Scientists reckon that high vaccination and infection rates mean that a high level of immunity is now present.
According to The Times, scientists at the London School of Hygiene and Tropical Medicine estimate that – should all restrictions and vaccinations end immediately – England would have around 10,000 more COVID deaths relative to its population of 56 million.
How many Britons could die of COVID?

This compares to 114,000 estimated in Germany – population 83.2 million – and 16,000 in Greece – population 10.7 million.
Researchers did not directly study Wales, Scotland and Northern Ireland, but they expect similar figures to England.
According to Johns Hopkins University, the UK has had 144,728 COVID-related deaths, Germany 100,123 and Greece 17,612 so far.
Lloyd Chapman, from the London School of Hygiene and Tropical Medicine, said the reason for England having a better outlook going forward was due to higher infections previously.
Follow the Daily podcast on Apple Podcasts, Google Podcasts, Spotify, Spreaker
"In a sense we paid a very high price for being further along a path towards having a high level of immunity in the population," he said.
"Whether that was the right strategy or not, I think in a way only time will tell."
Channel deaths: Picture emerges of flimsy boat involved as French minister criticises UK | UK News
A picture of the flimsy boat involved in the death of 27 people in the Channel has emerged as the French interior minister attacked the UK's migration approach.
Gerard Darmanin said that Britain had handled the crisis badly, and that other countries such as Belgium and Germany could do more to help France tackle illegal migrants and human trafficking issues.
In an interview with French radio station RTL he said migrants are "often attracted" to the UK's job market and described the sinking of a migrant boat as an "absolute tragedy" – blaming human trafficking gangs who promise people the "El Dorado of England" for large sums of money.
Pregnant woman among the dead amid fears smugglers will continue trafficking in the coming weeks – live updates
Pregnant woman among the dead


Mr Darmanin did not have further information about the circumstances of the boat's capsizing, or the victims' nationalities, but said the two survivors were Somali and Iraqi and had been treated for severe hypothermia.
He also said a fifth suspected people trafficker was arrested overnight and the boat used to cross the Channel was purchased in Germany and had a German vehicle registration.
"Those responsible for the tragedy which took place yesterday in the Channel are the smugglers, who for a few thousand euros promise Eldorado in England. The smugglers are criminals, this tragedy reminds us, painfully," he said.
"It's an international problem… We tell our Belgian, German and British friends they should help us fight traffickers that work at an international level," Mr Darmanin added.
Five women, including one who was pregnant, and a girl were among the victims after their boat capsized in the water on Wednesday, with fishermen reporting more than a dozen bodies motionless in the sea.
Two people were rescued and four suspected people-smugglers arrested shortly afterwards.
The boat which sank was very flimsy, with Mr Darmanin likening it to "a pool you blow up in your garden".
Around 60 migrants – some of them in life jackets – were transferred on to buses at Calais's main train station on Thursday morning.
"Have these deaths changed your mind about getting to Britain?" Sky's Europe correspondent Adam Parsons asked one man as he passed. "No, no," he replied.
Parsons said: "The political debate may have intensified but the familiar sense of purpose and determination, which I've heard many times before among those trying to get across the Channel, seems unabated."
Franck Dhersin, the vice president of transport for the northern Hauts-de-France region, told French TV station BFMTV that heads of human trafficking networks who live comfortable lives in the UK must be arrested.
"In France what do we do? We arrest the smugglers…To fight them, there's only one way – we need to stop the organisations, you need to arrest the mafia chiefs," he said.
"And the mafia chiefs live in London… They live in London peacefully, in beautiful villas, they earn hundreds of millions of euros every year, and they reinvest that money in the City. And so it's very easy for the tax authorities to find them".
Follow the Daily podcast on Apple Podcasts, Google Podcasts, Spotify, Spreaker
French politician Bruno Bonnell said there are many reasons people are attracted to the UK.
"First the language, a lot of people have a basic understanding of English and they find it more comfortable finding a job there," he told Sky News.
"Plus they have heard from sources that the conditions are better," added the La Republique En Marche MP for Rhone.
Those who claim asylum in the UK are not normally allowed to work whilst their claim is being considered. They are instead provided with accommodation and support to meet their essential living needs.
The Home Office may grant permission to work to asylum seekers whose claim has been outstanding for more than 12 months through no fault of their own. Under this policy, those who are allowed to work are restricted to jobs on the shortage occupation list published by the department – which includes health services and the fields of science and engineering.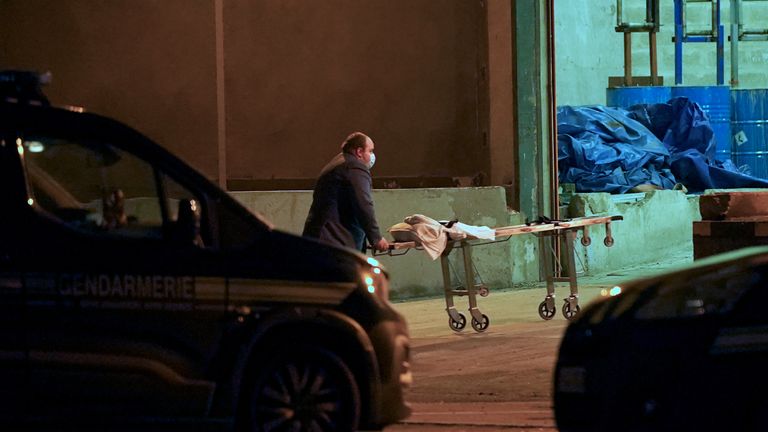 The Dover Strait is the world's busiest shipping lane and more than 25,700 people have completed the dangerous journey to the UK this year.
That's three times the total for 2020, according to data compiled by PA news agency.
The numbers have prompted some critics to blame Brexit while those in support of leaving the EU have questioned whether the UK has taken back its borders.
Migrant boat traced to Rotterdam shipyard

Home Secretary Priti Patel has previously said there is no "silver bullet" to solving the issue and the "only solution is wholescale reform of our asylum system".
In August, she promised to make the route across the Channel "unviable", but the number of people crossing in small boats has reached record highs.
The issue has become an increasingly tense subject for the UK and France, and each side has been blaming the other.
How does the UK handle immigration?

The government has accused the French of not stepping up patrols enough, despite giving them millions in extra funding to deal with the problem.
Prime Minister Boris Johnson spoke to French President Emmanuel Macron last night and Downing Street said they had agreed to "keep all options on the table".
Mr Johnson offered to host and to help with joint patrols, while Mr Macron has called for an emergency meeting of European ministers and an "immediate strengthening" of Frontex, the EU's border agency.
Sweden PM Magdalena Andersson resigns on first day in the job | World News
Sweden's first female prime minister has resigned after less than 12 hours in the job following the collapse of the coalition her party had formed.
Social Democrat Magdalena Andersson stepped down in the wake of the Green Party's decision to quit their two-party coalition due to parliament's rejection of the budget bill devised by the alliance.
She said she had told the speaker of parliament she hoped to be appointed prime minister again as the head of a single-party government, a prospect that appeared fairly likely given support from other parties.
"I have asked the speaker to be relieved of my duties as prime minister," Ms Andersson told a news conference.
"I am ready to be prime minister in a single-party, Social Democrat government."
The Green Party said it would support her in any new confirmation vote in parliament, while the Centre Party promised to abstain, which effectively amounts to the same as backing her candidacy.
The Left Party has also said it would support her.
Although these parties were unable to agree a budget, they are united in the goal of keeping the Sweden Democrats, a populist, anti-immigration party, from having a role in government.
"The Centre Party will open the door for her (Ms Andersson) to be prime minister," its leader, Annie Loof, said on Twitter.
"We will make sure, again, that Sweden can have a government that is not dependent on the Sweden Democrats."
The opposition right-wing Moderates and Christian Democrats are backed by the Sweden Democrats, but cannot secure a majority in parliament.
The fact that it has taken this long for Sweden to get a woman prime minister is considered embarrassing for many in a country that introduced universal suffrage 100 years ago and has long championed gender equality.
Neighbours Norway elected their first woman leader 40 years ago, while Sri Lanka was the first country in the world to do so in 1960.