COVID-19: What we know so far about B.1.1.529 variant that may make vaccines 'less effective' | World News
Vaccines could be less effective against a new COVID variant that UK scientists are "deeply concerned" about, says the health secretary.
Sajid Javid said B.1.1.529 could also be more transmissible and has banned travel from six African countries as a precaution.
Here's what we know so far.
How concerning is the variant?
It has 32 spike protein mutations, which means the current crop of vaccines may not be as effective at providing protection.
Spike proteins are what viruses use to get into human cells, and some of the vaccines work by training the body to recognise the spikes and neutralise them.
Mutations on the spike can therefore potentially prove problematic.
'Our scientists are deeply concerned' – Javid

Sajid Javid said it has "perhaps double the number of mutations that we have seen in the Delta variant".
Dr Tom Peacock, a virologist at Imperial College London, branded the mutations "really awful".
Another expert, Tulio de Oliveira, from the Network for Genomic Surveillance in South Africa, agreed that the "constellation" of mutations is a "concern for predicted immune evasion and transmissibility".
It's unclear at the moment whether the variant may cause more severe disease.
Epidemiologist Professor Neil Ferguson said B.1.1.529 is concerning but there is not yet an "evidence-based assessment of the risk" – such as to what extent it may cause a problem for vaccines.
Have any cases been found in the UK?
No – the good news is that only a handful have been detected across the globe and Dr Peacock emphasised cases are currently "super low".
So far, three have been found in Botswana, 53 in South Africa and one in Hong Kong – from someone who had travelled from South Africa.
Scientists are therefore hopeful it can be contained and the UK has acted early to try to stop any potential spread.
As well as banning travel from six countries – South Africa, Namibia, Lesotho, Botswana, Eswatini and Zimbabwe – people who've arrived from there in the last 10 days are being asked to get a PCR test.
It's important to note that it's normal for viruses to mutate, and often they can just die out.
How was the variant discovered?
It was found amid a rapid increase in COVID cases in South Africa in the past week.
They increased to more than 1,200 per day on Wednesday and 2,465 on Thursday, having previously been just over 200 per day.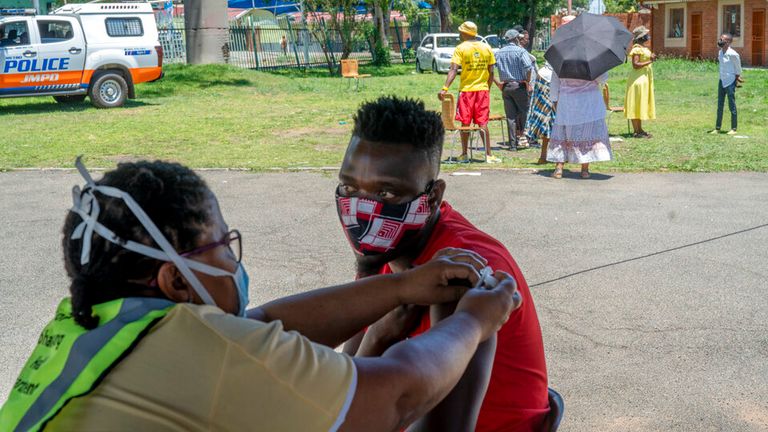 The first surge was in and around Pretoria, said South Africa health minister health minister Joe Phaahla, with clusters of cases linked to student gatherings.
Scientists examined the genomic sequencing of these new cases and discovered the variant.
Importantly, they are now looking at what percentage of this surge is the new B.1.1.529 variant.
Experts from seven South Africa universities are studying it and have 100 whole genomes. They also say the variant shows up using a PCR test.
What is the World Health Organisation saying?
It classed it among one of its eight variants under monitoring (VUM) on Wednesday, indicating it may pose a future risk.
Its technical working group is meeting again on Friday to discuss the latest.
The WHO may decide to upgrade it a variant of concern (VOC) – on par with established variants like Delta, meaning it has "global public health significance" – and issue guidance to member countries.
It may also classify it a less serious variant of interest (VOI), which indicates for example that it may affect transmissibility or disease severity.
Bitcoin 'flash crash' sees long positions worth $2bn closed by exchanges | Business News
A so-called "flash crash" for Bitcoin over the weekend has wiped out positions worth $2bn and left market experts pondering whether a wider reset for value has set in.
The world's largest cryptocurrency lost over a fifth of its value at one stage, taking the market capitalisation back below $1trn, after a broader flight from riskier assets kicked in on Friday.
Then, stock markets on Wall Street were among those hit in the wake of a weaker-than-expected report on the US labour market.
Experts also cited traditionally low trading volumes for crypto assets over weekends – a scenario that can exacerbate downward or positive value movements.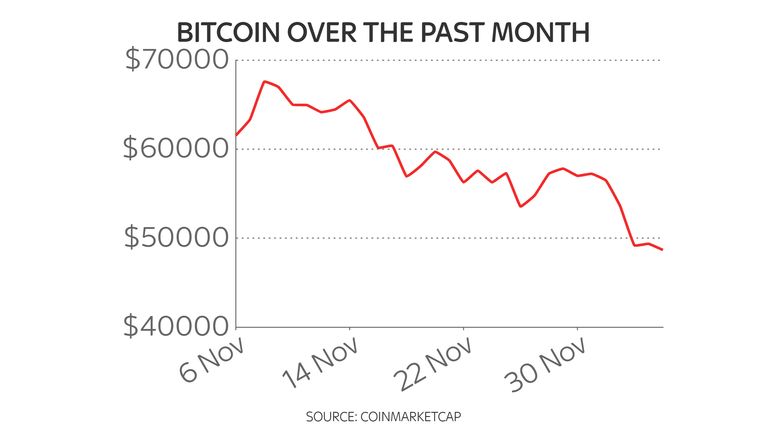 They said the weekend rout in Bitcoin's price and the amount invested in Bitcoin futures returned to levels last seen in October, just before a massive price surge that sent the token to an all-time high of $69,000.
The digital currency – which is no stranger to wild fluctuations in value – also started Monday on the back foot and was trading around the $47,000 mark on most exchanges.
Matt Dibb, from Singapore-based crypto fund distributor Stackfunds, said: "Our expectation is the rest of Q4 will be a hard month; we aren't seeing the strength in bitcoin that we generally see after one of these crushing days.
"Leverage markets have been completely reset, and open interest within leverage markets has completely reset."
Coinglass, the cryptocurrency futures trading and information platform, said that as prices fell on Saturday, investors who had bought bitcoin on margin saw exchanges close their positions, causing a cascade of selling.
A range of retail-focused exchanges closed more than $2bn of long bitcoin positions.
Susannah Streeter, senior investment and markets analyst at Hargreaves Lansdown, said of the plunge: "The cryptocurrency is highly sensitive to the fortunes of the stock market and traders were spooked by a stock sell off in the US, following some disappointing jobs figures.
"The sharp fall erased the last two months of gains, yet more evidence of the highly volatile nature of the asset.
"Crypto coins and tokens have been propelled higher in this era of ultra-cheap money and as speculation swirls about just when central banks will start further tightening mass bond buying programmes and start raising interest rates, they are likely to continue to be highly volatile."
Berlin techno music scene should be protected by Unesco world heritage status, say campaigners | World News

DJs and music fans are hoping to secure Unesco world heritage status for Berlin's techno culture amid ongoing fears it could struggle to survive.
Music fans from across the world still travel to the German capital to visit renowned clubs such as Tresor and Berghain – and a growing campaign is calling on the authorities to apply to Unesco to protect the countercultural genre.
Techno's popularity grew in Germany after the fall of the Berlin Wall with abandoned sites such as power plants and factories providing the setting for clubbers to musically express their freedom.
Although still seen as the world capital for the music genre, there are fears the COVID pandemic and the rising value of the city's real estate will threaten its existence.
Some estimates say around 100 clubs have closed in the last decade in a city which first adopted the techno sound after its emergence in Detroit in the 1980s.
Berlin's creative scenes are the 'city's currency'
Detroit DJ, Alan Oldham, who is now based in Berlin, said recognition from Unesco would help to protect key venues.
He told the Observer: "Unesco protection would go a long way towards maintaining that old spirit.
"Legacy venues like Tresor and Berghain for example would be protected as cultural landmarks.
"So many venues have closed in just the seven years I've lived here full-time.
"In other cities, it would be the natural club cycle at work, but Berlin is a different kind of place, where the club and creative scenes are the currency of the city."
Support has been growing for the campaign spearheaded by Berlin-based organisation Rave The Planet, which says the techno scene should be "protected by Unesco as an intangible cultural heritage".
If Unesco status is granted, clubs would get extra protection under planning laws and there would also be access to subsidies and other funding.
Omicron: Curve of COVID cases driven by new variant 'much steeper' than previous waves, professor warns | World News
A curve of new COVID cases – driven by the Omicron variant – is "much steeper" than previous waves, the director of the Africa Health Research Institute has warned, as South Africa prepares its hospitals for more admissions.
Speaking to Sky News, Professor Willem Hanekom said: "The wave that we are in at the moment is much steeper than the curve was for previous waves."
He said "reinfections seem to be more common during this wave so far," which he said "suggests that the virus may resist some aspects of the immunity that we have to protect ourselves".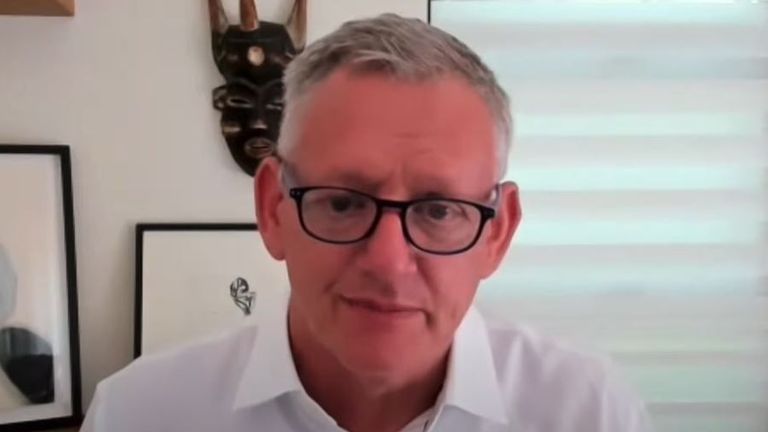 Professor Hanekom explained that the profile of Omicron patients "seems to be slightly different," in that younger people are becoming sick, especially those who have not been vaccinated.
But he said those who have been vaccinated "have been having a milder disease than one would anticipate".
"So that is probably good news and a reason to go and get vaccinated, because it appears that the vaccine will still protect against severe disease and death," he added.
South Africa is preparing its hospitals for more admissions as the Omicron variant pushes the country into its fourth wave of COVID-19 cases, President Cyril Ramaphosa said on Monday.
Daily infections surged last week to more than 16,000 on Friday, up from around 2,300 on Monday.
Mr Ramaphosa said Omicron appeared to account for the majority of new cases in most of the country's nine provinces.
Health Secretary Sajid Javid announced that Nigeria will be added to the UK's travel red list from Monday at 4am

"South Africa now has sufficient supplies of vaccines… vaccination is essential for our economic recovery because as more people are vaccinated more areas of economic activity will be opened up," he said in a weekly newsletter.
Professor Hanekom echoed Mr Ramaphosa's remarks, saying "virtually all the virus that we have in South Africa is now Omicron."
He added: "But it appears as if the disease in those that have been vaccinated is relatively mild.
"So the message I think that needs to be out there is that if you can get vaccinated, you should get vaccinated.
"This is the best way to protect yourself against severe disease. So if you have access, for example, to the booster dose, go and get that booster dose."
Mr Ramaphosa also said South Africa's government will soon convene the National Coronavirus Command Council to review the state of the pandemic and consider whether further measures are needed to keep people safe.
"We are keeping a close eye on the rates of infection and hospitalisation," he said.