Channel deaths: Boris Johnson sets out five-point plan to address crossings following tragedy | Politics News
Boris Johnson has offered to work with France to "move further and faster" in order to tackle small boat crossings and avoid a repeat of the "appalling tragedy" in the Channel that left 27 people dead.
The prime minister has written to President Emmanuel Macron and set out five steps he thinks both sides should take "as soon as possible".
Mr Johnson's letter comes after 27 people – 17 men, seven women and two teenage boys and a girl – died near Calais on Wednesday while trying to cross the English Channel to the UK in a flimsy boat.
Tonight I have written to President Macron offering to move further and faster to prevent Channel crossings and avoid a repeat of yesterday's appalling tragedy which claimed the lives of at least 27 people.

1/8

— Boris Johnson (@BorisJohnson) November 25, 2021
The PM's five-point plan entails:
• Joint patrols to prevent migrant boats from leaving French beaches
• Using more advanced technology such as sensors and radar
• Carry out reciprocal maritime patrols in each nation's territorial waters and utilise airborne surveillance
• "Deepening the work" of the Joint Intelligence Cell and ensuring there is better intelligence sharing to drive more arrests and prosecutions
• Committing to "immediate work" to strike a bilateral returns agreement between Paris and London, as well as discussions on a UK-EU agreement
"If those who reach this country were swiftly returned the incentive for people to put their lives in the hands of traffickers would be significantly reduced," Mr Johnson said.
"This would be the single biggest step we could take together to reduce the draw to Northern France and break the business model of criminal gangs.
"I am confident that by taking these steps and building on our existing cooperation we can address illegal migration and prevent more families from experiencing the devastating loss we saw yesterday."
The PM said that having spoken to the French president in the wake of Wednesday's tragedy "I know President Macron recognises, as I do, the urgency of the situation we are both facing".
Home Secretary Priti Patel will meet French Interior Minister Gerald Darmanin this weekend to discuss the migrant crisis, along with counterparts from Germany, Belgium and the Netherlands.
In his letter to Mr Macron, Mr Johnson said he was ready to "upgrade this meeting to a leaders' level summit or to arrange further bilateral discussions with you or with colleagues".
Ms Patel and her French counterpart spoke on the phone on Thursday to "put forward plans for greater collaboration and innovation in stopping these deadly crossings".
Home Office officials and law enforcement officers will be in Paris on Friday to "intensify joint co-operation and intelligence-sharing".
Ms Patel, who is under pressure on the issue after promising in August 2020 to make the route across the English Channel "unviable", also renewed an offer to send British officers to join patrols on French beaches.
'No quick fix' to migrant crisis

The home secretary earlier told the Commons there is "no quick fix" to tackling the crossings.
"This is about addressing long-term pull factors, smashing the criminal gangs that treat human beings as cargo and tackling supply chains," she said.
Mr Macron said he was requesting more assistance from the UK.
"We are going to ask for extra help from the British because all these men and these women don't want to stay in France," he said.
Only five migrant returns in 2021, admits minister

"We tell them they're obviously able to do so, and there are centres in Calais and Dunkirk where they can go, but we're going to reinforce in fact saving them at sea."
Natacha Bouchart, mayor of Calais, laid the blame for the crisis at the door of the British and called on Mr Johnson to "face up to his responsibilities".
"The British government is to blame. I believe that Boris Johnson has, for the past year and a half, cynically chosen to blame France," she said, according to French media reports.
And Franck Dhersin, vice president of transport for the northern Hauts-de-France region, said the "mafia chiefs" who spearhead the trafficking networks live in the UK and must be arrested.
Coastguard alerts ships to Channel boat sinking

Wednesday's loss of life is the worst of the migrant crisis, which has seen numbers reaching the UK by sea increase from 8,417 in 2020 to more than 25,000 so far this year.
New figures from the Home Office show that asylum claims in the UK are at their highest level for almost 20 years, with more than 37,500 claims made in the year to September.
A government minister revealed last week that just five people had been returned to Europe after crossing the sea on small boats.
Deportations as a whole – not just for people who cross the Channel – are at an historic low.
In the year to June 2021 they decreased to 2,910 – less than half the previous year. The government blamed the drop on the pandemic.
COVID-19: What we know so far about B.1.1.529 variant that may make vaccines 'less effective' | World News
Vaccines could be less effective against a new COVID variant that UK scientists are "deeply concerned" about, says the health secretary.
Sajid Javid said B.1.1.529 could also be more transmissible and has banned travel from six African countries as a precaution.
Here's what we know so far.
How concerning is the variant?
It has 32 spike protein mutations, which means the current crop of vaccines may not be as effective at providing protection.
Spike proteins are what viruses use to get into human cells, and some of the vaccines work by training the body to recognise the spikes and neutralise them.
Mutations on the spike can therefore potentially prove problematic.
'Our scientists are deeply concerned' – Javid

Sajid Javid said it has "perhaps double the number of mutations that we have seen in the Delta variant".
Dr Tom Peacock, a virologist at Imperial College London, branded the mutations "really awful".
Another expert, Tulio de Oliveira, from the Network for Genomic Surveillance in South Africa, agreed that the "constellation" of mutations is a "concern for predicted immune evasion and transmissibility".
It's unclear at the moment whether the variant may cause more severe disease.
Epidemiologist Professor Neil Ferguson said B.1.1.529 is concerning but there is not yet an "evidence-based assessment of the risk" – such as to what extent it may cause a problem for vaccines.
Have any cases been found in the UK?
No – the good news is that only a handful have been detected across the globe and Dr Peacock emphasised cases are currently "super low".
So far, three have been found in Botswana, 53 in South Africa and one in Hong Kong – from someone who had travelled from South Africa.
Scientists are therefore hopeful it can be contained and the UK has acted early to try to stop any potential spread.
As well as banning travel from six countries – South Africa, Namibia, Lesotho, Botswana, Eswatini and Zimbabwe – people who've arrived from there in the last 10 days are being asked to get a PCR test.
It's important to note that it's normal for viruses to mutate, and often they can just die out.
How was the variant discovered?
It was found amid a rapid increase in COVID cases in South Africa in the past week.
They increased to more than 1,200 per day on Wednesday and 2,465 on Thursday, having previously been just over 200 per day.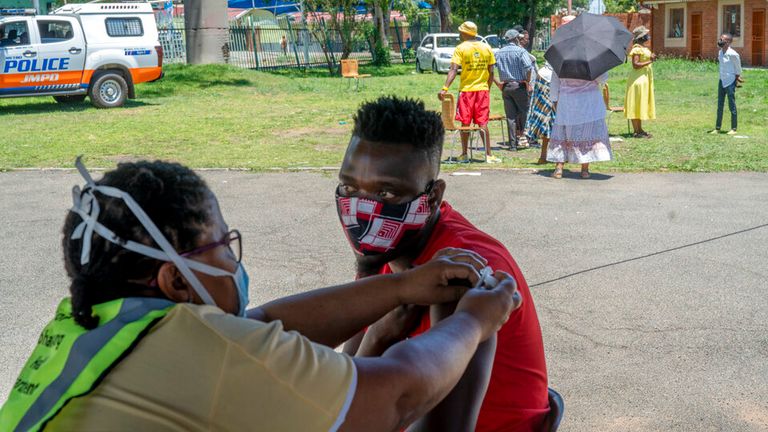 The first surge was in and around Pretoria, said South Africa health minister health minister Joe Phaahla, with clusters of cases linked to student gatherings.
Scientists examined the genomic sequencing of these new cases and discovered the variant.
Importantly, they are now looking at what percentage of this surge is the new B.1.1.529 variant.
Experts from seven South Africa universities are studying it and have 100 whole genomes. They also say the variant shows up using a PCR test.
What is the World Health Organisation saying?
It classed it among one of its eight variants under monitoring (VUM) on Wednesday, indicating it may pose a future risk.
Its technical working group is meeting again on Friday to discuss the latest.
The WHO may decide to upgrade it a variant of concern (VOC) – on par with established variants like Delta, meaning it has "global public health significance" – and issue guidance to member countries.
It may also classify it a less serious variant of interest (VOI), which indicates for example that it may affect transmissibility or disease severity.
Channel deaths: People smugglers touting openly on Facebook | UK News
Finding a route across the channel is as easy as typing "smuggler" into Facebook.
Far from being a hidden world, Sky News has found that a network of smugglers is operating openly on the social media platform.
Routes into Europe and the UK are regularly highlighted, with posts featuring images of the Union Jack and Big Ben.
One smuggler even claimed he would be able to make customers a British passport.
It comes as 27 people died while attempting to cross the Channel, one of the worst death tolls in recent years.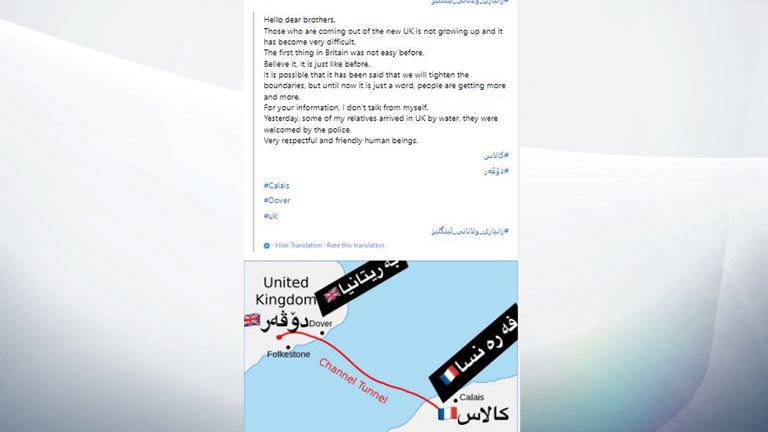 Many who attempt the crossing come from counties including Iran, Syria and Iraq, with high numbers of Iraqi Kurds attempting to make the dangerous journey.
Sky News searched Facebook for terms written in Kurdish and Arabic such as "smuggler" and "UK visa", as well as locations such as Calais, Dunkirk and England.
These results brought up smugglers advertising the routes, listing their phone numbers and inviting people to message them privately for more information, such as costs.
There is no suggestion Facebook is taking any revenue for the content.
This post claims customers will be able to legally travel into the UK within three days and that the journey will be done in the "best, safest and easiest way".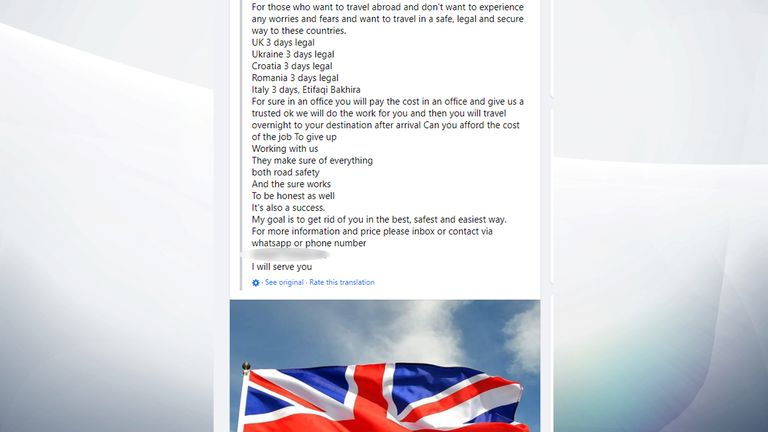 One of the most prolific smugglers posting onto Facebook is a man who says he lives in the Kurdish region of Iraq.
He claims to be able to get migrants into a number of countries, including the UK. In this advert he promotes a route from Dunkirk to the United Kingdom at "a reasonable price".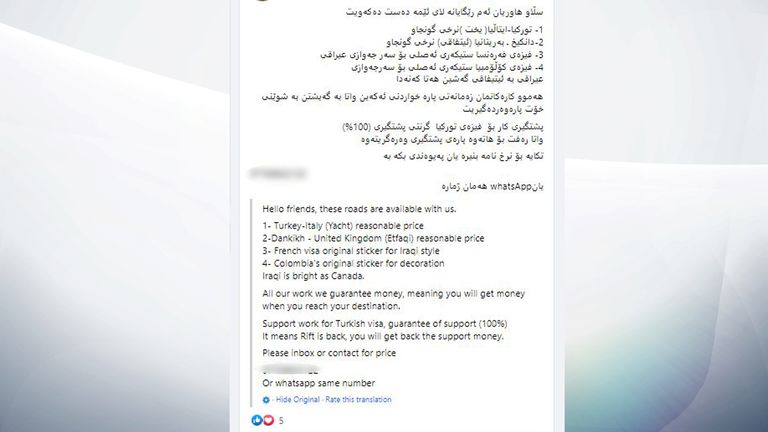 On his Facebook profile, he describes himself as putting "trust before profit". His cover photo – a photo at the top of the page – is of a passport and boarding card.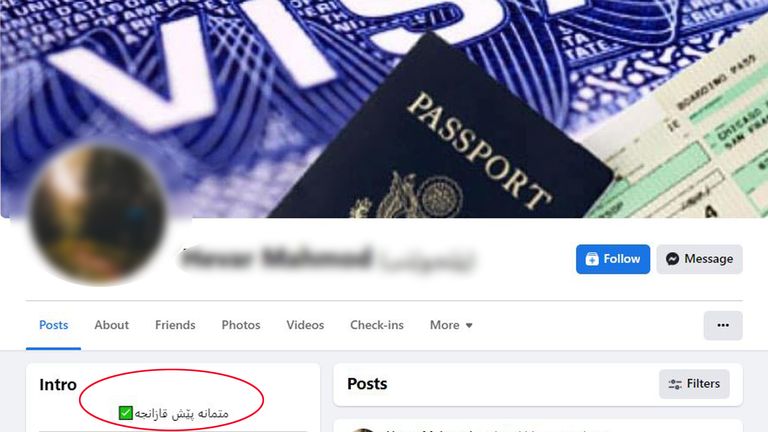 He often posts several adverts a week, many with the same wording. In his adverts he claims to offer guarantees as well as being able to deliver "the lowest price and the shortest time".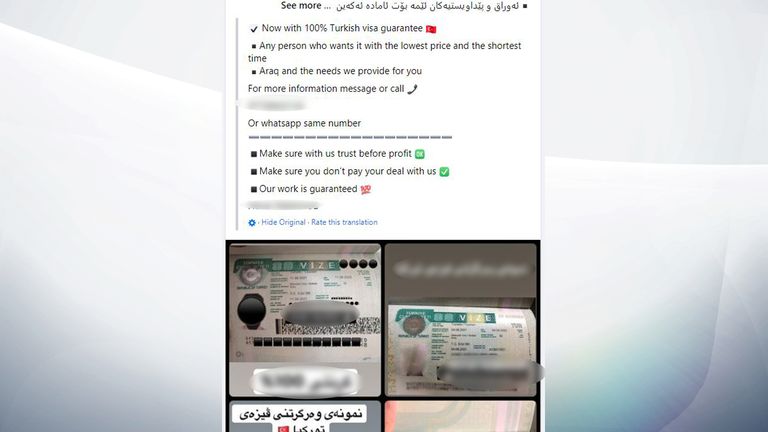 To encourage prospective customers, the smuggler has posted a number of passports and visas he claims to have secured.
Like many other smugglers on the platform, he uses photos of landmarks to help catch people's attention.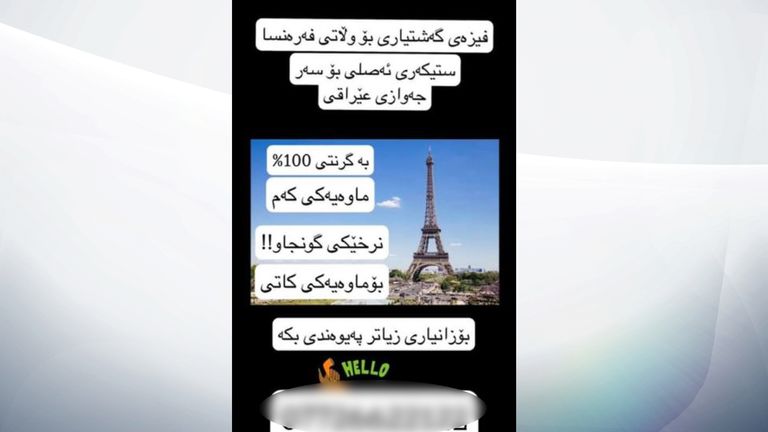 Here, a different smuggler posts his advert alongside pictures of the Union Jack and Big Ben. In his post he claims he will be able to "make you a British passport".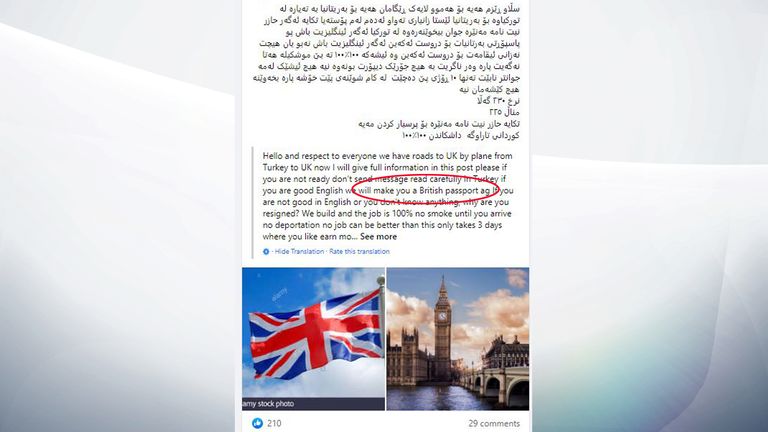 His offer is eye-catching, with 210 people liking the post and almost 30 comments posted beneath it.
"Hello brother, I want to talk to you," one man writes. "My dear brother, inbox me", the smuggler writes back, inviting him to send him a direct private message.
Images of European flag carrier planes are also used.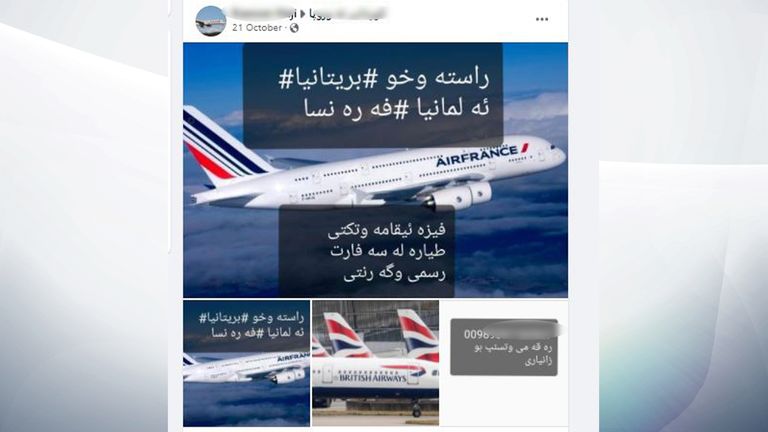 In this advert, a smuggler features both British Airways and Air France planes. The final image in his post includes a phone number to call. The photos of the airlines are used without permission and there is no indication that British Airways or Air France are aware the images are being used in this way.
Some adverts do not rely on promises, guarantees and glossy images of the UK. One smuggler simply posts that he can take people from France to Britain and provides a number.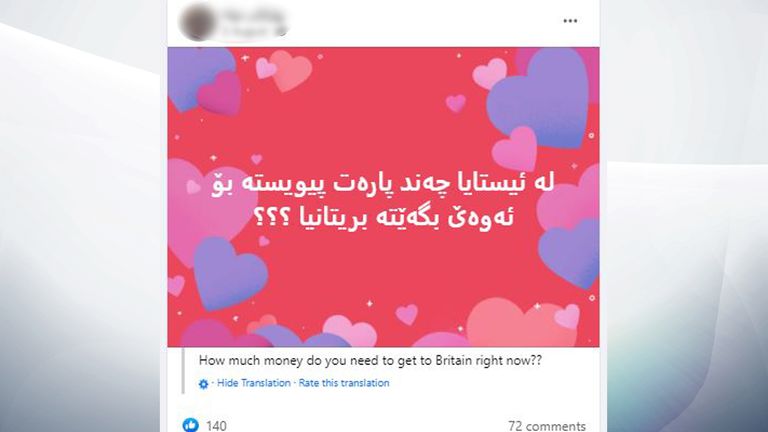 Many adverts are posted into pages used primarily for other reasons, ranging from general community pages to those for an electronic goods store.
However, some pages are set up specifically to discuss smuggling and attract those looking to get into the UK and elsewhere.
One example of this is a group page called "Smuggling to Europe with a guarantee". Its profile and cover photos are images of migrants taken from news sites. It has almost 800 members.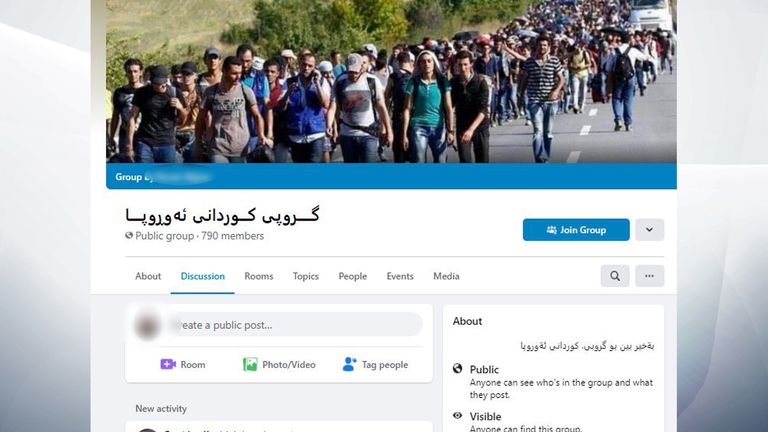 One of the page's most recent posts was published on 10 November and is of a video showing migrants in Dunkirk, France.
Another video shared on these pages includes one from social media app TikTok. It shows part of the journey between Calais and the UK.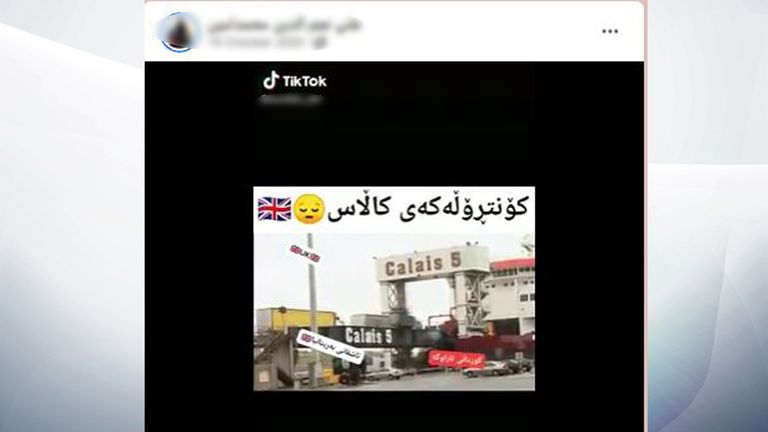 It's not just smugglers posting adverts. People post questions about costs and routes. They also share news about other migrant crossings.
One man asks if a German visa would enable him to enter Britain. A profile which appears to belong to a smuggler replies that it wouldn't work. The first man adds if a person can get to Germany, they could attempt to get to the UK "by foot".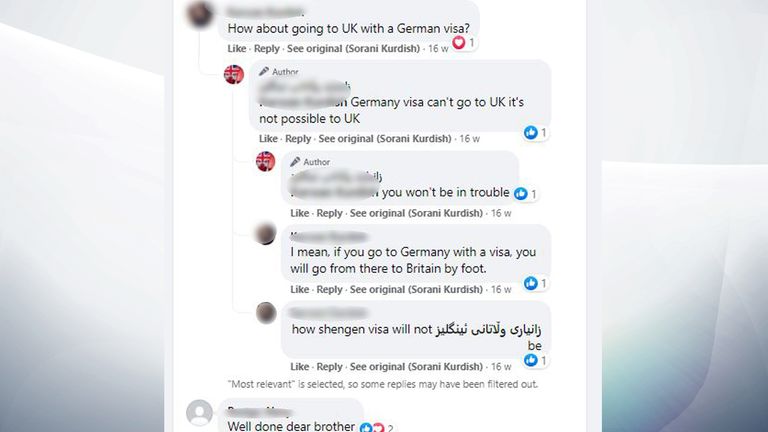 Another man asks how much it costs to get into Britain.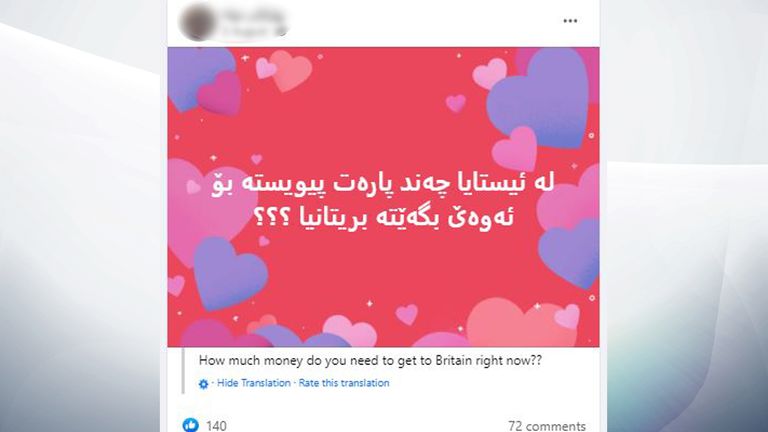 Another shares the news of the high number of migrants who died on Wednesday.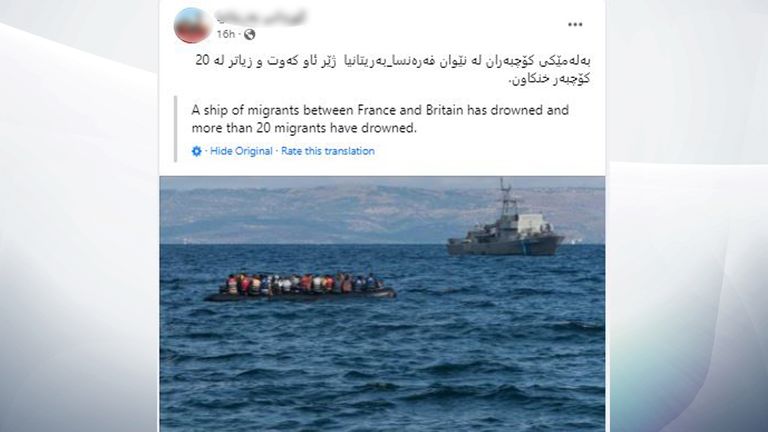 Five months ago, Priti Patel wrote to social media companies including Facebook, TikTok, Twitter and YouTube. She said more needed to be done to remove posts that are "glamourising" dangerous migrant crossings.
A spokesperson for Meta, who own Facebook, told Sky News: "Our thoughts go out to all those affected by these tragic events.
"Co-ordinating people smuggling is not allowed on Facebook and we work with law enforcement to tackle it.
"We use a combination of AI technology, human review and reports from our users and trusted partners to detect and remove posts like this."
Sky News understands the pages brought to the attention of Facebook are now under investigation and will be removed if they are found to have violated the platform's policies.
---
The Data and Forensics team is a multi-skilled unit dedicated to providing transparent journalism from Sky News. We gather, analyse and visualise data to tell data-driven stories. We combine traditional reporting skills with advanced analysis of satellite images, social media and other open source information. Through multimedia storytelling we aim to better explain the world while also showing how our journalism is done.
Channel deaths: What are the options for combatting the crisis? | Politics News
More than 25,000 people have made the perilous journey to the UK in small boats this year with politicians on both sides of the Channel under fresh pressure to prevent people putting their lives at risk.
In the summer of 2019, Prime Minister Boris Johnson and Home Secretary Priti Patel promised action to limit the number of Channel crossings to the UK by prospective migrants.
But, more than two years later, the number of people making successful journeys has soared to record levels, while some are losing their lives in other attempted crossings.
Those deaths are piling pressure not only on Mr Johnson and Ms Patel, but also French President Emmanuel Macron.
France's authorities are accused of not doing enough to disrupt people smuggling gangs and to prevent people attempting Channel crossings.
Here, Sky News takes a look at some of the measures being called for to combat the crisis:
New UK asylum laws
A key plank of the government's proposed new immigration legislation, the Nationality and Borders Bill, is aimed at deterring illegal entry into the UK, breaking the business model of criminal trafficking networks, and saving lives.
The proposed legislation would, in effect, create a two-tier system of asylum claims in the UK.
Under the government's plans, whether people enter the UK legally or illegally will have an impact on how their asylum claim progresses, and on their status in the UK if that claim is successful.
Ms Patel has said she wants to "create safe and legal routes" for those fleeing persecution, but that those who enter the UK illegally will no longer have the same entitlements as those who arrive legally.
Refugee: Why I fled to UK

Those who arrive illegally, but still manage to successfully claim asylum, will receive a new "temporary protection status" rather than an automatic right to settle.
People entering illegally will also have limited family reunion rights and reduced access to benefits.
The government hopes the differentiation between asylum seekers who use "legal" and "illegal" routes will help deter people from making journeys across the Channel in small boats in the first place.
Use 'pushback' tactics
Countries such as Australia, Greece and Italy have used "pushback" tactics in recent years to turn around migrant boats heading towards their shores.
The UK's Border Force has been training to use the tactics after being authorised to do so by Ms Patel.
However, critics have said the tactics are cruel, unsafe and breach international law.
Immigration minister Kevin Foster has kept the door open to using such tactics in the Channel, stressing that "any maritime tactics would be deployed appropriately" and as determined by commanders.
Increase pressure on France
In July this year, the UK agreed to give France £54m to help expand the country's efforts to stem the number of small boats crossing the Channel.
The Home Office said, as part of the deal, the number of police patrolling French beaches would more than double.
With Channel crossings having now reached record levels, it has been argued that the UK is seeing little value for its investment and that pressure should be increased on France to demonstrate how it is using the cash.
Some Conservative MPs have accused the government of "throwing good money after bad" after previous cash also failed to limit the number of crossings.
And some have also argued France should be responsible for the costs.
However, it is unclear how much of the £54m France has actually received, with suggestions it had received less than one-third of the sum so far.
Put British police in France
The prime minister has renewed a previous offer to send UK police and Border Force officers to France in order to mount joint patrols with their French counterparts.
France has rejected that offer on the grounds that it would impede on their sovereignty.
But the UK government is said to be hoping France could reconsider its stance if the situation in the Channel continues to worsen.
New returns agreements with EU countries
The UK government recently admitted that just five migrants who crossed the Channel by boat to the UK had been returned to European countries so far this year.
It has led to accusations that the ability of the UK to return migrants to the EU has got "substantially worse" following the end of an asylum agreement with the bloc after Brexit.
Home Office minister Tom Pursglove told MPs that there had been "some difficulties around securing returns" but he also blamed the impact of the COVID pandemic.
He added the government retains an "ambition" to secure returns agreements with European countries as well as, potentially, the EU itself.
Migrants promised 'El Dorado' in England

Under the EU's "Dublin arrangements", the UK used to be able to ask other member states to take back people they could prove had passed through safe EU countries on their journey to Britain.
However, since Brexit, the UK no longer has such a returns arrangement.
It has been suggested that, with a viable returns arrangement, migrants would be less inclined to journey across the Channel if they believed they could soon be returned to France or other EU countries.
Yet, it is worth noting that even before the UK left the EU, the total number of Dublin transfers that took place was a small fraction of the total number of asylum seekers.
According to the Migration Observatory, in the five-year period between 2016 to 2020, around 194,000 people applied for asylum in the UK – while there were only around 1,250 Dublin transfers out of the country.
Create safe routes
The Joint Council for the Welfare of Immigrants (JCWI) is among a number of charities to have proposed the creation of safe and legal routes for asylum seekers to enter the UK from France.
This would help discourage many from choosing to take the perilous option of crossing the Channel in a small boat.
The JCWI has said that there is an opportunity to "end 30 years of tried, tested and failed policies that have left migrants dead, in limbo, and in the hands of smugglers and traffickers".
Labour is also calling for safe and legal routes for refugees, including the reopening of the "Dubs scheme".
Named after its proponent, the Labour peer Lord Dubs who was among Jewish children to escape the Nazis in the 1930s, the scheme brought unaccompanied child refugees to the UK from Europe following the Syrian refugee crisis.
The government has since closed the scheme, with a total of 478 children transferred to the UK.
Patel: 'No quick fix' over channel crossings

Amid the calls for the creation of new safe and legal routes between the UK and France, Ms Patel has said that people should claim asylum in the first safe country they reach and that "nobody needs to flee France in order to be safe".
Instead, the home secretary has not ruled out sending asylum seekers abroad to third countries while their claims are processed in the UK.
Gibraltar, the Isle of Man and Albania have all been touted as the location of possible processing centres, although each of them have strongly rejected those suggestions.
The theory is that by moving to an "offshore" system of processing asylum applications, people making claims will be less likely to try and get to the UK.
It would follow the example of Australia.
However, as well as human rights concerns and the possibility of a legal challenge, the plans have been dismissed as hugely costly.
Afghanistan resettlement scheme
It has been reported that some of those who are attempting to cross the Channel are Afghans who have fled their country following the Taliban takeover.
According to The Times, among those recently rescued from a boat in the Channel was an Afghan soldier who had worked with British forces.
His family had decided to risk their lives crossing the Channel after they "waited so long for help" from Britain, the newspaper said.
Following the initial "Operation Pitting" evacuation effort from Kabul in the immediate wake of the Taliban takeover, the UK government also promised to take in up to 20,000 refugees under the Afghan Citizens Resettlement Scheme.
However, more than three months after the Taliban entered Kabul, the scheme is still not open.
Restore the UK's foreign aid commitment
Labour has linked government cuts to the UK's foreign aid budget (from 0.7% to 0.5% of gross national income) to the Channel crisis.
The cuts are claimed to have reduced the amount of work being done to lessen the "push" factors that prompt people to travel the world in seek of asylum in the first place.
Shadow minister Jo Stevens told Sky News: "People are fleeing other countries, they haven't originated in France in terms of their journey.
"This is an international problem for the international community.
"The government has shut down the Department for International Development, which is the very department that works with other countries to stop people fleeing, or help people that have to flee from other countries in the first place because they are in fear of their lives."
Clear the asylum backlog
Recent figures have shown that the backlog of asylum cases in the UK is at a record high.
A total of 67,547 asylum applications were awaiting an initial decision at the end of September – up 41% year-on-year and the highest since current records began in June 2010.
A further 3,261 were awaiting a review, which includes some of those waiting to receive decisions about appeals.
Arrests should be made before tragedies – Starmer

Some 62% of cases (44,018) have been waiting for an initial decision for more than six months.
There have been calls for more investment in the asylum system to clear the backlog and to shorten the amount of time that people's cases take to be dealt with.
Ditch human rights law
The prime minister's former chief adviser, Dominic Cummings, has argued that human rights law should be "set aside" in order to deal with the Channel crossings crisis – a view that has been echoed by some Tory MPs.
It has been claimed that removing human rights obligations would allow the UK to take a tougher stance on migration issues.
However, any reform to human rights law would be politically tricky and hugely controversial for the government.