Wine up 15% in a day, chicken by 10%. The price Turks are paying for country's currency collapse | Business News
Istanbul's sky is as gloomy as the mood in the households and on the streets of Turkey.
It may look like business as usual but for many the recent developments have taken a toll.
Prices had already hiked during the pandemic. Packaged goods shrunk and prices increased but there was not a single empty shelf. Compared to the western world, Turks prided themselves with not having to fight for toilet paper or masks.
But today the recent change in interest rates policy and the unorthodox economic strategy is impacting the exchange rate sinking the national currency to an all time low. Turks may not earn their wages in foreign currency but their currency is melting like ice on a summer day and prices increase by the week.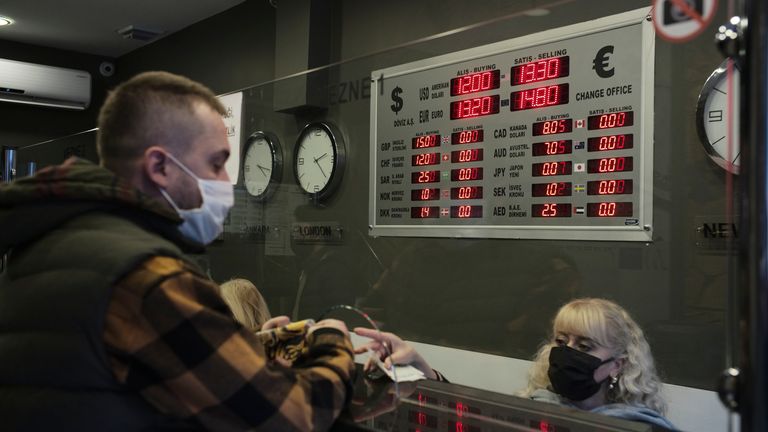 It feels like it is nearly every day.
A bottle of wine I bought the day before had increased by 15%. It is hard to keep up.
The Twitter universe is joking about a new trending profession, "price taggers". They are needed to get prices up to date in all shops and supermarkets.
Ibrahim Koksal is a tiny shop owner in Yeniköy. He has a tiny "bodega" store that sells as many items as possible from cigarettes to batteries as well as fast food he cooks on the go. Running from his food stall to his cashiers' desk all with a smile.
He has been a small shop owner since 1993 and admits the price increases have hit him, his household and his business as well as his customers.
"I cannot reflect the 10% increase from this morning on the chicken and cheese I use in my sandwiches.
"Because the business is so slow, it would scare off my last customers," he tells me very honestly. "I have to create some turnover but I am losing from my profit".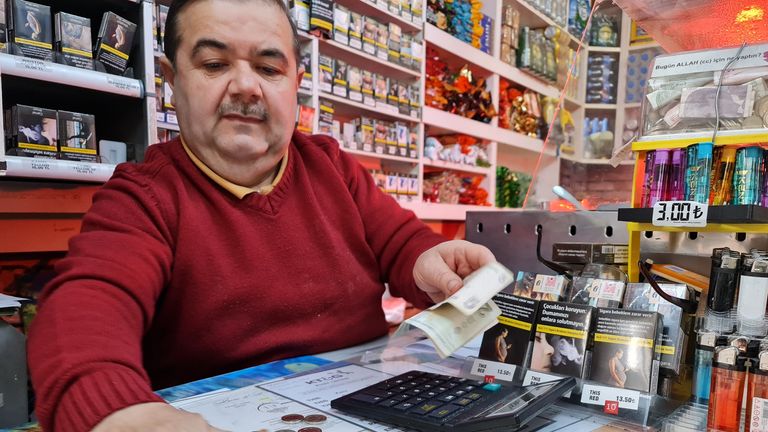 When asked about what he thinks the reason for the current economic situation is, Ibrahim says: "Our neighbours are jealous. This is what I think". He repeats President's Erdoğan's rhetoric of waging an independence war. It will demand time and sacrifice, a sacrifice he is prepared to make.
He does not believe in an early election or the ability of the opposition parties to handle the task.
Ibrahim says Erdoğan is working for the country against everyone – and he stands by him.
I meet 41-year old Özgür who owns a jewellery shop on the main Street in Yeniköy.
I am the second person who enters the shop in an hour. For Özgür, he is witnessing the slowest business since during the pandemic.
"I have made half of what I usually earn this last month. The price fluctuation between yesterday and today is over 10%.
"This is untenable. In my professional life I have never seen anything like the last 10 days we went through. Our customers do not know what to do. They are waiting to see what will happen."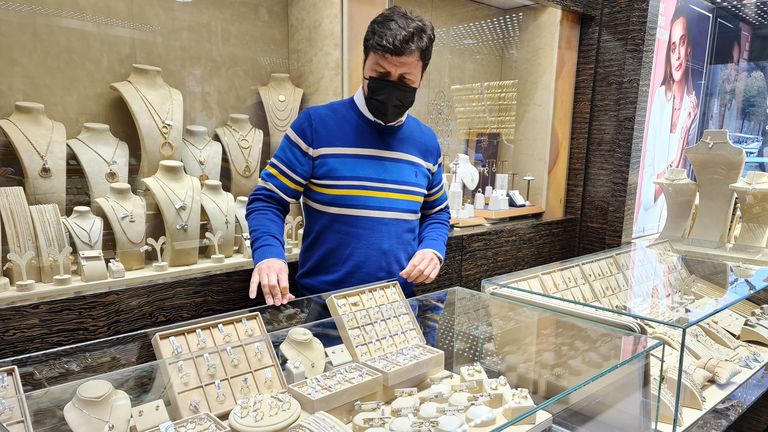 For Özgür, there is a definite need for stability, and a need to stop the obstinate stand with the interest rates.
I ask if he thinks an election would be the solution: "I think we may see an election this summer. I think if the opposition gets elected there might be some easing of the tensions. But we need to come back to stability."
It is a sentiment shared by everyone in supermarkets, shops, pharmacies – the conversations are one of worry of the unknown.
Many feel free to voice their worry like Özgür or Ibrahim, but the everyday housewife does not want to answer any questions, "Don't you see what is happening?" they all say.
In a matter of weeks, their shopping cart has suffered from the price hikes.
They feel they are paying twice the price and get half of what they used to buy. They do not want to comment, they want to go back to how it was.
According to President Erdoğan, a positive impact will be felt in a few months but there is a very tough winter ahead.
Up to 350 people trapped on roof as fire breaks out at Hong Kong's World Trade Centre, police say | World News
Up to 350 people are trapped on the roof of Hong Kong's World Trade Centre after a major fire broke out in the skyscraper, police have said.
The fire started to rip through the 38-story building, which houses both offices and a mall, in the bustling commercial and shopping district of Causeway Bay early on Wednesday afternoon.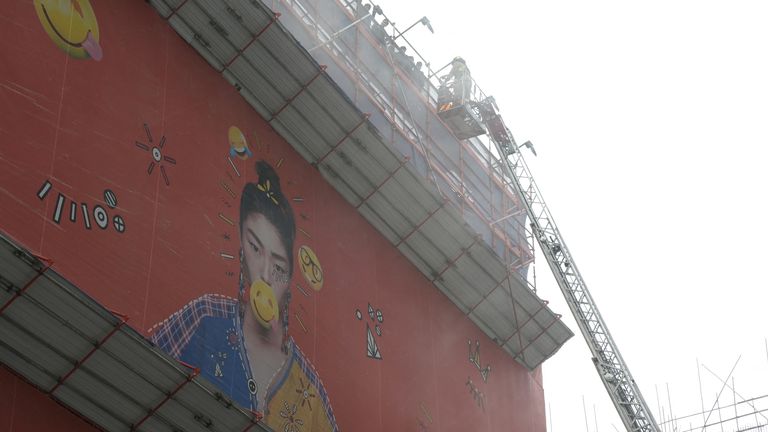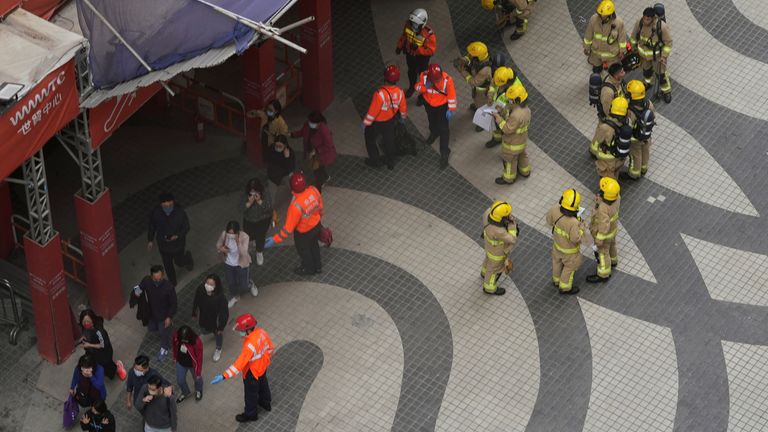 At least one person has been injured and taken to hospital.
Police also said 150 people are currently awaiting rescue.
Other people were said to be trapped in restaurants in the mall, according to the local South China Morning Post newspaper.
The blaze was also upgraded to a level three incident on a scale of one to five.
Hong Kong's government said firefighters were battling the fire with two water jets and had deployed breathing apparatus.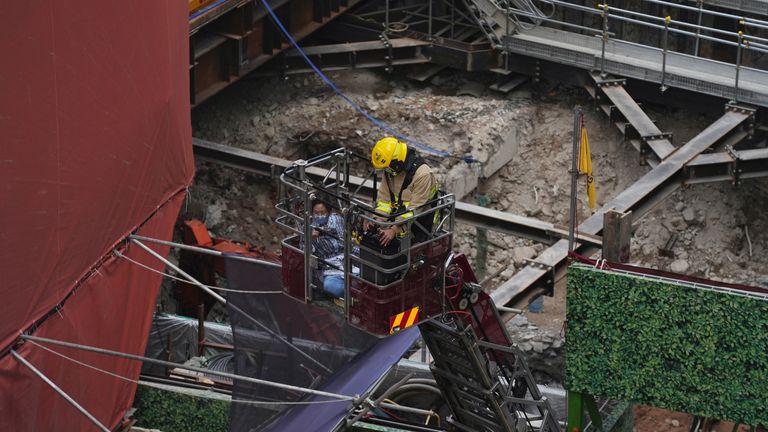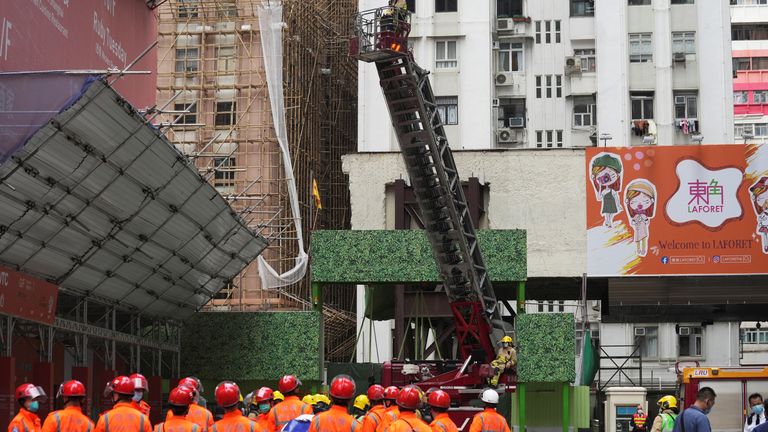 Firefighters also used an extendable ladder to rescue several people who were trapped on the lower floors of the building.
The emergency services cordoned off the area outside the building.
COVID-19: US coronavirus deaths top 800,000, with more than 25% coming after vaccines became available | US News
COVID-19 deaths in the United States have topped 800,000, with more than 25% of fatalities coming after vaccines became available earlier this year.
The number of deaths hit what President Joe Biden called a "tragic milestone" on Tuesday, according to data compiled by Johns Hopkins University.
More than 200,000 COVID-19 fatalities have occurred since April, by which time all adults were able to get the vaccine.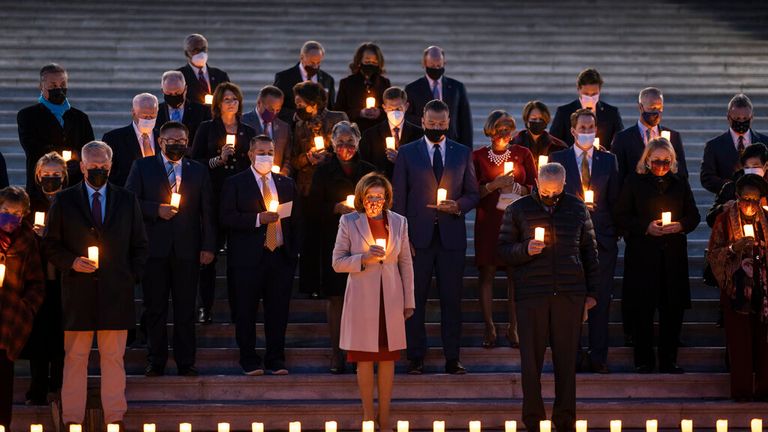 The overall death toll is roughly equal to the population of Atlanta and St Louis combined – or Minneapolis and Cleveland put together.
It is also roughly equivalent to how many Americans die each year from heart disease or stroke.
The US also has the highest reported toll of any country, accounting for approximately 4% of the world's population but about 15% of the 5.3 million known deaths from COVID-19 since the pandemic began.
The true number of deaths in the US and around the world is believed to significantly higher because of cases that were overlooked or concealed.
A closely watched forecasting model from the University of Washington projects a total of more than 880,000 reported deaths in the US by March.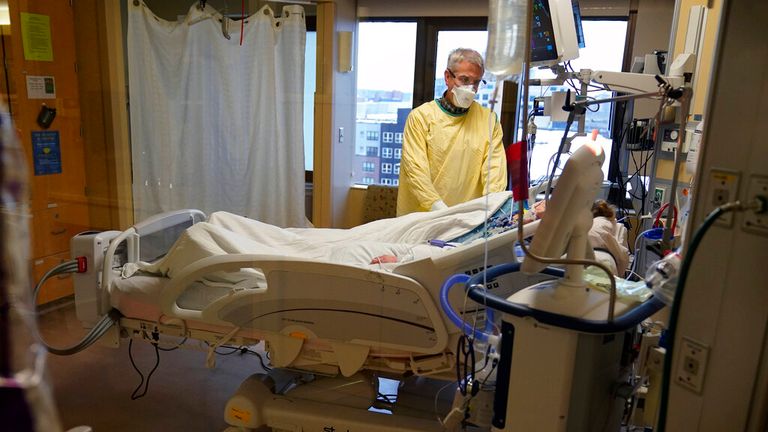 Mr Biden on Tuesday reiterated calls for unvaccinated Americans to get jabs for themselves and their children and urged the vaccinated to get booster shots.
He said: "I urge all Americans: do your patriotic duty to keep our country safe, to protect yourself and those around you, and to honour the memory of all those we have lost.
"Now is the time."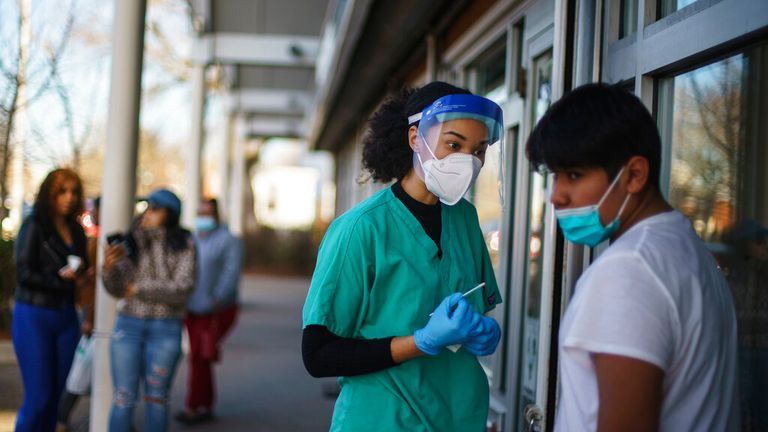 Health experts also lamented the number of deaths, saying many were especially heartbreaking because they were preventable by way of the vaccine, which became available around a year ago and was thrown open to all adults by mid-April.
Around 200 million Americans are fully vaccinated – or just over 60% of the population, which is well short of what scientists say is needed to keep the virus in check.
"Almost all the people dying are now dying preventable deaths," said Dr Chris Beyrer, an epidemiologist at the Johns Hopkins Bloomberg School of Public Health.
US President Joe Biden said the new variant, Omicron, was a cause for concern, but not a cause for panic, adding that America has more tools to fight it today than ever before.

"And that's because they're not immunised. And you know that, God, it's a terrible tragedy."
When the vaccine was first rolled out, the country's death toll stood at about 300,000. It hit 600,000 in mid-June and 700,000 on 1 October.
The US crossed the latest threshold with cases and hospitalisations on the rise again in a spike driven by the highly contagious Delta variant, which arrived in the first half of 2021 and now accounts for practically all infections.
Now the Omicron variant is gaining a foothold in the country.
Dr Beyrer recalled that in March or April 2020, one of the worst-case scenarios projected upwards of 240,000 American deaths.
"And I saw that number, and I thought that is incredible – 240,000 American deaths?" he said. "We're now past three times that number."
"I think it's fair to say that we're still not out of the woods."
The Christians release Christmas single Naz Don't Cry to support imprisoned Nazanin Zaghari-Ratcliffe | UK News
An unusual contender for the Christmas No 1 is released today.
Thirty years ago the pop group The Christians released a song to support British hostage John McCarthy kidnapped for five years in Lebanon.
Today they rereleased a refashioned version of the song Man Don't Cry to send a message of hope and support to British Iranian woman Nazanin Zaghari-Ratcliffe currently being held against her will in Iran.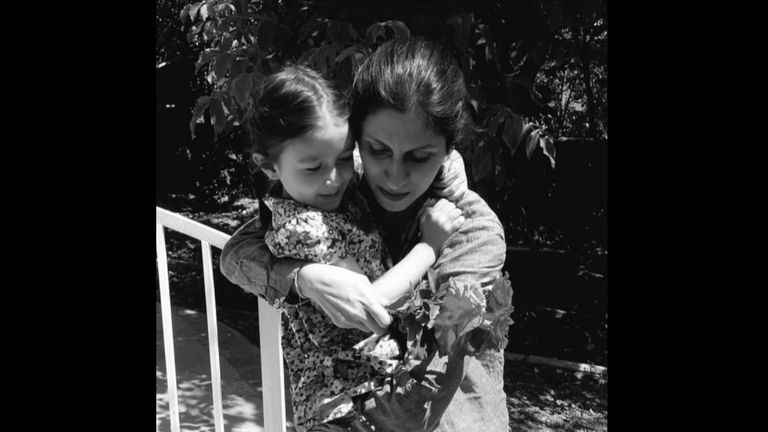 Singer Gary Christian says the plight of Nazanin and her husband Richard's hunger strike outside the Foreign Office inspired the band to make the move.
He said: "When you see something like this you feel so impotent, you can't do anything, you're sitting there kind of in tears watching this and you think what can we do."
The Christians invited Richard Ratcliffe and the couple's daughter Gabriella to Liverpool to record the song retitled Naz Don't Cry.
He's urging people to buy it in solidarity with Nazanin and family. All proceeds go to charity.
"I hope people just, even if they don't like the song, they don't like me, the Christians or anything, forget that just download," he says. "We want to raise money, we want to get Nazanin back, back home."
The song is accompanied by a moving video featuring some of the more emotional moments of the five-year effort to get Nazanin home.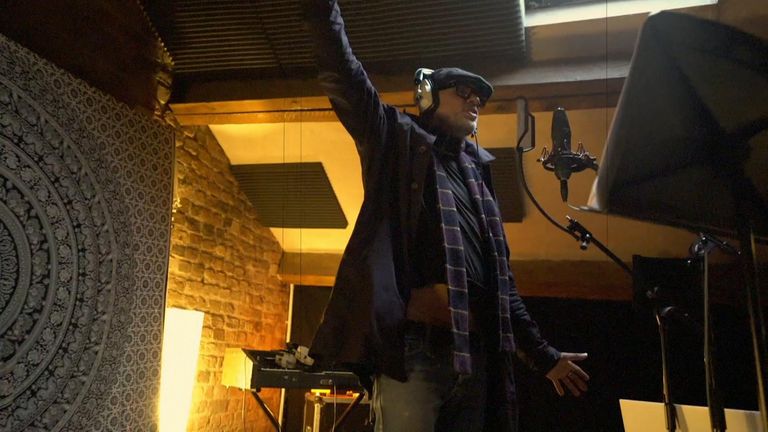 Former hostage John McCarthy told Sky News he welcomed the song being used again and said the video is a powerful watch.
"Looking at the video, it's taken me back to seeing things after I came back," he says.
"And you know it's slow-moving seeing Richard out in Westminster Square on his hunger strike … it's very powerful, you know. After a couple of viewings one is in tears."
Nazanin is being held in Tehran against her will and faces being returned to jail on more trumped-up charges.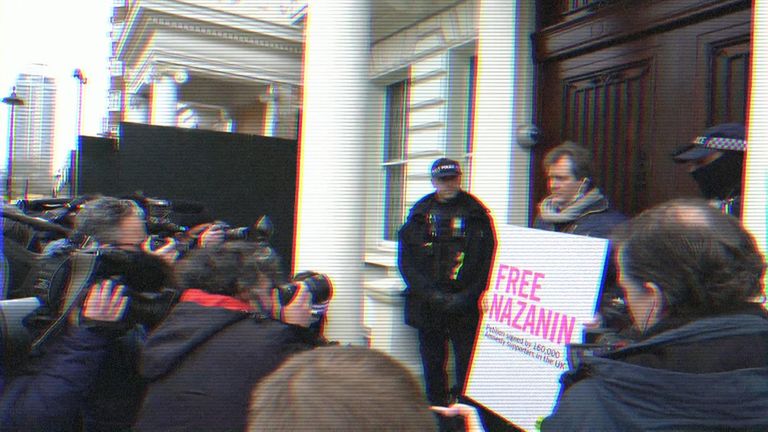 She was able to join the recording by video call to hear what's being done in her name.
Her husband Richard told Sky News he hopes it helps raise her spirits.
"It's a lovely song," he says. "It's a nice uplifting song. It's a song that says don't be sad, we're still thinking of you, we're still battling for you, your husband's still going, there will be a tomorrow."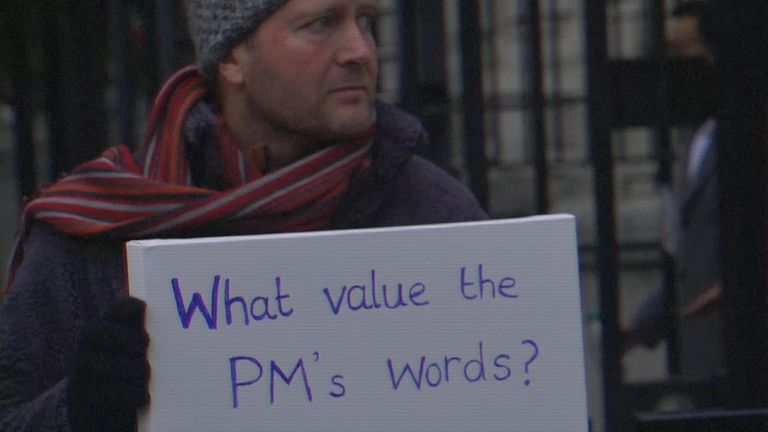 The star of the video is Gabriella, Richard and Nazanin's daughter, who appears to play the guitar and dreams as well as playing to the cameras.
Mr Ratcliffe said: "Coming up to Christmas she was asking yesterday when's she coming back, and also why does it have to be my Mummy – and there are no easy answers to that."
This will be Nazanin's sixth Christmas apart from her family. Efforts to secure her release are not making progress.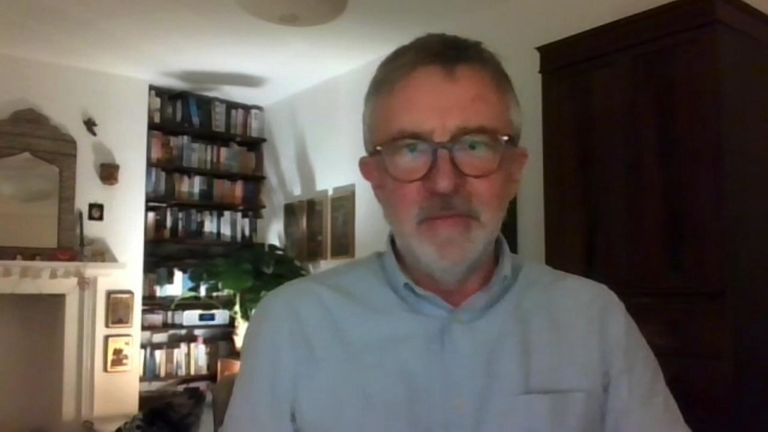 Richard has now done two hunger strikes to highlight her plight.
Her family hope music might make a difference where diplomacy has so far failed.