La Palma: Residents warned to stay inside as fresh lava from volcano spills off coast of Spanish island | World News
Residents have been warned to stay inside after a stream of lava from the La Palma volcano reached the Atlantic Ocean.
The Cumbre Vieja volcano on the Spanish Island has been erupting for more than two months, causing more than 7,000 people to be evacuated.
One of its seven lava flows has now travelled across the island and dropped into the ocean, sending thick clouds of potentially toxic gas high into the sky
La Palma's volcano is still spewing lava

It is the third lava stream to reach the water, landing a couple of kilometres north of where two previous flows hit.
Drone footage from the local council showed white clouds of steam and gas billowing out of the water as the red hot molten rock slid down a cliff.
People in the coastal towns of Tazacorte, San Borondon, and parts of El Cardon, were told to stay indoors with windows and doors shut as strong winds blew the cloud back inland on Monday.
Desert wasteland of ash on La Palma

The island's airport was also closed due to the unfavourable weather conditions and remained shut on Tuesday.
The largest lava flow is currently running towards the coast of Tazacorte and access from the southern highway to the coast has been closed, the local council said.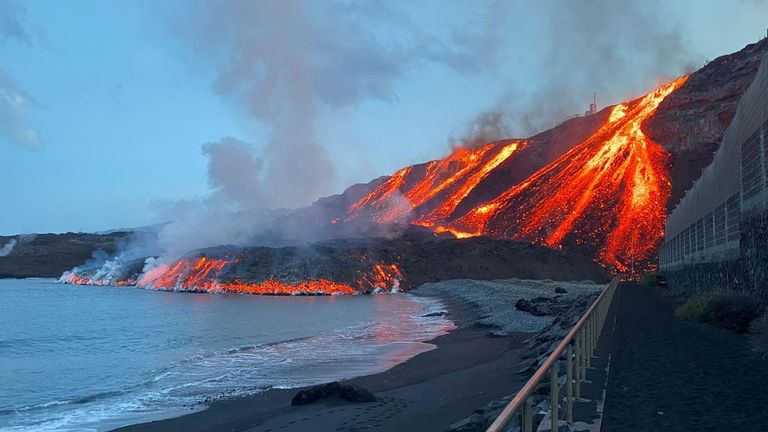 It added that evacuated neighbourhoods remain shut due to poor air quality.
Technical director of the Pevolca eruption response committee, Miguel Angel Morcuende, said residents in the capital Santa Cruz had been advised to wear masks for the first time since the volcano became active, due to high concentrations of particles and sulphur dioxide in the air.
At least 2,651 buildings have been destroyed since the volcano started erupting, according to the Copernicus disaster monitoring programme.
The molten rock has covered more than 2,463 acres (997 hectares) and has plastered homes with thick black ash.
Up to 350 people trapped on roof as fire breaks out at Hong Kong's World Trade Centre, police say | World News
Up to 350 people are trapped on the roof of Hong Kong's World Trade Centre after a major fire broke out in the skyscraper, police have said.
The fire started to rip through the 38-story building, which houses both offices and a mall, in the bustling commercial and shopping district of Causeway Bay early on Wednesday afternoon.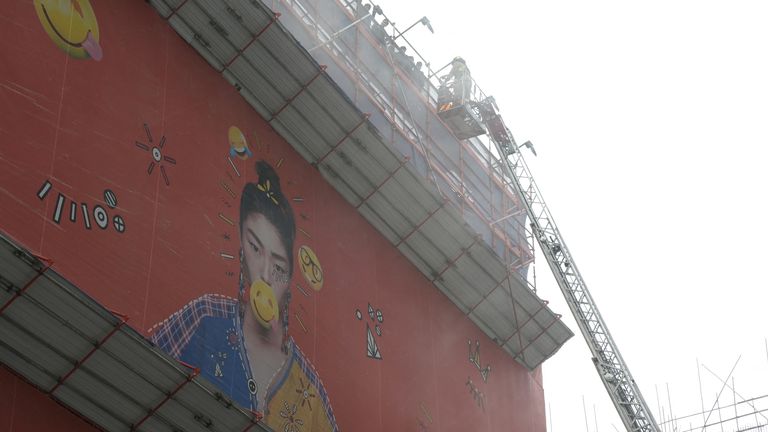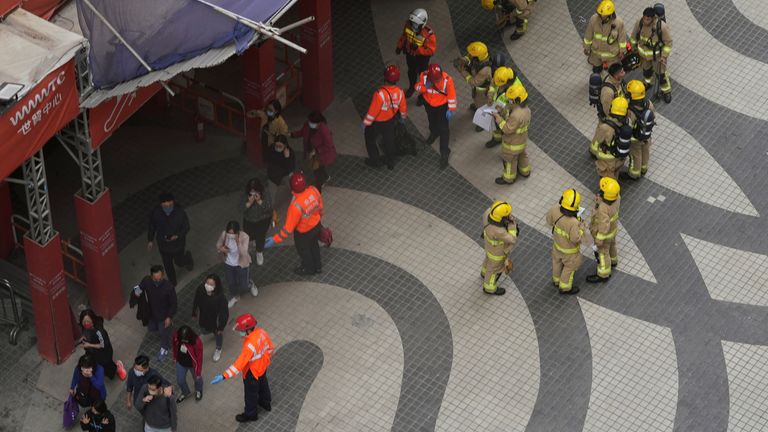 At least one person has been injured and taken to hospital.
Police also said 150 people are currently awaiting rescue.
Other people were said to be trapped in restaurants in the mall, according to the local South China Morning Post newspaper.
The blaze was also upgraded to a level three incident on a scale of one to five.
Hong Kong's government said firefighters were battling the fire with two water jets and had deployed breathing apparatus.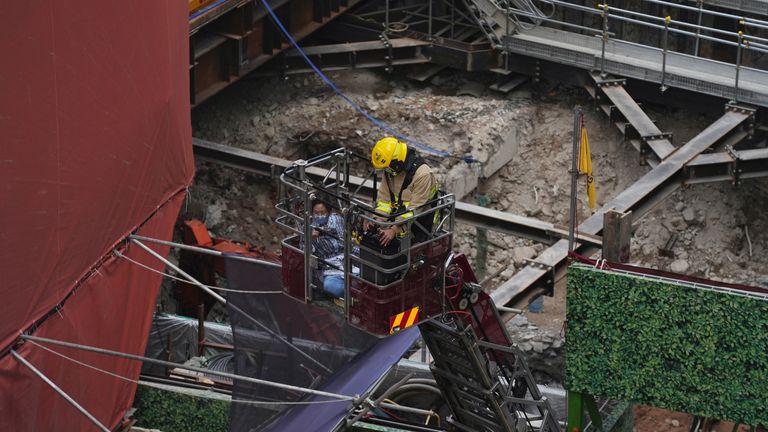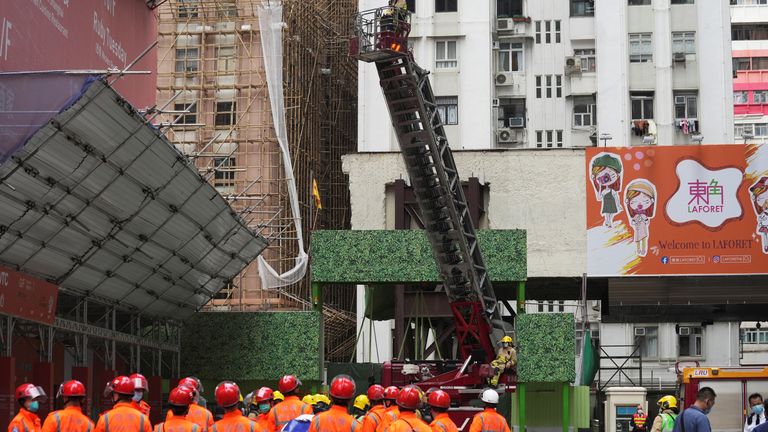 Firefighters also used an extendable ladder to rescue several people who were trapped on the lower floors of the building.
The emergency services cordoned off the area outside the building.
COVID-19: US coronavirus deaths top 800,000, with more than 25% coming after vaccines became available | US News
COVID-19 deaths in the United States have topped 800,000, with more than 25% of fatalities coming after vaccines became available earlier this year.
The number of deaths hit what President Joe Biden called a "tragic milestone" on Tuesday, according to data compiled by Johns Hopkins University.
More than 200,000 COVID-19 fatalities have occurred since April, by which time all adults were able to get the vaccine.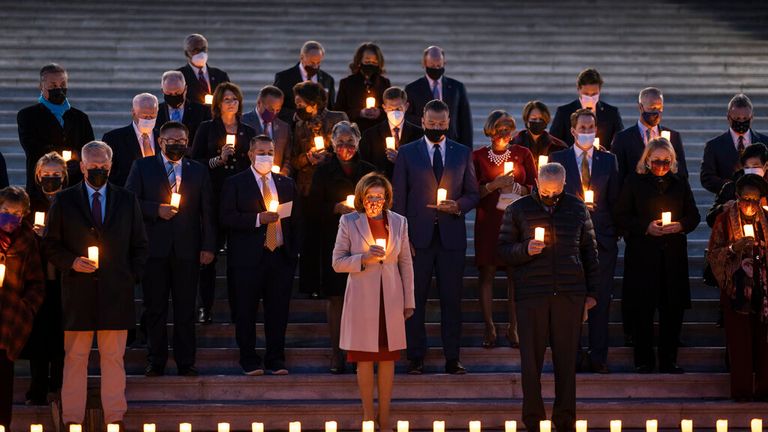 The overall death toll is roughly equal to the population of Atlanta and St Louis combined – or Minneapolis and Cleveland put together.
It is also roughly equivalent to how many Americans die each year from heart disease or stroke.
The US also has the highest reported toll of any country, accounting for approximately 4% of the world's population but about 15% of the 5.3 million known deaths from COVID-19 since the pandemic began.
The true number of deaths in the US and around the world is believed to significantly higher because of cases that were overlooked or concealed.
A closely watched forecasting model from the University of Washington projects a total of more than 880,000 reported deaths in the US by March.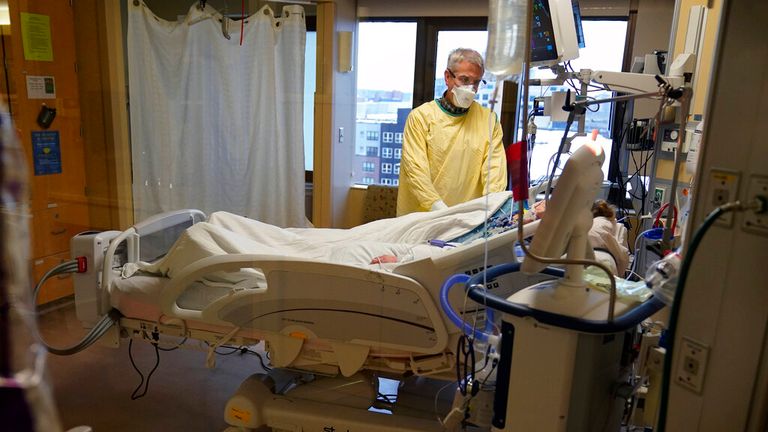 Mr Biden on Tuesday reiterated calls for unvaccinated Americans to get jabs for themselves and their children and urged the vaccinated to get booster shots.
He said: "I urge all Americans: do your patriotic duty to keep our country safe, to protect yourself and those around you, and to honour the memory of all those we have lost.
"Now is the time."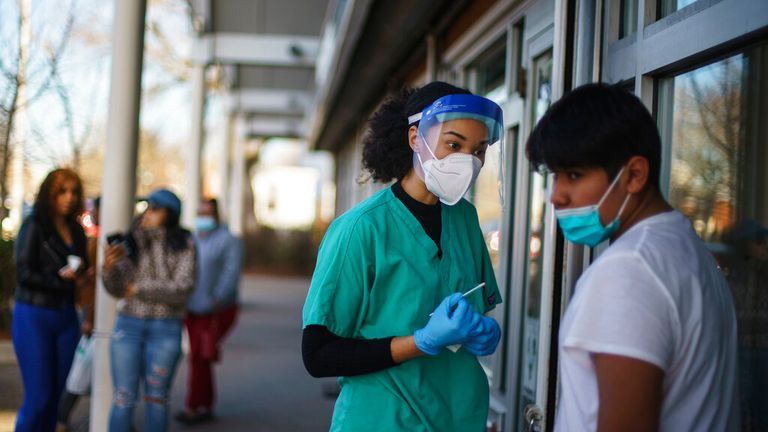 Health experts also lamented the number of deaths, saying many were especially heartbreaking because they were preventable by way of the vaccine, which became available around a year ago and was thrown open to all adults by mid-April.
Around 200 million Americans are fully vaccinated – or just over 60% of the population, which is well short of what scientists say is needed to keep the virus in check.
"Almost all the people dying are now dying preventable deaths," said Dr Chris Beyrer, an epidemiologist at the Johns Hopkins Bloomberg School of Public Health.
US President Joe Biden said the new variant, Omicron, was a cause for concern, but not a cause for panic, adding that America has more tools to fight it today than ever before.

"And that's because they're not immunised. And you know that, God, it's a terrible tragedy."
When the vaccine was first rolled out, the country's death toll stood at about 300,000. It hit 600,000 in mid-June and 700,000 on 1 October.
The US crossed the latest threshold with cases and hospitalisations on the rise again in a spike driven by the highly contagious Delta variant, which arrived in the first half of 2021 and now accounts for practically all infections.
Now the Omicron variant is gaining a foothold in the country.
Dr Beyrer recalled that in March or April 2020, one of the worst-case scenarios projected upwards of 240,000 American deaths.
"And I saw that number, and I thought that is incredible – 240,000 American deaths?" he said. "We're now past three times that number."
"I think it's fair to say that we're still not out of the woods."
The Christians release Christmas single Naz Don't Cry to support imprisoned Nazanin Zaghari-Ratcliffe | UK News
An unusual contender for the Christmas No 1 is released today.
Thirty years ago the pop group The Christians released a song to support British hostage John McCarthy kidnapped for five years in Lebanon.
Today they rereleased a refashioned version of the song Man Don't Cry to send a message of hope and support to British Iranian woman Nazanin Zaghari-Ratcliffe currently being held against her will in Iran.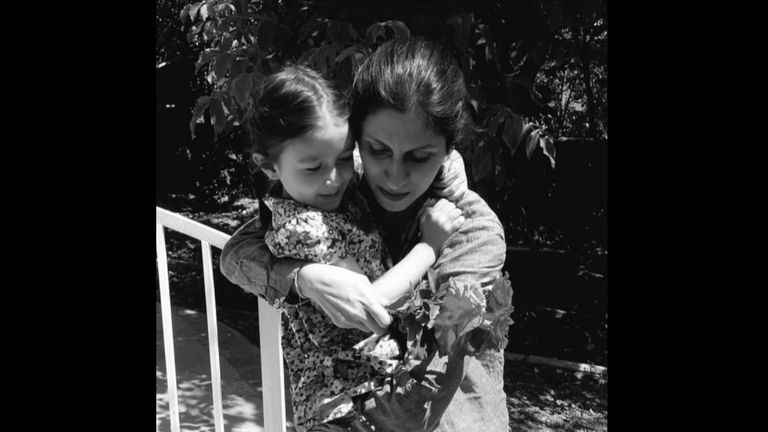 Singer Gary Christian says the plight of Nazanin and her husband Richard's hunger strike outside the Foreign Office inspired the band to make the move.
He said: "When you see something like this you feel so impotent, you can't do anything, you're sitting there kind of in tears watching this and you think what can we do."
The Christians invited Richard Ratcliffe and the couple's daughter Gabriella to Liverpool to record the song retitled Naz Don't Cry.
He's urging people to buy it in solidarity with Nazanin and family. All proceeds go to charity.
"I hope people just, even if they don't like the song, they don't like me, the Christians or anything, forget that just download," he says. "We want to raise money, we want to get Nazanin back, back home."
The song is accompanied by a moving video featuring some of the more emotional moments of the five-year effort to get Nazanin home.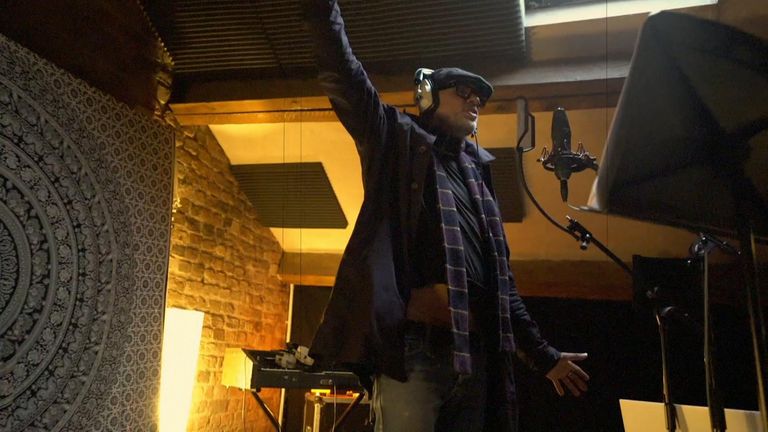 Former hostage John McCarthy told Sky News he welcomed the song being used again and said the video is a powerful watch.
"Looking at the video, it's taken me back to seeing things after I came back," he says.
"And you know it's slow-moving seeing Richard out in Westminster Square on his hunger strike … it's very powerful, you know. After a couple of viewings one is in tears."
Nazanin is being held in Tehran against her will and faces being returned to jail on more trumped-up charges.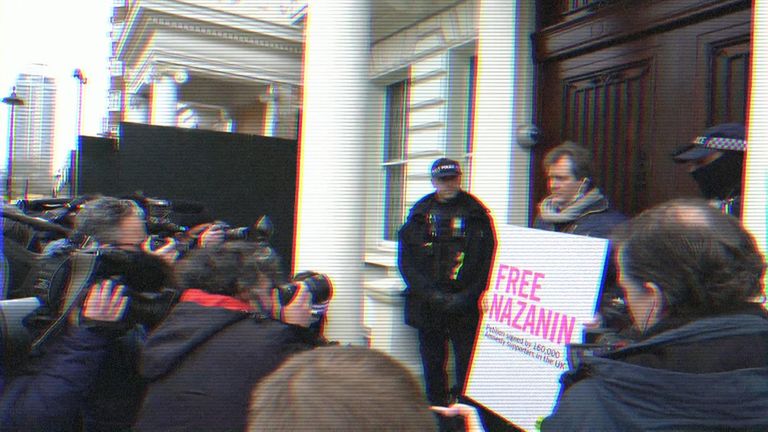 She was able to join the recording by video call to hear what's being done in her name.
Her husband Richard told Sky News he hopes it helps raise her spirits.
"It's a lovely song," he says. "It's a nice uplifting song. It's a song that says don't be sad, we're still thinking of you, we're still battling for you, your husband's still going, there will be a tomorrow."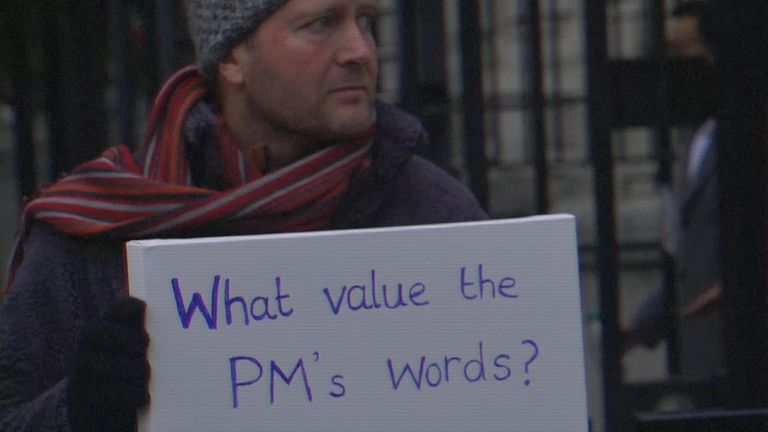 The star of the video is Gabriella, Richard and Nazanin's daughter, who appears to play the guitar and dreams as well as playing to the cameras.
Mr Ratcliffe said: "Coming up to Christmas she was asking yesterday when's she coming back, and also why does it have to be my Mummy – and there are no easy answers to that."
This will be Nazanin's sixth Christmas apart from her family. Efforts to secure her release are not making progress.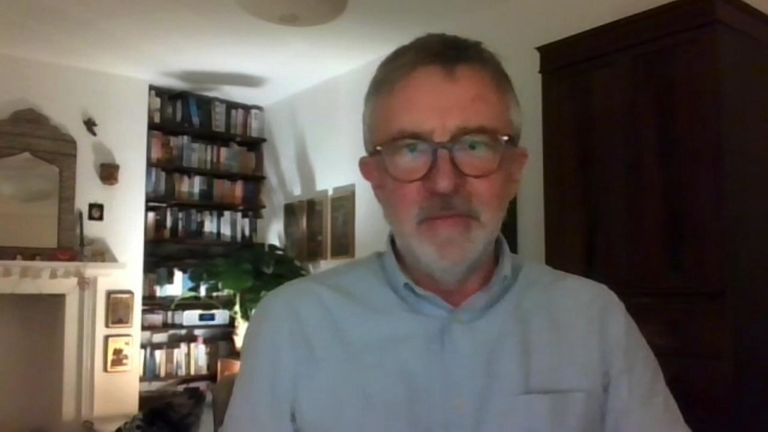 Richard has now done two hunger strikes to highlight her plight.
Her family hope music might make a difference where diplomacy has so far failed.