France sends special forces to Guadeloupe amid riots over COVID restrictions | World News
France has sent police special forces to the Caribbean island of Guadeloupe amid riots over COVID-19 restrictions.
Interior minister Gerald Darmanin denounced "unacceptable" violence on the French overseas territory.
He said 50 officers from police special forces would travel to Guadeloupe, in addition to 200 police officers sent from France's mainland.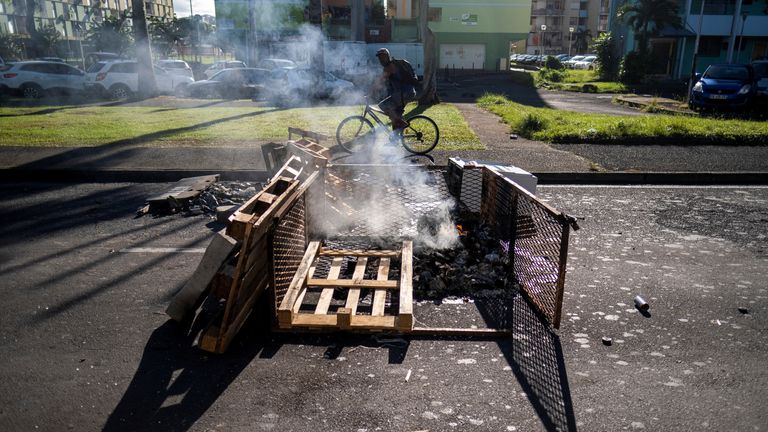 It comes after several days of protests and road blockades erupted into rioting.
Mr Darmanin told France's Le Parisien newspaper "some shots have been fired against police officers" in Guadeloupe and there had been looting.
Footage on social media showed cars and buildings had been set on fire, with French media reporting that several buildings in the city centre of Pointe-a-Pitre, the island's largest city, had been destroyed.
Road blockades had put hospitals in a "very difficult situation for a few hours" with patients and supplies unable to reach them, Mr Darmanin said.
"The state will stand firm," he stressed.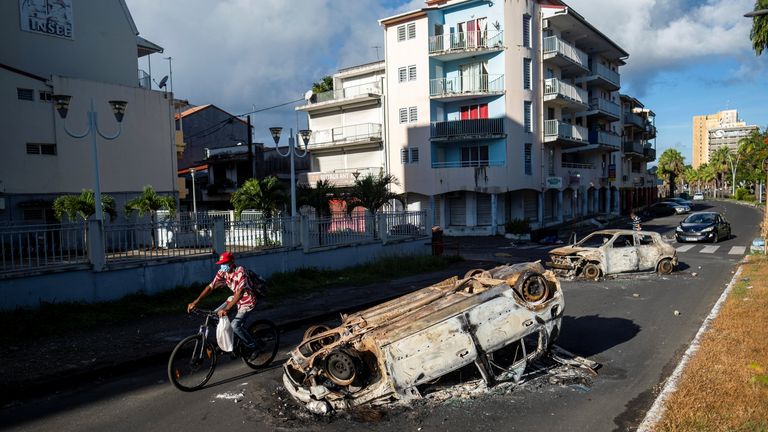 So far at least 31 people have been arrested by the police.
Guadeloupe Prefect Alexandre Rochatte has imposed a nightly curfew from 6pm to 5am.
On Saturday he said some electrical facilities near dams had been damaged, which caused power cuts to some customers.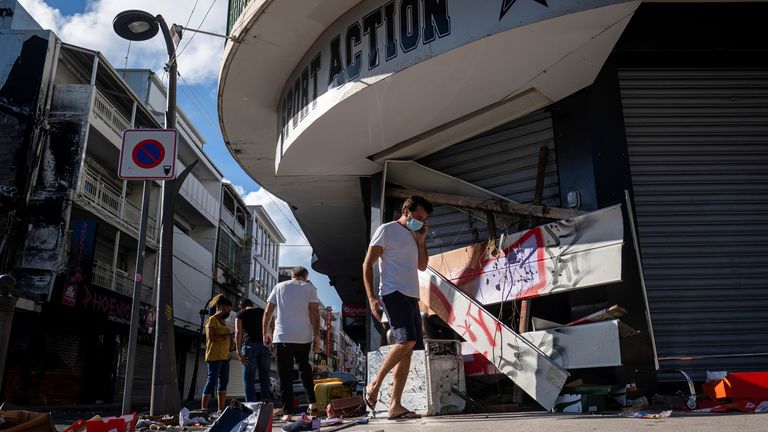 The protests were sparked by trade unions to denounce the coronavirus health pass required to access restaurants, cafes, cultural venues, sports arenas and for long-distance travel.
They were also demonstrating against France's mandatory vaccinations for healthcare workers.
Mr Darmanin said around 80% of healthcare workers on the island had been vaccinated.
France pledges to 'fight every day' to uphold fishermen's rights amid Brexit row with UK | Politics News
France has pledged to "fight every day" to uphold its fishermen's rights as the country's post-Brexit dispute with the UK continues.
During a meeting with fishermen in northern France on Sunday, minister of the sea Annick Giardin promised to "not give up" in the row over fishing licenses and criticised the UK's interpretation of post-Brexit rules on the matter as "inadmissible".
Ms Giardin's comments come a day after Emmanuel Macron said Paris "will not yield" to Britain amid the ongoing dispute.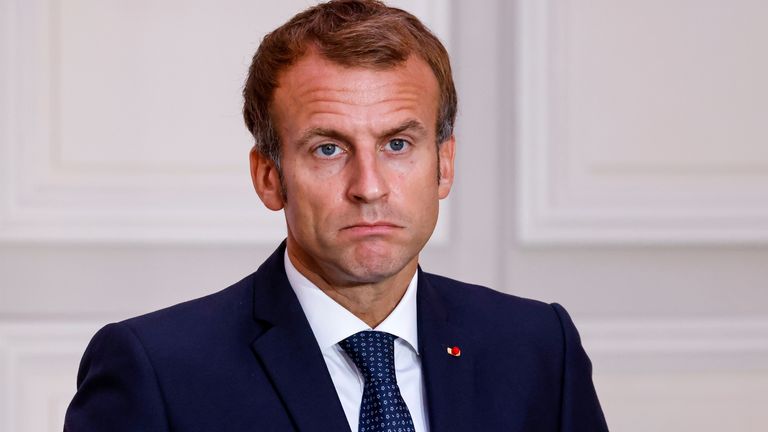 The French president accused the UK of playing with his country's nerves.
"We have not got what we wanted. They are playing with our nerves," Mr Macron said during a visit to Aulnoye-Ameries in northern France. "We will not yield."
On Sunday, Ms Giardin added: "We fight every day for these ships, for these licenses, and we will not give up."
This weekend, France said it was waiting for 150 more licences to be issued to French vessels to allow them to fish in British waters.
Relations between London and Paris have become increasingly fraught following Britain's decision to leave the EU in 2016.
Fishing has become a major point of contention because of its political significance for both sides.
Mr Macron's administration has said Boris Johnson's government should have issued more licenses for French boats to fish in British territorial waters.
But the UK has countered by saying it is respecting the arrangements that were agreed.
Follow the Daily podcast on Apple Podcasts, Google Podcasts, Spotify, Spreaker
The licences would allow French fishermen to fish in territorial waters six to 12 nautical miles off the UK's shores, and in the seas off the Channel island of Jersey.
The ongoing row previously saw France briefly seize a British fishing boat in its waters in October and both countries sent maritime vessels to waters off Jersey earlier this year.
Mr Macron discussed the dispute with Mr Johnson briefly in Rome on 31 October, but there was little indication it would be resolved.
Both sides are under pressure to remain strong on the issue, with Mr Macron making his remarks after conservative Xavier Bertrant, a potential opponent in a presidential election next year, urged him to do more to defend the interests of French fishermen.
Qatar World Cup 2022: Players concerned about human rights will be free to protest, says tournament boss | World News
Players wanting to protest about human rights during the World Cup in Qatar will be free to make their points, according to the chief executive of the tournament.
Speaking to Sky News precisely one year before the World Cup kicks off, Nasser al Khater said they were talking to the English FA and other football associations to encourage them to make informed decisions.
"Anybody who wants to take a position on a topic (it) is their personal right…we have invited them to see things for themselves to look at the progress that has been made over the 10 years," he said.
"It is their right to have these positions, the important thing is for them to take these positions with full information….it is not to take a position based on the news."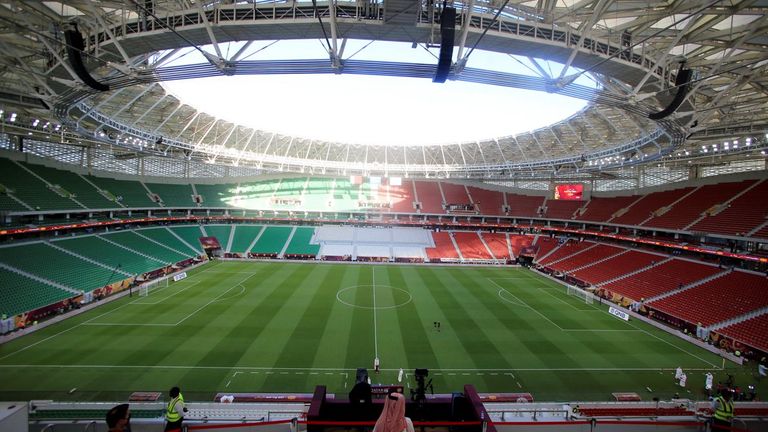 The numbers of fatalities among migrant workers who have helped build the stadiums and facilities are disputed.
While over 6,000 migrant deaths have been recorded in the Gulf state since Qatar was awarded the World Cup, the chief executive of the tournament insisted just three workers have lost their lives during the construction process and significant improvements have been made to working conditions and workers' rights.
"Unfortunately the numbers that have been published are not accurate and do not reflect the reality for construction workers on World Cup sites," he said.
"That is a prime example of where we have been unfairly treated…it is publicly available information and the annual worker's welfare report (shows) there have been three work-related fatalities and 39 non-work-related fatalities in the past 10 years.
"These are lives, human beings with families and we share our deepest sympathies with the families of these workers that have lost their life."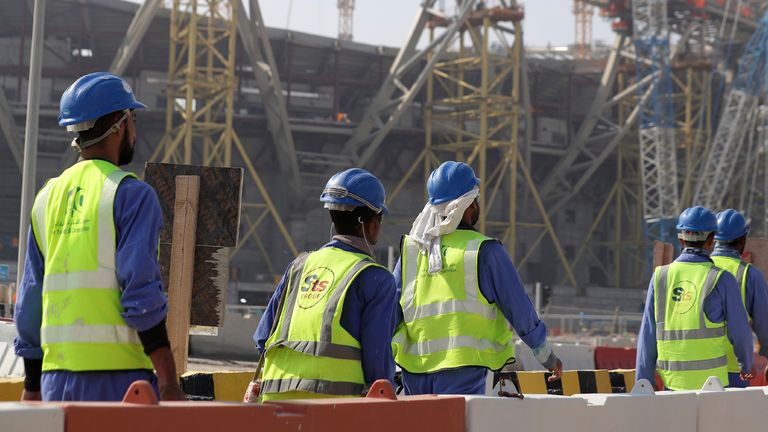 Amnesty and other human rights groups say the reality for migrant workers does not match the official version from tournament organisers.
Amnesty recently said "complacency by the authorities is leaving thousands of workers at continued risk of exploitation".
Jakob Jensen, from the Denmark FA, told Sky News that their national team would use their position to protest during the World Cup.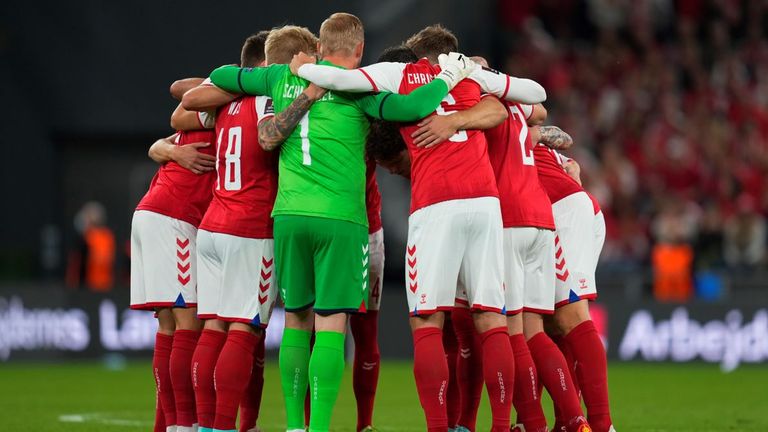 He said: "We've also talked to migrant workers in Qatar and the message they've given us is 'please keep your focus on us, please do not boycott the World Cup'.
"If you want to improve conditions for us, stay at the negotiating table, keep putting a light on the conditions that we are working under. And that's very important for us to take and utilise this advice that we've been given."
LGBTQ+ fans have also voiced deep concerns about the World Cup given that homosexuality is against the law in Qatar.
Chris Paouros, from Kick It Out, told Sky News she could not face travelling to a tournament: "I think about LGBTQ+ Qataris every time I think about Qatar and how they have to live in secret.
"It pains me that we are taking the world's biggest football tournament to a country that wants to criminalise us."
The tournament's chief executive Nasser al Khater said: "Everyone's welcome isn't just a slogan, it is a fact. We are not making differentiation based on race, gender, orientation, religion – everybody is welcome."
COVID-19: Second night of violence in The Netherlands as rioters clash with police over new rules | World News
Seven people have been arrested after rioters clashed with police in The Hague for a second night of violence in the Netherlands, sparked by protests over new COVID-19 restrictions.
The unrest came a day after police opened fire on protesters in Rotterdam amid what the port city's mayor called "an orgy of violence", leaving three people seriously injured after they were hit by bullets. Police said investigations are under way to establish if the shots were fired by officers.
In The Hague on Saturday night, young people set fires in the streets and threw fireworks at officers.
Clashes in Rotterdam on Friday night over COVID rules

Police said in a tweet that seven people were arrested and five officers were injured, while one needed treatment in a hospital following the clashes.
Elsewhere in the Netherlands, two soccer matches in the top professional league had to be briefly halted after fans – banned from matches under a partial lockdown in force in the country for a week – broke into stadiums in the towns of Alkmaar and Almelo.
There was a heavy police presence in several other major towns after social media calls to riot followed the Rotterdam clashes, but any further violence was largely contained, Dutch media reported.
Thousands protest new lockdown in Austria

Demonstrations have been taking place on the streets of several European cities this weekend, in protest against new lockdown measures.
Tens of thousands have voiced their anger in the Austrian capital after the government announced a nationwide lockdown and said coronavirus vaccinations would become mandatory by law next year, blaming the country's high infection numbers on those who have failed to take up the jab.
The nationwide lockdown will start on Monday and will initially last for 10 days, before being re-assessed, and will last a maximum of 20 days.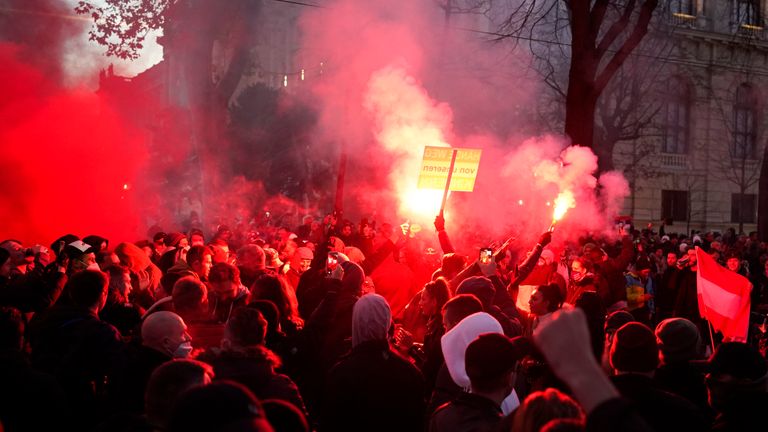 Most shops will close and cultural events will be cancelled. People will only be able to leave their homes for certain reasons, including food shopping, going to the doctor, or doing exercise.
Austria's infection rate is among the highest on the continent, with a seven-day incidence of 971.5 per 100,000 people – and daily cases keep setting records.
Around 65% of Austria's population is fully vaccinated against COVID-19, one of the lowest rates in western Europe. In the UK it is about 68%.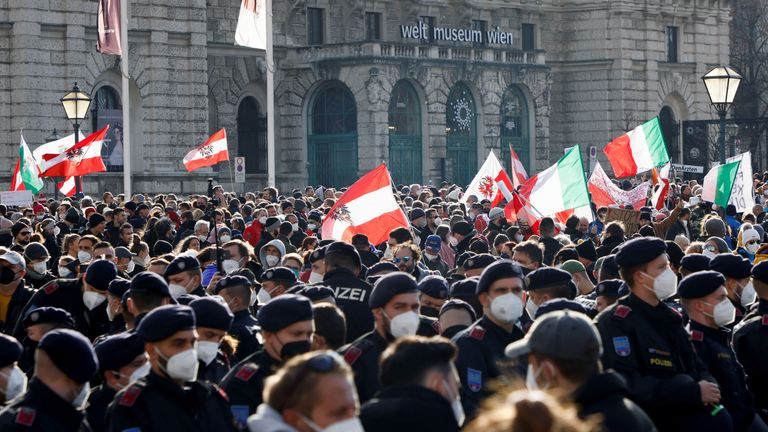 Austrian Chancellor Alexander Schallenberg has apologised to all vaccinated people, saying it was not fair they had to suffer under the renewed lockdown restrictions when they had done everything to help contain the virus.
"I'm sorry to take this drastic step," he said on public broadcaster ORF.
While Austria so far stands alone in the EU in making vaccinations mandatory, more and more governments are clamping down.
From Monday, Slovakia, where just 45.3% of the 5.5 million population is fully vaccinated, is banning people who have not been from all non-essential stores and shopping centres.
They will also not be allowed to attend public events or gatherings and will be required to test twice a week just to go to work.
German Chancellor Angela Merkel has said: "It is really, absolutely, time to take action."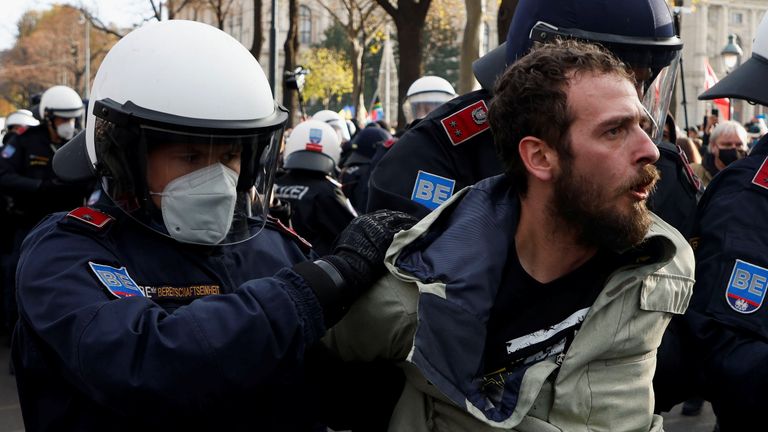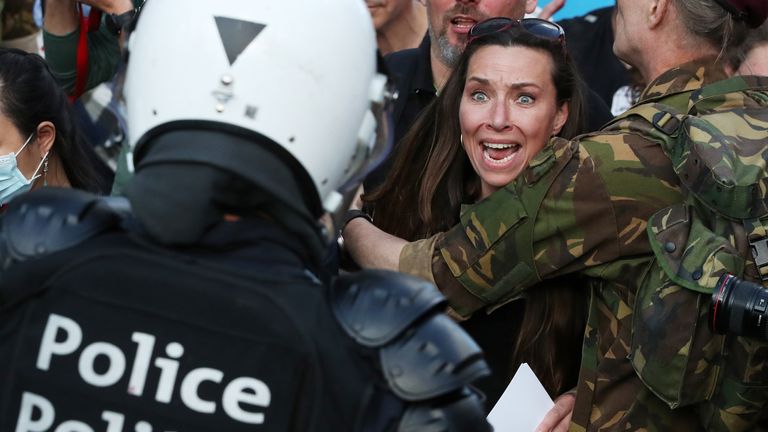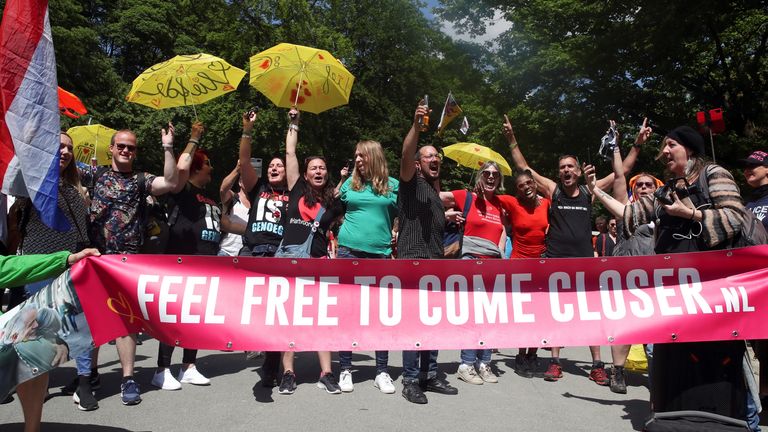 With a vaccination rate of 67.5%, her nation is now considering mandatory vaccinations for many health professionals.
Greece is also targeting the unvaccinated. Prime Minister Kyriakos Mitsotakis has announced new restrictions for the unjabbed, including stopping them entering venues such as bars, restaurants, cinemas, theatres, museums, and gyms, even if they have tested negative.
Follow the Daily podcast on Apple Podcasts, Google Podcasts, Spotify, Spreaker.
Demonstrations against coronavirus restrictions have also taken place in Switzerland, Croatia and Italy.
And in central Hull, around 200 anti-vaxxers marched through the streets, demanding that carers looking after the elderly and vulnerable should not be forced to have the jab.