COVID-19: Violence in Vienna as thousands take to streets across Europe to protest against coronavirus measures | World News
Protesters have clashed with police in Vienna, as large crowds demonstrated on the streets of several European cities against the introduction of new COVID-19 restrictions.
Tens of thousands have been voicing their anger in the Austrian capital after the government announced a nationwide lockdown and said coronavirus vaccinations would become mandatory by law next year, blaming the country's high infection numbers on those who have failed to take up the jab.
Police said several protesters were detained, but did not give exact numbers. Later, demonstrators threw bottles and beer cans and fired pyrotechnics at police, who used pepper spray to disperse crowds.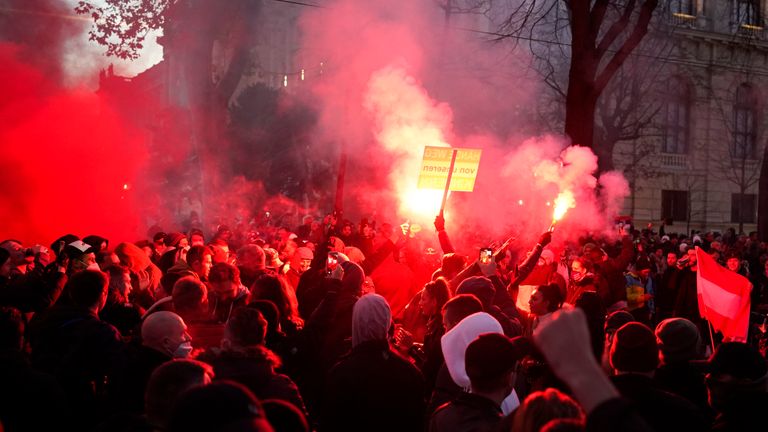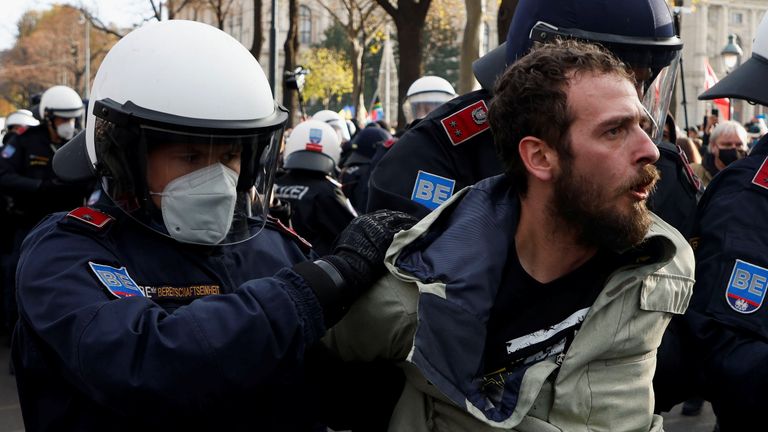 And a day after an "orgy of violence" during rioting in Rotterdam left several people injured, thousands more gathered in central Amsterdam, despite organisers calling off the protest in the aftermath of Friday night's events when police opened fire on protesters.
The demonstrators on Saturday left Dam Square and walked peacefully through the city's streets, closely monitored by officers.
And a few hundred people also marched through the southern Dutch city of Breda to protest COVID-19 restrictions.
Demonstrations against virus measures also took place in other European countries including Switzerland, Croatia and Italy, with thousands taking part.
In Belfast city centre, hundreds gathered to reject the planned introduction of coronavirus certification for nightclubs, bars, restaurants and a range of other settings from 13 December.
Under the compulsory scheme, people wanting to gain entry will have to show evidence of COVID-19 vaccination, a negative lateral flow test result, or proof of a coronavirus infection within the last six months.
And in central Hull, around 200 anti-vaxxers marched through the streets, demanding that carers looking after the elderly and vulnerable should not be forced to have the jab.
In Vienna, people gathered at the public space of Heldenplatz, while about 1,300 police officers were on duty.
They used loudspeakers to tell demonstrators that masks were required, but most did not wear them.
Protesters waved Austrian and other flags and carried signs with slogans like "no to vaccination", "enough is enough" or "down with the fascist dictatorship".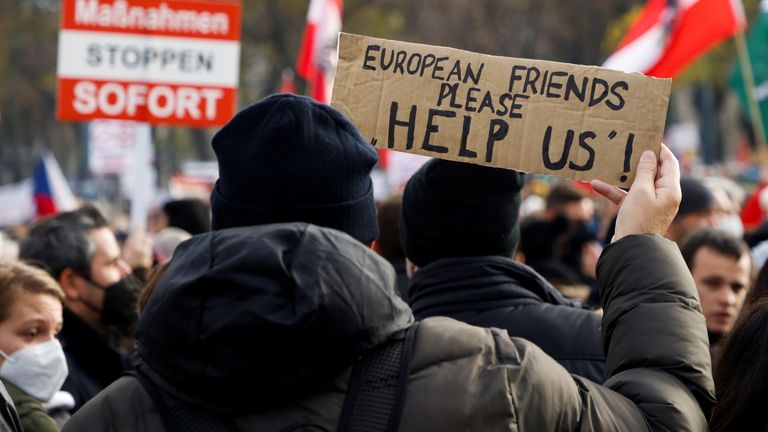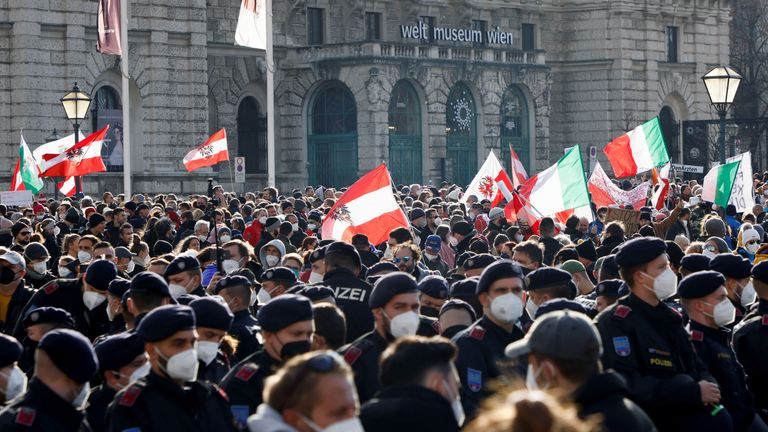 Many of the signs focused on the newly-announced coronavirus vaccine mandate: "My Body, My Choice," read one. "We're Standing Up for Our Kids!" said another.
Among those taking part were far-right supporters, with the opposition Freedom Party vowing to combat new restrictions that are being brought in to try to combat a surge in COVID-19 cases.
Party leader Herbert Kickl, who announced earlier this week he had tested positive for coronavirus and had to isolate at home, made an appearance via video.
He denounced what he called "totalitarian" measures from a government "that believes it should think and decide for us".
The nationwide lockdown will start on Monday and will initially last for 10 days, before being re-assessed, and will last a maximum of 20 days.
Most shops will close and cultural events will be cancelled. People will only be able to leave their homes for certain reasons, including food shopping, going to the doctor or doing exercise.
And the government has said it will make it compulsory to get vaccinated from 1 February 2022.
Around 65% of Austria's population is fully vaccinated against COVID-19, one of the lowest rates in western Europe. In the UK it is about 68%.
Austria's infection rate is among the highest in the continent, with a seven-day incidence of 971.5 per 100,000 people – and daily cases keep setting records.
Austrian Chancellor Alexander Schallenberg has apologised to all vaccinated people, saying it was not fair they had to suffer under the renewed lockdown restrictions when they had done everything to help contain the virus.
"I'm sorry to take this drastic step," he said on public broadcaster ORF.
Clashes in Rotterdam over COVID rules

While Austria so far stands alone in the EU in making vaccinations mandatory, more and more governments are clamping down.
From Monday, Slovakia is banning people who have not been vaccinated from all non-essential stores and shopping centres.
They will also not be allowed to attend public events or gatherings and will be required to test twice a week just to go to work.
Slovakia, where just 45.3% of the 5.5 million population is fully vaccinated, reported a record 8,342 new virus cases on Tuesday.
German Chancellor Angela Merkel has said: "It is really, absolutely, time to take action." With a vaccination rate of 67.5%, her nation is now considering mandatory vaccinations for many health professionals.
Greece is also targeting the unvaccinated. Prime Minister Kyriakos Mitsotakis has announced new restrictions for the unjabbed, including stopping them entering venues such as bars, restaurants, cinemas, theatres, museums and gyms, even if they have tested negative.
Follow the Daily podcast on Apple Podcasts, Google Podcasts, Spotify, Spreaker.
During last night's violence in Rotterdam, protesters in the port city had gathered to voice opposition to government plans to restrict access to indoor venues to people who have a "corona pass", showing they have been vaccinated against COVID-19 or have already recovered from an infection.
The pass is also available to people who have not been vaccinated, but have proof of a negative test.
In an effort to slow a resurgence of the coronavirus, the Dutch government last week announced a three-week partial lockdown, in which restaurants and shops must shut early.
No spectators are allowed at sporting events, and people are only allowed four visitors to their homes.
COVID-19: How the spread of Omicron went from patient zero to all around the globe | World News
The speed with which new variants of the COVID-19 virus spread around the world can leave governments scrambling to catch up. What is sometimes more remarkable is the speed with which those new variants are detected.
It has taken barely two weeks from the initial testing of 'patient zero', before potentially the entire globe is readying itself to examine COVID test samples to see if they contain the Omicron variant.
Patient zero, called n=1 or the index case by the scientific community, arrived at Hong Kong International Airport on 11 November, having flown in from South Africa via Doha in Qatar, on flight QR818.
He had been in South Africa for almost three weeks, and had tested negative the day before he began his trip there.
On his return to the territory on the Qatar Airways flight, the 36-year-old was in seat 31A, and was showing no symptoms when he checked into the Regal Airport Hotel in Chek Lap Kok, to begin his mandatory quarantine. He also tested negative on his return.
Hong Kong has some of the most stringent regulations on arrival in the world.
Anyone coming from a "high-risk" country can only board flights for the territory if they are fully-vaccinated Hong Kong residents and even then they have to undergo compulsory isolation for 21 days in a designated quarantine hotel when they arrive.
While in quarantine, they must undergo six COVID tests and then they must monitor themselves for the following seven days, after which they are tested again 26 days after the day of their arrival.
The man in question had fulfilled all the requirements, having received the Pfizer vaccine on 13 May and 4 June, and outwardly there were no signs his case was anything unusual.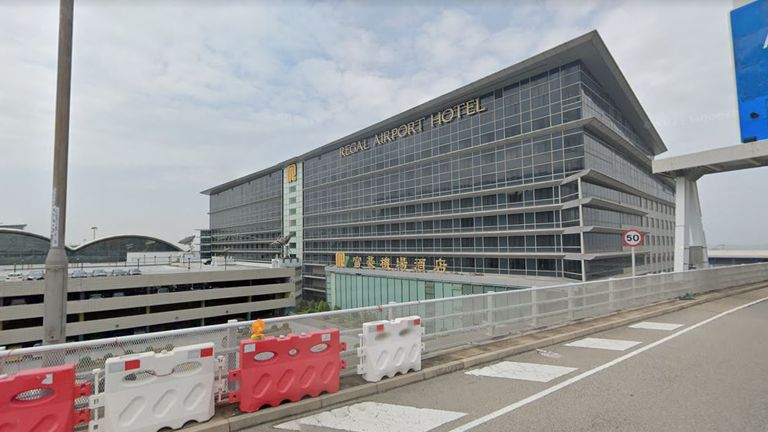 But two days into his quarantine, he was tested again, on 13 November, and after showing a high viral load was sent to hospital the next day.
Like all arrivals who test positive after coming to Hong Kong, he was given a case number – 12388. It was only later he was identified as Omicron 'patient zero'.
Meanwhile, another passenger who had arrived in Hong Kong the day before number 12388, was staying in a room opposite him on the fifth floor of the same quarantine hotel.
He tested negative twice, then, on 18 November, a result showed he too had a high viral load and he was also rushed to hospital.
He became Hong Kong's second Omicron case and was given number 12404. Even though he arrived before 12388, because he tested positive later, he had a higher number.
Early conclusions from Hong Kong's health authorities were that case 12404 might have been infected with the variant as air flowed into the corridor when case 12388 opened his hotel room door as he was not wearing a surgical mask.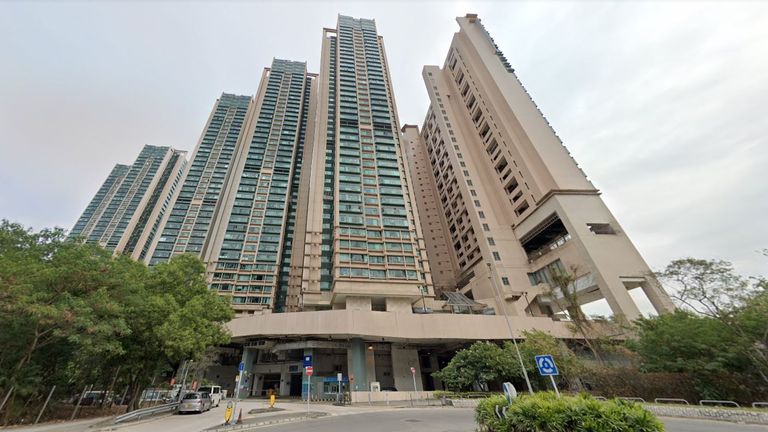 While the test results from the Hong Kong travellers were being analysed, other researchers in South Africa and Botswana were also looking into a newly emerging variant.
Just three days after the Hong Kong traveller went to his quarantine hotel, a number of people were being routinely tested in the South African province of Gauteng.
At around the same time, South Africa, and particularly Gauteng, began to see a sudden uptick in cases.
South African scientists began to come to the conclusion they were seeing something new after detecting a group of related SARS-CoV-2 viruses that were turning up in large numbers, compared to other variants.
What is the new COVID variant?

Out of the specimens collected between 14 and 23 November, more than 70% were of the same type.
They raised the alarm on 22 November.
The next day the new variant was picked up by GISAID, the open-access database of flu viruses and coronavirus variants that has been critical to spreading news around the world about emerging forms of COVID-19.
On 24 November, it was given a new name under the criteria given to emerging COVID variants – B.1.1.529.
Scotland and Wales are calling for all UK travellers to isolate for eight days when arriving in the country.

On the same day, the new variant was reported to the World Health Organisation, which convened its technical advisory group – similar to WHO's equivalent to SAGE – to assess what should be done.
The UK, responding to the rapidly evolving situation, designated the virus type a variant under investigation, VUI-21NOV-01, on 25 November.
As it did so, cases in South Africa were shooting up.
Professor Sharon Peacock of COG-UK Genomics UK Consortium, which oversees sequencing in the UK, said on Friday: "The number of recorded COVID-19 infections on 16 November 2021 was 273 cases. By 25 November this had risen to more than 1,200 cases.
Health minister Edward Argar says Omicron cases will rise across the UK in the run-up to Christmas.

"More than 80% of these were from Gauteng province. Cases in Gauteng province initially appeared to be clustered, but over time there has been more widespread dispersal of infections across the province.
"An analysis of the R value (a measure of growth rate) is 1.47 for South Africa as a whole, but initial estimates for Gauteng province are 1.93. Based on this measurement, it indicates that growth rate of cases is considerably higher in Gauteng province than the rest of the country.
"Around 100 B.1.1.529 genomes have now been identified in South Africa, mostly from Gauteng province. But this region is also where the sequencing has been targeted, and the question is whether the variant is present over a wider geographic area."
South Africa's president says Omicron is now responsible for the majority of cases in the country's most populated area.

In total, according to the European Centre for Disease Control, South African investigators examined 77 samples in Gauteng taken between 12 and 20 November looking for a specific mutation that suggested Omicron was present, and found it in all cases.
The results, say the ECDC, suggest that Omicron is already dominant in Gauteng and is present in significant proportions in most parts of South Africa.
The question is, what does this mean for the rest of the world?
It is clear that Omicron has been in the UK for several days.
After one of the first cases in England was revealed to have been identified in Brentwood, Essex County Council said staff, customers and delivery workers who visited a branch of KFC on Brentwood High Street on Friday 19 November, between 1pm and 5pm, should take a PCR test immediately – suggesting a person with the variant was in the restaurant at the time.
Sky's Charlotte Lomas looks at what scientists know so far about the Omicron COVID variant and how it behaves.

Likewise, they asked anyone in the congregation of the town's Trinity Church on Sunday 21 November to do the same.
Essex's director of public health Dr Mike Gogarty told the BBC's World At One programme that the person in question was tested on 20 November and has contracted the variant from someone who had been in contact with someone who had been to South Africa – in a clear case of community transmission.
He said: "We are talking probably about two weeks from now since that person returned from Africa."
Both the UK cases identified on Saturday, which also included one in Nottingham, were linked to travel in South Africa. A third case in the London borough of Westminster, who had previously been in southern Africa, has since left the country.
But while South Africa, like the UK, has an effective system to sequence COVID test samples, many other countries in Africa do not.
Omicron has been detected early in Botswana, but there are concerns it may be widespread in several other nations in southern Africa.
Some 98 samples were sequenced in Botswana to allow the identification of six cases of Omicron by Friday, reported the ECDC, but in the same period countries like Kenya sequenced just five cases, with no Omicron cases.
Dr Chaand Nagpaul says there needs to be a consistent policy in mask wearing in public.

Israel, one of the world's most vaccinated countries, said on Friday it had also detected the country's first case of Omicron in a traveller who had returned from Malawi. Two other suspected cases were also placed in isolation.
On that day, as the world became aware of the extent of the spread, markets reacted with oil prices plunging and airlines shares suffering major losses.
A case was also confirmed in Belgium and on Saturday suspected cases were reported in Germany, Italy and the Czech Republic.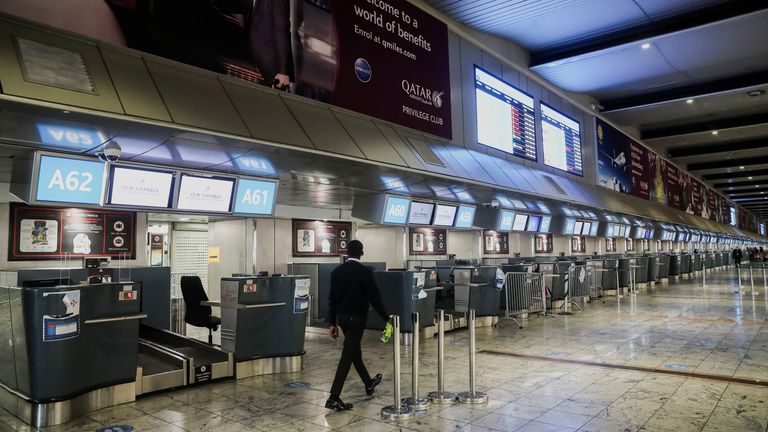 Denmark and Australia announced two cases and the Netherlands identified 13 Omicron cases in dozens of COVID-positive travellers from South Africa on Sunday.
On Monday, further cases were announced in Portugal, where 13 players and staff members of Lisbon football team Belenenses were found to be positive for the variant even though only one player had been recently to South Africa.
Countries across the planet have reacted by closing their borders or reintroducing severe travel restrictions.
While scientists have raised the alarm, and have said they expected it to spread, many say there is no more cause for concern in terms of the impact on people, than there might have been if the Delta variant stays dominant.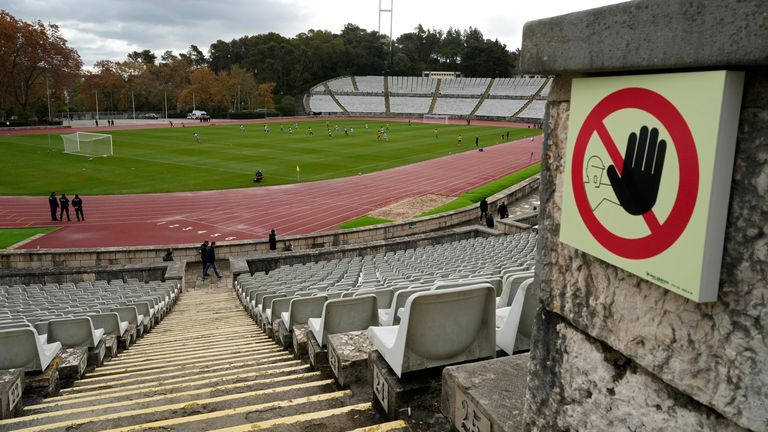 Reacting to the news that cases had been discovered in Scotland, Professor Rowland Kao, the Sir Timothy O'Shea Professor of Veterinary Epidemiology and Data Science at the University of Edinburgh, said: "It is now clear that the Omicron variant has been spreading around the world for some days, if not weeks prior to the alarms being raised.
"And this is only to be expected for a virus which transmits as easily as SARS-CoV-2, and with international travel now substantial (even though not quite at the level pre-pandemic).
"Evidence of community spread in two locations in Scotland (ie cases with no obvious risks other than community spread) and no obvious source yet, are strong indicators that we shall see more cases in Scotland arise over the next few days and weeks.
"As always, anything individuals can do to mitigate spread (physical distancing, taking lateral flow tests when appropriate and being aware of COVID symptoms and testing) will be beneficial.
"However it is important to remember that the Omicron variant may not pose an increased health risk – it may in fact cause milder infections. However we shall only know for sure in the next few weeks."
Virgil Abloh dies: Kanye West, Pharrell and Drake lead tributes after death of 'genius' designer aged 41 | Ents & Arts News
Kanye West, Rihanna and Drake are among many celebrities paying tribute to US fashion designer Virgil Abloh, who has died at the age of 41 after a private battle with cancer.
The influential Louis Vuitton menswear designer and founder of fashion label Off-White was diagnosed with cardiac angiosarcoma – a rare, aggressive form of cancer – in 2019, the design house's parent company LVMH revealed on Sunday.
Abloh first came to prominence as rapper West's creative director but later made history as the first African-American to lead French luxury brand Louis Vuitton.
West paid tribute to him with a message on the website of his creative agency Donda, which showed a grey background with the words: "IN LOVING MEMORY OF VIRGIL ABLOH THE CREATIVE DIRECTOR OF DONDA."
West's Sunday Service choir performed a cover of Adele's Easy On Me which was livestreamed in his honour on Sunday, according to NME.
Their cover was a reworked version of the song's original lyrics, with the choir singing "Go easy on me, father, I am still your child, and I need the chance to feel your love around" in the chorus.
Abloh was often hailed as one of the most influential designers in the fashion industry but was also a DJ, artist and had degrees in civil engineering and architecture.
He was a DJ at house parties through college, later playing internationally including in Ibiza and Las Vegas.
A first-generation Ghanaian American whose seamstress mother taught him to sew, Abloh had no formal fashion training but gained success with groundbreaking fusions of streetwear and haute couture.
Drake shared a series of photos of himself with Abloh and said: "My plan is to touch the sky 1000 more times for you… love you eternally brother. Thank you for everything."
"My heart is broken," musician and producer Pharrell said.
"Virgil you were a kind, generous, thoughtful creative genius. Your work as a human and your work as a spiritual being will live forever. Sending love and light to your wife, children, family and day ones. You're with the Master now, shine."
Supermodel Gigi Hadid said he "will be deeply missed, cherished, and celebrated by me and all the people and industries that have been lucky enough to work around & know the true supernova behind this man".
She added: "I picture him now like our Mickey Mouse .. forever with us, forever adored, forever magical, forever guiding us."
"RIP Virgil, you did so much for all of us and showed me so much love early on," British rapper AJ Tracey tweeted. "Thank you for everything, so sad."
Justin Timberlake called him a "force" that was "taken too soon", adding: "You gave the world so much, in so little time. And created with intensity… knowing better than the rest of us that life is short, but anything is possible.
"I'm honored to have known you. Thank you for sharing your gift with us."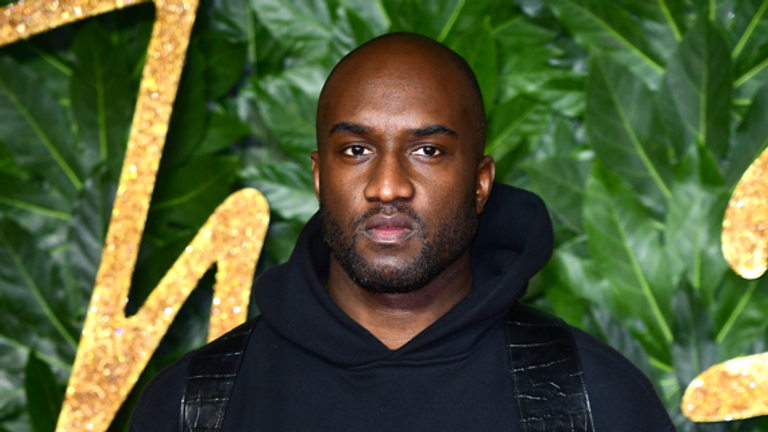 Rihanna shared a photo of the designer from her Instagram Stories.
American musician Questlove wrote on Instagram: "The teachable lesson here is disrupt. Provoke. Be controversial. Push buttons. Be a conversation piece…. live as a true artist."
A statement on Abloh's Instagram page said that throughout his illness his "work ethic, infinite curiosity and optimism" never wavered.
Subscribe to the Backstage podcast on Apple Podcasts, Google Podcasts, Spotify, Spreaker
It said he was driven by "his dedication to his craft… his mission to open doors for others and create pathways for greater equality in art and design".
Abloh's final Louis Vuitton collection, titled 'Virgil Was Here', will be presented in Miami on Tuesday.
COVID-19: Omicron variant is a 'cause for concern and not for panic', says US President Joe Biden | US News

The new Omicron variant of COVID-19 is a "cause for concern and not for panic", Joe Biden has said.
The US president told reporters his decision to restrict travel from countries in southern Africa "gives us time" to take more action.
The new variant was initially reported to the World Health Organisation (WHO) by South African scientists last Wednesday.
Follow live COVID update from across the UK and around the world
"Sooner or later we're going to see cases of this new variant in the United States," Mr Biden said.
"It's a cause for concern, not a cause for panic… We're going to fight and beat this new variant as well."
Mr Biden urged people to get fully vaccinated – and those who can to get booster jabs.
He added: "We do not yet believe that additional measures will be needed."
Mr Biden said it would be weeks before the world knew how effective current vaccines would be against it.
Earlier, the WHO advised its 194 member nations that any surge in infections could have severe consequences, but said no deaths had yet been linked to the new variant.
Follow the Daily podcast on Apple Podcasts, Google Podcasts, Spotify, Spreaker
"Omicron has an unprecedented number of spike mutations, some of which are concerning for their potential impact on the trajectory of the pandemic," a statement said.
"The overall global risk related to the new variant of concern Omicron is assessed as very high."
Further research was needed to understand Omicron's potential to escape protection against immunity induced by vaccines and previous infections, it said.