COVID-19: Second night of violence in The Netherlands as rioters clash with police over new rules | World News
Seven people have been arrested after rioters clashed with police in The Hague for a second night of violence in the Netherlands, sparked by protests over new COVID-19 restrictions.
The unrest came a day after police opened fire on protesters in Rotterdam amid what the port city's mayor called "an orgy of violence", leaving three people seriously injured after they were hit by bullets. Police said investigations are under way to establish if the shots were fired by officers.
In The Hague on Saturday night, young people set fires in the streets and threw fireworks at officers.
Clashes in Rotterdam on Friday night over COVID rules

Police said in a tweet that seven people were arrested and five officers were injured, while one needed treatment in a hospital following the clashes.
Elsewhere in the Netherlands, two soccer matches in the top professional league had to be briefly halted after fans – banned from matches under a partial lockdown in force in the country for a week – broke into stadiums in the towns of Alkmaar and Almelo.
There was a heavy police presence in several other major towns after social media calls to riot followed the Rotterdam clashes, but any further violence was largely contained, Dutch media reported.
Thousands protest new lockdown in Austria

Demonstrations have been taking place on the streets of several European cities this weekend, in protest against new lockdown measures.
Tens of thousands have voiced their anger in the Austrian capital after the government announced a nationwide lockdown and said coronavirus vaccinations would become mandatory by law next year, blaming the country's high infection numbers on those who have failed to take up the jab.
The nationwide lockdown will start on Monday and will initially last for 10 days, before being re-assessed, and will last a maximum of 20 days.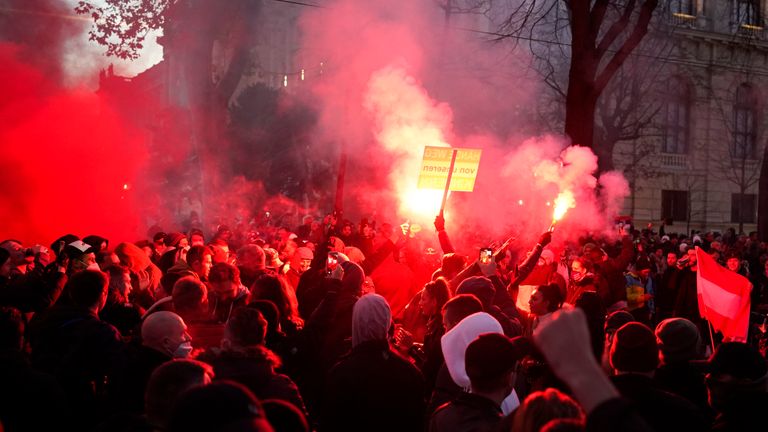 Most shops will close and cultural events will be cancelled. People will only be able to leave their homes for certain reasons, including food shopping, going to the doctor, or doing exercise.
Austria's infection rate is among the highest on the continent, with a seven-day incidence of 971.5 per 100,000 people – and daily cases keep setting records.
Around 65% of Austria's population is fully vaccinated against COVID-19, one of the lowest rates in western Europe. In the UK it is about 68%.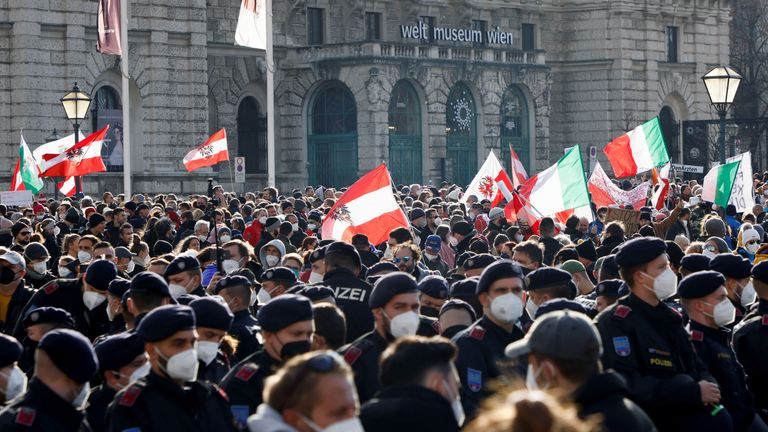 Austrian Chancellor Alexander Schallenberg has apologised to all vaccinated people, saying it was not fair they had to suffer under the renewed lockdown restrictions when they had done everything to help contain the virus.
"I'm sorry to take this drastic step," he said on public broadcaster ORF.
While Austria so far stands alone in the EU in making vaccinations mandatory, more and more governments are clamping down.
From Monday, Slovakia, where just 45.3% of the 5.5 million population is fully vaccinated, is banning people who have not been from all non-essential stores and shopping centres.
They will also not be allowed to attend public events or gatherings and will be required to test twice a week just to go to work.
German Chancellor Angela Merkel has said: "It is really, absolutely, time to take action."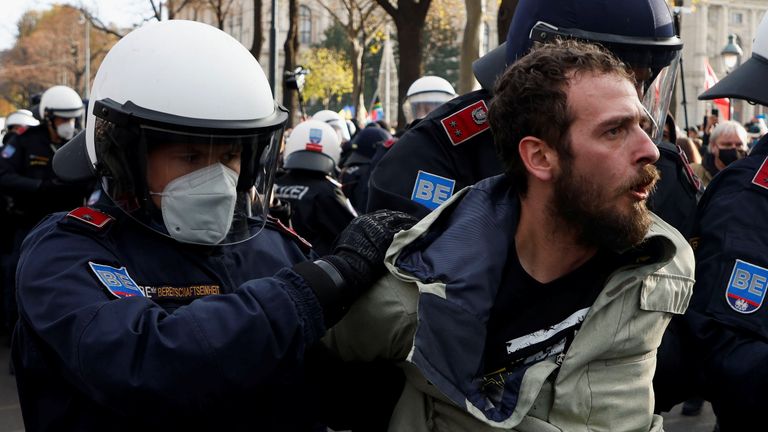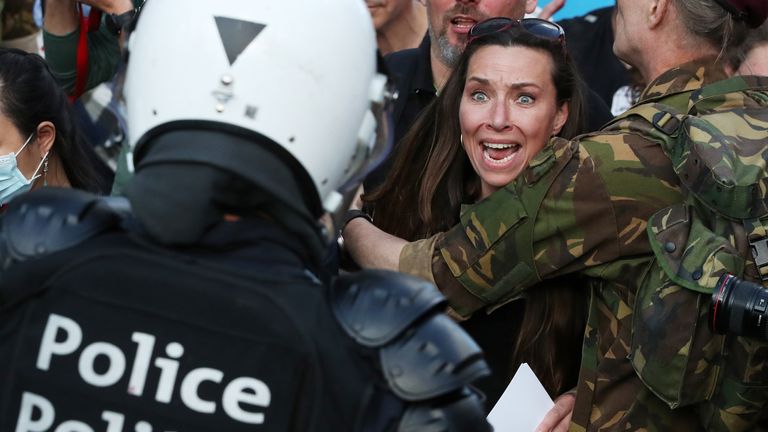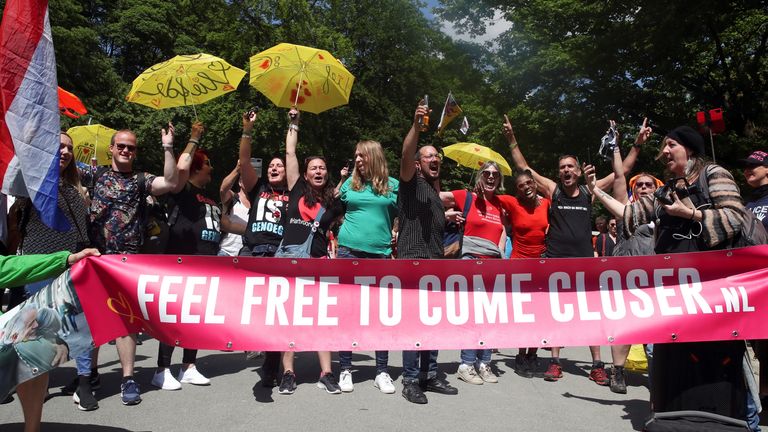 With a vaccination rate of 67.5%, her nation is now considering mandatory vaccinations for many health professionals.
Greece is also targeting the unvaccinated. Prime Minister Kyriakos Mitsotakis has announced new restrictions for the unjabbed, including stopping them entering venues such as bars, restaurants, cinemas, theatres, museums, and gyms, even if they have tested negative.
Follow the Daily podcast on Apple Podcasts, Google Podcasts, Spotify, Spreaker.
Demonstrations against coronavirus restrictions have also taken place in Switzerland, Croatia and Italy.
And in central Hull, around 200 anti-vaxxers marched through the streets, demanding that carers looking after the elderly and vulnerable should not be forced to have the jab.
France: Pensioner kills bear with rifle after part of his leg torn off in attack | World News

A brown bear has been shot dead by a man hunting wild boar after it attacked and tore part of his leg off in southwestern France, according to reports.
The 70-year-old is said to have fired his rifle twice in self-defence – killing the female animal instantly.
He was airlifted to hospital by helicopter and is described as being in a serious condition.
The authorities in France have launched an investigation into the incident happened near Seix, in Ariège, on Saturday afternoon.
A member of the local hunting association told the news website La Depeche said: "I was a little further away, I didn't see what was happening but I heard the call on the radio.
"The bear attacked him and grabbed his leg, he tore his calf off and injured him in the other leg too.
"One person managed to stop the bleeding until the arrival of help."
He added: "It doesn't surprise me, they are coming closer and closer because there is nothing left to eat in the mountains.
"But he shot him only for the sake of himself."
The attack is set to reignite the debate over the reintroduction of brown bears to the Pyrenees.
The move was controversial among farmers who believe the animals pose a threat to their livestock.
In last year's census, 64 bears were counted across the Pyrenees.
Critics argue as numbers grow they are increasingly finding it more difficult to get food, bringing them into closer contact with people.
Local media report between January and October of this year, bears killed or are thought to have killed 625 sheep, 16 cattle, 17 horses and a dog.
Peng Shuai: Images of the tennis star are welcome, but we still don't know if she is free | World News
Sunday lunch at Beijing Yibin Guesthouse is noisy and busy, with customers queuing for the restaurant's signature dishes – fiery Sichuan noodles and pig's elbow.
It's a popular spot, and the one chosen to reveal Peng Shuai's whereabouts to the world.
After three weeks of asking "where is Peng Shuai?" – this is China's attempt at an answer.
Peng Shuai dines in restaurant

Videos released by state media showed Peng at the guesthouse. Bizarrely, she and her guests mention the date out loud – five times in the short clip.
That's not usually what friends on a Saturday night out do – more the sort of thing you would expect from a proof of life video.
On Sunday, when Sky News visits, staff confirm Peng was there. "Yes. She has been here for meal. Yes, it's our restaurant," a waitress tells us.
Did she see her personally?
"No, I didn't. Yesterday I was busy with my work here. I didn't see her. But she had a meal in our restaurant."
State media followed up the restaurant video with footage of Peng at a junior tennis tournament the next morning at the National Tennis Centre, in the 2008 Olympics zone.
Missing Peng Shuai seen at tennis final

When we slip into the stadium in the early afternoon, there's no sign of her.
A staff member spots us in the stands and escorts us out. But he says she was indeed there: "Yes, I saw her. But you can't be here, sorry."
It's the most we've seen of Peng Shuai since she accused Zhang Gaoli, a very senior Communist politician, of pressuring her into sex.
But none of this was published by Peng. Chinese state media, not her, is providing the updates.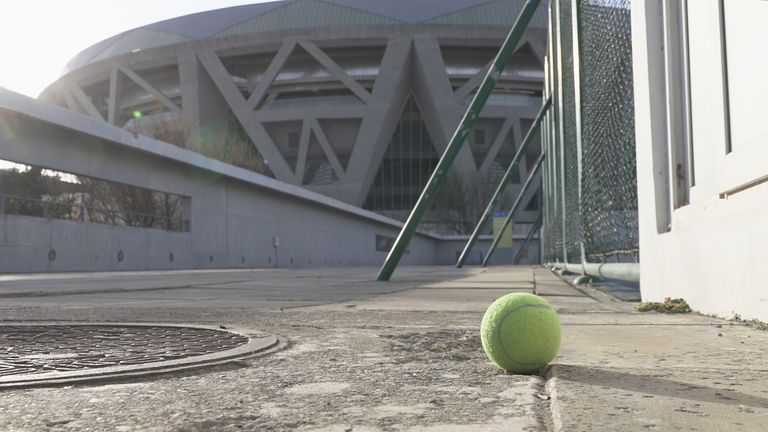 And her Weibo account, on which she first published the allegations, is still blocked.
That has left many unconvinced, including the Women's Tennis Association (WTA), which has been unflinching in demanding more information from the Chinese authorities.
After the restaurant video emerged, Steve Simon, the CEO of the WTA, wrote: "While it is positive to see her, it remains unclear if she is free and able to make decisions and take actions on her own, without coercion or external interference. This video alone is insufficient.
"As I have stated from the beginning, I remain concerned about Peng Shuai's health and safety and that the allegation of sexual assault is being censored and swept under the rug."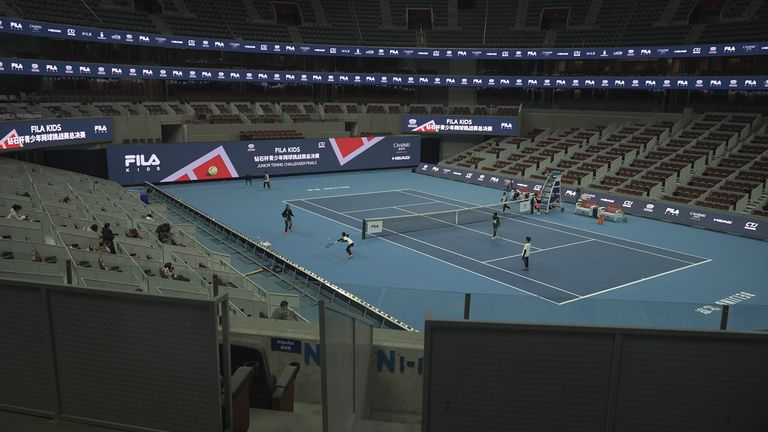 The question "where is Peng Shuai" has been a shorthand – a rallying cry from the tennis world.
Her appearance is welcome.
But the bigger, trickier questions – about her allegations, about her whereabouts since she made them, about her freedom now – have not been answered yet.
Qatar 'unfairly treated and scrutinised' says 2022 World Cup chief, who insists country is a 'trailblazer' | World News
Qatar has been "unfairly treated and scrutinised" according to the chief executive of the 2022 World Cup – who insists it is a "trailblazer" in the Middle East.
FIFA'S 2010 decision to award hosting rights to Qatar has been repeatedly criticised and organisations, including Amnesty International, have accused the country of failing to protect migrant workers and having a poor record on human rights.
Nasser al Khater, the chief of the organising committee, hit out at the criticism and said there has been "a lot of progress".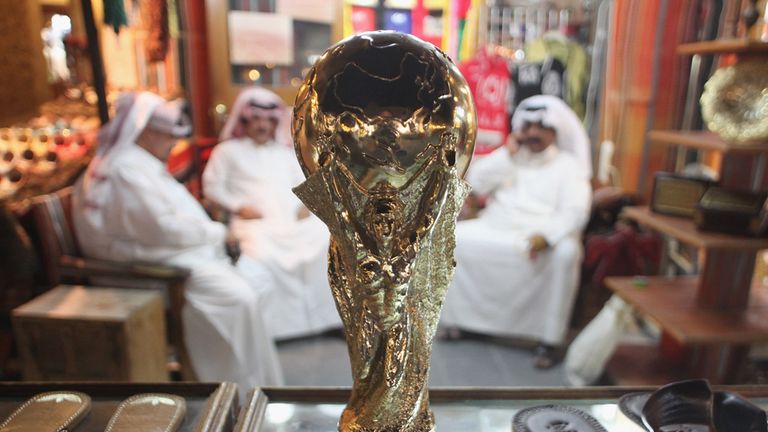 "Yes, Qatar has been unfairly treated and scrutinised for a number of years," he said.
"There's criticism, yes, there's work that needs to be done. There is, however, a lot of progress but unfortunately, that has not been captured in reports such as Amnesty, Human Rights Watch.
"I think Qatar in a lot of sense, if you take it into context and you take it into the context of the region and you take it into the context of the amount of achievements that have been done over the past seven, eight or nine years, it's quite extraordinary.
"Now, unfortunately, people don't like to report on that – people like to report on anything that's negative. No one has ever gone out of their way to sit and look at it objectively to see what this country has achieved over the past seven, eight years."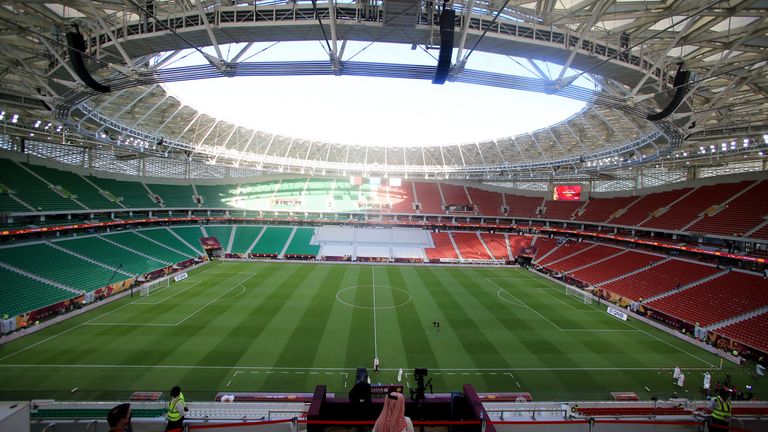 World Cup organisers insist there have been just three work-related deaths since construction of the major stadiums began.
Infrastructure is still being completed, while building site entrances sit on most sides of the 80,000-seat Lusail Stadium.
Luxury high-rise hotels and even the expanded road networks were not completed in time for the somewhat hastily arranged Formula One debut this weekend – despite work seemingly going on at all hours.
"The work is not as close to completion as the authorities have people believe," a worker at the site perimeter said.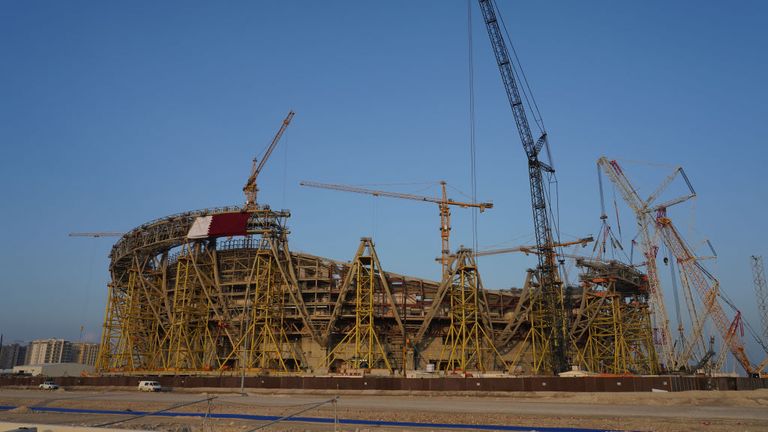 "It will be ready but only because we are working so hard. We are doing our best."
Lewis Hamilton, who qualified on pole position for Sunday's race, has been praised for wearing a rainbow-coloured helmet ahead of the inaugural Grand Prix. He also called on fellow sportspeople to speak out about human rights issues as he arrived in the desert for the first time.
But Mr al Khater also said members of the LGBTQ+ community and same-sex couples would be free to visit Qatar for the World Cup unencumbered – despite the fact male homosexuality is punishable by a prison sentence and same-sex marriages not recognised by the government.
He said high-profile names are misinformed: "Nobody can stop anybody from taking a position publicly or privately if they wish but it is something that we will feel is not fair and honestly incorrect."
But, when asked if an educational programme needs to be put in place for locals, he stopped short of agreeing it would be required.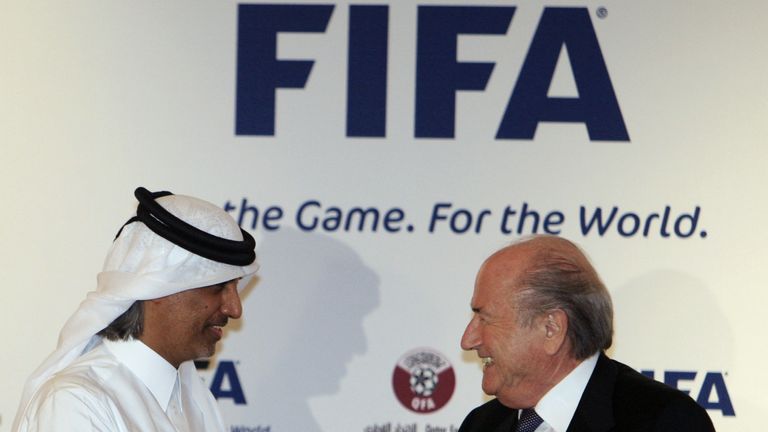 "Everybody is welcome to come to Qatar and have an enjoyable time at the World Cup," he added.
"They can come and enjoy their time here without fear of any sort of repercussions, it makes no difference to people's (sexual) orientation, religion, creed, race whatsoever."