Career in ashes: Australian cricket captain Tim Paine steps down after admitting sending explicit messages | World News
Australian cricket captain Tim Paine has stepped down – less than a month before the start of the Ashes – after admitting he sent explicit messages to a female co-worker in 2017.
Paine, 36, had been expected to lead his side in the series against England, which starts in Brisbane on 8 December, but said he had made the "incredibly difficult decision" to stand down from the men's team.
Appearing at a press conference in Hobart, he said: "As a background on my decision, nearly four years ago I was involved in a text exchange with a then colleague.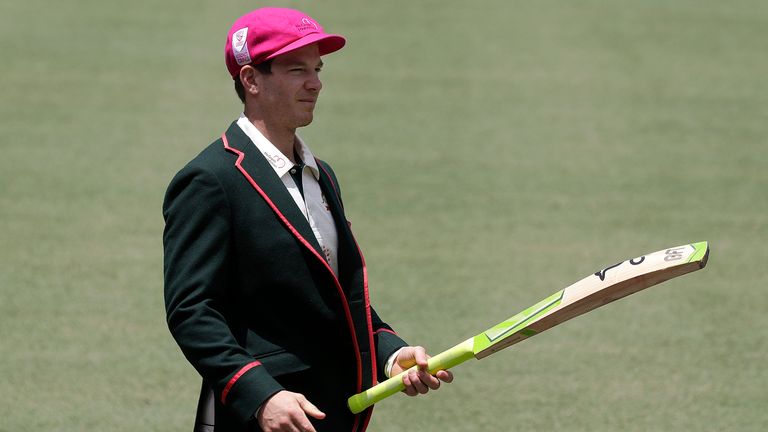 "At the time, the exchange was the subject of a thorough CA (Cricket Australia) Integrity Unit investigation throughout which I fully participated and openly participated in.
"That investigation and a Cricket Tasmania HR investigation at the same time found that there had been no breach of the Cricket Australia code of conduct.
"Although exonerated, I deeply regretted this incident at the time and still do today."
The wicketkeeper-batsman, who married his singer wife Bonnie Paine just a year before the text exchange took place, did not speak about the nature of the messages in his resignation speech, but Cricket Australia's news website referred to it as "revelations of a sexting incident involving a former Cricket Tasmania employee".
Cricket Australia has said it accepts the resignation and will appoint a new captain. Current vice-captain and paceman Pat Cummins is the most likely choice of replacement.
Paine was unexpectedly elevated to become Australia's 46th Test captain after Steve Smith's ban following the infamous ball-tampering scandal in South Africa in 2018.
Channel deaths: Kurdish woman, 21, trying to join fiance in UK is first identified victim of tragedy | UK News

The first victim of Wednesday's tragedy in the Channel has been named as Mariam Nouri Hamadameen, a 21-year-old Kurdish woman from northern Iraq.
She had travelled to Germany and on to France, hoping to join her fiance who already lives in Britain.
Mariam was a student and recently engaged – she left her studies early to be with her fiance.
"Her mother and father are totally devastated," her cousin told Sky News.
"The situation is just awful. She was a woman in the prime of her life. It's a total tragedy and the whole family are in shock," said Krmanj Ezzat, speaking from the family home in northern Iraq.
He sent a message to other young Kurds considering taking the journey: "I understand why so many people are leaving for a better life, but this is not the correct path. It's the route of death. Please don't take this route, it's not worth it."
And to the British and French governments, he had this to say: "We hoped that Britain and France would accept us in a better way.
"Anyone who wants to leave their home and travel to Europe has their own reasons and hopes, so please just help them in a better way and not force them to take this route of death."
Seventeen men, seven women, two teenage boys and a girl died off Calais while trying to reach the UK in a small inflatable boat.
There were two survivors – from Somalia and Iraq.
The incident is by far the worst loss of life among people trying to reach Britain by sea and has led to a diplomatic fall-out between France and the UK over how to stop the crossings.
COVID-19: New coronavirus variant may not change anything about the pandemic | World News
The emergence of a new coronavirus variant with significant mutations to the spike protein may change nothing about the pandemic.
The jump in cases in the Gauteng province of South Africa has been linked to the B.1.1.529 variant, but it is not certain that it is more transmissible.
Epidemiologists might instead be looking at the results of a particularly potent super-spreader event, which makes it seem as if one variant is spreading faster than all the rest, when in fact it just happens to have infected one especially sociable host.
What is the new COVID variant?

Even if the so-called Nu variant is more transmissible than existing strains, it is not bound to produce greater problems.
It might cause less, not more, serious illness. It might not escape the effects of vaccines.
Follow live updates on the new COVID variant
For various social and biological reasons, it might not spread away from Gauteng province, the way that another highly-transmissible South African variant, Beta, failed to catch hold in Europe.
It will take scientists some time to determine the real-world effects of Nu and until they do all these outcomes remain a possibility.
But, in the meantime, few believe we should be taking this news lightly.
They are thinking back to the situation in Kent a year ago when a surge of cases appeared which confounded epidemiological expectations.
This was the first sign of a new variant which was 50% as transmissible as the existing COVID strain. It was called the Alpha variant – and that winter its results were devastating.
Since then, of course, much has changed, above all the development of the vaccine – and it is their effectiveness which this new variant puts at risk.
Worryingly, Nu has a large number of mutations on the active part of the virus, the spike protein, which could undermine our bodies' ability to manufacture the right kind of immune response.
It's as if a previously reliable key has had its teeth twisted. It might still work in the door – but not as well, and not every time.
That does not mean that Nu will necessarily take us back to square one.
Scientists willing to speculate say it is unlikely that the new variant will completely escape immunisation provided by vaccination (or prior infection), especially given the apparent effectiveness of booster shots.
We also have the capacity to produce new vaccines made especially for the new variants. Pfizer said today it could design a new jab for Nu in six weeks and ship the first doses in 100 days.
What we do not have is a way of making sure that vaccines find their way to everyone in the world. There have been many fine words, but relatively little in the way of action.
Rich countries have been keeping vaccines for their own populations, ignoring the pleas of the World Health Organisation, which has begged them to postpone booster programmes in order to distribute stocks more widely.
'Huge international concern' over variant

In South Africa, about 41% of adults have received a single dose, with 35% of adults fully vaccinated, yet these rates are huge compared to the rest of sub-Saharan Africa, where less than 10% of the population has been vaccinated.
"This is not just unfair, it's not just immoral, it's prolonging the pandemic," Maria Van Kerkhove of the WHO said recently.
"And it is resulting in people dying."
That warning, made in September, looks particularly stark now the entire world is threatened with a new variant.
Experts have been saying for some time that rich countries were putting their own progress at risk by failing to support developing nations. Now that prophecy may have come bitterly true.
COVID variant 'worst we've seen'

As always with COVID, the picture is complicated. Recently, South Africa asked Pfizer to delay deliveries because of the amount of stock that had built up as a result of people not coming forward for vaccines.
Misinformation about vaccines has spread very rapidly. Demand is an issue as well as supply.
It's also not clear that vaccination will stop the emergence of new variants. One hypothesis often put forward states that new strains tend to pop up in places where there are lots of cases, yet while this is logical, it may not reflect the current situation.
South Africa has a low rate of diagnosed cases, yet it is possible that the new variant has emerged here rather than in, say, the UK, where case rates are far higher.
Follow the Daily podcast on Apple Podcasts, Google Podcasts, Spotify, Spreaker
If Nu did emerge in South Africa, rather than just being discovered there, then it points to a demoralising conclusion: that even greatly increased vaccination will not totally stop new variants emerging.
That is no reason not to do as much as possible, far more than is being done right now, and it does not mean vaccination cannot help enormously, especially if a truly global effort distributes vaccines around the world.
But it does suggest that we will be dealing with the twists and turns of COVID for some time to come – unless the epidemiological data delivers some unexpected good news.
EU recommends member states suspend all flights to countries where new variant detected | World News
Air travel from Europe should be suspended to all countries where the new COVID variant has been detected, the European Commission president said.
Ursula von der Leyen also said vaccine producers are obliged under their contracts to adapt their jabs as soon as a new variant emerges.
She called for the new travel measures after the first European case of the B.1.1.529 variant first detected in South Africa was identified in Belgium.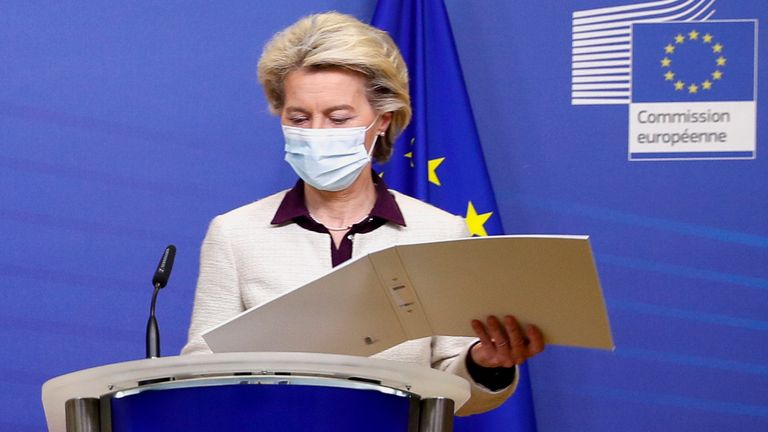 "All air travel to these countries should be suspended until we have a clearer understanding about the danger posed by this new variant," she said.
The Commission president said those arriving from regions where the variant has been detected should be party to "strict quarantine rules".
She said the EU was "taking it very seriously" and warned the variant could spread "worldwide in months".
It "could lead to the emergence and spread of even more concerning variants"," she added.
Since midday on Friday, flights from six southern African nations – South Africa, Namibia, Lesotho, Botswana, Eswatini and Zimbabwe – have been suspended until 4pm on Sunday.
After that, new arrivals of UK and Irish residents into the UK from those countries will be required to quarantine in hotels after they were placed on the red list on Thursday night.
Non UK and Ireland residents will not be allowed in from those countries.
UK Health Secretary Sajid Javid said experience has shown "we must move quickly and at the earliest possible moment".
He said there are concerns the variant may be more transmissible, make vaccines less effective and may affect one of the UK's COVID treatments, Ronapreve.
Mr Javid told the Commons it was "highly likely" the variant had already spread from southern Africa to other countries.