Newcastle United takeover: Crystal Palace fans' banner protesting Saudi-led consortium's Tyneside takeover investigated by police | UK News
A banner unfurled by Crystal Palace fans ahead of Saturday's draw with Newcastle, protesting the recent Saudi-led takeover of the Tyneside club is being investigated by police.
The graphic sign, held up at Selhurst Park, showed a man wearing Arab-style clothing wielding a bloodied sword about to behead a magpie, as faceless supporters in the background sing: "We've got our club back."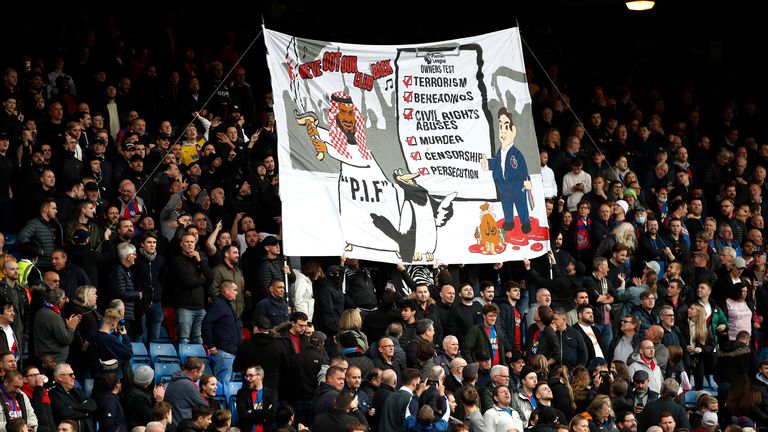 It listed offences the regime is accused of by human rights groups – terrorism, beheading, civil rights abuses, murder, censorship and persecution – which were all ticked off on a clipboard under the heading "Premier League Owners Test".
The top-flight league's chief executive Richard Masters is also depicted giving a thumbs-up to a bag of cash, standing in a pool of blood.
It comes after the controversial go-ahead was given for a consortium led by Saudi Arabia's state sovereign wealth fund – known as the Public Investment Fund or PIF – to take control of Newcastle United in a £300 m deal, earlier this month.
This was despite the closeness of the fund to the Saudi state, which has faced criticism over its human rights record.
PIF is chaired by Saudi's de facto ruler Crown Prince Mohammed bin Salman, who was linked to the gruesome 2018 murder of exiled journalist Jamal Khashoggi, although he has denied any involvement.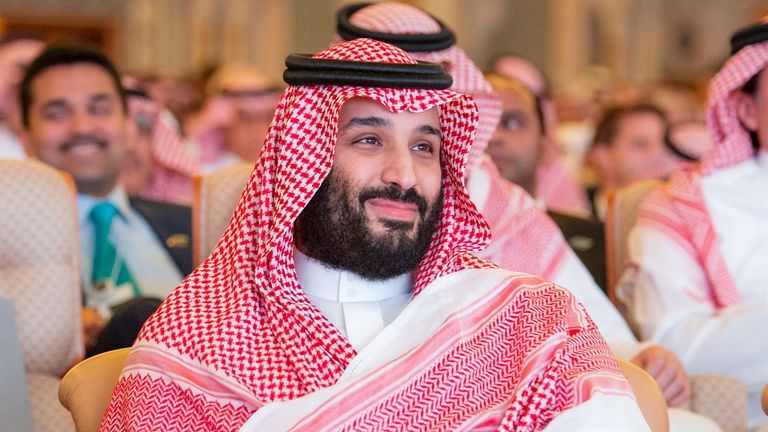 A post on the official Croydon Metropolitan Police Twitter account said: "On Saturday 23 October police received a report of an offensive banner displayed by Crystal Palace fans.
"Officers are assessing the information and carrying out enquiries. Any allegations of racist abuse will be taken very seriously."
Palace supporters' group Holmesdale Fanatics released a statement after the banner was unveiled.
It said: "The Saudi led takeover of Newcastle has rightly received widespread condemnation and anger.
"To give the thumbs up to this deal at a time when the Premier League is promoting the women's game and inclusive initiatives such as rainbow armbands, shows the total hypocrisy at play and demonstrates the league's soulless agenda where profits trump all."
Proud and Palace, the club's official LGBT+ supporters group, also posted a video on its Twitter account which highlighted the case of Suhail al Jameel, a gay man reportedly imprisoned in Saudi Arabia.
A spokeswoman for the group said: "We don't believe these owners have a place in the Premier League and we want to keep raising awareness."
COVID-19 around the world: Israel to ban foreigners as other nations tighten restrictions on Britons | World News
Global concern about the coronavirus pandemic is growing, with a number of countries detecting confirmed cases of the Omicron variant for the first time.
Travel restrictions are also being imposed once again as governments suspend flights from southern Africa, the region where this strain was first detected.
Here is a look at the latest COVID-19 developments around the world.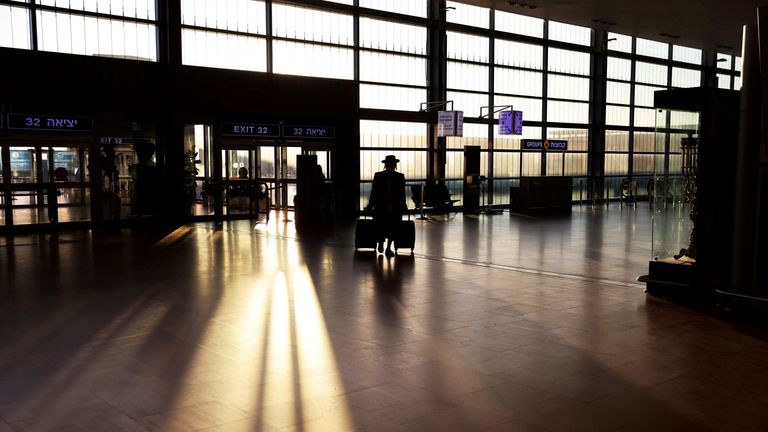 Israel
On Saturday, Israel unveiled plans to ban all foreigners from entering the country.
If the proposals are approved, it will become the first nation to completely shut its borders in response to the Omicron variant.
There are fears that B.1.1.529 could be more contagious than other variants – and more resistant to vaccines.
Prime Minister Naftali Bennett said the ban would last for 14 days.
So far, Israel has one confirmed case of the Omicron variant, and seven suspected cases.
Phone-tracking technology is going to be used to locate carriers of the new variant, in an attempt to stop it being transmitted to others.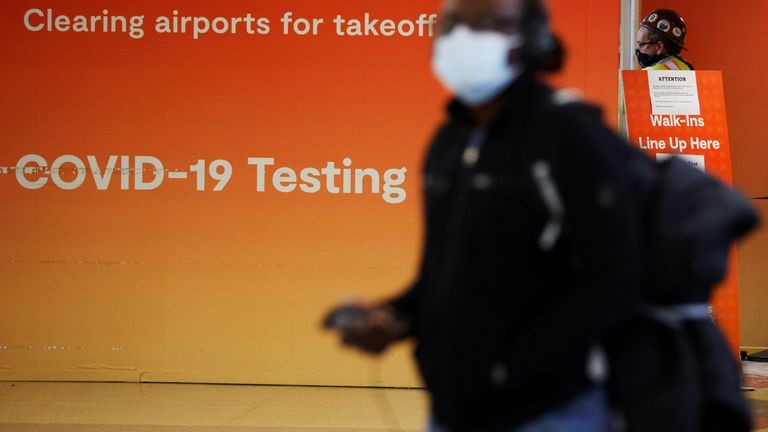 The US
From Monday, the US is going to restrict travel from South Africa and seven other countries in the region.
American citizens and permanent US residents – along with spouses and close friends – will be exempt.
No cases linked to Omicron have been detected in the country so far.
But Dr Anthony Fauci, America's top infectious disease specialist, told NBC that he wouldn't be surprised if the variant is already in the States, adding: "When you have a virus that is showing this degree of transmissibility … it almost invariably is ultimately going to go essentially all over."
In separate developments, New York Governor Kathy Hochul issued a COVID-19 "disaster emergency" declaration on Friday, with infections and hospitalisations increasing in the state.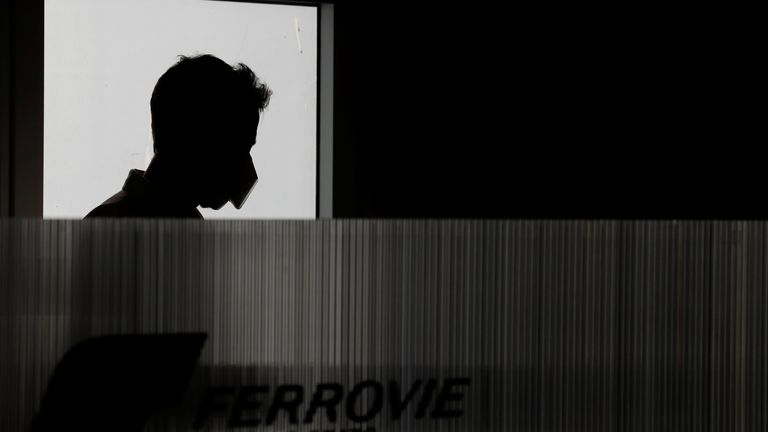 Italy
On Saturday, health officials confirmed that a case of the Omicron variant had been detected in Italy.
The business traveller had flown from Mozambique, landing in Rome on 11 November and returning to his home in Naples.
Five of his family members, including two children, have also tested positive. All are now isolating and have light symptoms.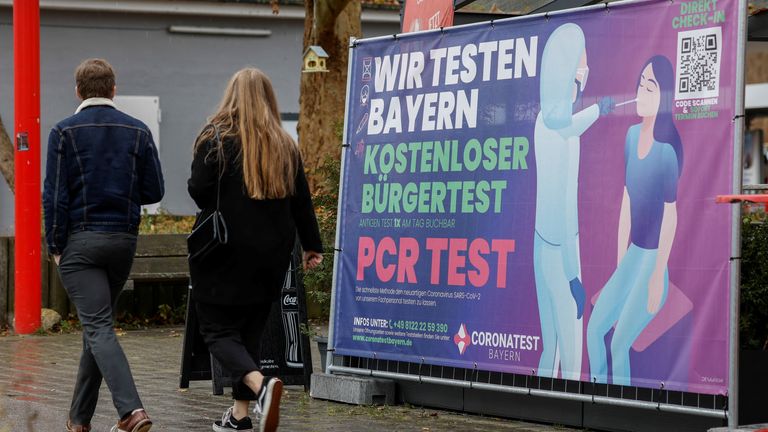 Germany
The Omicron variant has also been detected in two travellers who arrived on a flight from South Africa on 24 November.
Although genome sequencing is yet to be completed, it is "proven without doubt that this is the variant".
Both cases were detected in the southern state of Bavaria, and another suspected case has been found in the west of the country.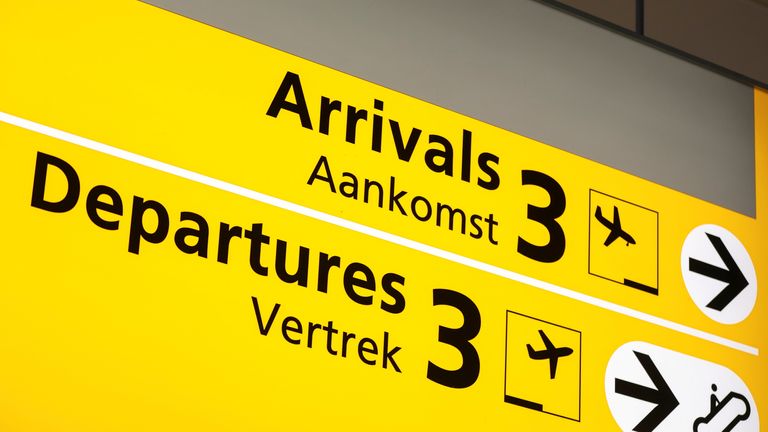 The Netherlands
Dutch health officials have detected 61 COVID-19 cases among people who flew from South Africa on Friday.
Although the Netherlands Institute for Health is "almost certain" some of these patients have the Omicron variant, further testing is required to be absolutely sure.
The KLM airline expressed surprise at the high number of cases because all passengers had either tested negative or shown proof of vaccination before boarding flights from Cape Town and Johannesburg.
Authorities in the country are now attempting to contact 5,000 passengers who have travelled from South Africa, Botswana, Eswatini, Lesotho, Mozambique, Namibia or Zimbabwe since Monday.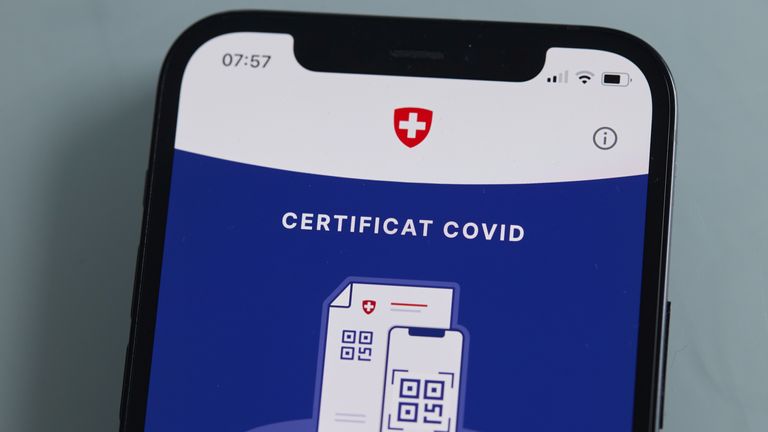 Switzerland
Quarantine requirements have been widened to a greater number of travellers in an attempt to stem the spread of the Omicron variant.
Those arriving from the UK, the Czech Republic, the Netherlands, Egypt and Malawi will now be subject to tighter restrictions.
The Federal Office of Public Health said passengers from these countries will need to present a negative COVID-19 test and quarantine for 10 days too.
Direct flights have already been banned from South Africa and the surrounding region.
Despite cases being detected in Italy and Germany, both neighbours of Switzerland, travel restrictions have not been imposed on any countries it shares borders with.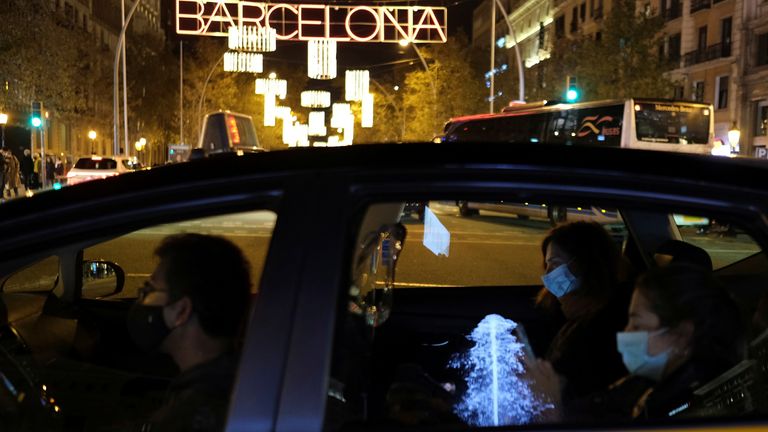 Spain
From next month, British tourists will only be able to enter Spain if they can show proof of a COVID-19 vaccination.
Until now, unvaccinated travellers were allowed into the country if they could present a negative PCR test that was take 72 hours before their arrival.
"The appearance of new variants causing (coronavirus) obliges an increase in restrictions," the government said.
Spain's Industry, Trade and Tourism department said approximately 300,000 British people who are resident in Spain will not be affected by the new measures.
Archaeologists unearth mummy in Peru estimated to be over 800 years old | World News
A mummy estimated to be around 800 years old has been discovered on Peru's central coast.
The mummified remains were said to be of a person from the culture that developed between the coast and mountains of the country, before the rise of the Inca Empire in the 1400s.
The mummy's gender is not yet known, but it was discovered east of Lima, the capital of the south American country.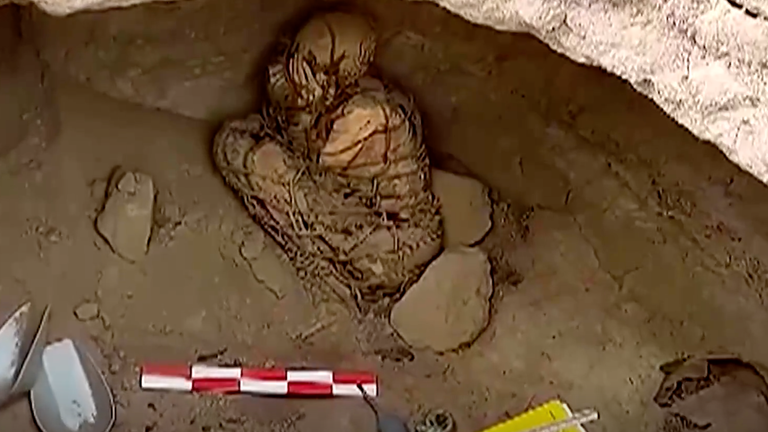 Archaeologist Pieter Van Dalen Luna, who worked on the excavation, added the remains are of a person who lived in the high Andean region of the country.
He said: "The main characteristic of the mummy is that the whole body was tied up by ropes and with the hands covering the face, which would be part of the local funeral pattern.
"Radiocarbon dating will give a more precise chronology."
The mummy was found inside an underground structure that was located on the outskirts of Lima.
There were also ceramics, vegetable remains and stone tools inside the tomb.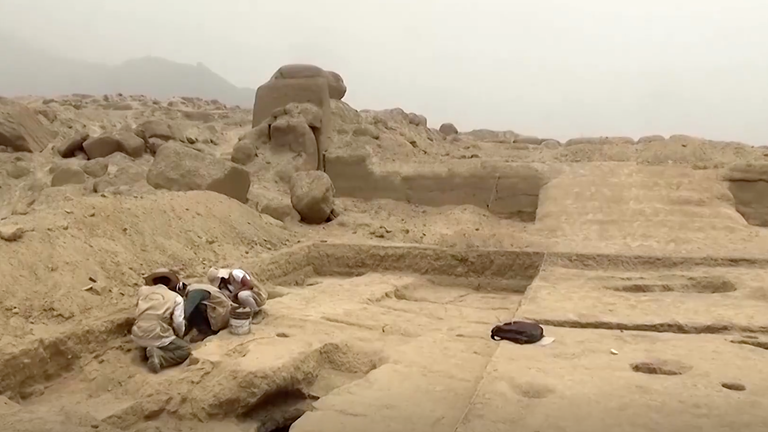 Peru is home to hundreds of archaeological sites from cultures that developed before and after the Inca Empire.
The empire dominated the southern part of South America, from southern Ecuador and Colombia to central Chile.
Channel deaths: Kurdish woman who died during Channel crossing told fiance she was making journey just before boarding boat | World News
A young Kurdish woman who drowned on Wednesday in the English Channel didn't tell her fiance she was about to board a boat to make the crossing, until the last minute.
The 24-year-old – also known as Mariam – died along with 26 others, when their flimsy raft ran into difficulties mid-crossing.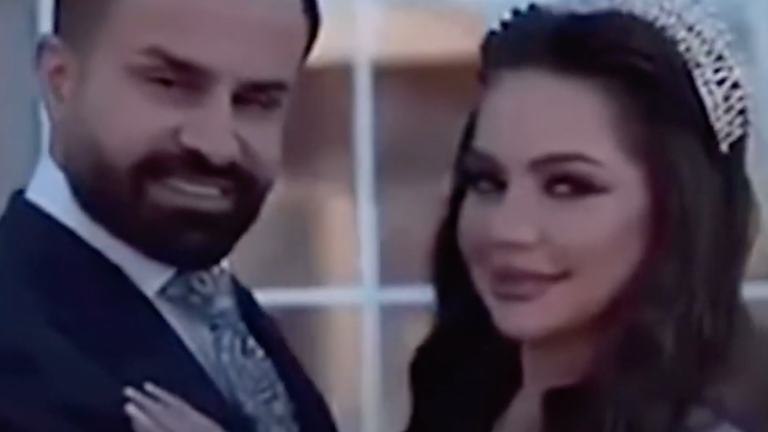 The incident has caused renewed political disagreement on both sides of the Channel.
Speaking at the family's home in Soran, northern Iraq, Baran's cousin and childhood friend told Sky News how much the two adored one another and that she wanted to join him in Europe.
"They loved each other so much, they were love birds," Iman Hassan told us.
"I've never seen anyone like them. I would tell my husband, look at him, buy roses like him! They loved each other and were so respectful to each other.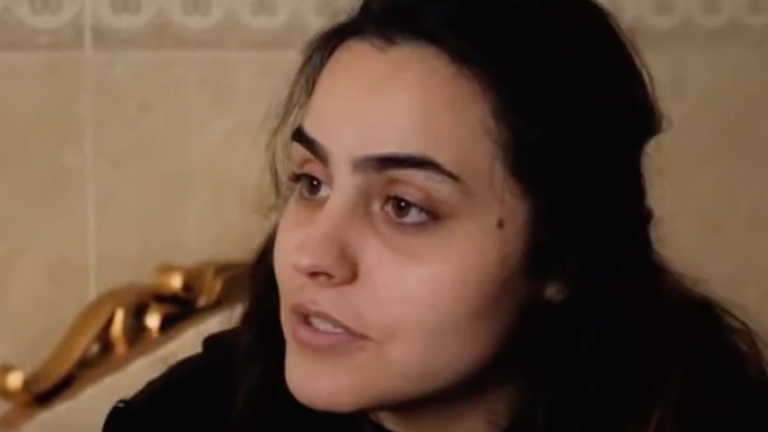 "She even didn't tell him that she was going this way [by sea], he was trying to find a better way. So what she did, before she got on the ship was take a photo and say 'I'm coming to you'. They loved each other so, so much."
Sky News spent the day with family, relatives and friends mourning at the house in Kurdistan.
We were shown the last GPS location for the boat, midway between Calais and the Kent coast. That was the moment that her fiance, who was tracking her journey over, realised something might have happened.
With tears in his eyes, Baran's younger brother Mohammed said he will remember the last time they hugged.
He said: "My last memory with her which will stay in my head forever is that we were at Erbil International Airport. It was the last time I said goodbye to her and I hugged her.
Follow the Daily podcast on Apple Podcasts, Google Podcasts, Spotify, Spreaker
"Baran was a loved one in the family and in general. Anyone that has ever seen her or met her once can't forget her for sure, they couldn't. And to me, she was a sister and a friend. I am deeply saddened that she left with such a tragic accident."
Despite their loss, the family showed no sign of anger or blame. Baran's father said that God took her and explained why she wanted to go to the UK.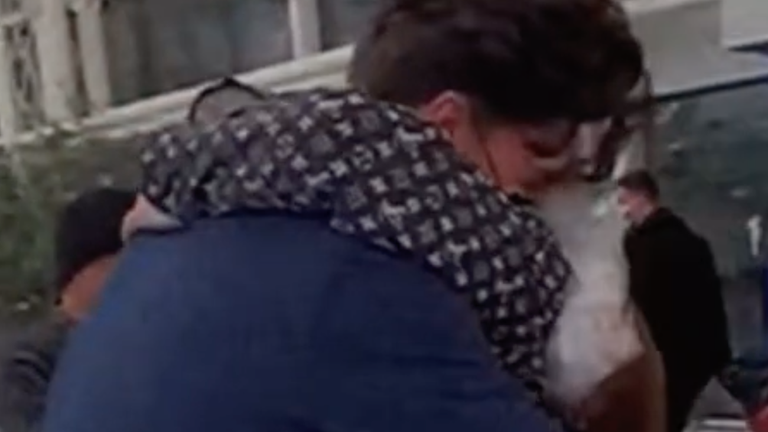 He said: "They chose Britain because it's a good place, it's secure… people move or migrate there for their own good, but it was God's fate that it doesn't work out.
"I ask these countries, especially the UK and the European countries, to help Kurdish migrants, and migrants from other countries and respect them."