Colombian kingpin 'Otoniel' arrested in 'biggest blow to drug trafficking since fall of Pablo Escobar' | World News
A notorious Colombian drug kingpin has been arrested in what has been described as the biggest blow to the country's trafficking network since the death of Pablo Escobar.
Dairo Antonio Usuga, known as Otoniel, was captured by the armed forces during an operation in a rural area of the South American nation's Uraba region.
Both the Colombian and US governments had been willing to pay a premium for information about the gang leader's network and whereabouts – three billion pesos (£577,000) and $5m (£3.6m) respectively.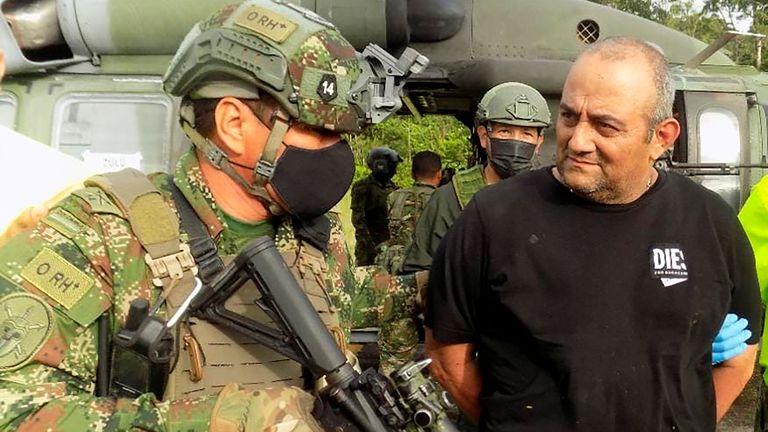 Otoniel is accused of sending dozens of shipments of cocaine to the US, killing police officers, illegal mining, recruiting minors, and sexually abusing children, among other crimes.
Colombian President Ivan Duque hailed the 50-year-old's arrest in a video message, saying: "This is the biggest blow against drug trafficking in our country this century.
"This blow is only comparable to the fall of Pablo Escobar in the 1990s."
Saturday's operation, Osiris, involved more than 500 members of Colombia's special forces and 22 helicopters, according to defence minister Diego Molano.
Such was the significance of the arrest, soldiers posed for pictures and took selfies with Otoniel.
The operation, which resulted in the death of one police officer, brought to an end years-long efforts to find Otoniel.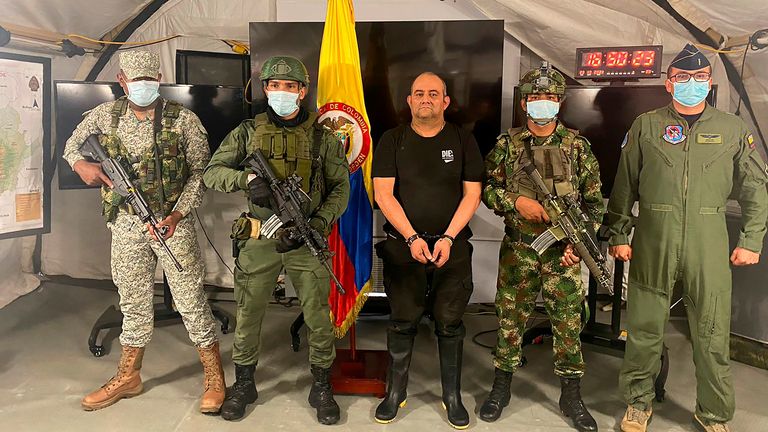 Dozens of his lieutenants were captured and killed in an operation in 2016, and his sister, Nini Johana Usuga, was arrested in March this year.
She was extradited to the US to face charges connected to drug trafficking and money laundering.
Otoniel's rise to prominence saw him become leader of drug trafficking group Clan del Golfo, or Gulf Clan, following stints as a left-wing guerrilla and later as a paramilitary.
Clan del Golfo has around 1,200 armed men – the majority being former members of far-right paramilitary groups, stationed across 10 of Colombia's 32 provinces.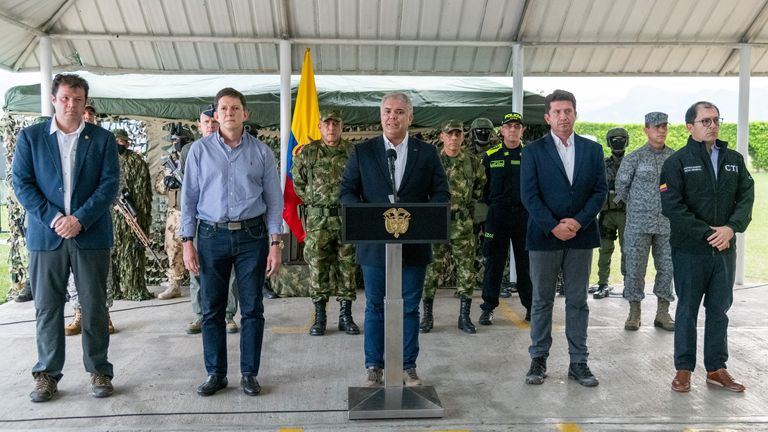 While Colombia's president was bullish in the wake of Otoniel's arrest, he has been warned that another figure will almost certainly take his place.
Sergio Guzman, director of the Colombia Risk Analysis organisation, said the arrest was a "big deal", but that Otoniel was "bound to be replaced".
Gabby Petito's boyfriend Brian Laundrie died of a gunshot wound to the head, family lawyer says | US News
The boyfriend of Gabby Petito, who was being hunted after she was found dead, fatally shot himself in the head, a lawyer has said.
Brian Laundrie had been on a cross-country trip in the US with Ms Petito when she disappeared.
As police appealed for help in finding her, a video emerged of her speaking to police after the couple had had a fight.
Mr Laudrie returned to Florida without her but as police searched for clues, he vanished.
His remains were later found in a swampy wilderness near his family home.
Lawyer Steve Bertolino, acting on behalf of the Laundrie family, said his cause of death was a gunshot wound to the head and the manner of death was suicide.
"Chris and Roberta are still mourning the loss of their son and are hopeful that these findings bring closure to both families," he said.
Laundrie, 23, was a person of interest in the killing of Ms Petito, who was reported missing on 11 September by her parents while the couple were on a road trip.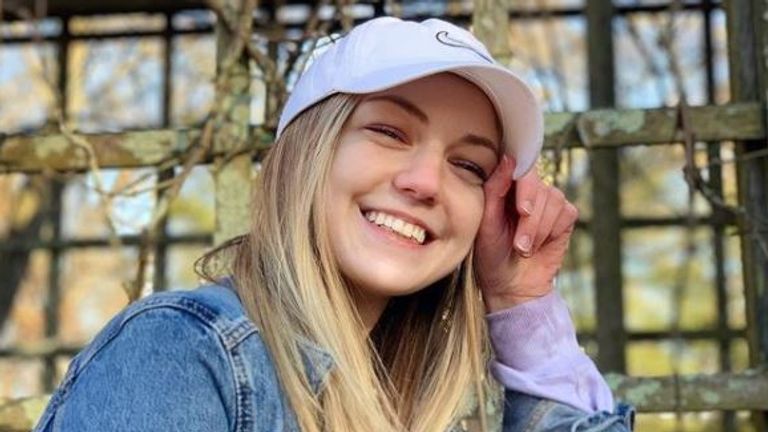 His remains were found last month, exactly a month after Ms Petito's body was found in Wyoming.
Laundrie's remains, which included part of a human skull, were discovered along with a backpack and notebook in an area of the park previously submerged in water.
The FBI confirmed his identity the day after discovering his body with the help of dental records and authorities have been trying to repair the notebook.
Ms Petito's family suspect that Laundrie was impersonating her in text messages after her death to try to confuse them and the police.
A coroner concluded that Ms Petito had been strangled and that her body had been at Wyoming's Grand Teton National Park for three or four weeks before it was found.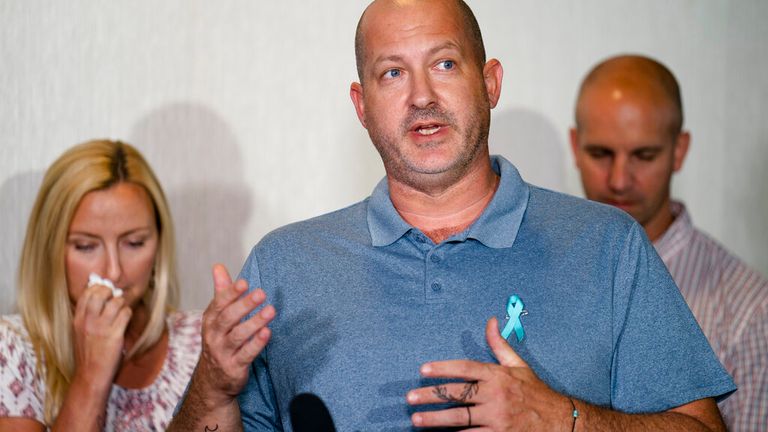 The couple were stopped on 12 August by police in Moab, Utah, after they had a physical altercation, but no charges were filed.
Laundrie returned home alone on 1 September in the Ford van the couple took on their trip.
Rudy Guede released: Man convicted of British student Meredith Kercher's murder is freed early from prison | World News
A man convicted of the murder of British student Meredith Kercher in Italy in 2007 has been freed early from jail.
Rudy Guede served about 13 years of a 16-year sentence, said his lawyer, Fabrizio Ballarini.
He was convicted in 2008 and had been due to be freed on 4 January next year, but a judge brought forward his release date.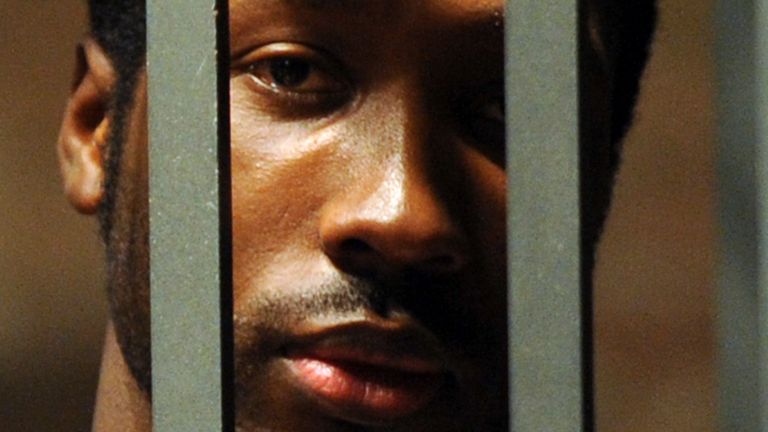 Guede was already allowed to leave prison during the day to work in the library at the Centre for Criminology Studies in Viterbo, central Italy.
The murder case, in the university city of Perugia, was the subject of international attention.
Ms Kercher, a 21-year-old exchange student, was found murdered in the flat she shared with her American roommate, Amanda Knox.
The Briton's throat had been cut and she had been stabbed 47 times.
Knox and her then-boyfriend, Raffaele Sollecito, were placed under suspicion.
Both were initially convicted, but Italy's highest court quashed their convictions in 2015.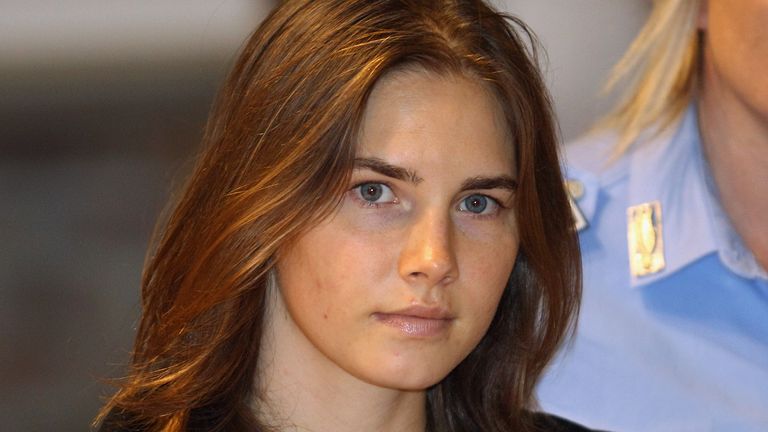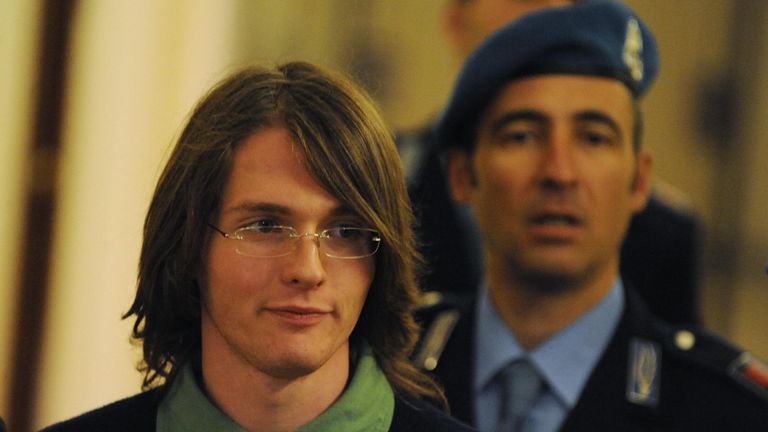 Guede, who has denied killing Ms Kercher, was originally convicted in a fast-track trial procedure.
From the Ivory Coast, he was initially sentenced to 30 years but later appealed and his term was reduced.
In 2017, he was refused permission to appeal against his conviction.
He had sought an "extraordinary review" of his case at Florence Appeal Court following the acquittal of Knox and Sollecito two years earlier.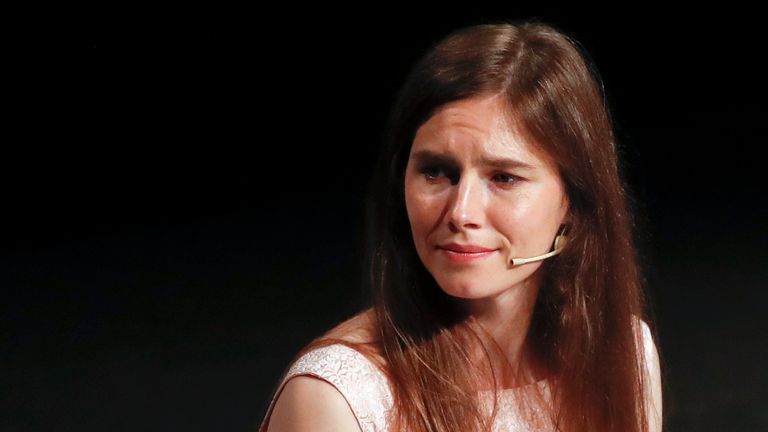 Knox returned to Italy in 2019 and said she felt fearful about going back.
"I'm afraid of being harassed, mocked, framed, I'm afraid that new accusations will be levied against me just because I'm here giving my version of events," she told a criminal justice conference in Modena, northern Italy.
Ethiopians prepare for battle to 'save the nation', as men and women head to the front | World News
We were taken up the stairs at a community centre in Addis Ababa and offered a seat at what appeared to be a boisterous rally.
There were women, draped in flags, dancing at the front of the hall and a hundred or so people hollering and clapping in time to the music.
There was something unusual about this lively scene for it has been replicated widely in the past few days in the Ethiopian capital but the smiles and the catchy music obscured its serious purpose.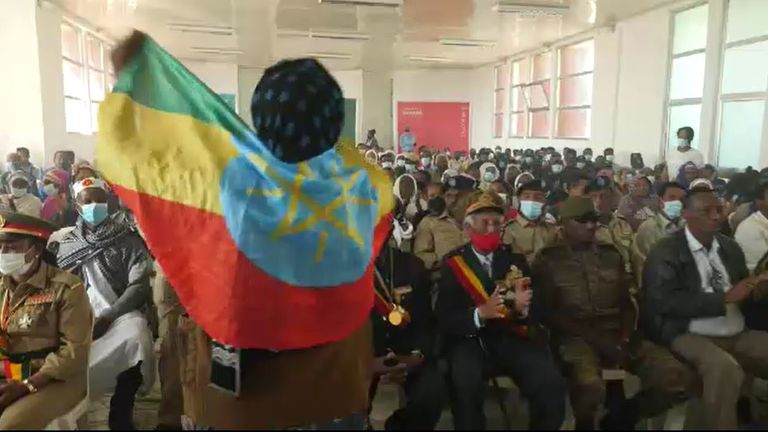 We had been invited to a community send-off, an opportunity for residents in the district of Arada to thank and motivate 20 young men and women who were about to head to the front.
"I am going to serve my country, to avenge the blood of my brothers, to protect my country and my family," said a young man called Million Abraham, who worked on a building site in the city.
He will participate in a war that erupted last year, when tensions between the Ethiopian Prime Minister, Abiy Ahmed, and the leaders of the region of Tigray, the TPLF (Tigray People's Liberation Front), reached boiling point.
Abiy sent troops into the region in November 2020, in response to TPLF attacks on a number of army camps. The prime minister called it a 'policing operation' and promised a swift victory, but TPLF fighters have pushed Ethiopian troops back.
Forming an alliance with other insurgent groups, the TPLF have moved into neighbouring regions and now threaten the capital itself, recently taking a town just 220 kilometres (136 miles) northeast of the capital.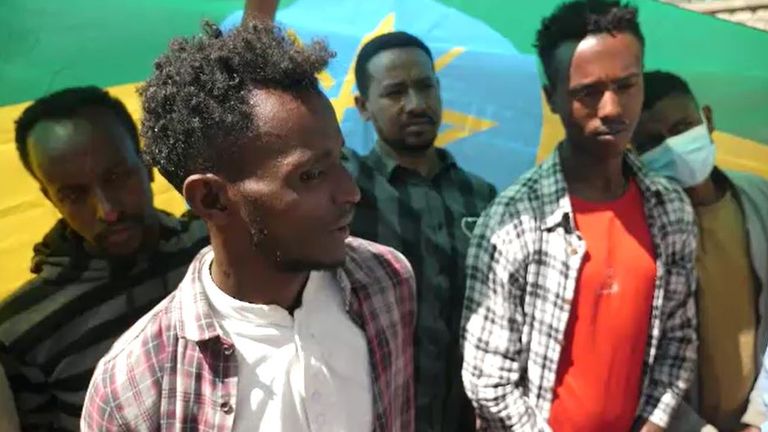 The realities of this conflict have made themselves known in Arada and we listened to the leader of a local mosque who said he was prepared to go and fight.
Then, a member of the local government warned the audience of spies and saboteurs.
"You shouldn't trust your own shadow at a time like this," she said softly.
There is a widespread view in Addis Ababa that the international community is siding with the TPLF and we heard western countries being angrily denounced on multiple occasions.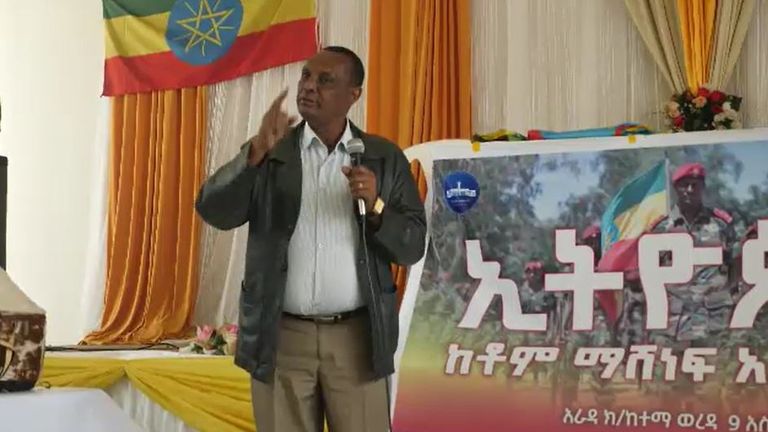 "We Ethiopians do not compromise. Forget America and other hostile countries. They will face the same fate. We will drag their dead bodies from our land, just like the Italians," said a man with a reference to the defeat of Mussolini's troops, who were repulsed from Ethiopia in 1941.
Million Abraham, the builder, told us he was not worried, despite the fact he had only received a few days of training.
"I am not afraid. We will get more training when we get to the front. I am not afraid of going there. Before we join up with them we will be trained. I am not afraid of going and even if I die, it's not a problem. It's for my country."
"Is this country in a dangerous position?" I asked.
What's going on in Ethiopia?

"I think the war will wrap up very soon," he replied confidently, despite the fact the government is struggling to halt the TPLF's advance.
In what is seen by some as a symbol of distress or desperation, Abiy Ahmed has informed the nation via social media that he will relocate to the front, where he will personally lead the army.
The prime minister has asked Ethiopians to join him in what he calls a battle to "save the nation".
Mr Abraham seemed happy to do his bit and told me he was prepared to pay the ultimate price.