Brexit: Latest Northern Ireland Protocol talks 'constructive', says UK – as EU negotiators head for London | Politics News
UK officials have described the latest talks with the EU over the controversial Northern Ireland Protocol as "constructive", as a Brussels delegation prepares to travel to London on Tuesday.
Measures recently proposed by the EU would cut checks on retail agri-food products arriving in Northern Ireland from Great Britain by 80%.
A 50% reduction in customs paperwork is also on the cards.
It is understood, however, that the role of the European Court of Justice (ECJ) in resolving disputes between the UK and the EU remains a key sticking point.
A UK government source said the arrangement "must end", while the European Commission has insisted it will not budge on the issue.
EU's Sefcovic pushed on UK's red lines around ECJ

The UK source said: "The talks this week were constructive and we've heard some things from the EU that we can work with – but the reality is that we are still far apart on the big issues, especially governance.
"There's been plenty of speculation about governance this week but our position remains unchanged: the role of the European Court of Justice (ECJ) in resolving disputes between the UK and EU must end."
Follow the Daily podcast on Apple Podcasts, Google Podcasts, Spotify, Spreaker
The source added that "real progress" must happen "soon" to avoid a "process of endless negotiation".
At the end of the week, once several days of negotiations have been completed, Brexit minister Lord Frost and EU Commission vice president Maros Sefcovic are due to meet in Westminster.
The protocol is designed to avoid the introduction of a hard border between Ireland and Northern Ireland, following Brexit.
COVID-19: Britons in South Africa racing to avoid £2,285 hotel quarantine as Omicron travel restrictions introduced | World News
The cost of quarantine for Britons returning from South Africa is setting some back "a year" financially, as people race back to avoid the costs.
After the emergence of the Omicron variant, a number of countries in southern Africa were placed back on England's travel red list.
It means that an adult arriving in England needs to spend at least £2,285 for a hotel room for 10 days to quarantine.
Matters have been further complicated after direct flights from South Africa to the UK were stopped by the British government.
However, there is a brief window for those arriving before 4am on Sunday to quarantine at home if they can find a route.
Lavern Fugeti is a dual UK and South African citizen who is currently staying in the cape nation.
She was unable to travel there for the funeral of her sister earlier this year due to the previous lockdown, but is now visiting.
She told Sky News about the difficulties now facing those in South Africa, with flights being cancelled and a lack of information.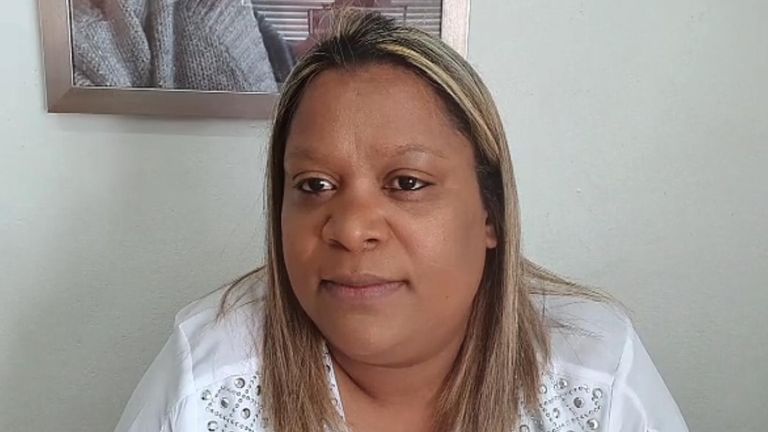 "I've got no idea [what's happening]," she said.
"Up until six o'clock last night my flight was scheduled to depart on time tonight.
"And then I received a text message to say it has now been cancelled."
Red list countries
Botswana
Eswatini
Lesotho
Namibia
South Africa
Zimbabwe
Ms Fugeti, who is in the country with her toddler, has been trying to coordinate with her husband in the UK to sort out a plan to get her home.
But the cost of the hotel stay is a steep sudden expenditure – considering flights to South Africa are already dear.
Follow the Daily podcast on Apple Podcasts, Google Podcasts, Spotify, Spreaker
"It's going to set us back for probably a year," Ms Fugeti said.
"There wasn't a lot of information… everyone was falling over their feet because it came out of nowhere."
Some scientists say the flight ban is too little too late, with evidence the variant has already left southern Africa – with cases identified in Hong Kong and Europe.
The UK's Prime Minister Boris Johnson spoke with South African President Cyril Ramaphosa on Friday to discuss ways to reopen travel.
Other countries with travel bans include the US, Canada, Brazil, Australia, the EU, the UAE, Singapore, and Hong Kong.
With flights being cancelled and blocked, even returning to the UK to quarantine at a hotel is becoming an increasingly difficult task.
Che de Haaf told Sky News she was trying to organise a return to the UK via Zanzibar.
New COVID -19 variant named Omicron

"That seems to be the only country that I can possibly get back from without paying the £2,285 the UK is demanding for quarantine," she said.
Bronwen Cook was also trying to beat the 4am on Sunday deadline to save her money.
She said: "I was happy to see my family but I want to go home to my husband and kids now."
COVID-19: Is Omicron a serious worry or an evolutionary dead end? | World News
So the new variant has a name, but we've no idea about its reputation.
On paper at least the Omicron variant looks terrifying. It has more mutations than any previously observed strain of COVID.
And the mutations aren't just a random jumble of genetic changes. A worrying number of them are in parts of the virus we know are important for becoming more infectious as well as avoiding antibodies and other parts of the immune system.
How worrying is the new COVID variant?

Take the receptor-binding domain, a key part of the virus' spike protein that allows it to grab onto our cells. The Delta variant has two mutations in the RBD, the now rare Beta variant (formerly known as the South Africa variant) has three.
Omicron has 10. If there was a menu of possible mutations suited to the human host, Omicron ordered the full English.
Follow live updates on the new COVID variant
This is what made scientists sit up and take notice when their colleagues in South Africa first published the sequence of the new variant.
But what caused today's international response was evidence that a recent and steep spike in cases in south African cases may be due to Omicron. Its powers may not just be theoretical.
But we're probably weeks away from knowing whether Omicron is a serious worry or another of COVID's many evolutionary dead-ends.
New COVID -19 variant named Omicron

First, its role in the recent spike in cases in South Africa isn't confirmed. It certainly makes up the majority of cases in the COVID surge in Gauteng province (the area surrounding Johannesburg and Pretoria), and there's evidence it's on the rise elsewhere in South Africa.
But cases are very low in the country – around 70 times lower than the daily average in the UK. Even a small increase in numbers of a new variant can look alarming when numbers are low.
Then there's the fact the short natural history of COVID-19 has taught us that appearances can be deceptive.
New COVID variant: Q and A

The Beta variant is a case in point. It was effective at evading antibodies from vaccines, it caused a significant wave of infection in South Africa but it never gained a foothold against the more infectious Delta variant.
When Delta spread to South Africa it rapidly displaced Beta.
Having lots of mutations, so the theory goes, could incur costs to the virus in some other part of its biology, making it less fit in a slightly different environment to the one it evolved in.
What scientists in South Africa are doing now is growing the Omicron strain in the laboratory so they can start to test it against antibodies from vaccinated or previously infected people.
They're also planning to share samples with their colleagues abroad including teams in the UK.
Follow the Daily podcast on Apple Podcasts, Google Podcasts, Spotify, Spreaker
These experiments should confirm whether Omicron truly is more contagious, or can avoid vaccines and hold its own against the delta strain.
But that will take weeks of work. Until then, eyes will be on South Africa's outbreak to see whether it provides more answers: is this just a first, but short-lived, flush from a flashy but flawed viral mutant? Or are we witnessing COVID's next big evolutionary step?
37 years after her piercing green eyes gripped the world, 'Afghan girl' starts new life in Italy | World News
An Afghan woman who achieved international recognition after a striking photograph of her was featured on the cover of National Geographic is starting a new life in Italy.
Sharbat Gulla was 12 years old when war photographer Steve McCurry took her photograph in a refugee camp in 1984 – her piercing green eyes staring into the lens.
Italy's prime minister, Mario Draghi, says the country organised her evacuation after she asked for help in leaving Afghanistan following the Taliban's takeover.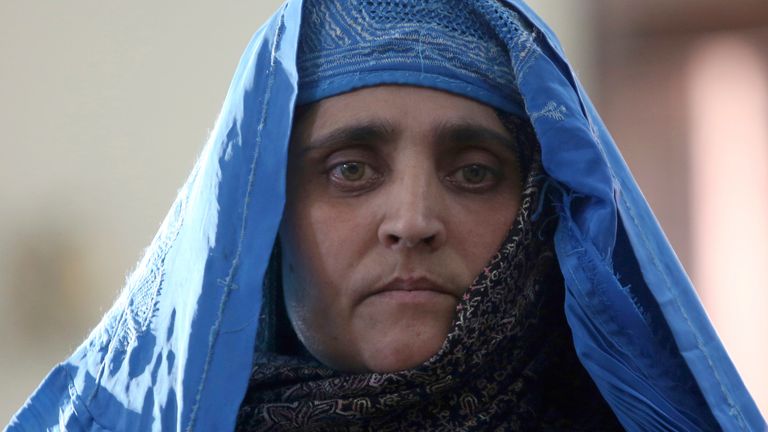 Ms Gulla will now receive help to help her integrate into Italian life.
In 2014, she surfaced in Pakistan but was forced to go into hiding after she was accused of buying a fake identity card.
She was deported and flown to Kabul, where then president Ashraf Ghani hosted a reception and handed her keys to a new apartment.
Italy was one of several Western countries that airlifted hundreds of Afghans out of the country following the departure of US forces in August.
Mr Draghi said Ms Gulla's photograph had come to "symbolise the vicissitudes and conflict of the chapter in history that Afghanistan and its people were going through at the time".