'They kill us and we are helping them': Ethiopia's increasingly nasty civil conflict | World News
We could see a seemingly endless line of trucks as we headed down the highway in northern Ethiopia.
As their contents drew closer we knew the battle ground was shifting in this country's increasingly nasty civil conflict.
There were thousands of troops perched on the back, clutching automatic weapons while fighting to stay upright. They were accompanied by specialist vehicles hauling artillery and tanks, moving at speed towards the region of Afar.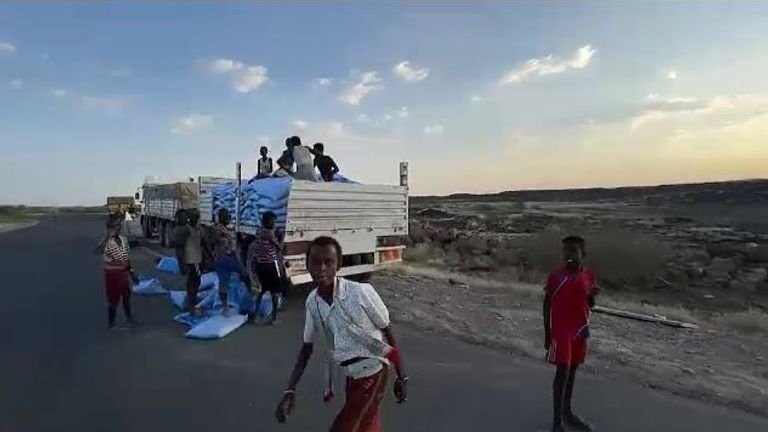 This arid and underpopulated place has been utterly overlooked as Ethiopia's federal government and leaders of the restive region of Tigray battle for power and control.
But a major offensive, sanctioned by the country's leader, Abiy Ahmed, has almost certainly stalled and fighters from the Tigrayan People's Liberation Front (TPLF) were advancing on communities in Afar.
The region has played host to convoys of a very different sort in recent months as the UN's World Food Programme (WFP) tries to send emergency aid into Tigray.
Estimating that some 400,000 Tigrayans are living in famine-like conditions, the WFP has created a 'staging post' in the regional capital of Semera, where humanitarian supplies are loaded onto oversized trucks and we watched as drivers set out on the two-day trip to the Tigrayan border.
But the terrain is difficult and the residents of Afar are decidedly hostile to what is a massive emergency operation.
We saw overturned trucks on the route to the border town of Abala and witnessed residents stealing bags of flour from the vehicles.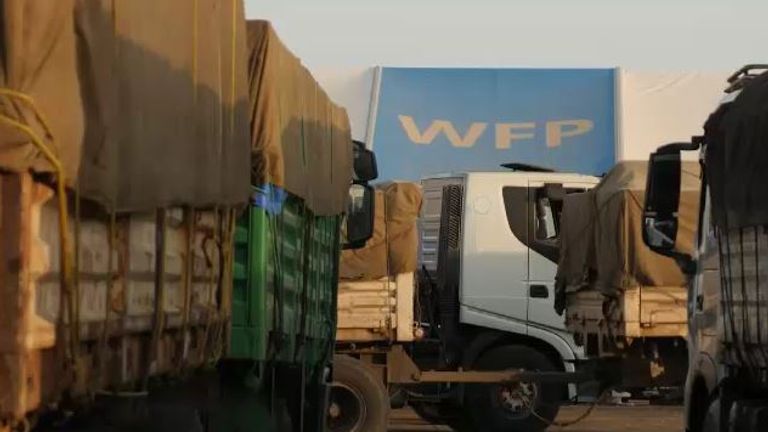 The drivers know that some trucks will be stopped – or attacked – and the road is too narrow to turn around.
Yet this is the only route they can use.
I spoke to one driver – a Tigrayan – as he was about to cross this internal frontier.
I asked him if people in Tigray need humanitarian aid.
"It's needed, my feeling is I am doing important work," he replied.
Yet the drivers know are taking a chance in the region of Afar.
"Are you worried about coming back?" I asked.
"Yes, I am but I haven't had any problems yet. I've gone back and forth safely."
The Afaris are angry, blaming Tigrayans for a series of raids and attacks on their communities and they made their displeasure clear to us.
"They kill us, not we kill them, they kill us and we are helping them, all the trucks are using this way and (we are) not stopping (them), not closing any roads," said a local resident called Ali Mussa Ahmed.
"This is our border, they are killing us (and) we are supporting them," said Abdu Ebrahim.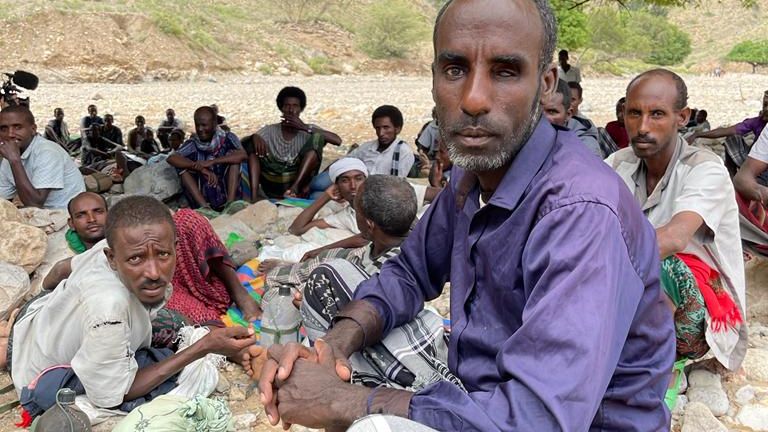 Some 60km to the north, near the Afar town of Shahigubi, we found 400 men living under the trees after they had been displaced from their homes by the fighting. Women and children had been sheltered in a nearby school.
I asked one elderly man how long he had been there.
"Three months," he said.
"How long will you have to stay?"
"Who could ever say?" he replied.
The same simmering resentment exists here at this camp as residents struggle on one meal a day.
During our visit, the men cut up a camel and boiled the meat in a pot but we could see there would not be much to go around.
"These people have destroyed our livelihoods and then we witness all the support that they are getting by land and by air. It bypasses us directly," said a man called Hamedur Nur.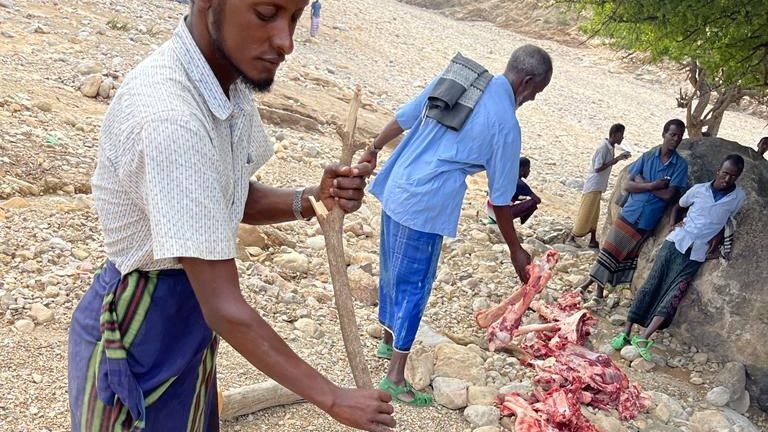 It is a challenging time for the UN's humanitarian staff as they try to keep the aid flowing into Tigray.
Three weeks ago, seven senior UN officials were expelled by the Ethiopian authorities for "meddling in the internal affairs of the country".
The move followed pointed remarks by UN aid chief Martin Griffiths who said a nearly three-month-long "de-facto blockade" had restricted aid deliveries to just 10% of what was needed.
In a statement released on Wednesday evening by the Ethiopian Embassy in London, ambassador Teferi Melesse Desta said: "The government of Ethiopia takes its responsibility to safeguard those who have been affected by the ongoing conflict in the northern part of Ethiopia very seriously and has demonstrated its willingness and commitment to work with the international community to respond to the humanitarian crisis in the affected regions."
BA not told Iraq had invaded Kuwait as jet headed to gulf state in 1990, Foreign Office admits | UK News
Hundreds of British Airway passengers spent months as hostages after officials failed to warn the airline of Iraq's 1990 invasion of Kuwait, the government has admitted.
BA149 landed on 2 August to refuel despite the foreign office being warned of the movement of Iraqi troops by the then British ambassador to Kuwait.
They were used as human shields, endured sexual violence and mock executions and were forced to have their photographs taken with dictator Saddam Hussein.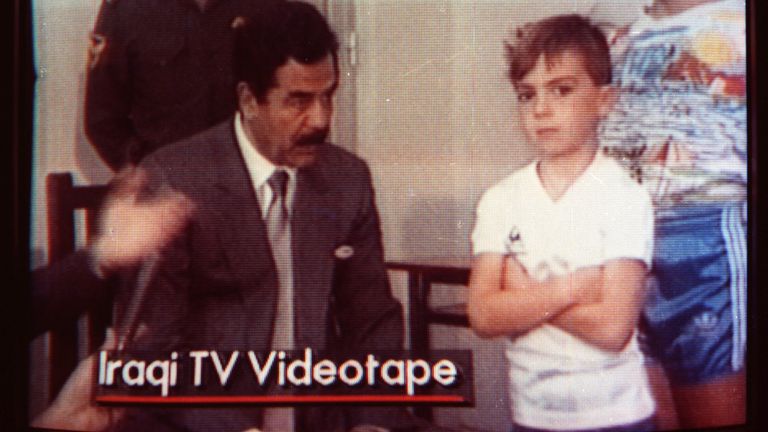 Newly released documents – which reveal the lack of warning given to BA – also fail to identify a mysterious group of military-looking men who were on the flight from the UK to Asia.
Fellow passengers and crew have previously speculated they were members of a UK special forces team and that the British government had exploited the aircraft – and their safety – to insert the men into Kuwait.
A businessman who was on the flight responded with incredulity.
"Who on earth were they, then? Members of a rugby team?" asked Barry Manners, now 54, from Kent.
"These were serious guys – you only had to look at them. I'm absolutely gobsmacked. I know what I saw going on with that plane. I know they were soldiers."
Mr Manners was 24 when he boarded the flight ahead of what was meant to be an 18-day holiday with his partner.
Instead, he said he was threatened at gunpoint by some of his captors and spent two years recovering from his ordeal upon his release just before Christmas 1990.
Foreign Secretary Liz Truss, in a statement on the declassified papers, denied the aircraft had been exploited to transport UK special forces.
The foreign secretary also apologised for the failure to disclose until now the fact that an alert from the then British ambassador to Kuwait to the foreign office about the movement of Iraqi troops into Kuwait had not been shared with BA.
She said a line of communication between government officials and airline companies did not exist at the time.
No explanation was given for why it has taken more than three decades for this omission about the sharing of key information to be made public despite the plight of BA149 having attracted intense scrutiny over the years and repeated calls for a public inquiry.
"These files show that the existence of the call [by the ambassador] was not revealed to parliament and the public," Ms Truss said in a written ministerial statement.
"This failure was unacceptable. As the current secretary of state, I apologise to the House for this, and I express my deepest sympathy to those who were detained and mistreated."
The cache of files revealed never-seen-before correspondence between then Conservative Prime Minister John Major and then Labour MP John Prescott dated 2 October 1992 about the identity of the mysterious group of men that apparently disembarked from the flight after it landed.
"I can confirm… that there were no British military personnel on board the flight," Mr Major wrote to the then shadow transport secretary on Downing Street-headed paper.
In her remarks, Ms Truss said the files "are consistent" with previous government responses to speculation about the UK using the aircraft to insert a special forces team.
She quoted a statement from a previous minister for Europe from April 2007 that said: "The government at the time did not attempt in any way to exploit the flight by any means whatever."
The denial about serving military personnel being on board the flight does not rule out the possibility that the individuals were former servicemen, potentially working as contractors for the UK government or with some other covert, deniable link.
The newly released files did reveal that the UK government had been aware Iraqi forces had crossed the border into Kuwait while the BA flight was in the air – though they had not been aware it marked the start of the full-blown invasion.
Margaret Thatcher, who was prime minister at the time of the incident, had previously told parliament that the aircraft had landed in Kuwait before the invasion began.
Offering clarity on what was known, the then British Ambassador to Kuwait Sir Michael Weston informed the duty officer dealing with emergencies at the then Foreign and Commonwealth Office (FCO) about the movement of Iraqi troops into Kuwait.
This information was shared with the head of the Middle East Department at the Foreign Office, the prime minister's office, the Ministry of Defence, the Cabinet Office and MI6.
But it was not shared with BA – information that could have prompted the airline to divert its aircraft, preventing the ordeal that its passengers then suffered.
Brazil foreign minister 'surprised' by Amazon deforestation spike | Climate News
Brazil's foreign minister has said he is "surprised" that deforestation in the Amazon has increased, following last week's news it had jumped 22%.
The destruction of the rainforest has soared under President Jair Bolsonaro, who has encouraged agriculture and mining and emboldened loggers.
Brazil's foreign minister, Carlos Franca, said in a briefing yesterday that the latest data, which covers August 2020 to July 2021, was not what they'd expected.
Brazil deforestation worst for 15 years

"Given the recent – and for us – surprising announcement of an increase in deforestation in the Amazon, I make it a priority to right from the start make clear our total dedication to fulfilling the announced commitments [achieved at COP26], he said.
During the COP26 climate talks, Brazil signed a pledge to end forest destruction by 2030, and has committed to achieving this even sooner, by 2028. Its lead negotiator told Sky News that deforestation had dropped in August and September compared with the same period last year.
Brazil also boosted its plans to cut emissions by 2030, hinting at a change of tone under Mr Bolsonaro, who once threatened to withdraw Brazil from the Paris Agreement.
Speaking yesterday at the post-COP26 briefing, environment minister Joaquim Leite said Brazil wanted to be a constructive force in tackling climate change.
"I want to make it clear that Brazil will play its role now, especially after all the ambitious commitments and remembering those commitments are the most ambitious ones out of the developing countries in the G20," Mr Leite said.
He added: "Brazil showed itself constructive, as we said before the trip. Constructive in collaborating with this global challenge which is to achieve climate neutrality by the middle of this century."
However the G20 nation did not sign the $1.7billion pledge to support indigenous people and local communities (IPLC) in recognition of their crucial guardianship of land, also announced at COP26.
Watch the Daily Climate Show at 6.30pm Monday to Friday on Sky News, the Sky News website and app, on YouTube and Twitter.
The show investigates how global warming is changing our landscape and highlights solutions to the crisis.
COVID-19: EU could pass two million coronavirus deaths mark by March 2022 | World News
The EU could surpass two million coronavirus deaths by next March if further action isn't taken to combat the virus, the World Health Organisation (WHO) has warned.
More protective measures are needed to "help avert unnecessary tragedy and loss of life", according to experts who fear the region is on course to pass another landmark number of deaths.
Europe is in the midst of a fourth virus wave, which has seen nations forced to re-introduce lockdowns and restrictions to help stem soaring case and death rates.
Live COVID updates from the UK and around the world
Last week, reported deaths due to COVID-19 in the region increased to nearly 4,200 a day – doubling from 2,100 deaths a day during the end of September.
Meanwhile, cumulative deaths across Europe's 53 countries have passed the 1.5 million mark and the virus is now the leading cause of death, modelling by Institute for Health Metrics and Evaluation, has found.
"All of us have the opportunity and responsibility to help avert unnecessary tragedy and loss of life, and limit further disruption to society and businesses over this winter season," Dr Hans Henri Kluge, WHO regional director for Europe, said.
According to the WHO, current calculations suggest there will be extreme stress on hospital beds in 25 countries, and high or extreme stress in intensive care units in 49 out of 53 countries between now and 1 March 2022.
Cumulative reported deaths are projected to reach over 2.2 million by spring next year, based on current trends.
On Monday, Austria began a 10-day national lockdown – the first European nation to re-enter lockdown since vaccines became widely available. It comes after cases shot up to 15,000 a day from a few hundred a day in the summer.
Germany and the Netherlands have been told they face tighter restrictions. The prospect of further curbs has prompted angry protests in some nations.
Dr Kulge, like other experts, is advocating for vaccinations, boosters, mask-wearing, social distancing and ventilation to be incorporated into people's everyday routines to help keep others safe and prevent further lockdowns.
Riot police clash with COVID protesters in Belgium

Certain factors are driving the current virus wave on the continent.
Many countries are seeing a resurgence of coronavirus after relaxing restrictions, helped by the dominance of the more transmissible Delta variant of SARS-CoV-2, which is spreading faster now people are gathering indoors in the winter months.
Meanwhile, with a large number of unvaccinated people, and waning protection amongst those who haven't received booster jabs, many are left vulnerable to the virus.
More than one billion doses have been given in the WHO European Region, with 53.5% of people having completed their vaccine schedule.
Follow the Daily podcast on Apple Podcasts, Google Podcasts, Spotify, Spreaker.
However, this hides wide differences between countries, where the range in completed vaccine dose series spans from under 10% to over 80% of the total population.
Dr Kluge added: "As we approach the end of 2021, let's do everything we can by getting vaccinated and taking personal protective measures, to avoid the last resort of lockdowns and school closures.
"We know through bitter experience that these have extensive economic consequences and a pervasive negative impact on mental health, facilitate interpersonal violence and are detrimental to children's well-being and learning."