North Korea test-fires 'new ballistic missile' from submarine | World News
North Korea has test-fired a new ballistic missile from a submarine, according to state media.
It confirms reports on Tuesday from South Korea that such a launch had taken place, with the missile landing in the Sea of Japan.
North Korea said the new SLBM (submarine-launched ballistic missile) has "lots of advanced control guidance technologies" including "flank mobility and gliding skip mobility".
The missile "will greatly contribute to putting the defence technology of the country on a high level and to enhancing the underwater operational capability of our navy", according to the country's KCNA media outlet.
It is the fifth round of missile tests for the totalitarian state since September, which last month included a launch from a train.
Pictures from Tuesday's test appeared to show a smaller, thinner missile – which could mean more could be stored on one submarine, according to experts.
"It's an interesting development but with only one submarine in the water that can launch notionally one or two of these it doesn't change much," said Joseph Dempsey from the International Institute for Strategic Studies.
"North Korea's goal is building more powerful SLBMs that can be fired from big submarines like the US does," added Moon Keun-sik, from Kyonggi University in South Korea.
Diplomats said Britain and the US planned to raise the test at a UN Security Council meeting on Wednesday, while the White House urged North Korea to refrain from further "provocations".
North Korea launches missile from train

America has imposed tough sanctions on the country but has said it remains open to restarting talks over its weapons programme.
North Korea has so far refused and says Washington must first abandon its "hostile policy", referring to sanctions and US-South Korea military exercises.
The test also comes days before President Biden's special envoy on North Korea is due in Seoul for talks on the possibility of restarting diplomacy with Pyongyang.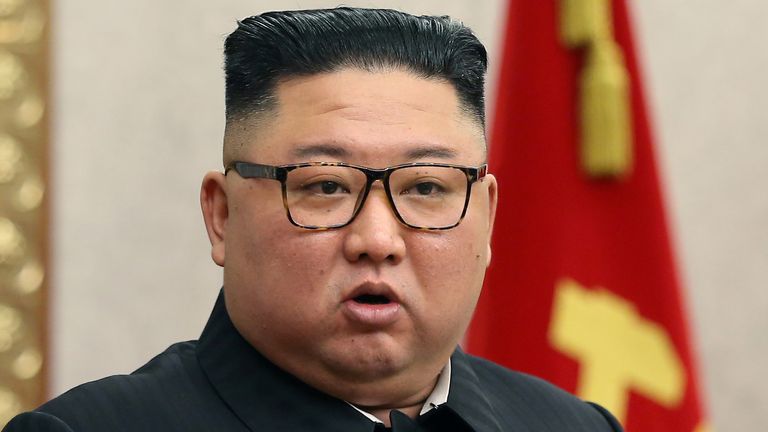 Talks over its nuclear disarmament ground to a halt after Donald Trump's second meeting with Kim Jong Un in 2019, when the former US president rejected a request for major sanctions relief.
South Korea, meanwhile, is accelerating its own weapons programme, which President Moon Jae-in said at a defence expo on Wednesday is aimed at achieving peace on the peninsula.
Migrants treated 'like animals' as border officials accused of taking bribes | World News
An Iraqi people smuggler has told Sky News that officials are helping migrants cross borders illegally, sometimes in exchange for bribes, and huge risks are being taken to send people to the UK.
Speaking in northern Iraq, the smuggler revealed details behind the network that sends thousands of migrants to Europe every year, and admitted that they sometimes work with border guards.
"Yes, things like that do happen," he told us.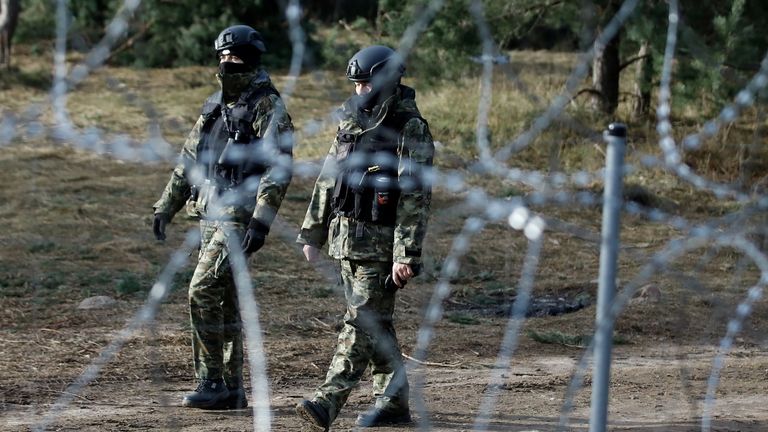 "Business is not stopping. More and more people want to go, but due to the Belarus visa no longer being accessible, they can't. Otherwise, there are a lot of them ready to go."
He tells us how the migrants are first flown from Iraq to Turkey. From there, they either travel south by sea to Greece or Italy or overland to Belarus.
Some families pay tens of thousands of pounds for the journey and the price goes up as governments close off routes.
"As the routes get harder, we take more money. We have smart smugglers who know how to solve issues and find out new ways."
And they knowingly take huge risks with the migrants' lives: "We collect and transport to the UK people via Dunkirk. We put them on lifeboats and fix iron rods under the boat with a motor. Normally this boat holds five persons, but we've added more than 15 to 20 persons to the boats travelling to the UK."
He shows little remorse for those who don't make it: "We sent people and they drowned in the Aegean sea between Turkey and Italy. They must decide whether to keep on or withdraw because it's their life."
The smugglers use cheap burner phones to communicate, regularly switching between hundreds of sim cards so they can't be traced.
"This business is illegal," the smuggler says. "If it was legal the people could go via the airport, but our business is smuggling, we send people who are exhausted or desperate to go to Europe."
The allegation of collusion between smugglers and border officials was confirmed to Sky News by a family who were recently deported from Poland after crossing from Belarus.
Interviewed in a temporary home in Erbil, northern Iraq, the Mahmouds explained what happened in the forests between the two countries: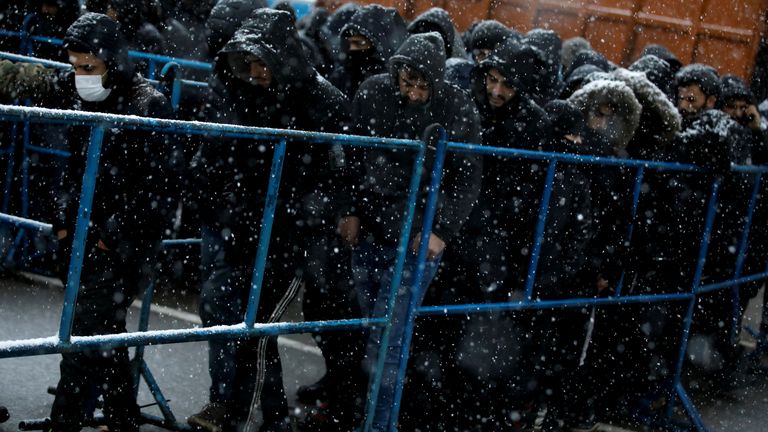 "They [Belarussian border police] got scissors and they broke the fence. They broke the fence and then went 'go to Poland'," 11-year old Bureen told me.
When I ask his older siblings if they believe they've been caught in a game between the EU and Belarus, 21-year-old Bria says: "We were like a ball. Like a ball between Belarussian police and Polish police."
Belarus has been accused of creating a migrant crisis on the EU's border in retaliation to the increasingly tough sanctions levied against the Lukashenko government.
The Mahmoud family also described their treatment by the people smugglers to whom they paid $30,000 for the journey into Europe.
Hundreds of migrants rescued off Sicilian coast

"They weren't good to us. They spoke to us like animals. At first, they weren't like that, they said they would 'take us safely, the route is just a few hours and all of your expenses are on us, don't worry'," 47-year old mother Yadgar told me.
"But when we got to Belarus, we didn't even know how to get enough money to eat. He [the smuggler] said 'I don't have any money for you'.
"I told him we wanted to go back and he said we can't go back, 'I spent my money on you, you have to deal with it.' He treated us like animals."
UN in the dark over Iran's nuclear capabilities ahead of key talks on international agreement | World News
UN nuclear inspectors have warned part of their surveillance of Iran's alleged nuclear weapons programme has gone dark.
The head of the UN nuclear watchdog said his inspectors are close to being unable to "guarantee" they know the size of Iran's stockpile of enriched uranium after a fruitless trip to Tehran produced no results.
Mystery surrounds a key Iranian workshop that makes parts for uranium centrifuge machines. The machines are used to enrich uranium – the vital ingredient for atom bomb-making.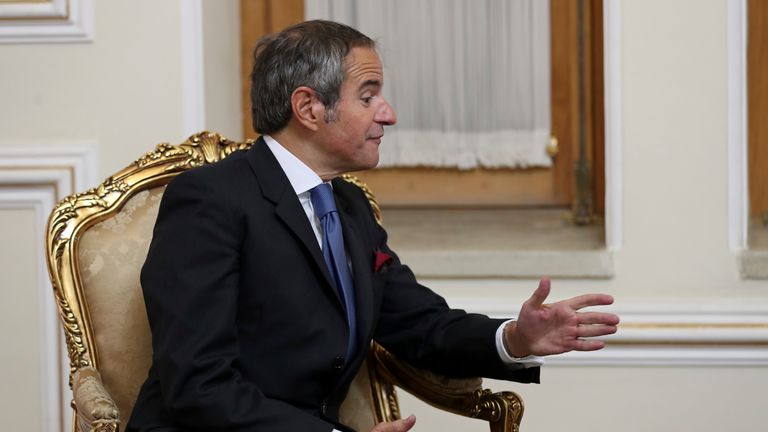 Iranians said Israeli sabotage destroyed one of four cameras installed by the International Atomic Energy Agency (IAEA) to monitor activity at the sensitive site at a Karaj facility.
However, they also removed the other three cameras and said the destroyed camera's footage is 'missing'.
The IAEA said it has not been allowed to re-enter the site and install new cameras, despite Iran's agreement to let it do so two months ago.
Without cameras, the IAEA cannot be sure material and equipment are not being diverted to any secret nuclear weapons programme.
Iran insists its nuclear activities are peaceful but outside powers suspect it of working towards building the bomb.
The stark warning from the IAEA makes for a worrying backdrop to efforts to revive the 2015 Iranian nuclear deal. Talks to resuscitate it broke up in June. They begin again next week in Vienna, Austria, in what may be the last chance to save the agreement.
The deal brokered by the UK, France, Germany, the US, Russia and China, and Iran after five tortuous years of negotiations lifted sanctions on Iran in exchange for a freeze in its nuclear programme.
But the agreement was unilaterally scuppered by America under President Trump.
Iranians are desperate to have sanctions lifted to rescue their deeply troubled economy, but have broken the terms of the deal themselves.
Most worrying is Iran's return to enriching uranium, most recently to 60% levels. Under the deal, they were allowed to enrich up to 3.67%. To build a nuclear weapon they need uranium enriched at 90%.
Western diplomats hope the Iranians are acting tactically, trying to increase their leverage before the resumption of talks.
But the closer the Iranians come to building the bomb the less incentive there is for outside powers to invest the diplomatic effort required to reach a new deal or revive the last.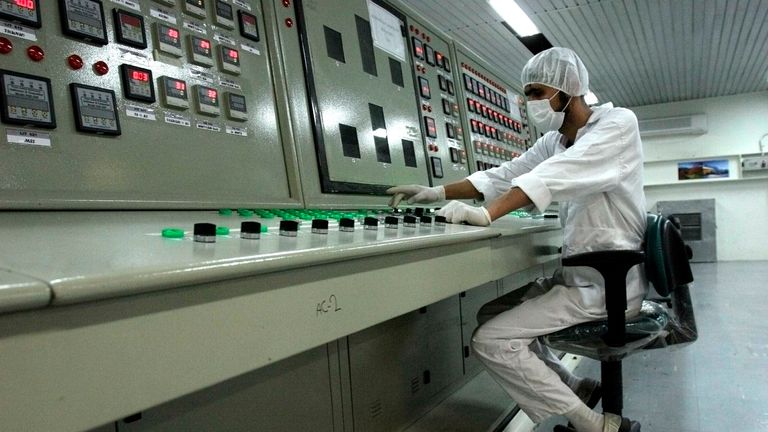 Iran has a new hardline regime and its true intentions may become clearer as it reveals its opening hand at negotiations next week. If outside powers remain unconvinced the talks may break up soon after they begin.
Without a new Iranian nuclear deal, the fear is of a nuclear arms race in the Middle East, or war. The closer Iran comes to a bomb, the more likely Israel is to launch a preemptive strike.
There's plenty at stake in Vienna next week and this latest warning from the IAEA doesn't raise expectations of success.
Turkey in danger of 'inflationary doom loop' as Erdogan defies laws of economics | Business News
The Turkish lira is seemingly in freefall.
The currency has fallen by more than 40% this year against the US dollar and, following an 11% fall on Tuesday alone, now sits at close to a record low against the greenback.
100 Turkish lira is now worth around $8.15 or £6.10. Last November, 100 Turkish lira would have got you approximately $13 or £9.60.
The driver for this collapse is a peculiar attempt by the Turkish president, Recep Tayyip Erdogan, to subvert the laws of economics.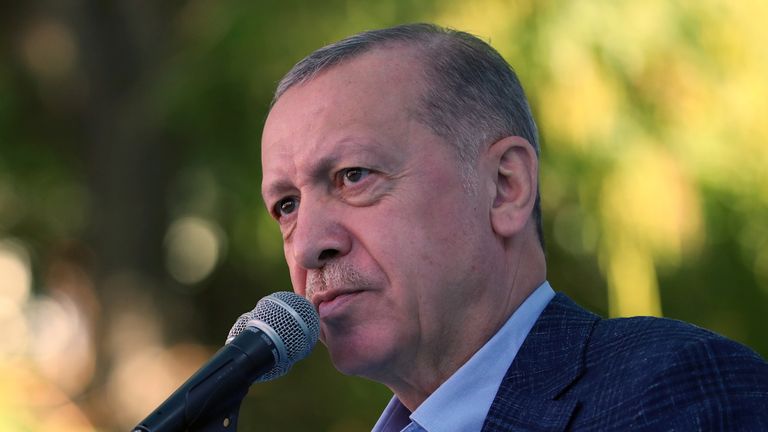 Orthodoxy is that, if inflation rises, monetary policy is tightened to bring demand more into kilter with supply.
Mr Erdogan contends that, to the contrary, high interest rates are a cause of higher inflation rather than a way of bringing it under control.
Accordingly, the president reacted with delight when on Thursday last week, the Central Bank of the Republic of Turkey (CBRT) cut its main policy rate from 16% to 15%.
It was the third time in as many months that it had cut its main policy rate – at a time when inflation in the country is running at 20%.
The move came a day after Mr Erdogan promised to release Turkey from the "scourge" of high interest rates. He has called those demanding higher interest rates in the country as "opportunists" and "global financial acrobats".
Few now believe that the CBRT is independent to set monetary policy as it wishes. It is presently on its fifth governor this decade and its fourth since 2019, Mr Erdogan having sacked the previous incumbent, Naci Agbal, in March this year after he had the temerity to raise interest rates in an attempt to tackle inflation.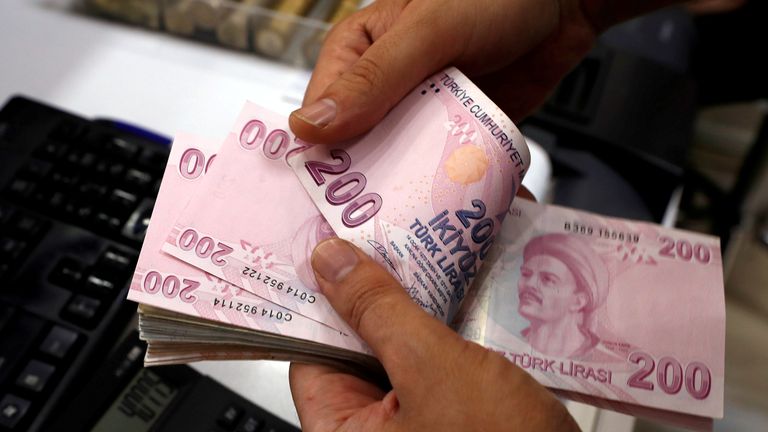 His successor Sahap Kavcioglu, a former MP and business school professor, has appeared far more willing to do Mr Erdogan's bidding. That may be, perhaps, because he is a member of the president's ruling Justice and Development Party.
He met with Mr Erdogan following the sharp falls in the lira on Tuesday, after which, the CBRT issued a statement in which it said the sell-off in the currency was "unrealistic and completely detached" from economic fundamentals.
Simon MacAdam, senior global economist at the consultancy Capital Economics, said: "Given this backdrop and Erdogan's record at sacking disobedient central bank governors, hopes that the CBRT will allay investors' fears and put a floor under the lira by not cutting rates further (or even raising them) are evaporating.
"Sharp falls in the lira are likely to tighten Turkey's financial conditions and could eventually end up straining its debt-laden banks."
The danger is that Turkey now enters an inflationary doom loop, with the collapse of the country's currency sparking a fresh round of inflation, if not generating hyper-inflation.
There are already signs that the economy has moved into that stage. Many Turkish consumers seeking to buy electronic products online today – such items are seen as a possible store of value in inflationary times – were unable to do so amid signs that some retailers are now unwilling either to take the risk of accepting the lira. They included Apple's website in the country.
Meanwhile, with interest rates significantly below the rate of inflation, Turks have been seeking where possible to protect their spending power by offloading their holdings of their local currency in exchange for either the euro or the US dollar.
This has itself contributed to further downward pressure on the lira.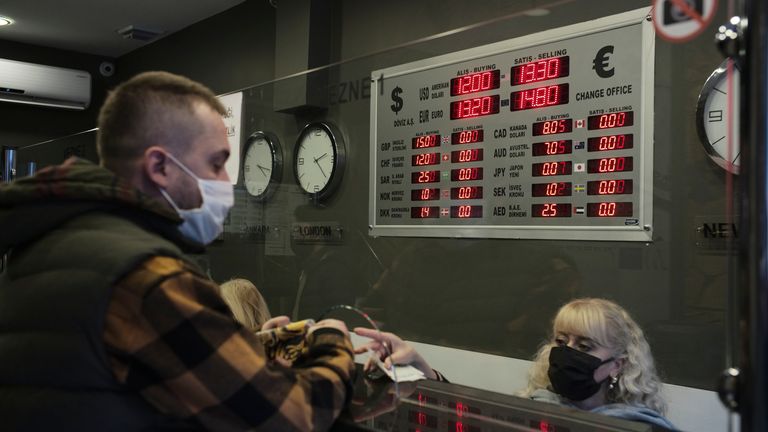 One major question is the extent to which Mr Erdogan is prepared to see the lira fall. The president has been a big advocate in the past of running trade surpluses and the collapse in the lira is certainly making the price of Turkish exports more competitive. The value of Turkish exports surged by 20%, to $21bn, in October.
This may help pacify some business leaders. Hakan Bulgurlu, chief executive of Arcelik, the owner of brands such as Beko and Grundig and one of Europe's biggest manufacturers of household appliances, told Sky News last month that the company was benefiting from a weaker currency.
Yet that only works for businesses when all their costs, as well as their sales, are priced in a weakened currency. Turkey is heavily dependent on imports of raw materials and energy and therefore the decline in the lira is likely to bite business before long.
It is already biting consumers. The price of basic goods has been rising steadily, such as bread, which has risen by 25% in recent weeks. Bread accounts for around 2.5% of the inflationary basket on its own in Turkey and is therefore likely to contribute to a higher figure next month.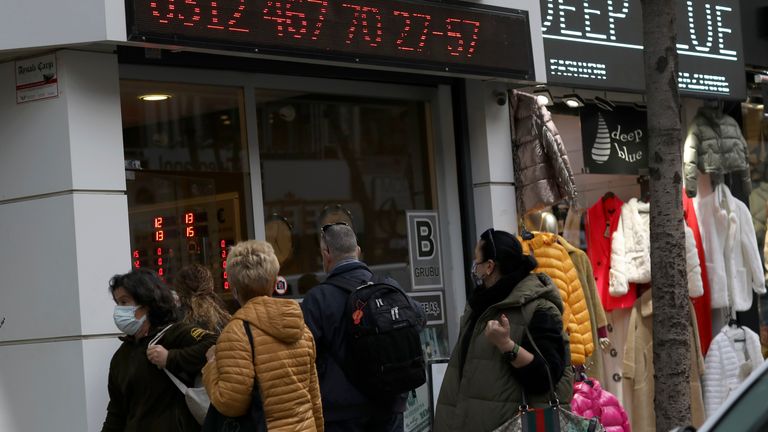 Other essential goods, including postal services, fertiliser and fuel, are also likely to exert upward pressure in inflation. That is likely to chip away at Mr Erdogan's popularity and may in turn induce further populist policies.
While sympathetic to the plight of ordinary Turks, economists and market participants have a bigger concern, which is whether the collapse in the lira might spark a collapse in other emerging market currencies. This happened in 2018 when the likes of the South African rand, the Mexican peso and the Vietnamese dong found themselves in the crossfire.
Mr MacAdam argues this is not so much of a risk this time around because countries like South Africa do not have the same funding needs that they did three years ago and their currencies are not as over-valued.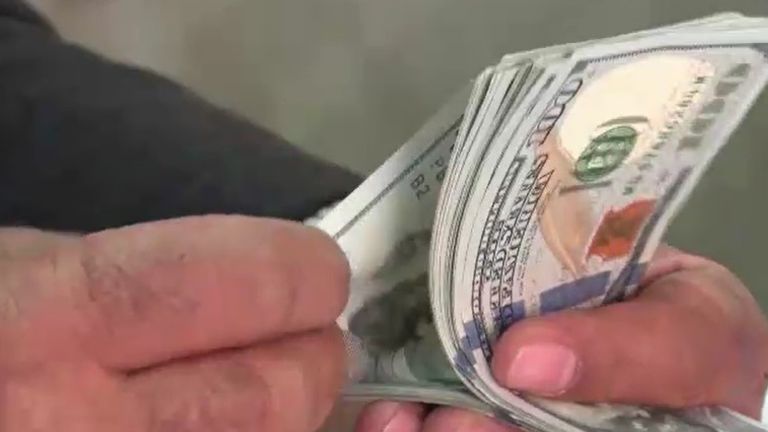 Meanwhile, although some European banks, such as ING of the Netherlands, BBVA of Spain and BNP Paribas of France, do have exposure to the country, their exposure is not what it was, while foreign investors are also less exposed to the Turkish stock market than was once the case. There are, though, still risks ahead.
As Mr MacAdam put it: "The way this would get uglier for the rest of the world is if President Erdogan were to hold his nerve for long enough and for the lira to fall far enough to endanger Turkey's banks.
"This could sour risk appetite enough to prompt currency falls in other emerging markets and provoke central banks, in turn, to further tighten monetary conditions."
It is not that bad yet – but it is possible to see how things might worsen.
But for many Turkish households, already grappling with surging inflation and a real terms fall in their living standards, things are already pretty dreadful.