Brazil's president Jair Bolsonaro should face homicide charges over 95,000 COVID-19 deaths, draft report finds | World News
Brazil's president should face homicide charges over errors that led to an estimated 95,000 COVID-19 deaths, a draft of a major inquiry report has found.
With more than 600,000 deaths, only the US has lost more people to coronavirus than Brazil and the president has been widely criticised for openly objecting to lockdowns, regularly refusing to wear a mask in public and stating he has not been vaccinated.
And now, the senator leading a congressional probe into his handling of the pandemic has recommended Mr Bolsonaro be charged with homicide.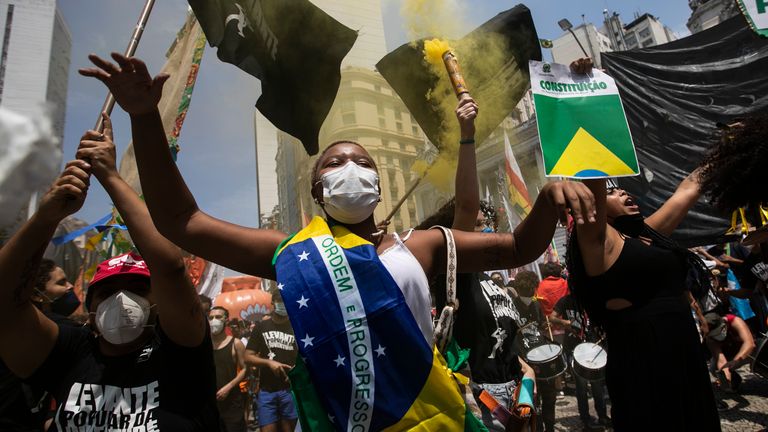 A 1,200-page document, prepared over six months by opposition senator Renan Calheiros for a Senate commission that conducted the probe, alleges that Mr Bolsonaro failed to take the opportunity to acquire vaccines, when they were presented, leading to the deaths of thousands.
It says he was guided "by an unfounded belief in the theory of herd immunity by natural infection" and is "principally responsible for the government's errors committed during the COVID-19 pandemic".
The president has been repeatedly criticised for pushing unproven remedies for the illness such as antimalaria drug hydroxychloroquine, which has been dismissed by scientists as ineffective.
The report, in its final form, is expected to presented to the committee on Wednesday with a vote taking place next week.
If approved, it will be sent to the country's chief prosecutor, who was appointed by Mr Bolsonaro, who will decide whether the president should be criminally charged.
But even if it then goes no further, analysts say the high-profile discussion about it could hurt the president in the upcoming election.
Mr Bolsonaro claims the probe is politically motivated and has denied responsibility for any deaths.
On Wednesday morning, the number of criminal charges the report recommends be brought against Mr Bolsonaro appeared to have been reduced to 11 from 13.
The charges include homicide, genocide, charlatanism and inciting crime.
Three of the seven opposition senators on the 11-person committee are understood to be opposed to including the homicide and genocide charges, AP reported.
The three were trying to persuade the four other opposition senators to join them in opposing the two charges, according to five of the senators AP spoke to anonymously.
The senate committee was formed in April to investigate allegations Mr Bolsonaro's management of the pandemic caused a substantial proportion of Brazil's deaths.
Brazilian congressional committees can investigate, but don't have the power to indict.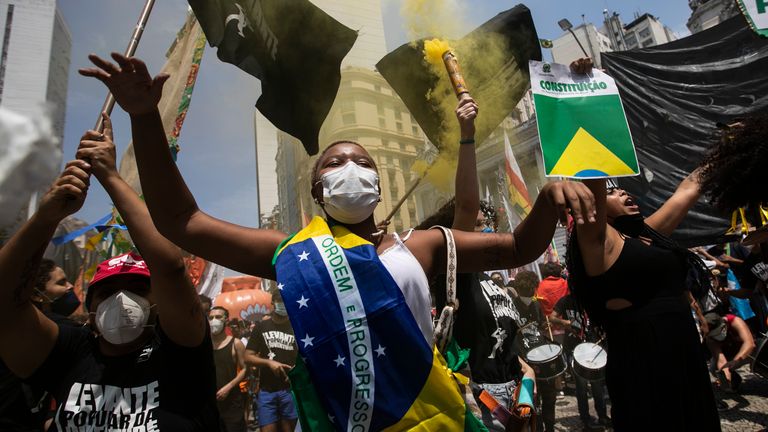 The allegations are expected to be used by opponents of the far-right leader, whose approval ratings have slumped ahead of his 2022 re-election campaign, despite his still sizable internal support base.
The biggest row has been over Senator Calheiros' determination to recommend that Mr Bolsonaro should be investigated by the International Criminal Court for possible genocide of indigenous peoples, as a substantial proportion of those who died were from the Amazon region.
But the committee members who oppose this, including critics of the government, say genocide is an exaggeration that could threaten the entire report's credibility.
Political analyst Carlos Melo, from Insper University in Sao Paulo, said: "The prosecutor-general's office will look with a magnifying glass for errors, failures and inconsistencies in order to wash their hands of it.
"If you have 10 accusations that are very strong, and one that has inconsistencies, that's what the government will latch on to, to try and discredit the whole report."
Senators on the committee have also been wary of calling for charges against members of Mr Bolsonaro's family, who are named in the report, and the military.
Donald Trump awarded highest taekwondo rank – despite never practising the sport | World News
Donald Trump has been made an honorary black belt by the South Korean president of taekwondo – despite never having practised the sport.
The former president was handed the honorary rank by president Lee Dong-sup at his home in Mar-a-largo, Florida.
He was given an honorary ninth dan certificate – the highest level in the sport.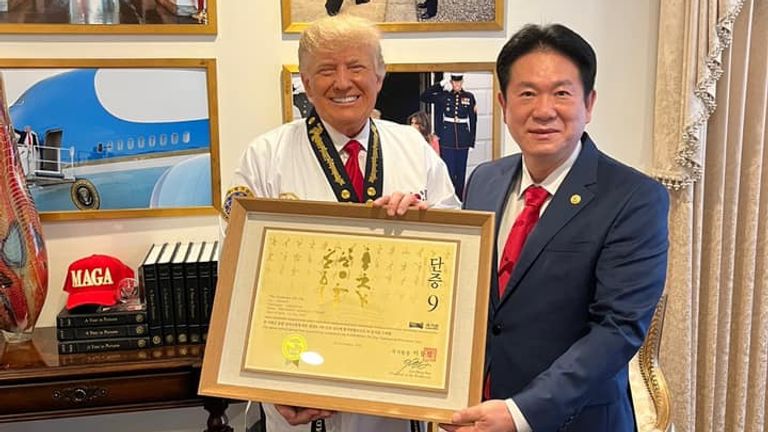 The sporting body wrote on its Facebook page that Mr Trump said upon receiving the award: "It is my honor to receive Honorary Dan Certificate and I think Taekwondo is magnificent martial art for self-defense.
"I wish to see Kukkiwon Taekwondo Team's demonstration."
The organisation added that the ceremony was "not related to any other political issues".
The award means he now has the same rank as Russian President Vladimir Putin, who was made an honorary ninth dan in 2013. President Putin had also not practised taekwondo at the time of the award.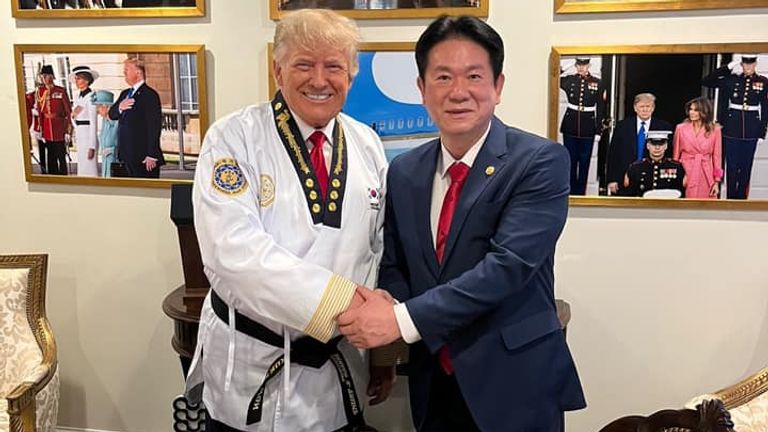 This means both now rank higher than US martial artist Chuck Norris, who is an eighth dan black belt.
The news has been criticised by some, with one Twitter user writing: "As someone who actually earned their blackbelt in TKD, I'm not happy about this. 9th degree is grandmaster rank. Unbelievable."
The walls of Mr Trump's office were adorned with photographs of his time in office – including when he met the Queen, shaking hands with Kim Jong Un, and an image of him and Melania walking to greet the Prince of Wales and Duchess of Cornwall in June 2019.
Jennifer Lawrence says 'trauma' of having her nude photos shared online 'will exist forever' | Ents & Arts News
Jennifer Lawrence has said the trauma of having her nude images shared online "will exist forever".
In 2014, the Hunger Games star was the victim of an iCloud hack which saw her intimate photos leaked on the internet.
Speaking to Vanity Fair, she said: "Anybody can go look at my naked body without my consent, at any time of day.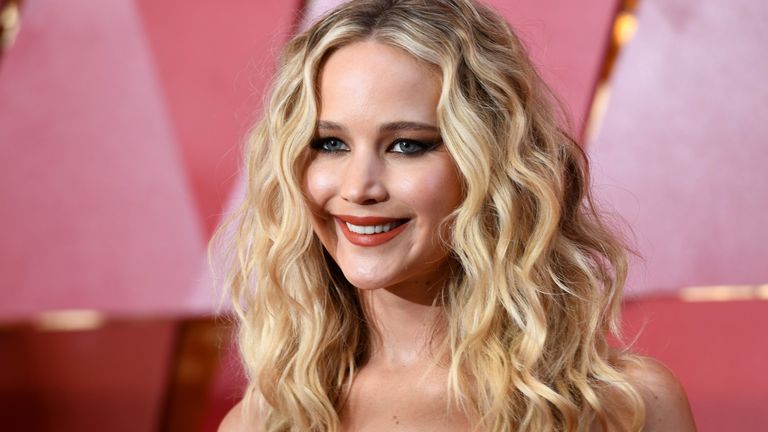 "Somebody in France just published them.
"My trauma will exist forever."
Other stars targeted included actress Kirsten Dunst, model Kate Upton and her husband, former Detroit Tigers baseball pitcher Justin Verlander.
Lawrence, who is currently pregnant with her first child with husband Cooke Maroney, said she wants to keep her family life private.
The 31-year-old star said: "Every instinct in my body wants to protect their privacy for the rest of their lives, as much as I can. I don't want anyone to feel welcome into their existence.
"And I feel like that just starts with not including them in this part of my work."
After a break from public life, she is returning to the big screen in end-of-the-world comedy Don't Look Up, alongside Leonardo DiCaprio.
Subscribe to the Backstage podcast on Apple Podcasts, Google Podcasts, Spotify, Spreaker
The US actress also told Vanity Fair that she was fortunate to have enjoyed success without the influence of Harvey Weinstein – but said she had experienced men within the industry being inappropriate.
"Harvey's victims were women that believed that he was going to help them," she said.
"Fortunately, by the time I had even come across Harvey in my career, I was about to win an Academy Award. I was getting The Hunger Games. So I avoided that specific situation.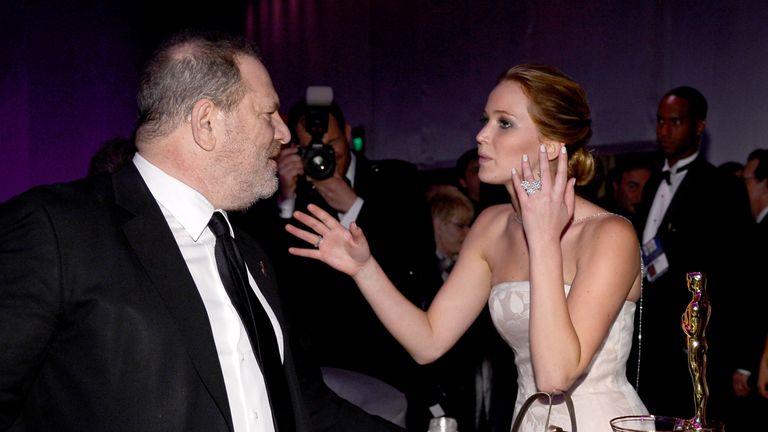 "Of course, I'm a woman in the professional world. So it's not like I've gone my entire career with men being appropriate.
"But, yeah, that's a perfect example of where getting power quickly did save me."
She said she was disgusted Weinstein had "weaponised" her name. According to a lawsuit, he claimed he had slept with her in 2018.
COVID-19: Austria coronavirus lockdown feels not just like a health crisis, but also a cultural, social and political storm | World News
On Saturday, the streets of Vienna were packed with shoppers.
Today, they were quiet, if not deserted. Yes, this is lockdown, but it isn't quite the eerie emptiness of 18 months ago.
Instead, the Austrian capital feels like it's closed for business. The clothes shops, the ice rinks and, of course, the Christmas markets. All shut.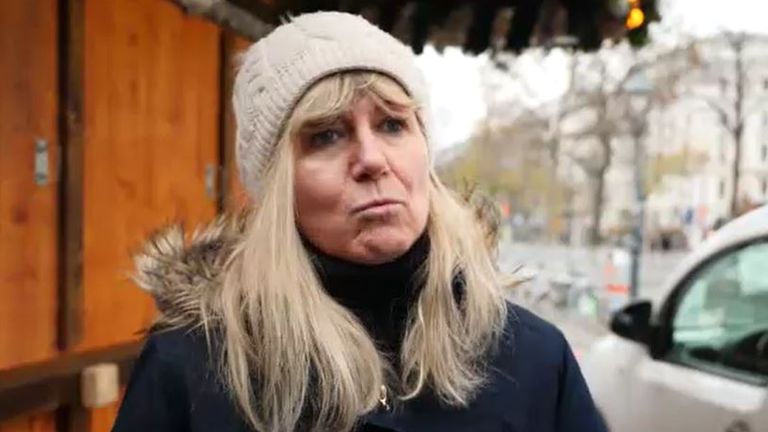 Maria Fridrichovsky normally sells chestnuts in one of the markets. She told me she is "angry" at what has happened, bemused that only 65% of the Austrian population is vaccinated against COVID.
"I feel very sad because the companies are closed down," she said. "We sell chestnuts and potatoes to the people. It should be lovely here at Christmas.
"But now it's so hard – many people are calling up by telephone – what can I do? What can I tell them? It's so sad."
Austria has seen a precipitous rise in the number of coronavirus infections recently, recording far more daily cases than it did during the first wave of the pandemic.
So it has now introduced a national lockdown that largely resembles the original version – people told to work from home and only to leave the house for essential purposes.
Schools are open, although parents are asked to keep children at home if possible.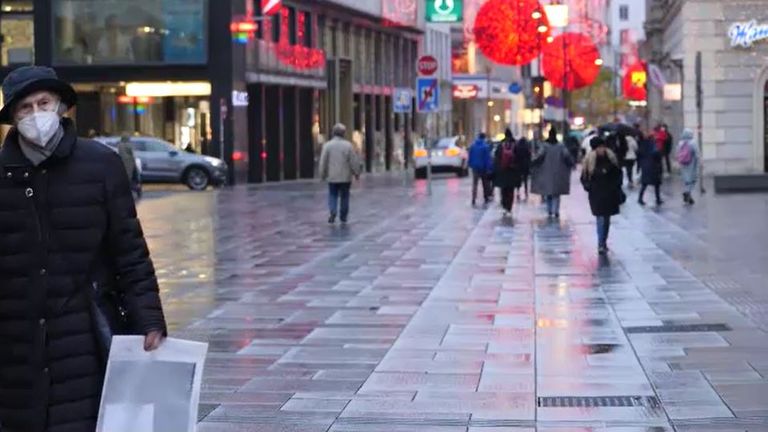 The lockdown is in place for 10 days but can be extended for a further 10 if necessary. After that point, if rates have fallen, the ties may be removed for vaccinated people, while restrictions remain in place for those who have not been inoculated.
Perhaps that's why this new lockdown feels so very different to previous incarnations.
Last year, the people of disparate European towns and cities seemed to share a sense of "in it together" camaraderie as they faced up to the hardships of lockdown.
Thousands protest new lockdown in Austria

Vienna didn't feel like that.
Yes, the streets were a lot quieter than normal, but they weren't deserted. Maybe people were just making essential journeys, but there seemed to be a surprisingly large number of them.
The police watched, but I didn't see anyone get quizzed about their reasons for being out. Maybe they were going easy on the first day.
Why isn't UK having COVID surge like in Europe?

Or maybe it's wearily difficult to define "exercise", or essential purpose. Even the word lockdown feels vague and undefinable now.
We meet a group of young men strolling through the town, all of them dubious about the lockdown.
One of them, Matthew, tells me that he only allowed himself to be vaccinated because it was the only way he could be guaranteed access to bars and restaurants. But he insists that this latest lockdown is "a breach of human rights".
His friend, Andrew, was vaccinated early, and is at pains to say he's not an anti-vaxxer, but is troubled by what he sees as the changing narrative.
"When we were saying that it's 95% effective at the beginning, we're seeing that it's definitely not the case now. We're saying no more lockdowns yet we're in lockdowns now. How can we really trust the information that's being given to us at the moment?
"I think at this point, it's very, very difficult to trust anything that's going on. And I don't necessarily think we can trust the reasons for why we're in this lockdown at the moment."
That's why this lockdown is different. Europe saw a series of protests over the weekend, vehement in their opposition to either new restrictions, or vaccination programmes, or the spectre of mandatory vaccinations, or perhaps all of them put together.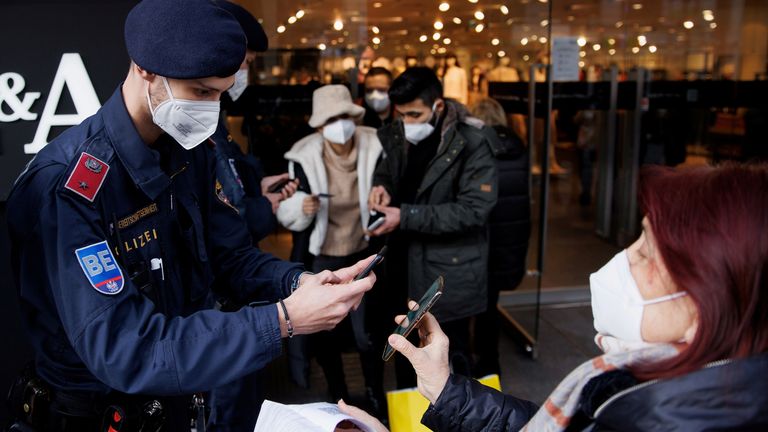 Many Europeans, rightly or wrongly, have had their faith eroded in both the political and scientific establishment. Very public promises have, in the eyes of many Austrians, been broken and now those disenchanted people feel as if they are being stigmatised.
This doesn't feel simply like a health crisis anymore, but also a cultural, social and political storm. Many other nations will be watching, and waiting to see what happens in Austria, and learning lessons.
Nobody's happy, and that includes the tourists. But as we walked through the heart of the city, we saw small knots of visitors still trying to make the most of it.
There was a group of Romanians, two couples, who had been looking forward to their break, only to find the city shut. "Still, at least it's quiet," said one of them, with magnificent understatement.
Not far away was a family from North Macedonia who come to Vienna every year and buy presents for their two children.
Now, the shops are shut, so they were studying monuments instead of buying toys. The parents were still smiling; the children, emphatically, were not.