Boy who fell off 70ft cliff – hitting 'multiple ledges' on way down – walks away with no serious injuries | US News

A four-year-old boy walked away without severe injuries after a 21m (70ft) fall off a cliff in the US.
The boy and his parents were hiking at the Red River Gorge near Princess Arch in eastern Kentucky on Friday when he slipped and fell.
He reportedly hit "multiple ledges" before landing about 21m (70ft) below, the Wolfe County Search and Rescue Team said.
The boy's dad scrambled after him and called for help.
When rescuers found the boy, they found him alert and talking, with a few scratches and bruises.
"Miraculously, the child was relatively unscathed. He's kind of scraped up and bruised but otherwise generally unhurt," said Drew Stevens, spokesperson for Wolfe County Search and Rescue.
He was taken to a hospital for evaluation and checked out fine, Mr Stevens said.
The sandstone arches and towering cliffs in the 42,000-acre geological area southeast of Lexington attract hundreds of thousands of hikers, rock climbers, kayakers and campers each year.
Bolsonaro to face probe after claiming COVID vaccines increase chance of contracting AIDS | World News

Brazilian President Jair Bolsonaro will be investigated after he claimed coronavirus vaccines may increase the chance of contracting AIDS.
Brazilian supreme court Justice Alexandre de Moraes instructed the country's top prosecutor, Augusto Aras, to look into the accusation raised by a pandemic inquiry conducted by Brazil's Senate.
Mr Bolsonaro said in a live broadcast on 24 October that "official reports from the UK government suggest that fully vaccinated people … are developing Acquired Immunodeficiency Syndrome (AIDS) much faster than anticipated".
Facebook and Instagram took down that video days later, saying it violates their rules.
The Brazilian president, who remains unvaccinated and has frequently pushed against vaccine mandates, argued he was merely quoting an article in the magazine Exame and not making assertions.
Mr Moraes said in his ruling that Bolsonaro "used the modus operandi of mass dissemination schemes in social networks", which requires further investigation.
The future of any probe is uncertain, however.
Mr Aras rarely goes against the president and has not opened an investigation into Mr Bolsonaro's handling of the pandemic despite calls to do so by the Senate committee.
Mr Bolsonaro has flouted local health protocols since the start of the pandemic and has complained that restrictions aimed at controlling the coronavirus do more harm than good.
More than 610,000 people have died of COVID-19 in Brazil, second only to the US.
The country's current seven-day average of deaths is below 300 a day, which analysts have largely credited to immunization efforts.
Ghislaine Maxwell's 'handbook' revealed: 'You see nothing, hear nothing, say nothing' | US News
A handbook Ghislaine Maxwell gave to staff working at Jeffrey Epstein's house in Palm Beach – in which they were told to "see nothing, hear nothing, say nothing" – has been made public in court documents.
Its 58 pages contain advice on anticipating the "needs of Mr Epstein" and the requirement to be "unobtrusive" – something described as "key".
Staff are told to "NEVER disclose Mr Epstein or Ms Maxwell's activities or whereabouts to anyone" and "advise Ms Maxwell of any strange telephone calls or enquiries".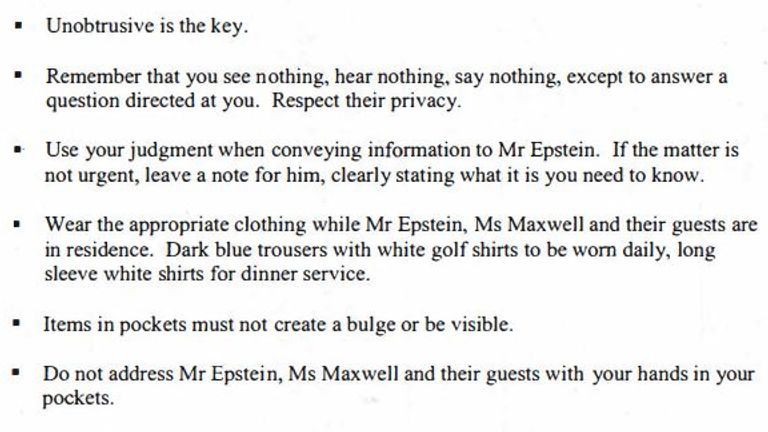 Split into sections, there are instructions on "guest relations", "proper language", and "answering the telephone", among others.
Those working at the property were told to "wear the appropriate clothing while Mr Epstein, Ms Maxwell and their guests are in residence".
These were "dark blue trousers with white golf shirts to be worn daily, long sleeve white shirts for dinner service".
Items in pockets "must not create a bulge or be visible", it added.
Staff were told not to address either Maxwell or Epstein with their hands in their pockets, or while chewing gum.
Strong perfumes or aftershaves were disallowed because they might "cause an allergic reaction".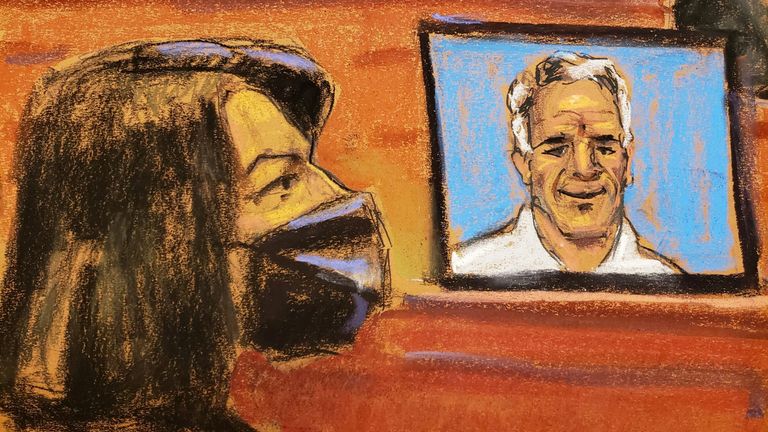 Staff were instructed to "SMILE!"
Words or phrases that were forbidden included "yeah", "you bet", "gotcha" and "I dunno".
Two of the approved comments were "it is no trouble at all" and "I have no idea, but I will find out immediately".
Phone calls had to be "answered in three rings or less".
In a section on the master bedroom, staff were told to set the air conditioning to 60 degrees, make sure the TV remote controls were working, and: "Gun placed in beside table drawer."
Tubes of toothpaste had to be "more than half full" and toilet paper was "white two-ply" only.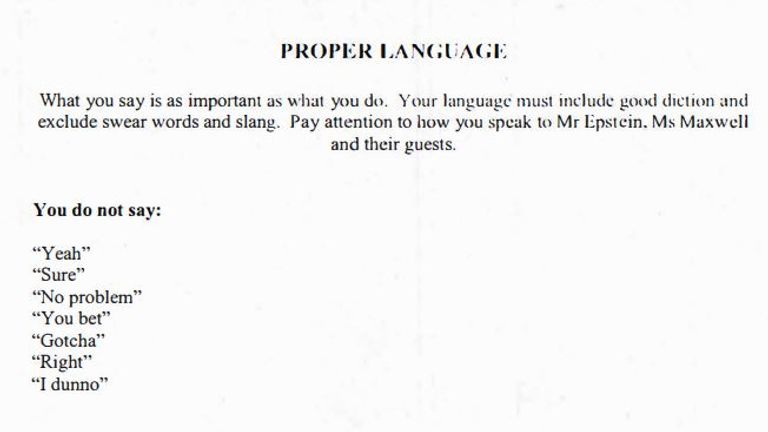 Regarding stationary, there had to be "three sizes of Jeffrey Epstein notepads" and "two sizes of Ghislaine Maxwell and Lady Ghislaine notepads".
Vehicles had to be three-quarters full of petrol with "$100 in glove compartment or centre console".
In addition, "any CDs lying around should be placed back in the correct covers".
Many of the pages had to be individually signed and dated.
Ghislaine Maxwell is on trial in New York, accused of crimes including luring girls as young as 14 to be sexually abused by Epstein at his properties in New York City, Florida and New Mexico, as well as her own London residence, between 1994 and 1997.
Maxwell denies the charges against her, with her defence team suggesting she has been used as a "scapegoat" for Epstein's crimes.
COVID-19: Ireland brings in new restrictions ahead of Christmas due to 'very stark' health advice | World News

Strict new limits on Ireland's hospitality sector and home visits have been announced by the country's prime minister.
From Tuesday, 7 December, nightclubs will close until 9 January, and bars will only be allowed to run table service with a maximum of six people per table in both bars and restaurants.
Speaking in a televised address, Micheal Martin said: "The risks associated with proceeding into the Christmas period without some restrictions… is just too high."
He added that the advice from health officials is "very stark".
According to Irish broadcaster RTE, Mr Martin said he understood the frustration the restrictions would cause but that "protection of public health is the government's primary responsibility and we will do whatever is needed to discharge that duty".
Mr Martin added that it is not about "going back to the days of lockdowns" but, in fact, about adjusting to risk.
RTE said the restrictions included having one metre between tables in bars and restaurants, no multiple table bookings and people must wear masks when not seated.