'Miracle' pair 'lucky to be alive' after car gets stuck in Australian Outback | World News
Police say it is an "absolute miracle" that two people who became stranded while driving through Australia's Northern Territory have both been found alive.
Mahesh Patrick, 14, and Shaun Emitja, 21, were heading towards Alice Springs when their vehicle became bogged down on a dirt track last Monday.
Police said they stayed with the car until the next day before walking three miles with a jerry can in search of water – only to realise they were going the wrong way – and having to camp on a hill.
The pair somehow became separated on Wednesday and Mahesh walked miles on his own before being found in bushland on Friday night.
Police commander Kirsten Engels called the teenager's survival instinct "phenomenal", according to Australia's ABC News.
"Mahesh walked approximately 12km (7.5 miles) to a fence line and spent the next two days and two nights camping and traversing down that fence line another 7km," she said.
"Miraculously, he was located by community members who reunited him with his community and family."
"What an amazing effort, [and at] 14 years old – the resilience and survival instinct is phenomenal," said Ms Engels
He was treated for dehydration and sore feet as helicopter crews and trackers on foot continued to search for his friend in the area of Arlparra and Harts Range.
Police said they were worried he had no water and called temperatures in the area "extreme".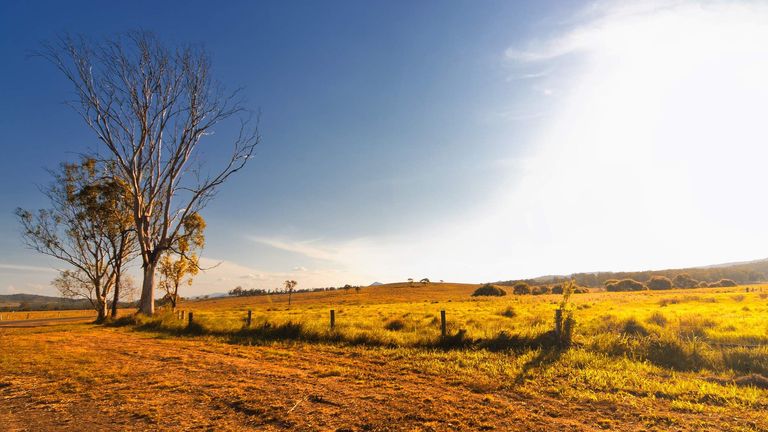 Luckily, about 24 hours later – at around 9.45pm on Saturday, Mr Emitja was also found.
Police said he was undergoing health checks but appeared well.
"They are extremely lucky to be alive – we all know how harsh it is out there," said Ms Engels.
"For what these boys went through, I can hardly believe they have so [few] scars physically."
Police have advised people travelling in the Northern Territory to stay with their car if they become stranded because it is a bigger target to find, and to carry four litres of water per day for each person.
WTA suspends tournaments in China over concerns for Peng Shuai | World News

All WTA tournaments have been suspended in China over concerns for the safety of player Peng Shuai.
The head of the Women's Tennis Association (WTA) said it was taking the step after Shuai, a Grand Slam doubles champion, accused a former high-ranking government official in China of sexual assault.
Peng dropped out of public view after raising the allegations about former vice premier Zhang Gaoli in a social media posting that was quickly taken down by Chinese authorities.
"Unfortunately, the leadership in China has not addressed this very serious issue in any credible way," WTA chairman and CEO Steve Simon wrote in a statement distributed by the tour.
"While we now know where Peng is, I have serious doubts that she is free, safe, and not subject to censorship, coercion, and intimidation."
Ghislaine Maxwell trial: Accuser rejects claim she 'came up with memory' involving Epstein sexual abuse | US News
A woman who said Ghislaine Maxwell set her up for sexual abuse by Jeffrey Epstein from the age of 14 has told a court she does not believe she has "come up with a memory".
Known by the pseudonym Jane, she was giving evidence for the second day in Maxwell's sex trafficking trial in New York.
She is the first of four women due to testify that the British socialite "groomed" them for sexual abuse by Epstein when they were teenagers.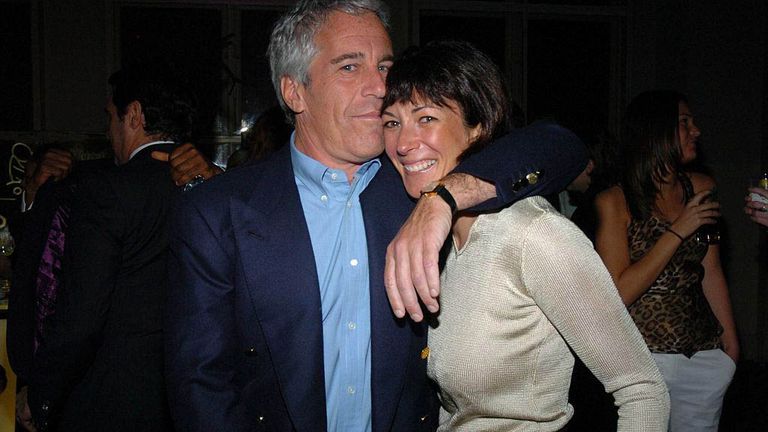 Jane had previously said she had sexual encounters with Epstein at his Palm Beach home once every fortnight when she was 14, 15 and 16.
Key points of the trial so far:
Jurors are told Maxwell and Epstein were "partners in crime" and "she served up young girls" for him to abuse
Prince Andrew named among high-profile men to travel on Epstein's private jet
Charges involve four alleged underage victims and multiple locations between 1994 and 2004
First accuser in trial of Ghislaine Maxwell says she had repeated sexual contact with Epstein when she was 14 years old and that Maxwell was there when it happened
Defence claims Maxwell has been used as a "scapegoat" for Epstein's crimes and question alleged victim over discrepancies in her accounts of the abuse
Other people occasionally participated, including Maxwell, who touched her breasts, Jane told jurors.
She told the court on Tuesday she had been summoned to an orgy by Maxwell and Epstein at the age of 14, which had left her "frozen with fear".
During cross-examination on Wednesday, defence counsel Laura Menninger questioned Jane about apparent discrepancies between her descriptions in court of Maxwell's role and earlier conversations with prosecutors before Maxwell's July 2020 arrest.
"It is true that you do not recall Ghislaine ever touching you," Ms Menninger asked.
"That's not true," Jane replied.
'I don't recall'
On Tuesday, Jane had said she did not tell anybody about any abuse because she was "terrified" and "felt gross and ashamed".
Ms Menninger said: "You spoke to the government in December 2019 with your lawyers there and you told them at that time that you were not sure whether Maxwell ever touched you during these encounters."
"I don't recall," Jane replied.
"You told the government you were not sure if Ghislaine ever kissed you."
"I don't recall."
"You told the government you had no memory of Ghislaine being present when you claim Epstein engaged in any sexual contact, correct?"
"I don't recall."
"As you sit here today, you are not sure you were ever alone in a room with Ghislaine and Epstein, correct?"
"No."
Asked if she had come up with a memory of Maxwell's involvement in the sexual encounters, Jane said: "I don't believe I have come up with a memory, no."
Eyewitness: By Joe Pike, in New York
Ghislaine Maxwell is sitting in court taking notes as her defence attempt to chip away at the credibility of 'Jane', the first alleged victim in this trial.
The witness repeatedly replied: "I don't recall" as Ms Maxwell's lawyers asked about apparent inconsistencies between her evidence to the FBI in 2019 and 2020, and her testimony in court yesterday.
Jane' also suggested there were errors in official government records of her interviews.
"The wording that is typed up on this is incorrect," she said.
"Another typo by the government?" Ms Maxwell's lawyer responded.
The defence team is arguing that 'Jane' told the trial she first met Jeffrey Epstein and Ghislaine Maxwell together, yet told the FBI she met Epstein first and Maxwell walked past them with her dog.
They say she claimed in court it was Maxwell who phoned her up to arrange meetings, but told the FBI it was Mr Epstein or his office staff who called.
And they have also questioned 'Jane' about why she told court Maxwell was in the room during sexual abuse by Epstein, but said to the FBI she couldn't remember if the defendant was present.
Ghislaine Maxwell's older brother Kevin is watching proceedings in court for the first time. He has experience of trials after being acquitted of fraud in the UK in 1996 after the death of his father, Robert.
Before day three of the trial, Maxwell entered the courtroom and nodded at her sister, Isabel, and brother, Kevin, sitting in the front row of the public gallery.
She is charged with eight counts of sex trafficking and other crimes that will be tried separately, including two perjury charges, all of which she denies.
The 59-year-old daughter of late British media magnate Robert Maxwell faces up to 80 years in prison if convicted.
Victims' memories 'manipulated over time'
Maxwell has pleaded not guilty and her lawyers have said prosecutors are making her a scapegoat for Epstein's alleged crimes because he is dead.
The financier killed himself, aged 66, in 2019 in a Manhattan jail cell while awaiting trial on sexual abuse charges.
Maxwell's lawyers have argued the four alleged victims' memories have been manipulated over time.
They say the accusers never mentioned Maxwell's role in their abuse until after Epstein died and that a compensation fund was set up for his victims, giving the women a financial incentive to cooperate with prosecutors.
Jane, now in her early 40s, said she now remembered certain events that she did not previously recall.
She told the court on Tuesday that Maxwell sometimes called her house while she was a teenager to invite her to visit Epstein.
Ms Menninger noted that in a 2019 interview with the government, Jane said she could not remember whether Maxwell ever called her, referring to a sealed transcript of the conversation.
"So two years later, now you remember that Ghislaine would call your home?" Ms Menninger asked on Wednesday.
"Memory is not linear," Jane replied.
US warns Russia it will be hit with harshest sanctions yet if it invades Ukraine | World News
The United States will hit Russia with its harshest economic sanctions yet if President Vladimir Putin invades Ukraine, the top US diplomat has said.
In the strongest US warning yet about the crisis, Anthony Blinken voiced deep concern about a build-up of tens of thousands of Russian forces around Ukraine coupled with a more than ten-fold spike in disinformation, falsely painting the Ukrainian government as the aggressor.
The same blend of military power and fake news spread online took place in the run up to Russia's 2014 annexation of Crimea and conflict in eastern Ukraine.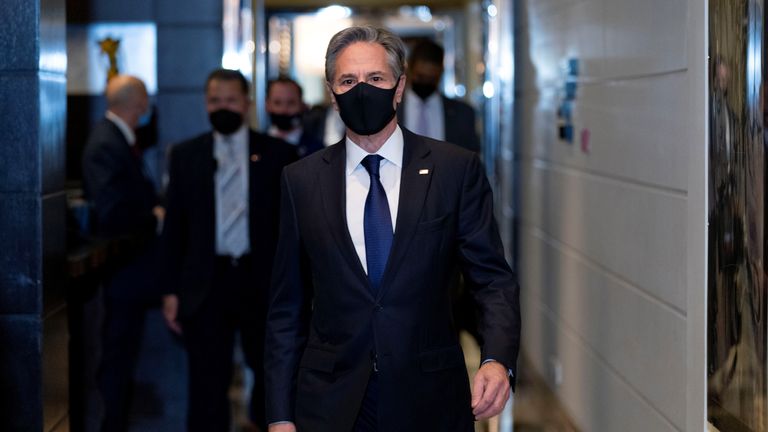 Russia releases fast-paced military drills video

"In recent weeks, Russia has stepped up planning for potential military action in Ukraine, including positioning tens of thousands of additional combat forces near the Ukrainian border," the US secretary of state said on Wednesday, following a meeting with NATO foreign ministers in the Baltic state of Latvia.
"We've made it clear to the Kremlin that we will respond resolutely, including with a range of high impact economic measures that we have refrained from using in the past," he said.
Russia seized the Crimean peninsula from Ukraine in 2014 but denies aggressive intent in the current standoff, claiming it is responding to threatening behaviour by NATO and Kiev.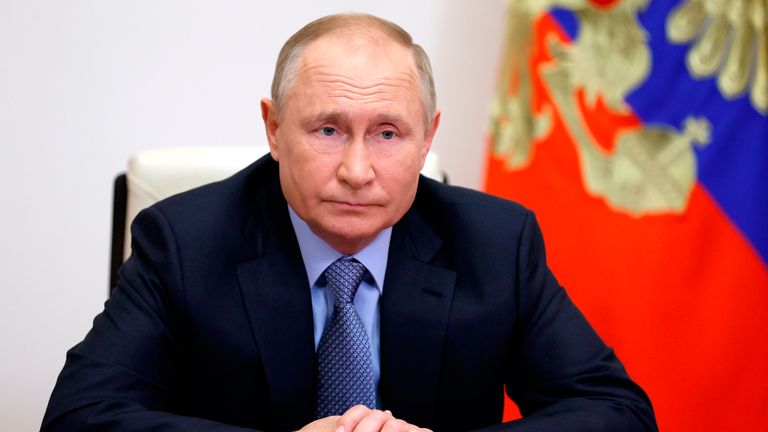 President Putin, speaking in Moscow, said Russia wanted serious negotiations with the United States and its allies to extract legal guarantees that would rule out any further NATO moves to the east and the deployment of weapons systems close to Russia.
But Jens Stoltenberg, the NATO secretary general, made clear any attempt by Moscow to restrict the choices of an independent country like Ukraine – which has requested to join the alliance – was unacceptable.
"Russia has no veto, Russia as no say and Russia has no right to establish a sphere of influence to try to control their neighbours," he said, during a news conference in the Latvian capital of Riga.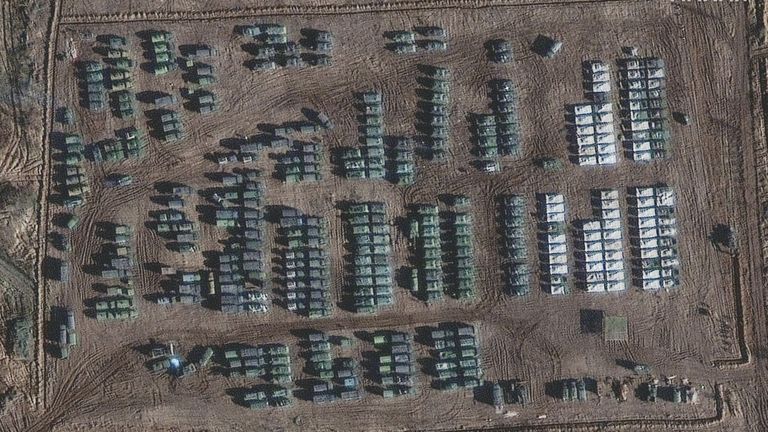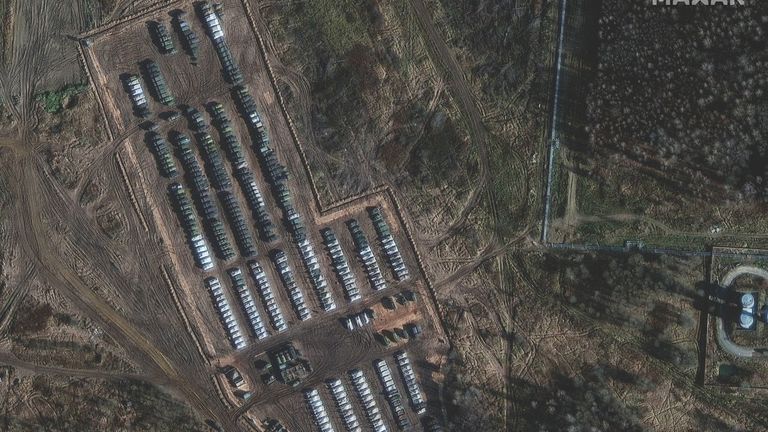 Mr Blinken is due to meet his Russian counterpart, Sergei Lavrov, at the sidelines of another international meeting taking place in Stockholm on Thursday.
The US diplomat said while Mr Putin was putting in place the capacity to launch a military attack on Ukraine, it was not yet known if a decision had been taken to invade.
Follow the Daily podcast on Apple Podcasts, Google Podcasts, Spotify, Spreaker
He also gave an indication of the diplomatic activity going on behind the scenes to de-escalate tensions, confirming that Bill Burns, the director of the Central Intelligence Agency (CIA), had held a rare meeting with President Putin in Moscow last month.
Mr Blinken said there was "tremendous solidarity" within the 30-member NATO alliance in willingness to pursue strong measures if Russia does choose to move again on Ukraine.
"Should Russia reject diplomacy and reinvade Ukraine, we will be prepared to act," he said.