Haiti: Notorious gang with history of brazen kidnappings blamed for abducting 17 missionaries | World News
A notorious gang with a history of kidnappings has been blamed by police for the abduction of 17 missionaries in Haiti.
The 400 Mowozo gang was said to have kidnapped the religious group on Saturday, which included children, who were on their way home from an orphanage in the capital Port-au-Prince.
Christian Aid Ministries, the group which the missionaries belonged to, said that five men, seven women and five children made up the abducted group of 16 Americans and one Canadian.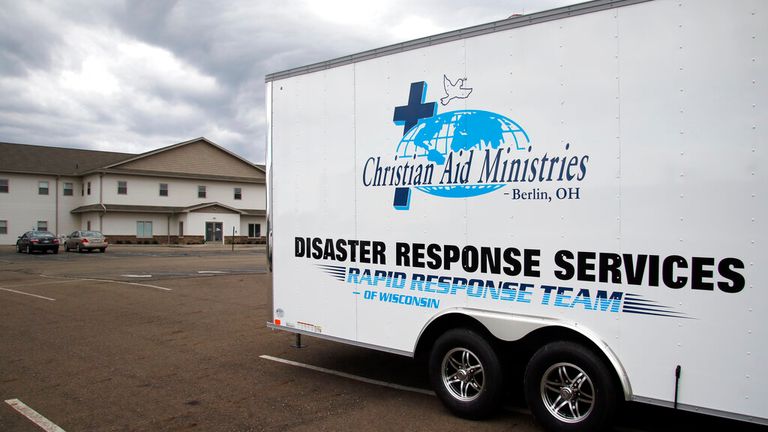 400 Mowozo, which loosely translates as 400 inexperienced men, controls parts of Haiti, and are known to authorities as people who carry out kidnappings, conduct car-jackings and extort businesses.
The US has admitted it does not know the location of its citizens who have been kidnapped, according to CNN which cites sources.
In a statement, Christian Aid Ministries said: "We request urgent prayer for the… workers who were abducted while on a trip to visit an orphanage. We are seeking God's direction for a resolution, and authorities are seeking ways to help.
"Join us in praying for those who are being held hostage, the kidnappers, and the families, friends, and churches of those affected. Pray for those who are seeking God's direction and making decisions regarding this matter."
Haiti has seen a resurgence in the number of gang-related kidnappings after President Jovenel Moïse was assassinated at his home in July.
The country, the poorest in the Americas, has also been wrestling with the aftermath of a major earthquake that killed more than 2,200 people the following month.
The New York Times said parts of the capital are now so dangerous that many residents have fled – and few people venture out during the day.
Gangs have demanded ransoms ranging from thousands of dollars to more than $1m, according to authorities.
Last month, a deacon was killed in front of a church in Port-au-Prince and his wife kidnapped, one of dozens of people who have been abducted in recent months.
At least 328 kidnapping victims were reported to Haitian police in the first eight months of 2021, compared with a total of 234 for all of 2020, according to a recent UN report.
The instability has led thousands to flee and seek to reach the US, where they have been stopped at the border.
COVID-19: Help vaccinate poor countries or face more new variant shocks, rich economies told | Business News
The world's rich nations must help vaccinate the poorest nations or else they will face a continual cycle of economic shocks and restrictions in the face of new variants, the OECD's chief economist has said.
Laurence Boone told Sky News that the Omicron variant could cause the OECD (Organisation for Economic Co-operation and Development) to downgrade its outlook for economic growth and inflation, but it is too early to say what damage it could cause.
She said that the variant was a reminder that for the richest countries – a group represented by the OECD – funding vaccinations in the developing world would cost only a fraction of their outlay in the past 18 months yet would bring immeasurable benefits.
'We don't know enough about Omicron yet'

"As long as the global population is not vaccinated, this type of variant can come in and bring restrictions," she said.
"We G20 countries have spent about $10trn to support our economies in the pandemic – it costs $50bn to bring vaccines to the entire population.
"As long as the world stays as it is, what we're going to see is countries which are going to have to shut down their economies or will have to close their borders and all the disruption of production chain across the globe."
Her comments came as she unveiled the OECD's latest set of economic forecasts.
The figures, which were modelled before news broke of the new variant, see upgrades to economic growth – and inflation – for many countries around the world, including the UK.
Britain's expected growth rate this year, 6.9%, is the strongest of all the G7 leading economies, though it follows the deepest recession among those economies, according to the OECD's numbers.
How are we combatting Omicron?

The economic outlook warned that while the global recovery was progressing, it had lost some momentum and was becoming increasingly "imbalanced", with some parts of the world bouncing back quicker than others.
Much of this divergence was correlated with vaccination status, with lower income countries with low levels of vaccinations struggling economically.
The OECD forecast inflation of 4.4% in the US and UK this year.
It said: "Inflation is on everybody's minds and there is a lot of uncertainty about central banks' reactions…
"In current circumstances, the best thing central banks can do is to wait for supply tensions to diminish and signal they will act if necessary.
"Should supply constraints persist, while GDP and employment continue to grow briskly and fuel broader price increases, higher inflation pressure could last longer, destabilising people's expectations.
"That would call for action."
It comes a day after the Federal Reserve, the US central bank, signalled that inflation could prove less "transitory" than it had previously anticipated.
The Bank of England had been expected to increase interest rates at this month's monetary policy committee meeting but the economic uncertainty from the onset of the Omicron variant may change that.
NASA cancels spacewalk on International Space Station due to deadly space junk | Science & Tech News
NASA has called off a spacewalk due to the threat of dangerous space debris.
Two US astronauts aboard the International Space Station (ISS), Tom Marshburn and Kayla Barron, were due to replace an external antenna on Tuesday.
However, the expedition was cancelled when Mission Control found pieces of orbiting space junk had come dangerously close to the station.
The debris has the potential to puncture an astronaut's suit or seriously damage the ISS, meaning it cannot be ignored.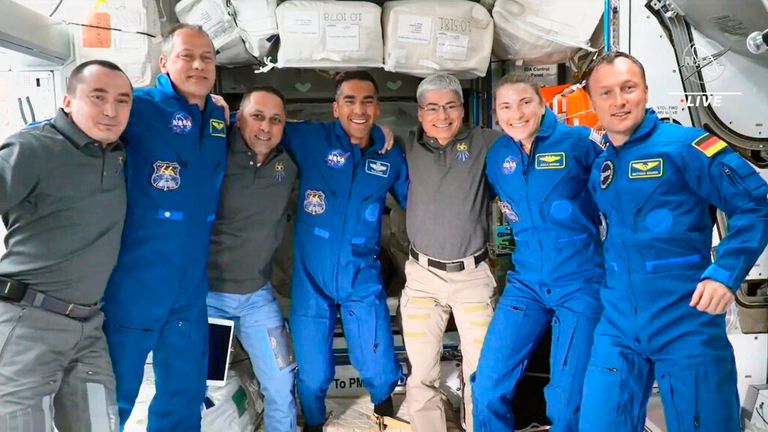 There wasn't enough time to assess the threat so station managers delayed the spacewalk until Thursday.
It's the first time a spacewalk has been cancelled because of the threat from space junk.
The space station and its crew of seven have been at increased risk from orbiting debris since Russia destroyed a satellite in a missile test two weeks ago.
NASA received a debris notification for the space station. Due to the lack of opportunity to properly assess the risk it could pose to the astronauts, teams have decided to delay the Nov. 30 spacewalk until more information is available. https://t.co/HJCXFWBd3Y pic.twitter.com/swj5hqusSo

— International Space Station (@Space_Station) November 30, 2021
Crew members were forced to take cover in their docked capsules amid fears of a collision with some 1,700 pieces of satellite large enough to track.
NASA officials said the 15 November missile test also created thousands more pieces of dangerous debris, too small to be observed from the ground but still with the potential to damage satellites.
US Secretary of State Antony Blinken condemned Russia, adding that they had put their own cosmonauts on board the ISS at risk, as well as the three people on China's space station.
NASA said that Mr Marshburn and Ms Barron faced a 7% greater risk of a spacewalk puncture because of the Russian-generated debris.
But they said it was still within acceptable limits based on previous experience.
COVID-19: BioNTech boss says 'don't freak out' about Omicron as Pfizer vaccine likely to protect against severe disease from variant | World News
The Pfizer vaccine is likely to offer strong protection against any severe disease from the new Omicron COVID variant, according to the head of BioNTech who urged people not to 'freak out'.
BioNTech developed one of the world's most widely-used jabs with Pfizer, and the company's chief executive and founder Ugur Sahin said: "To my mind there's no reason to be particularly worried.
"The only thing that worries me at the moment is the fact that there are people that have not been vaccinated at all."
The BioNTech boss's guarded confidence contrasts with more pessimistic comments by the chief executive of rival vaccine maker Moderna, Stephane Bancel, who raised the prospect of a material drop in protection against the new coronavirus strain from current vaccines.
The CEOs of Moderna and Pfizer speak about Omicron variant


Mr Bancel said he believes Omicron, first identified by researchers in southern Africa, is "highly infectious" and it is "highly possible" the effectiveness of vaccines is decreasing – adding that boosters may need a "double" dose to provide the best protection.
But Mr Sahin said: "We think it's likely that people will have substantial protection against severe disease caused by Omicron."
He specified severe disease as requiring hospital treatment or intensive care.
Mr Sahin added he expects laboratory tests over the next two weeks to show some loss of vaccine protection against mild and moderate disease due to Omicron, but the extent of that loss was hard to predict.
The high number of mutations on the protein spike the virus uses to infect human cells could mean existing vaccines need to be modified.
BioNTech is currently working on an upgraded version of its original vaccine, of which more than two billion doses have already been delivered, although he says it is still unclear whether that is needed.
And he said getting a third vaccine shot, or booster, will likely offer protection against Omicron infections of any severity compared to those who just have a two-dose course.
More than 20 cases of the Omicron variant have so far been identified across the UK, though experts expect this number to rise in the coming days.
Mr Sahin admitted antibodies brought about by vaccination could struggle to latch on to the new virus but he claimed T-cells, another line of immune defence, were set to recognise the vast parts of Omicron's spike protein that remain unchanged.
While antibodies bind to viruses directly and prevent infections, longer lasting T-cells attack cells that have already been hijacked by the virus, warding off viral replication and severe disease.
And in a separate interview, he told the Wall Street Journal: "Our message is: Don't freak out, the plan remains the same: Speed up the administration of a third booster shot.
"Our belief [that the vaccines work against Omicron] is rooted in science: If a virus achieves immune escape, it achieves it against antibodies, but there is the second level of immune response that protects from severe disease – the T-cells.
"Even as an escape variant, the virus will hardly be able to completely evade the T-cells."
Meanwhile, America's top infectious disease expert, Anthony Fauci, has said it is too early to know whether the Omicron variant will lead to severe disease – while offering the latest example of cautious optimism.
Dr Fauci said there were 226 confirmed cases of the variant in 20 countries as of Tuesday morning but that Omicron had not been detected yet in the United States.
"It is very difficult to know whether or not this particular variant is going to result in severe disease," Dr Fauci said.
"Although some preliminary information from South Africa suggests no unusual symptoms… we do not know, and it is too early to tell."
Albert Bourla, chief executive of Pfizer, said he was "very confident" the jab works against all known mutations of coronavirus, including Omicron.
However, he said his firm has already started making a new vaccine against the variant, adding: "Within 95 days basically we will have a new vaccine."
Follow the Daily podcast on Apple Podcasts, Google Podcasts, Spotify, Spreaker
Earlier, Mr Bancel said the new strain is overtaking Delta in South Africa at a faster rate than previously seen.
"It took around four months for Delta to take over Beta, and it seems it's taking just a couple weeks for this new variant to take over Delta," he told CNBC.
Both he and Mr Bourla stressed that more data is needed to fully understand whether B.1.1.529 is more contagious or resistant to vaccines.
Mr Bancel said: "Given the large number of mutations, it is highly possible that the efficacy of the vaccine, all of them, is going down. But we need to wait for the data to know if this is true, and how much is it going down."