Norway attacks: Kongsberg bow and arrow killings 'appear to be act of terrorism', country's security agency says | World News

The killings of five people in Norway by a man armed with a bow and arrows "appears to be an act of terrorism", the country's security agency has said.
Four women and one man were killed during the rampage in Kongsberg, with a police officer among others left injured.
A statement issued by PST, Norway's security service, said: "The incidents in Kongsberg appear at the moment to be an act of terrorism, but the investigation, which is led by the South-East police district, will clarify in more detail what the incidents were motivated by."
It said the terrorism threat in Norway had not changed from "moderate".
"At the same time, PST is working to investigate whether what has happened could inspire others to commit serious acts of violence, in the form of follow-up actions, revenge actions and more," the statement said, before adding that the service "does not have currently have information that that is the case".
"The accused in the case is known to PST from before, without PST being able to provide further details about him," it said.
The attacker managed to get away from officers who initially confronted him after firing arrows at them. A 37-year-old Danish man was arrested around half an hour later at 6.47pm local time.
Police believe all the killings happened during that period. They say the suspect had previously been identified as showing signs of radicalisation and will now be assessed by forensic psychiatric experts.
Senior officers say the suspect had been convicted several times in the past, and was the subject of a six-month restraining order against two close family members last year after he threatened to kill one of them.
He also had convictions for burglary and for possession of small amounts of cannabis in 2012.
A number of Wednesday's victims were in the town centre's Coop Extra supermarket when they were attacked.
Kongsberg, a small town of around 26,000 inhabitants, is situated about 41 miles southwest of Oslo.
Local officials said anyone who needed support would be welcome at the town's main church.
COVID-19: At least 50 people infected with Omicron variant at Christmas party in Norway | World News
At least 50 people in the Norwegian capital of Oslo have been infected with the Omicron variant.
The cases are connected to a company's recent Christmas party, which took place in a restaurant, according to city officials.
The Norwegian Institute of Public Health said that those affected live in Oslo and surrounding municipalities but added that there was "high vaccination coverage" in the group.
Follow the Daily podcast on Apple Podcasts, Google Podcasts, Spotify, Spreaker
Efforts are under way to trace contacts of those infected, with visitors to two restaurants in the city being urged to get tested.
More cases are expected.
Biden announces pre-departure tests for travellers

Scientists around the world are trying to find out more about the new coronavirus variant, including whether it is more contagious, whether it makes people more ill, and whether it will undermine vaccines.
Many governments have announced stricter rules, including travel restrictions and bans on large gatherings.
Norway, which reported its first two Omicron cases on Monday, will bring in new national and regional restrictions from Friday.
The tightest rules will apply to Oslo, including an order to work from home where possible, a 100-person limit at private indoor events in public places or rented venues, and restaurants being told to register patrons.
Among the national rules being brought in is a requirement for anyone entering Norway to be tested within 24 hours, either at the border, a public test station, or using a self-administered test.
The country has already recommended the use of face masks on public transport, in shops and in shopping centres.
Norwegian Prime Minister Jonas Gahr Store said: "It is likely that the Omicron variant will spread in Norway, and that is why the government believes in stricter measures."
"We still have to keep our distance to get control of the spread of infection, but that does not mean that we cannot have good contact with each other," he added.
Angela Merkel: Germany's outgoing chancellor honoured at military farewell ceremony with hymns and punk rock tribute | World News
Angela Merkel has bid farewell to 16 years in office at a military ceremony, and urged fellow Germans to stand up to hatred.
The outgoing Chancellor was honoured with a traditional military music performance, featuring an eclectic mix of songs.
In a speech ahead of the ceremony, she said: "Our democracy also lives from the fact that wherever hatred and violence are seen as a legitimate means of pursuing one's interests, our tolerance as democrats has to find its limit."
The first piece was You Forgot The Colour Film released in 1974 by East German-born punk singer Nina Hagen, in which the singer recounts a young woman's lament that her boyfriend failed to take colour pictures of their beach holiday.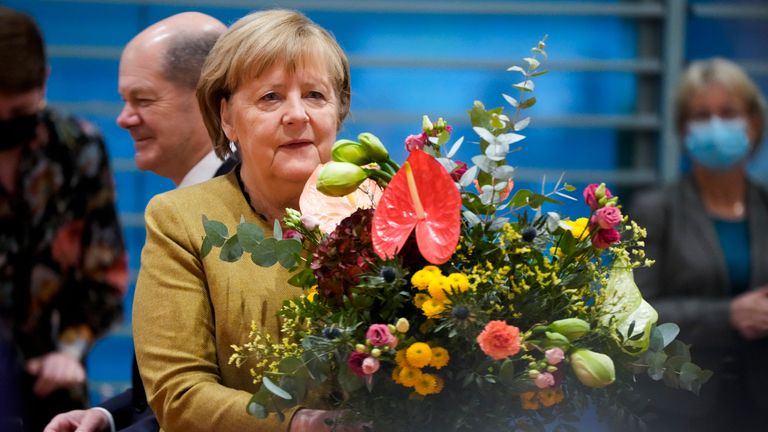 Hagen, like Mrs Merkel, grew up in East Germany but emigrated to the West in 1976 after clashing with the communist country's authorities.
Mrs Merkel explained that the song was "a highlight of my youth, which is known to have taken place in the GDR".
Almost all of the country's political elite were invited to the event – except the far-right Alternative for Germany – which was held in a more public setting, due to COVID restrictions.
Her second song choice was German singer Hildegard Knef's It Shall Rain Red Roses For Me, after which she was presented with a bouquet of flowers.
The final piece was an 18th-century Christian hymn Holy God, We Praise Thy Name, a fitting finale for the daughter of a Protestant pastor.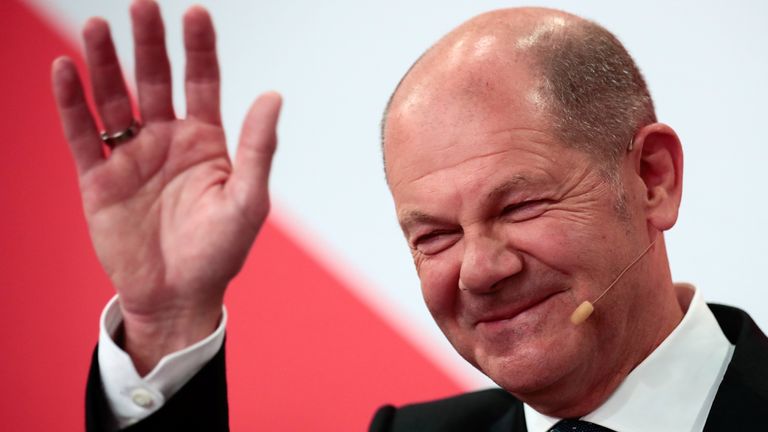 Mrs Merkel remains caretaker chancellor until her successor, Olaf Scholz, is sworn in next week.
She said she wished him and his new centre-left government "all the best, good luck and much success".
Lewis Hamilton condemns Saudi Arabia's 'terrifying' LGBTQ+ laws ahead of race and says it is 'not my choice to be here' | World News
Lewis Hamilton has said he does not feel comfortable about racing in Saudi Arabia's grand prix this weekend, as he expressed concern about human rights in the kingdom.
The seven-times Formula 1 world champion will be competing in a night race around a street circuit in Jeddah.
Hamilton said he had received a warm welcome on arrival, but felt "duty-bound" to speak out amid human rights groups accusing Saudi Arabia of using the event to distract from scrutiny about its abuses.
He also said the Liberty Media-owned sport needed to do more before adding he will wear the same Progress Pride helmet he wore at last month's Qatar Grand Prix, in order to draw attention to LGBTQ+ intolerance.
This is due to gay sex also being a criminal offence in the kingdom, which Hamilton said was "pretty terrifying".
Hamilton said: "Do I feel comfortable here? I wouldn't say that I do.
"But it's not my choice to be here. The sport has taken the choice to be here.
"There's changes that need to be made. For example women's rights of being able to drive [legally] in 2018, it's how they are policed. Some of the women are still in prison from driving many, many years ago.
"So there's a lot of changes that need to happen and I think our sport needs to do more."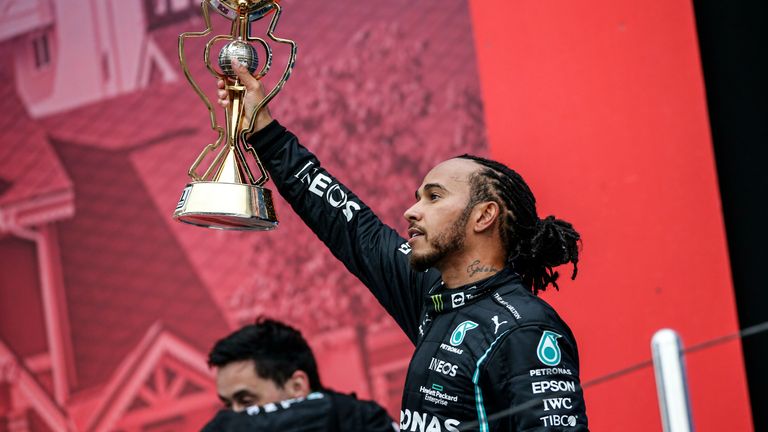 Formula 1 boss Stefano Domenicali has also argued that sport can help bring change.
He told Sky Sports: "As soon as these countries choose to be under the spotlight Formula 1 is bringing, there is no excuse.
"They have taken the route of a change."
Meanwhile, Formula 1 announced its We Race As One campaign last year to help highlight issues such as racism and inequality.
Four-times world champion Sebastian Vettel said it was clear "some things are not going the way they should".
However, he added change took time and he wanted to highlight positive examples of progress.
Vettel said: "For sure there are shortcomings and they have to be addressed but I still feel the more powerful tool is the positive weapon."