Espen Andersen Brathen: What we know so far about suspected Norway bow and arrow killer | World News
Espen Andersen Brathen has been charged with five murders after an attacker with a bow and arrows went on a rampage in a Norwegian town.
Authorities say Wednesday's incident in Kongsberg – about 41 miles southwest of Oslo – "appears to be an act of terrorism" which had targeted "completely random" people.
Here's what we know so far about the 37-year-old alleged killer, who prosecutors say has admitted the attack.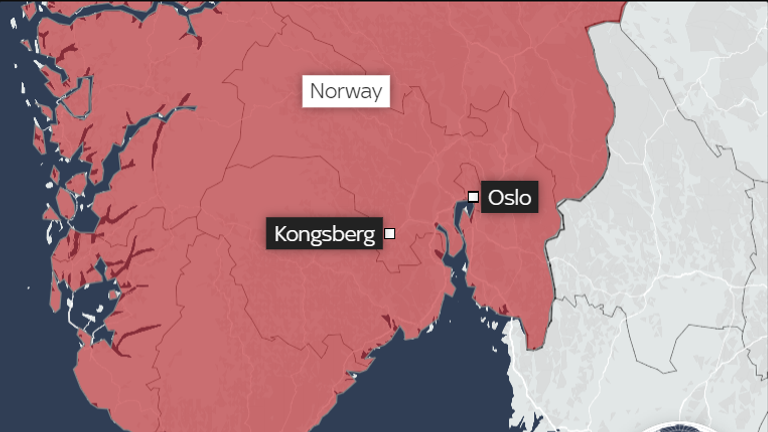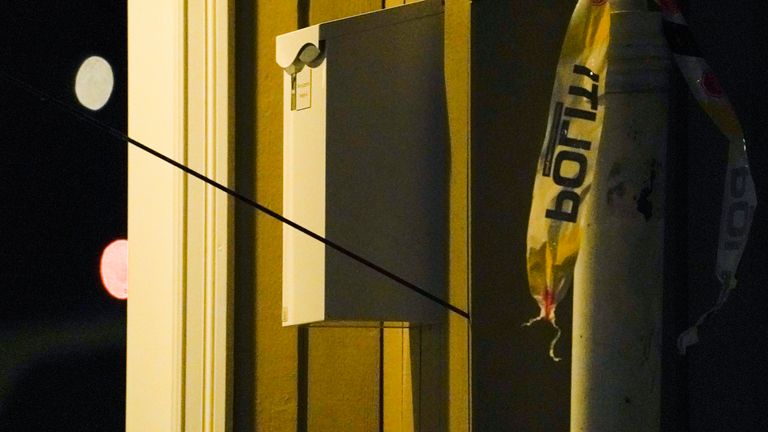 Brathen is a Danish citizen but has lived in Kongsberg nearly all his life.
Police said the suspect had been convicted several times in the past and confirmed that he had converted to Islam
He was given a six-month restraining order against two family members last year – believed to be his parents – after refusing to leave their house and threatening to kill one of them.
Brathen left a Colt revolver on the sofa and police believed there was a risk he could harm them, reported Norwegian broadcaster NRK.
He was convicted of burglary and cannabis possession in 2012, and regional police chief Ole Bredrup Saeverud said officers had prior contact with him over concerns he was becoming radicalised.
An acquaintance of Brathen's told NRK the alleged killer had long suffered serious mental health problems, and authorities say he will now be assessed by forensic psychiatric experts.
Police helicopters at scene of bow and arrow attacks

In December 2017, a concerned friend also flagged up videos that Brathen had put online, reported the Aftenposten newspaper.
Looking into the camera, he's said to have confirmed he was a Muslim and described himself as a "messenger" with a "warning", adding that "the time has come".
The friend said Brathen was a "ticking time bomb" who changed in his late teens and become more of a loner who pushed people away.
He was in "so much pain that something had to happen", the friend told the newspaper.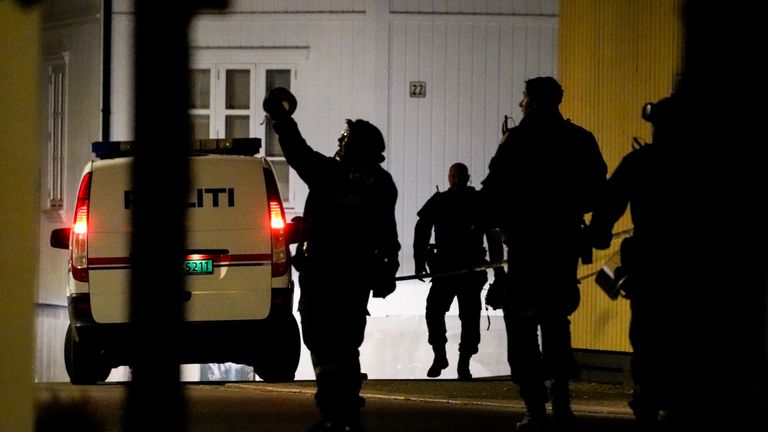 Neighbours also told Aftenposten they had seen Brathen doing "brutal" martial arts practice in his garden and training with weapons described as "a club or baton".
One said that police had been to Brathen's house several times last summer, with pictures circulated in a group chat said to show officers in helmets in his garden.
Police say they believe the suspect targeted people at random in the attack – at a Co-op supermarket and other locations in Kongsberg – before he was arrested on the street.
Four women and one man, all aged between 50 and 70, were killed and three others wounded.
Flags at half-mast & candles lit after Norway attacks

Brathen is being detained on preliminary charges and will face formal charges on Friday.
The head of Norway's intelligence service, Hans Sverre Sjoevold, told reporters "the whole act appears to be an act of terror".
"We do not know what the motivation of the perpetrator is," he added. "We have to wait for the outcome of the investigation."
Peng Shuai: Tennis chief 'deeply concerned' about Chinese star – with email responses 'clearly influenced by others' | World News
The head of the group that runs women's tennis worldwide has said he "remains deeply concerned" about Chinese player Peng Shuai, after she accused a powerful politician of sexual assault.
A spokesperson for the Women's Tennis Association (WTA) told the AFP news agency its chairman Steve Simon believes Peng's responses to his emails to her were "clearly" influenced by others.
Peng reappeared last weekend after she had not been seen or heard from publicly since she said on social media on 2 November that former vice premier Zhang Gaoli had coerced her into having sex.
But, although Peng has been in contact with senior figures in world sport, Mr Simon was unconvinced she was free from "coercion".
The WTA spokesperson told AFP the group's chairman had "reached out to Peng Shuai via various communication channels. He has sent her two emails, to which it was clear her responses were influenced by others".
But the spokesperson added: "He remains deeply concerned that Peng is not free from censorship or coercion and decided not to re-engage via email until he was satisfied her responses were her own, and not those of her censors.
"The WTA remains concerned about her ability to communicate freely, openly, and directly."
The Associated Press has reported that Peng is just one of several people in China – activists and accusers alike – who have been removed from public view, charged with crimes or attacked online for speaking out about the treatment women in the country face.
The 35-year-old Wimbledon and French Open doubles champion was not seen for more than two weeks following her allegations that the former vice-premier, now in his 70s, forced her into sex during a years-long on-off relationship.
Missing Peng Shuai seen at tennis final

The stance of the WTA stands in contrast to some other sporting authorities, with human rights groups criticising the International Olympic Committee (IOC) of being complicit in China's rights abuses ahead of the 2022 Beijing winter games.
IOC president Thomas Bach had a video call with Peng on Sunday but supporters say that at the time she may have been under political duress.
Human Rights Watch (HRW) China director Sophie Richardson said the IOC had shown a "remarkable lack of judgment" in its handling of the Peng case and "active complicity" in Beijing's abuses.
Video emerges online of Peng Shuai purportedly in restaurant

She accused it of striving to keep the Games on track, rather than be concerned about the welfare of athletes and criticised Mr Bach for failing to make clear publicly whether he had asked Peng if she had access to a lawyer or wanted to file charges.
Last week, the IOC said it would "continue our open dialogue on all levels with the Olympic movement in China".
HRW China researcher Yaqiu Wang, meanwhile, said the IOC had taken part in Beijing's "government-created narrative".
The UK, EU, United Nations and US have all called for proof of Peng's whereabouts and well-being.
China has called on people to stop "hyping" Peng's case.
Former US ambassador-at-large for global women's issues Kelley Eckels Currie praised the WTA's stance on Peng, saying it made it a human rights champion, even though it stood to lose money.
Adele: Australian journalist Matt Doran who 'insulted' singer with pre-interview mishap apologises on air | Ents & Arts News
An Australian journalist whose "million dollar" interview with Adele was canned because he did not listen to her new Album 30 has apologised on air.
Matt Doran, of Channel 7 News, flew to London ahead of the singer's first release in six years to speak to her.
However, after he finished his chat with her, Adele discovered that he had not listened to a preview copy of her latest work and her publisher, Sony, blocked the interview from airing.
It is reported the agreement for the interview and rights to other related content cost the channel a million Australian dollars – around £530,000.
Doran was castigated on social media after the issue came to light, and he was absent from on air duties last weekend.
Speaking to his audience on Saturday morning, Doran said: "Now I want to address something that's made headlines this week and something that I would like to apologise for.
"This is a story that has sparked a torrent of abuse and mockery from around the world.
"And if I'm being honest with you, the bulk of this savaging I deserve and I totally own.
"I flew to London to interview Adele – an unspeakable privilege and what was to be one of the highlights of my career.
"I made the terrible mistake of assuming we weren't to be given a preview copy of this album, because our interview was airing before it was released and Adele's album was the industry's most prized secret.
By an absurdly long margin, the most important email I've ever missed in my life.
"The day after – after we landed in London, an email came through from Sony.
"It didn't mention Adele but it did contain a link to her album.
"The genuine dead set hand on heart truth is that I missed it.
"By an absurdly long margin, the most important email I've ever missed in my life."
Doran went on to share some details of the chat – which has still not aired.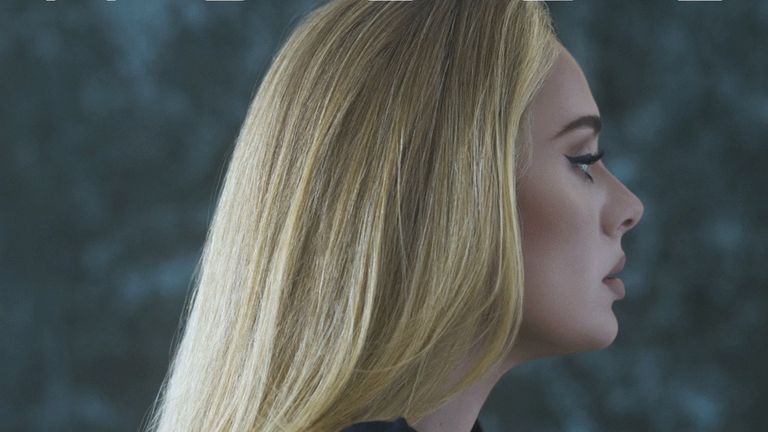 He also dismissed rumours that Adele had walked out of the interview.
"The interview itself, Adele didn't walk out – it ran over time.
"At least half of the interview focused squarely on the new music, but I thought it was reductive to describe it as simply being about divorce; that it was about empowerment and what inspired people to summon the courage to steer their lives in a new direction.
"We spoke of the paradox that is being the world's most famous artist, but hating fame.
"We also discussed at length the concept of pure artistry, the majesty of Adele's voice – what it must be like to hear that sound come out of one's own mouth.
"How Go Easy On Me (sic) was conceived in part by singing acapella in the shower, and how the album helped repair her relationship towards the end with her now late father.
"Throughout the 29 minutes Adele was profound. She was funny. She was raw, and then she was honest – honest enough to describe her depression as end of the world stuff.
"But all that doesn't matter.
"Because by missing the album link – however I might try to justify it – I've insulted Adele.
"To Adele I say – I'd never have knowingly disrespected you by deliberately not listening to your work. I am so sorry.
"I also apologise to Adele's Australian fans and to you, our viewers, who through my error have been denied this interview and the insight into her character.
"Adele – track 10, Hold On, in the bridge, after the second chorus, you write that 'sometimes forgiveness is easiest in secret'.
Subscribe to the Backstage podcast on Apple Podcasts, Google Podcasts, Spotify, Spreaker
"I'm not expecting that forgiveness, but I do owe you an apology."
Doran did not address rumours that he'd been suspended due to the mishap.
COVID-19: Britons in South Africa racing to avoid £2,285 hotel quarantine as Omicron travel restrictions introduced | World News
The cost of quarantine for Britons returning from South Africa is setting some back "a year" financially, as people race back to avoid the costs.
After the emergence of the Omicron variant, a number of countries in southern Africa were placed back on England's travel red list.
It means that an adult arriving in England needs to spend at least £2,285 for a hotel room for 10 days to quarantine.
Matters have been further complicated after direct flights from South Africa to the UK were stopped by the British government.
However, there is a brief window for those arriving before 4am on Sunday to quarantine at home if they can find a route.
Lavern Fugeti is a dual UK and South African citizen who is currently staying in the cape nation.
She was unable to travel there for the funeral of her sister earlier this year due to the previous lockdown, but is now visiting.
She told Sky News about the difficulties now facing those in South Africa, with flights being cancelled and a lack of information.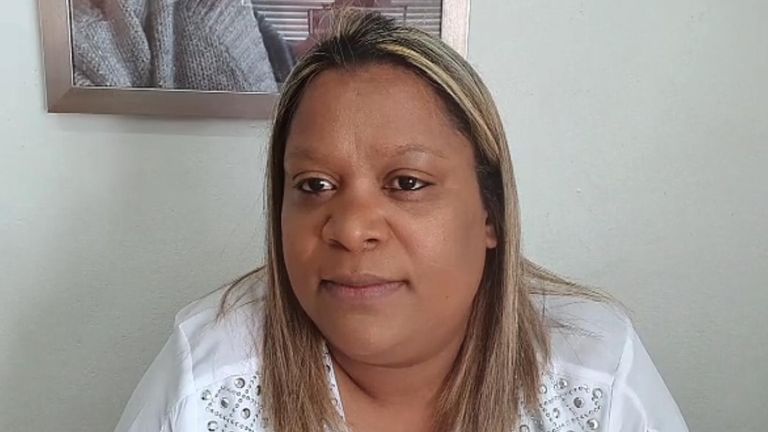 "I've got no idea [what's happening]," she said.
"Up until six o'clock last night my flight was scheduled to depart on time tonight.
"And then I received a text message to say it has now been cancelled."
Red list countries
Botswana
Eswatini
Lesotho
Namibia
South Africa
Zimbabwe
Ms Fugeti, who is in the country with her toddler, has been trying to coordinate with her husband in the UK to sort out a plan to get her home.
But the cost of the hotel stay is a steep sudden expenditure – considering flights to South Africa are already dear.
Follow the Daily podcast on Apple Podcasts, Google Podcasts, Spotify, Spreaker
"It's going to set us back for probably a year," Ms Fugeti said.
"There wasn't a lot of information… everyone was falling over their feet because it came out of nowhere."
Some scientists say the flight ban is too little too late, with evidence the variant has already left southern Africa – with cases identified in Hong Kong and Europe.
The UK's Prime Minister Boris Johnson spoke with South African President Cyril Ramaphosa on Friday to discuss ways to reopen travel.
Other countries with travel bans include the US, Canada, Brazil, Australia, the EU, the UAE, Singapore, and Hong Kong.
With flights being cancelled and blocked, even returning to the UK to quarantine at a hotel is becoming an increasingly difficult task.
Che de Haaf told Sky News she was trying to organise a return to the UK via Zanzibar.
New COVID -19 variant named Omicron

"That seems to be the only country that I can possibly get back from without paying the £2,285 the UK is demanding for quarantine," she said.
Bronwen Cook was also trying to beat the 4am on Sunday deadline to save her money.
She said: "I was happy to see my family but I want to go home to my husband and kids now."