Norway bow and arrow attacks: Five killed in Kongsberg before suspect 'in confrontation' with police | World News
Five people have been killed and two others – including an off-duty police officer – were injured in a series of bow and arrow attacks in Norway, according to police.
The incidents took place in the town of Kongsberg, 51 miles (82km) southwest of the capital, Oslo.
A suspect has been apprehended by police, who believe he allegedly acted alone.
There was a confrontation with officers and the man tried to run away before he was arrested, the police chief said.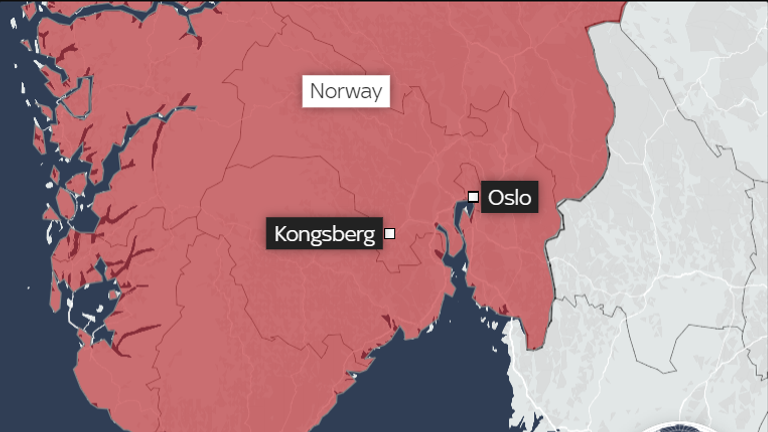 Two other people were wounded and are in intensive care, including an officer who was off duty and inside the shop where the attack took place, police said.
The attacks are related to a Coop Extra supermarket in the town centre and Coop spokesman Harald Kristiansen said: "We can confirm that there has been a serious incident in our store and that none of our employees are physically injured.
"We are now concerned with following up our employees, and beyond that, we refer to the police investigation."
Police were called to the incident, in the centre of Kongsberg, at 6.30pm on Wednesday with additional resources sent from other areas, including Oslo.
Police helicopters at scene of bow and arrow attacks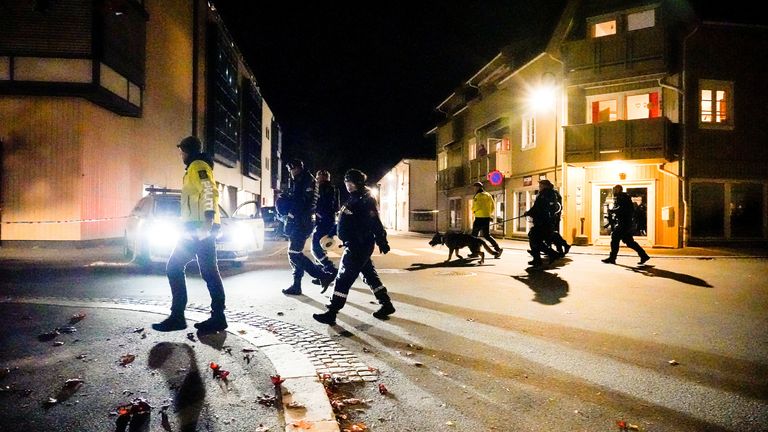 Police chief Oeyvind Aas told a news conference: "I can, unfortunately, confirm that several people have been killed and injured.
"A man was apprehended at 6.47pm. From the information we have at the moment, one person committed this act alone. He hasn't been questioned yet so it's too early to say what the motive was.
​"There is major police activity in the area because there are many crime scenes."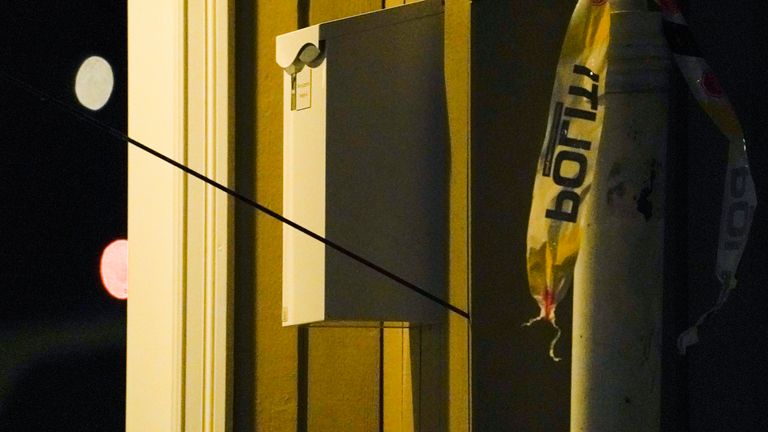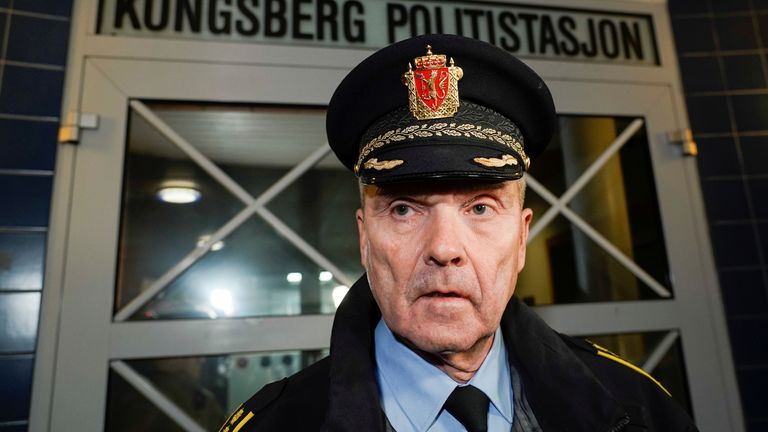 He declined to comment on the number of casualties and said he could not comment on whether the man was known to the police.
The suspect has now been taken to Drammen police station.
Chief Aas added: "It is natural to consider whether it is an act of terrorism. He has not been questioned, and it is too early to come to any conclusion."
Asked if he could confirm that a police officer had been shot in the back, he replied: "I can't answer that question".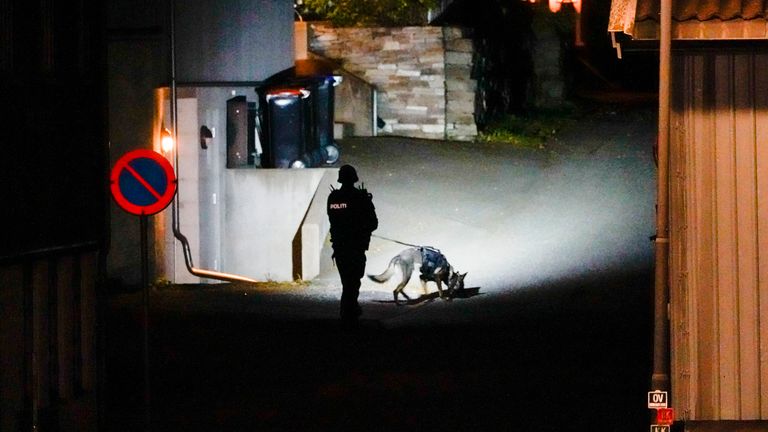 The attacks took place over a "large area" of Kongsberg, a municipality of around 28,000 people in southeastern Norway, police said.
"There is still a lot of police activity in the area. This is because the perpetrator has moved across a large area, and we are now working, among other things, to secure clues and gather as much information as possible about what has happened," said Chief Aas.
The injured people have been taken to hospital and Kongsberg council's crisis team is giving help to those who need it.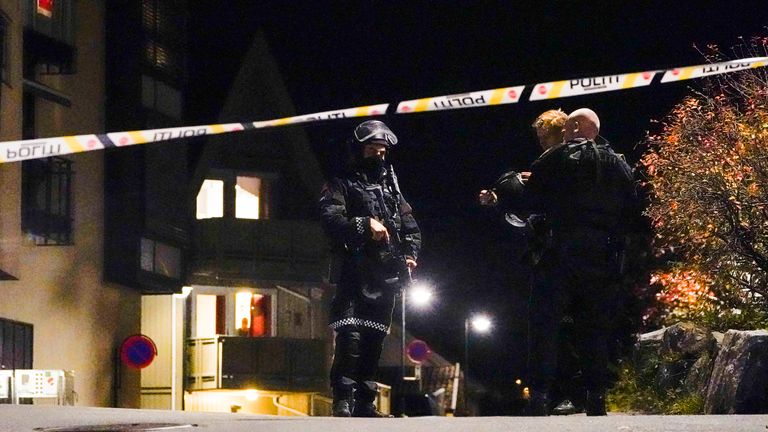 Unni Grondal, Oslo police spokesperson, said: "We are helping with national assistance resources such as police helicopters, bomb squads, and crews from the emergency response troop."
Norway's minister of justice and public security, Monica Maeland, has been informed and is closely monitoring the situation.
Local media reported a large area on the west side of the town had been cordoned off, with investigations now under way.
Police confirming that five people have been killed in #Kongsberg and several injured including a policeman.
A shocking incident. Sincere condolences to those affected.
Våre tanker er med vedkommende, deres familier og Kongsbergs innbyggere.

— Richard Wood 🇬🇧 (@RichWoodUK) October 13, 2021
British ambassador to Norway, Richard Wood, wrote on Twitter: "Police confirming that five people have been killed in #Kongsberg and several injured including a policeman. A shocking incident. Sincere condolences to those affected."
Norwegian police – who normally do not carry guns – have been ordered to temporarily arm themselves.
The Norwegian police directorate said: "This is an additional contingency measure. The police do not yet have any concrete indications that there is a change in the threat level in the country."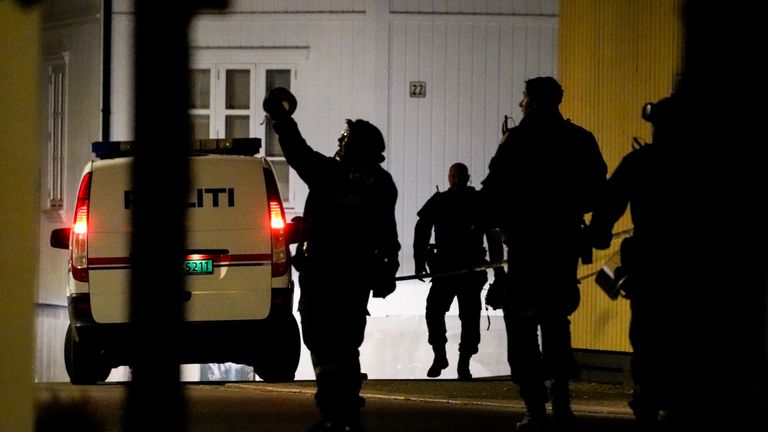 Acting Prime Minister Erna Solberg called the attack "gruesome" and said it was too early to speculate on the man's motive.
She added: "The perpetrator has carried out horrific acts against several people. The incident has shaken us."
Eastern European countries battle vaccine hesitancy as COVID-19 strengthens its grip | World News
Some European countries are seeing a resurgence in COVID-19, with the continent's eastern nations hampered by widespread vaccine hesitancy.
Polls show that trust in state institutions and public healthcare is much lower in eastern Europe than it is across the rest of the continent, something that has been blamed for the low vaccination rates.
At least one person in every three does not trust the healthcare system in eastern Europe, compared to an EU average of 18%, according to the European Commission.
And when it comes to vaccine uptake, the European states with the lowest rates – Bulgaria, Romania, Poland and Latvia – are all part of the former communist bloc.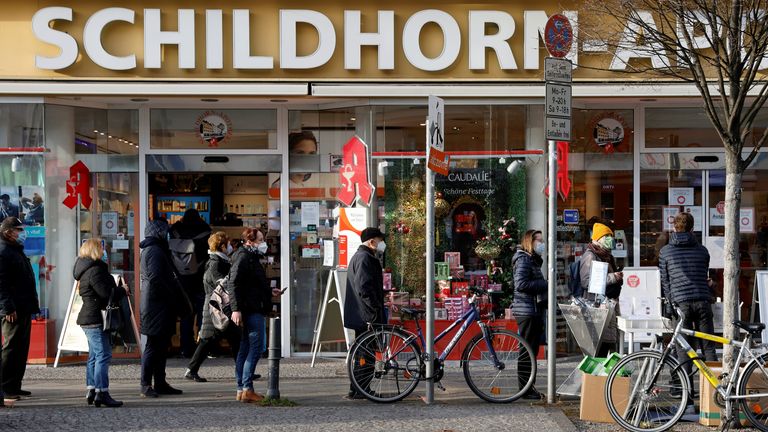 • Romania had the highest death rate per capita in the world this week and the number of new cases soared towards 19,000, but only 36% of adults are vaccinated, about half the EU rate. Distrust in public healthcare is put at 40%
• Russia's government announced workplaces will close from 30 October to 7 November after Thursday saw 1,036 deaths and 36,339 new infections – both record daily highs. Despite being quick to produce its Sputnik vaccine earlier in the pandemic, many Russians have refused it – only 48 million of a population of 144 million were fully-vaccinated as of mid-October
• In Bulgaria only one adult in four is fully-vaccinated. The number of people being admitted to hospital due to the virus has risen 30% in the past month, and hospitals in Sofia have halted non-essential surgeries
• Latvia has gone back into lockdown for a month. A study by SKDS has found that among Latvia's Russian-speaking population (who account for about a third of the overall population), only 46% are vaccinated, compared with 62% among ethnic Latvians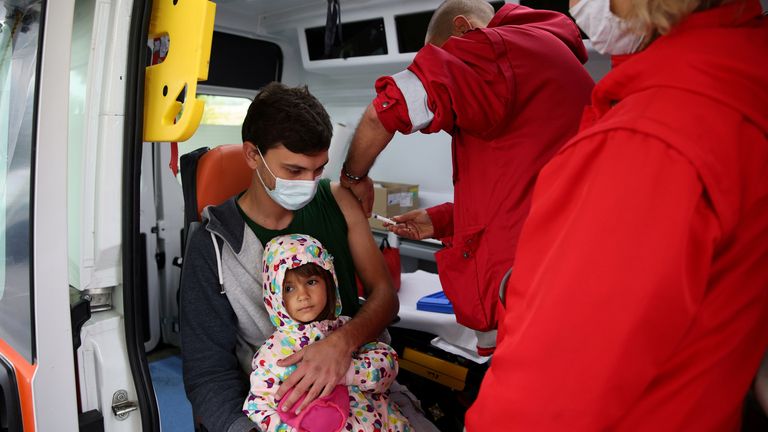 • Poland (52% vaccinated) reported more than 5,000 new cases on Wednesday – the highest number since May – prompting the health minister to warn that drastic measures could be necessary. Vaccine uptake is particularly low in conservative areas, leaving the government with extra vaccine doses it has donated or sold abroad
• Slovakia (41% vaccinated) reported its highest daily case numbers on Tuesday since 9 March and in the Czech Republic (56% vaccinated) the number of new cases passed 3,000 for the first time since April
The situation differs in western Europe, where vaccination rates are generally higher and restrictions are being weakened alongside the introduction of vaccination passes in some parts.
• In France, new cases jumped to 6,127, up 18% compared to a week earlier, having already risen by 8% on Wednesday. The country also registered 37 new deaths on Thursday, taking the total to 117,389. About two-thirds of people are fully-vaccinated
• Italy (71% vaccinated) reported 36 deaths on Thursday (up from 33 the day before) with 3,794 new infections (up from 3,702)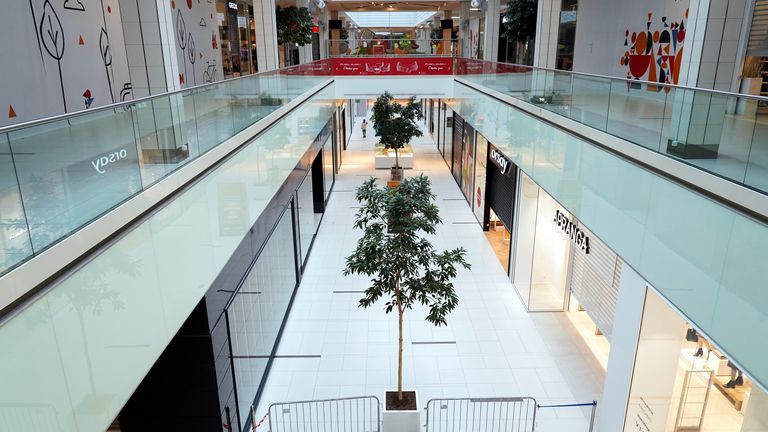 • Germany reported just over 17,000 new infections on Wednesday compared to 11,903 a week ago, with its 92 deaths similar to the same day last week. Roughly two-thirds of people are fully-vaccinated. Health Minister Jens Spahn has said the pandemic state of emergency can end on 25 November, although some measures should continue
• Portugal began the year with one of the highest rates of infection in the world but, with 85% fully vaccinated, it is turning things around. Masks are still widely worn and trust in state institutions is generally high. On Wednesday, 927 new cases were reported (up from 828 a week earlier). There were three deaths (down from nine a week earlier)
• Spain reported 2,528 new cases on Wednesday (down from 2,758 a week earlier). There were 31 deaths (down from 42) and 78% of the population is fully vaccinated
'115,000 health workers dead from COVID'

The World Health Organisation's emergency director Mike Ryan said: "Most (COVID-19) restrictions are now not in place anymore in many countries, and we're seeing that coincide with the winter period in which people are moving inside as the cold snaps appear.
"The question remains as to whether or not we will have the same experience as last year with health systems coming once again under pressure."
Barbados elects its first-ever president as it sheds colonial past | World News
Barbados has elected its first-ever president as it takes the first steps to becoming a republic.
Dame Sandra Mason, 72, was elected on Wednesday by a two-thirds vote of a joint session of the Caribbean country's House of Assembly and Senate.
Last year, Barbados announced its intention to remove Britain's Queen Elizabeth as its head of state and become a republic, shedding its colonial past.
The country of 300,000 gained its independence from Britain in 1966, though the Queen remained its constitutional monarch.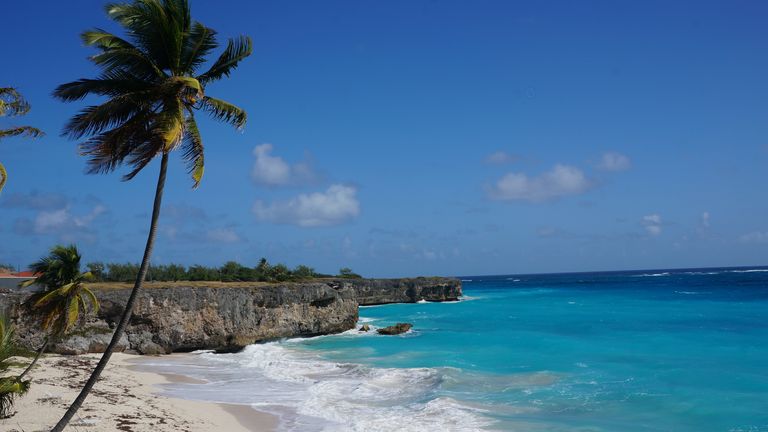 Dame Sandra will be sworn in on 30 November – the country's 55th anniversary of independence from Britain.
The former jurist has been governor-general of the island since 2018, and was also the first woman to serve on the Barbados Court of Appeals.
Barbados Prime Minister Mia Mottley said the election of a president was "a seminal moment" in the country's journey.
She added: "We have just elected from among us a woman who is uniquely and passionately Barbadian, does not pretend to be anything else (and) reflects the values of who we are."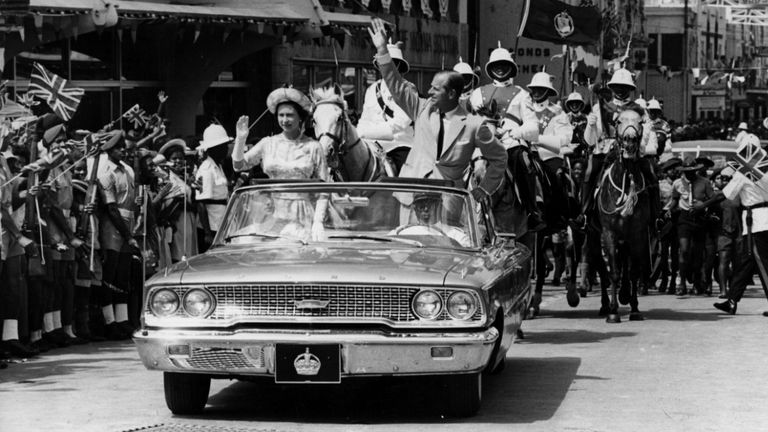 Ms Mottley also said the country's decision to become a republic was not a condemnation of its British past.
"We look forward to continuing the relationship with the British monarch," she said.
The election could benefit the country both at home and abroad, according to Wazim Mowla of the Atlantic Council think-tank.
She said the move makes the small developing country a more legitimate player in global politics, but could also serve as a "unifying and nationalistic move" that may benefit its current leadership at home.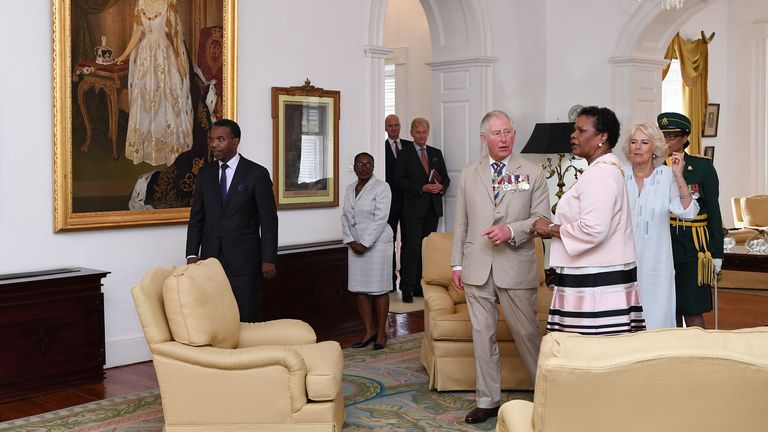 Ms Mowla added: "Other Caribbean leaders and their citizens will likely praise the move, but I don't expect others to follow suit.
"This move will always be considered only if it is in the best interest of each country."
Barbados said last year it wanted "full sovereignty" by the time it celebrated its 55th anniversary of independence from the UK in November 2021.
In 1998, a Barbados constitutional review commission recommended republican status, and in 2015 Prime Minister Freundel Stuart said "we have to move from a monarchical system to a republican form of government in the very near future".
Netflix staff join protests outside its headquarters over controversial stand-up show by Dave Chappelle | Ents & Arts News
Staff at Netflix's headquarters in Hollywood have staged a walkout in protest at the release of a controversial special by the stand-up comedian Dave Chappelle.
Chappelle, one of the biggest names in American comedy, has been accused of making anti-transgender comments in the hour-long special The Closer.
But Netflix has refused to remove the special from its streaming service despite a backlash from the transgender community, both within the company and outside.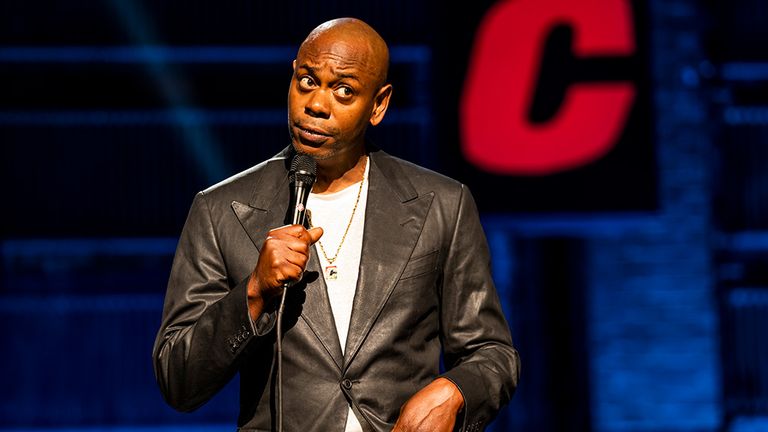 Employees joined the planned walkout to take part in a rally outside one of the company main campuses in Hollywood.
There were also scuffles as counter-protesters – carrying signs reading "We like Dave" and "Jokes are funny" – tried to disrupt the rally.
To background chants of "Trans Lives Matter", campaigners pushed for Netflix to respond to a list of "asks" including the hiring of more trans executives and greater spending on trans and non-binary content.
Protest organiser Ashlee Marie Preston told the rally: "We're here to speak directly to Netflix. We tried to speak to Dave Chappelle but he was not having the conversation so we're communicating directly with the people who sign the cheques. We're not going away."
As well as criticism for streaming the special, Netflix has also come under fire for its handling of the backlash.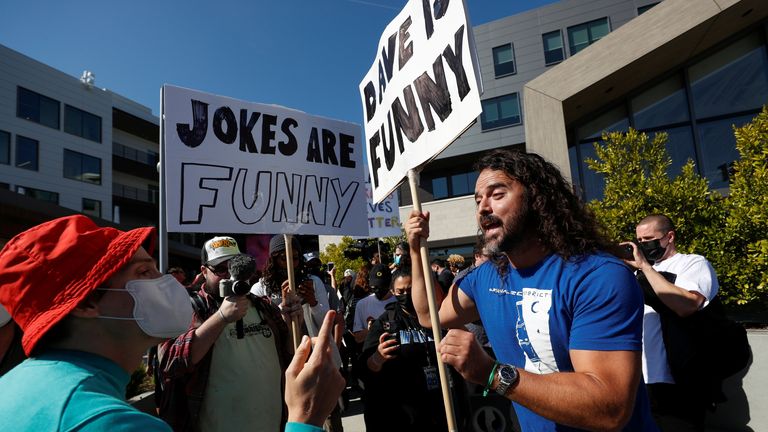 Chief executive Ted Sarandos has walked back his claim that content didn't "directly translate to real-world harm".
He told Deadline: "I should have made sure to recognise that a group of employees was hurting very badly from the decision made. I respect them deeply and I love the contribution they have at Netflix."
But he continues to stand by the decision to stream the special, telling the Hollywood Reporter: "We tell our employees that some of the content on Netflix you're not going to like.
"This kind of commitment to artistic expression and free artistic expression is sometimes in conflict with people feeling protected and safe. I do think that's something we struggle with all the time."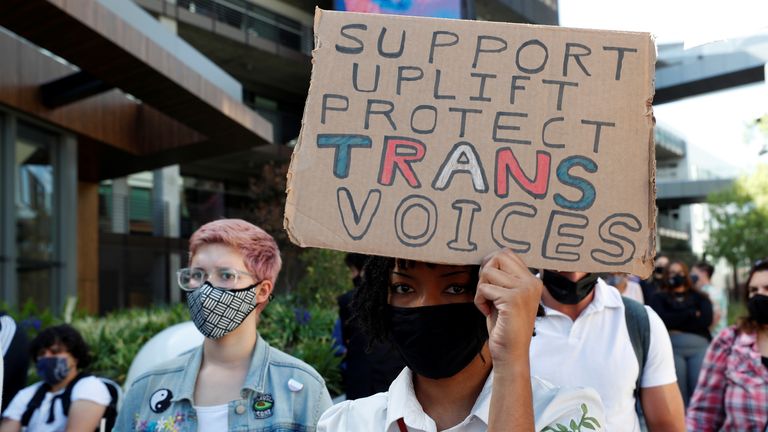 A number of Netflix stars have expressed their support for the walkout.
Elliot Page, who starred in The Umbrella Academy and is transgender, tweeted: "I stand with trans, nonbinary, and BIPOC (Black, Indigenous and People of Colour) employees at Netflix fighting for more and better trans stories and a more inclusive workplace."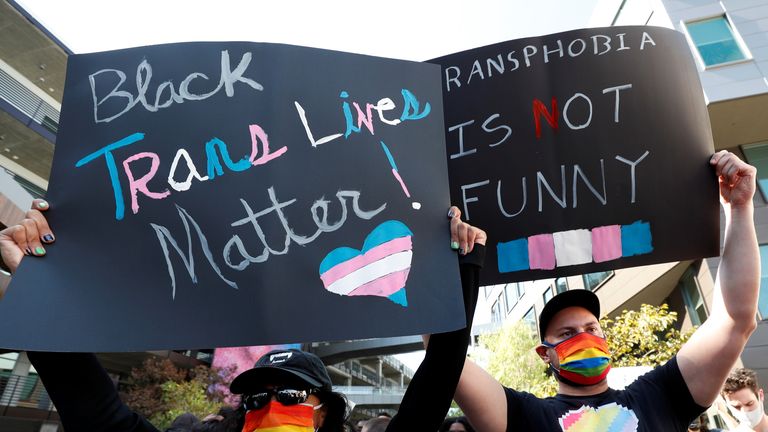 As the walkout was taking place, Chappelle himself was on stage in London.
Fans at the venue told Sky News that they believed entertainers needed to be conscious of how their words affected people.
"We as a society shouldn't be marginalising or prejudicing any community," said one.
But another added: "A joke's a joke. It's not meaning anything to hurt someone's feelings."