Brexit: EU offers to cut 80% of GB-Northern Ireland checks on some goods to end 'sausage war' | Politics News
The EU has offered to cut 80% of checks on some goods moving from Great Britain to Northern Ireland in an effort to avoid a post-Brexit trade clash.
It has drawn up plans designed to ease the flow of items across the Irish Sea, including chilled meats, to put an end to the so-called "sausage war".
The plans have been published a day after the UK's Brexit minister Lord Frost demanded a new Northern Ireland Protocol – which is designed to prevent a hard border on the island of Ireland.
'Be flexible, find compromises' for NI protocol


Lord Frost's opposite number in the European Commission, Maros Sefcovic, called the proposals "far-reaching" as he published four papers that officials will tonight take to London to begin negotiations immediately.
Under the plans, the transport of certain foods and items of animal origin will be vastly simplified.
Mr Sefcovic said in practical terms it would mean a lorry carrying a mixture of dairy, fish and confectionary would only require one certificate instead of multiple certificates for each item.
The number of physical checks on lorries will be drastically reduced and customs paperwork will be cut by 50%.
The UK has argued the protocol is not working, with delays and interruptions to supplies moving between the UK and Northern Ireland.
But the EU is hoping what it has called a "dramatic simplification" of the rules will bring Westminster on side, allowing for "a type of express lane that will facilitate the movement of goods".
The papers also include plans to ensure the free flow of medicines between Great Britain and the Northern Ireland by changing EU laws.
Mechanisms will be altered to ensure the participation of Northern Ireland politicians and communities in the ongoing implementation of the protocol.
The EU says the proposals are significant, going way beyond tinkering around the edges.
But the documents do not address the controversial issue of the European Court of Justice, which under the current agreement is the final arbiter in alleged breaches of the protocol.
Lord Frost has insisted that is not acceptable, despite the UK signing the agreement. The EU insists the issue is not negotiable.
Northern Ireland's DUP, the country's largest pro-British party, said the proposals are a starting point but fall "a long way short" of the fundamental change needed.
"We will take time to study the detail of the papers produced. However there is no escaping the reality that the
Northern Ireland Protocol has harmed Northern Ireland, both in economic and constitutional terms," said party leader Jeffrey Donaldson.
Irish Prime Minister Michael Martin said he "strongly" welcomes the package and said he believes the UK government will work with the EU on the proposals, adding that it is "not surprising" implementing the protocol has thrown up practical challenges and concerns.
Lord Frost and Mr Sefcovic are expected to meet in the next few days to discuss the plans which the EU says it hopes will lead to full implementation of the protocol.
However, the meeting will come just days after Lord Frost warned the UK could trigger Article 16, suspending parts of the agreement – and leading the two sides into dangerous territory.
Netflix staff join protests outside its headquarters over controversial stand-up show by Dave Chappelle | Ents & Arts News
Staff at Netflix's headquarters in Hollywood have staged a walkout in protest at the release of a controversial special by the stand-up comedian Dave Chappelle.
Chappelle, one of the biggest names in American comedy, has been accused of making anti-transgender comments in the hour-long special The Closer.
But Netflix has refused to remove the special from its streaming service despite a backlash from the transgender community, both within the company and outside.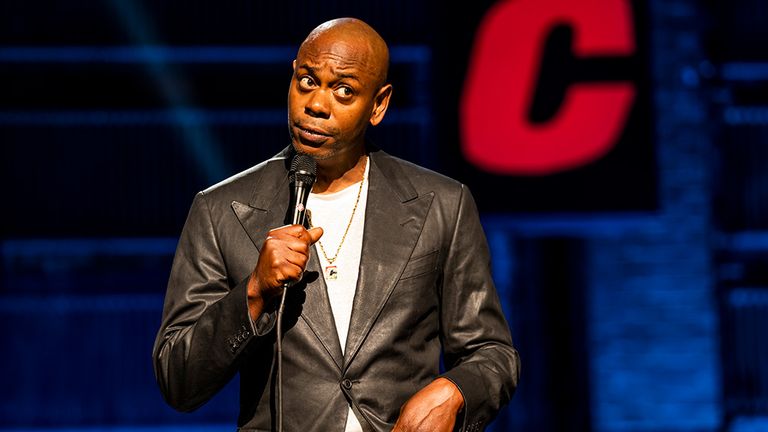 Employees joined the planned walkout to take part in a rally outside one of the company main campuses in Hollywood.
There were also scuffles as counter-protesters – carrying signs reading "We like Dave" and "Jokes are funny" – tried to disrupt the rally.
To background chants of "Trans Lives Matter", campaigners pushed for Netflix to respond to a list of "asks" including the hiring of more trans executives and greater spending on trans and non-binary content.
Protest organiser Ashlee Marie Preston told the rally: "We're here to speak directly to Netflix. We tried to speak to Dave Chappelle but he was not having the conversation so we're communicating directly with the people who sign the cheques. We're not going away."
As well as criticism for streaming the special, Netflix has also come under fire for its handling of the backlash.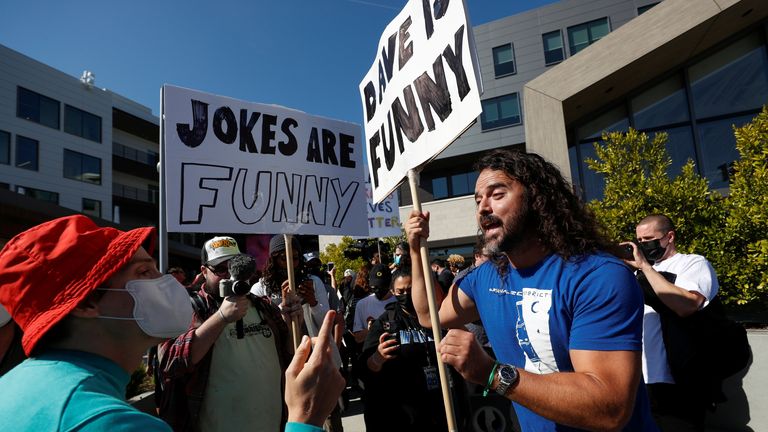 Chief executive Ted Sarandos has walked back his claim that content didn't "directly translate to real-world harm".
He told Deadline: "I should have made sure to recognise that a group of employees was hurting very badly from the decision made. I respect them deeply and I love the contribution they have at Netflix."
But he continues to stand by the decision to stream the special, telling the Hollywood Reporter: "We tell our employees that some of the content on Netflix you're not going to like.
"This kind of commitment to artistic expression and free artistic expression is sometimes in conflict with people feeling protected and safe. I do think that's something we struggle with all the time."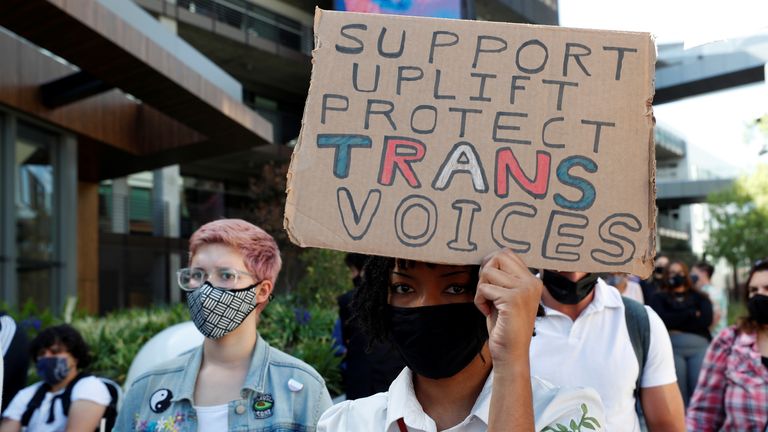 A number of Netflix stars have expressed their support for the walkout.
Elliot Page, who starred in The Umbrella Academy and is transgender, tweeted: "I stand with trans, nonbinary, and BIPOC (Black, Indigenous and People of Colour) employees at Netflix fighting for more and better trans stories and a more inclusive workplace."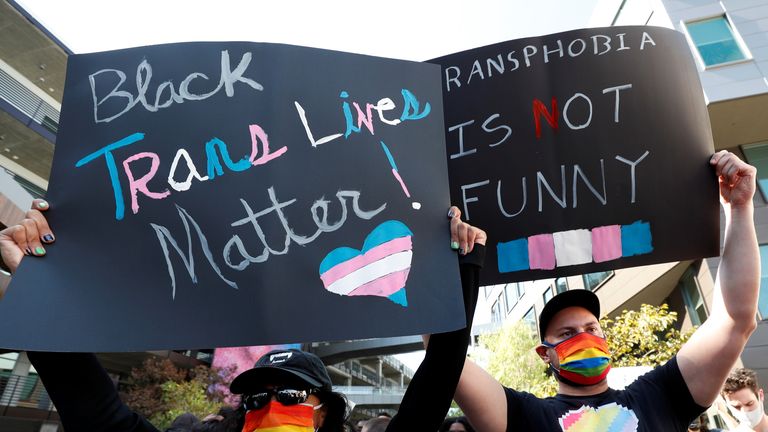 As the walkout was taking place, Chappelle himself was on stage in London.
Fans at the venue told Sky News that they believed entertainers needed to be conscious of how their words affected people.
"We as a society shouldn't be marginalising or prejudicing any community," said one.
But another added: "A joke's a joke. It's not meaning anything to hurt someone's feelings."
Cleo Smith: $1m reward offered for information about four-year-old girl missing from Australian coastal town | World News
Police in Western Australia are offering a A$1m (£542,845) reward for information about the disappearance of a four-year girl.
Cleo Smith was last seen in her family's tent at about 1.30am on Saturday at the remote Blowholes Shacks campsite in coastal town Macleod, which is about 900km (559 miles) north of Perth.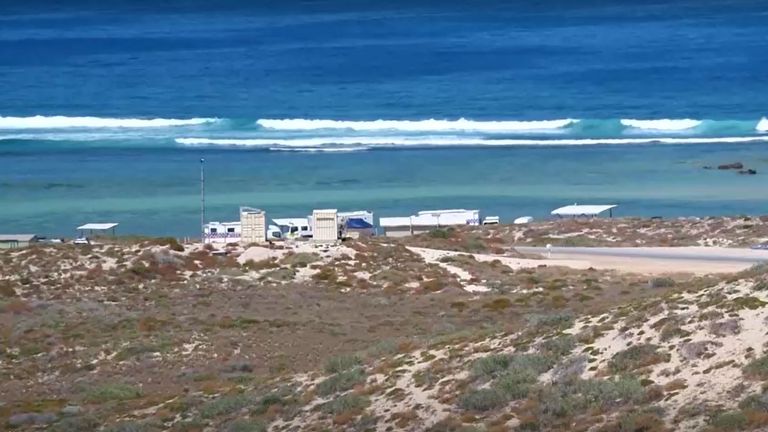 When her parents woke at 6.30am, she was gone and is believed to have been abducted, police said.
Western Australian Police said it holds "grave fears" for her safety.
The region's premier Mark McGowan said in a Facebook post: "It's absolutely heartbreaking."
"We are all praying for a positive outcome," he added.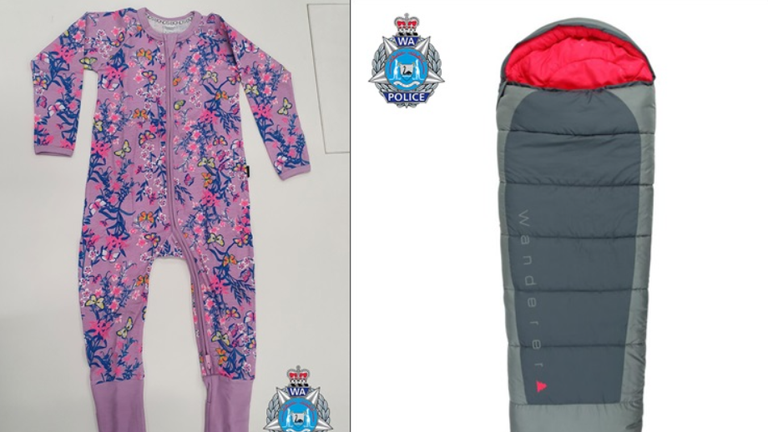 More than 100 police officers, defence force and state emergency service personnel have joined the searches by air, sea and land.
Australian police said on Monday that they would keep searching for the little girl until they can provide answers about what happened.
Meanwhile, they have urged members of the public to come forward.
They earlier released to the public a picture of a sleeping bag and a pink pyjama one-piece that Cleo was last seen in.
Local media reported that the family had been visiting for a weekend camping trip, but were now staying in the remote area.
EU summit: Poland told to 'respect the rules' of the club in rule-of-law row | World News
The argument now distracting and dominating the European Union is an unequal battle with the potential for far-reaching consequences. 
On one side is Poland, enthusiastically supported by Hungary, and determined to prove that one of the fundamental tenets of European solidarity isn't so fundamental after all.
On the other side is, well, just about everyone else. Some of them pressing for a conciliatory "let's not be too harsh" debate; others wanting to go in hard.
The cause of all this anger is one of those bits of domestic news that sounds dry but has explosive potential.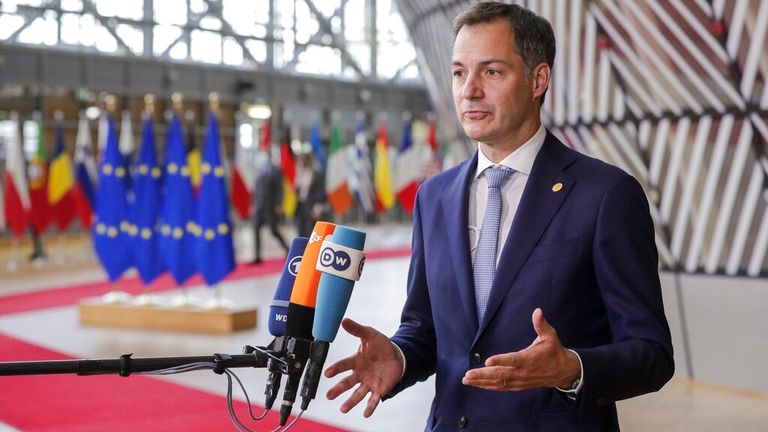 In short, the country's top court, acting on a request from Prime Minister Mateusz Morawiecki, declared that, in some areas, the national constitution took precedence over European law.
And that has set great, big alarm bells ringing. Because the golden rule of EU Club is that EU Club laws always come first. They must take primacy, to coin a phrase that has popped up a lot over the past few days.
"If you want to have the advantages of being in a club, then you need to respect the rules," Belgian Prime Minister Alexander de Croo said. "You can't be a member of a club and say 'the rules don't apply to me'."
The Polish Prime Minister does not agree, accusing the EU of "blackmail" because of suggestions that Poland could now face sanctions. He said his country was "ready for dialogue" but refused to distance himself from the controversial court ruling.
There is no mechanism for throwing Poland out of the EU (not that anybody would want to go anywhere near that far) and, realistically, Poland has no desire to leave, either. So instead, the question is whether the EU wants to levy a punishment.
That could mean withholding financial payments, for instance, or curtailing the country's rights as a member state.
It wouldn't be unprecedented – Poland is already facing daily fines of half a million Euros for continuing to extract lignite from a mine near the border with the Czech Republic in defiance of a court order. There is a suspicion that Mr Morawiecki is rather relishing his battle with Brussels.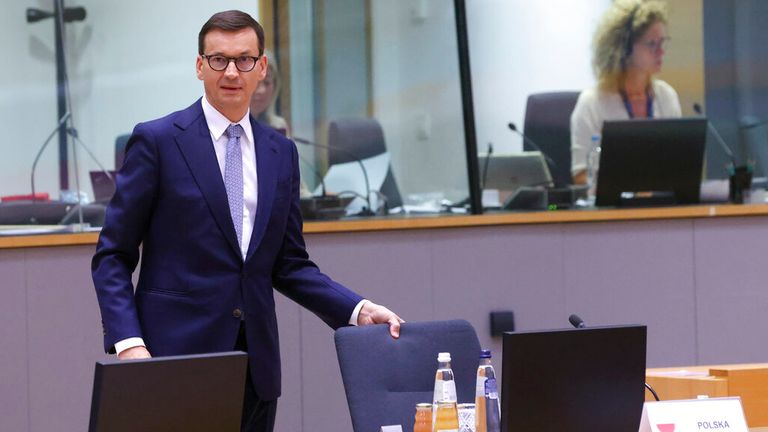 But he is not alone. Viktor Orban, the populist Prime Minister of Hungary, has repeatedly infuriated the EU with his own policies. Here, he came to town ready to leap to Poland's defence.
"Poland – the best country in Europe – there's no need to have any sanctions," he said.
"We are not building fronts here, we are fighting for issues which are important for our own nations. So we make an alliance and fight together – this is the logic we are doing here. It's not like the cold war or something like that, creating blocs."
So, I asked Mr Orban, did he agree – did he think that Hungarian law held primacy over EU law?
He smiled. In fact, he almost laughed. "The fact is very clear that the primacy of EU law is not in the treaty at all. So the EU has primacy where it has competences. The question is about the competences.
"What's going on here is that – regularly – European Institutions circumvent the rights of the national parliament and government and modify the treaty without having any legitimate authority to do so. So the Polish are right."
He told me there was no schism between the east and west of Europe, but rather "between common sense and non-common sense". With a shrug, he declared that the idea of levying sanctions against Poland was "ridiculous".
So we are heading for a proper row. Is it worth it – the EU going into a political battle with one of its own members? It's a question I put to the Dutch Prime Minister, Mark Rutte.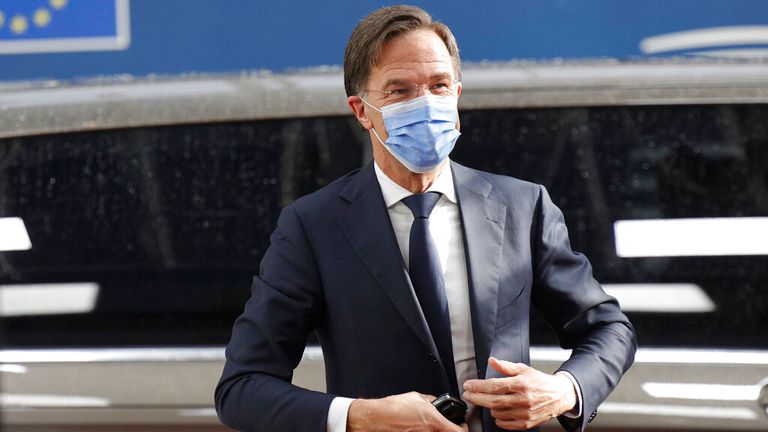 "I think we have to be tough but I think the question is how do you get there," he told me. "My argument will be that the independence of the Polish judiciary is the key issue which we have to discuss and we have to settle.
"Poland has to take the necessary steps – that is non-negotiable. This has to do with the foundations of our democracy in this part of the world. So here we cannot negotiate."
Of course, the EU has plenty of form at creating a crisis, only to then come up with a way to solve it. But this doesn't feel stage-managed. It feels awkward and painful – the Germans, for instance, don't seem to want to interfere, but nor do they want to be seen as too passive.
But Poland has popped up repeatedly in recent missives from Brussels. Its border with Belarus has been the site for migrants being pushed towards Europe by President Lukashenko, only to be stopped in their tracks by the Polish police.
Its rules on LGBTQ+ rights have been widely criticised, as have the country's laws on equality.
And, just like Mr Orban, Poland's prime minister seems to see political capital in having a row with other EU leaders (especially ones from the west) while retaining the financial advantages of EU membership.
So this won't end with Poland leaving, or being dismissed from the club. But we may be heading for an almighty row, that leads to… we don't know where.