La Palma: Residents in limbo as pressure in the Cumbre Vieja volcano drops – but eruption threat remains | World News
Thousands of people have been forced to leave their homes to escape rivers of lava cascading from La Palma's erupting volcano.
But 160 of them will now be allowed to return, after local authorities said their houses were no longer in the path of the molten streams moving down the side of the Cumbre Vieja volcano range.
The rest of the evacuees will have to wait, including Eliza Gonzales.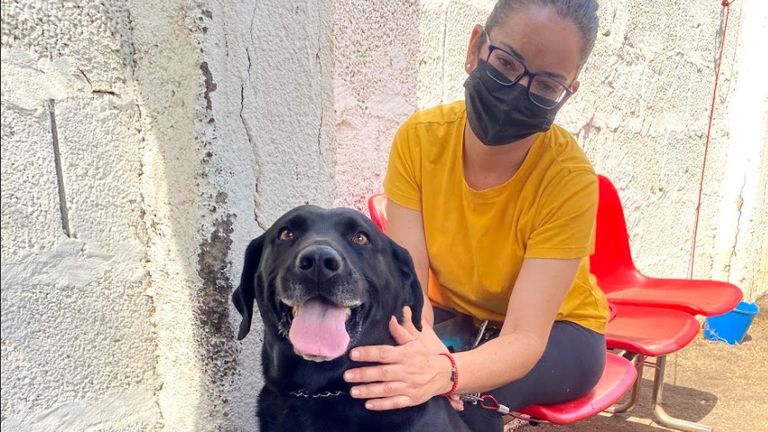 I met her at an improvised animal sanctuary on the island. She had come to see her dog Luna. They've been separated for days.
Ms Gonzales was told she had to leave Luna behind when she fled her home.
Thankfully the rescue centre called to tell her they had saved Luna. But the reunion is bittersweet. Ms Gonzales is staying in temporary accommodation and no dogs are allowed.
What's next for La Palma?

"It's very bad," she says.
Luna will be fostered while Ms Gonzales waits to go back home.
"I'm happy there are good people that offered their houses for the dogs to stay in and be calm."
There are several dogs at the sanctuary, waiting for their owners to come for them. They all bark whenever someone new arrives.
But the centre can only care for abandoned animals. Those who were badly injured during the eruption have to be taken for specialist care.
Volcano eruptions 'could last for months'

They rescued a goat whose udders were severely burnt and took it to the vet, hoping it can recover from its wounds.
Scientists say the pressure inside the volcano has decreased, but that doesn't mean the eruptions are about to stop.
The experts can't predict when the explosions of lava will end, they think it could last till December.
With each day that passes, people are becoming more desperate.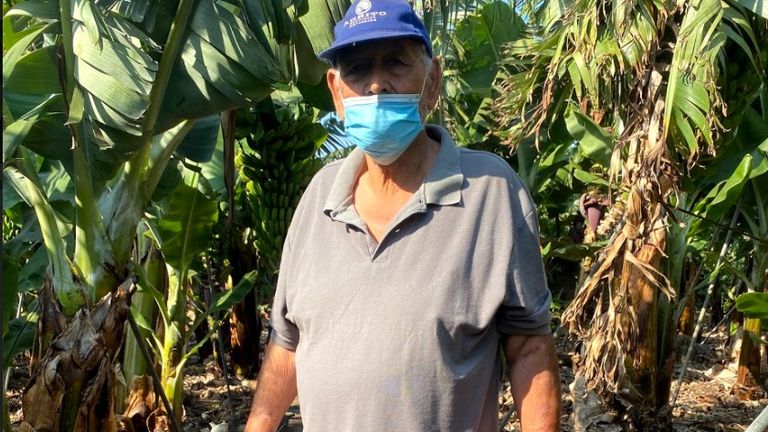 Ernesto de Paz Perez is a banana farmer. The plant is known as "plátano" here, they are slightly smaller than bananas from Latin America.
Mr de Paz Perez, 75, started working on a plátano farm when he was 14.
La Palma depends on the fruit for around half of its economic output.
But the volcanic dust is damaging the fruit's skin and farmers fear they won't be able to sell their produce to supermarkets.
The eruption has also cut off the water supply to Mr de Paz Perez's plants.
"If it [the eruption] keeps going for a long time it will cause a lot of damage. If the plátano fields are not watered we will lose them. There will be many losses," he said.
Elsewhere on the island they're trying to get back to normal. The airport is open after closing because of an ash cloud, but flights haven't immediately resumed.
The whole of La Palma just wants to repair and return to how their lives were before the volcano erupted, but when that will be, no one knows.
Brexit: Latest Northern Ireland Protocol talks 'constructive', says UK – as EU negotiators head for London | Politics News
UK officials have described the latest talks with the EU over the controversial Northern Ireland Protocol as "constructive", as a Brussels delegation prepares to travel to London on Tuesday.
Measures recently proposed by the EU would cut checks on retail agri-food products arriving in Northern Ireland from Great Britain by 80%.
A 50% reduction in customs paperwork is also on the cards.
It is understood, however, that the role of the European Court of Justice (ECJ) in resolving disputes between the UK and the EU remains a key sticking point.
A UK government source said the arrangement "must end", while the European Commission has insisted it will not budge on the issue.
EU's Sefcovic pushed on UK's red lines around ECJ

The UK source said: "The talks this week were constructive and we've heard some things from the EU that we can work with – but the reality is that we are still far apart on the big issues, especially governance.
"There's been plenty of speculation about governance this week but our position remains unchanged: the role of the European Court of Justice (ECJ) in resolving disputes between the UK and EU must end."
Follow the Daily podcast on Apple Podcasts, Google Podcasts, Spotify, Spreaker
The source added that "real progress" must happen "soon" to avoid a "process of endless negotiation".
At the end of the week, once several days of negotiations have been completed, Brexit minister Lord Frost and EU Commission vice president Maros Sefcovic are due to meet in Westminster.
The protocol is designed to avoid the introduction of a hard border between Ireland and Northern Ireland, following Brexit.
Newcastle United takeover: Crystal Palace fans' banner protesting Saudi-led consortium's Tyneside takeover investigated by police | UK News
A banner unfurled by Crystal Palace fans ahead of Saturday's draw with Newcastle, protesting the recent Saudi-led takeover of the Tyneside club is being investigated by police.
The graphic sign, held up at Selhurst Park, showed a man wearing Arab-style clothing wielding a bloodied sword about to behead a magpie, as faceless supporters in the background sing: "We've got our club back."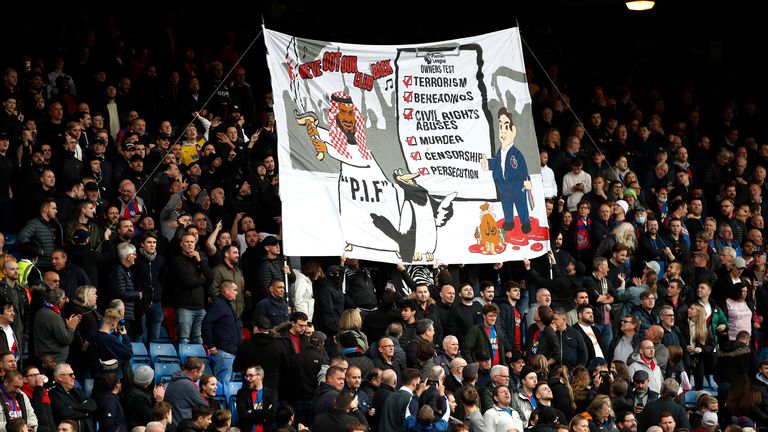 It listed offences the regime is accused of by human rights groups – terrorism, beheading, civil rights abuses, murder, censorship and persecution – which were all ticked off on a clipboard under the heading "Premier League Owners Test".
The top-flight league's chief executive Richard Masters is also depicted giving a thumbs-up to a bag of cash, standing in a pool of blood.
It comes after the controversial go-ahead was given for a consortium led by Saudi Arabia's state sovereign wealth fund – known as the Public Investment Fund or PIF – to take control of Newcastle United in a £300 m deal, earlier this month.
This was despite the closeness of the fund to the Saudi state, which has faced criticism over its human rights record.
PIF is chaired by Saudi's de facto ruler Crown Prince Mohammed bin Salman, who was linked to the gruesome 2018 murder of exiled journalist Jamal Khashoggi, although he has denied any involvement.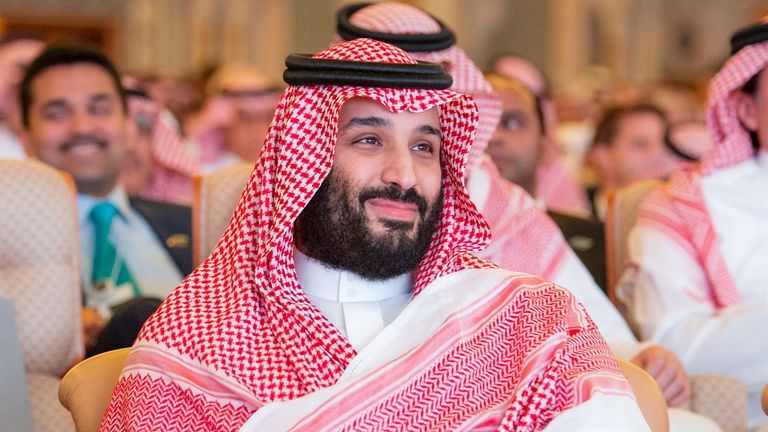 A post on the official Croydon Metropolitan Police Twitter account said: "On Saturday 23 October police received a report of an offensive banner displayed by Crystal Palace fans.
"Officers are assessing the information and carrying out enquiries. Any allegations of racist abuse will be taken very seriously."
Palace supporters' group Holmesdale Fanatics released a statement after the banner was unveiled.
It said: "The Saudi led takeover of Newcastle has rightly received widespread condemnation and anger.
"To give the thumbs up to this deal at a time when the Premier League is promoting the women's game and inclusive initiatives such as rainbow armbands, shows the total hypocrisy at play and demonstrates the league's soulless agenda where profits trump all."
Proud and Palace, the club's official LGBT+ supporters group, also posted a video on its Twitter account which highlighted the case of Suhail al Jameel, a gay man reportedly imprisoned in Saudi Arabia.
A spokeswoman for the group said: "We don't believe these owners have a place in the Premier League and we want to keep raising awareness."
Taiwan: Earthquake of magnitude 6.2 strikes island | World News

An earthquake with a magnitude of 6.2 has struck Taiwan, according to the European Mediterranean Seismological Centre (EMSC).
It had a depth of 25 miles (40km), the EMSC added.