Huawei's Meng Wanzhou released after reaching agreement with US prosecutors | Science & Tech News

Huawei's chief financial officer has reached a deal with US prosecutors that allows her to return to China.
Meng Wanzhou, who is also the daughter of the company's founder Ren Zhengfei, has been in Canada since she was arrested at Vancouver's airport in December 2018.
Her arrest followed an extradition warrant issued by the US for a range of charges relating to alleged breaches of sanctions against Iran.
But the deal means the US Department of Justice will drop its request to extradite her to the US and fraud charges against her will be dismissed in December 2022 – exactly four years after her arrest.
This will depend on her complying with certain conditions, including accepting responsibility for misrepresenting her company's business dealings in Iran.
Meng's defence lawyer Michelle Levin said she expected Meng to adhere to the conditions, adding: "We're very pleased that in the meantime she can go home to her family".
The details were confirmed during a court hearing, with Meng appearing via video from the Vancouver mansion where she was bailed after her arrest.
The court revoked all bail conditions, and Meng left for China shortly afterwards.
Before she left, Meng said: "Over the last three years my life has been turned upside down.
"It was a disruptive time for me as a mother, a wife and as a company executive.
"But I believe every cloud has a silver lining. It really was an invaluable experience in my life.
"I will never forget all the good wishes I received."
About an hour after Meng's departure, Canada's prime minister Justin Trudeau said that two Canadians arrested by Chinese authorities were also on their way home.
Michael Kovrig and Michael Spavor had been accused of spying and were arrested in China in December 2018 – shortly after Meng was arrested in Canada.
Mr Trudeau said: "These two men have been through an unbelievably difficult ordeal. For the past 1,000 days, they have shown strength, perseverance and grace and we are all inspired by that."
Kerala: At least eight dead and dozens missing in floods in southern India after heavy rain | World News
At least eight people have officially died and another 12 are missing after the southern Indian state of Kerala was hit by flooding.
Local media put the number killed even higher, with reports saying that at least 12 bodies have been recovered from Kottayam and three more bodies recovered from Idukki, the two worst hit areas.
Flash floods and landslides followed downpours on Saturday that left rescue services scrambling to help.
Among those whose bodies were recovered in Koottickal, in Kottayam, were two women and a child and at least five houses were washed away, News18 reported.
Teams from the National Disaster Response Force and the Indian army and navy were deployed in Kottayam and Idukki.
Those two districts and four others were reported to have been put on red alert after at least one of them saw more than 12cm of rain by 8.30pm local time on Saturday.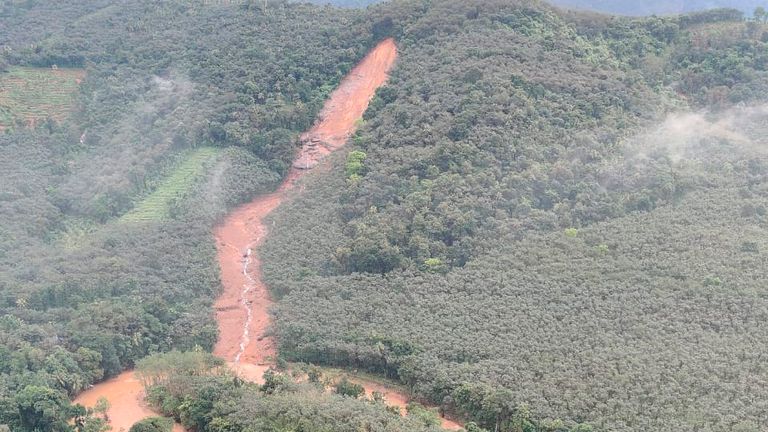 Television footage showed people wading through chest-deep water to rescue passengers from a bus that was nearly submerged.
Officials said the intense rainfall has subsided, but they fear the death toll could rise as relief and rescue operations continue.
Home affairs minister Amit Shah said the federal government was monitoring the situation in Kerala and would provide any necessary support to the state.
He said on Twitter: "Praying for everyone's safety."
In a statement released on his official Twitter account, Kerala governor Shri Arif Mohammed Khan said: "My heartfelt condolence to the bereaved families. I request people to be vigilant, pay heed to warnings & cooperate with rescue teams".
Local residents towing a KSRTC bus which got stuck in flood at Poonjar on Saturday. No loss of life.Heavy rain lashes #Kerala triggering floods and inundating several areas.#REDALERT in Pathanamthitta, Kottayam, Ernakulam, Idukki & Thrissur. 4 shutters of Malampuzha dam opened. pic.twitter.com/D1dbOtEqcV

— Raam Das (@PRamdas_TNIE) October 16, 2021
In 2018, 223 people died and hundreds of thousands were driven from their homes when Kerala suffered catastrophic floods during monsoon season.
Some parts of neighbouring Tamil Nadu state were also reported to have been hit by the flooding.
Russian actress, director and cosmonaut return to Earth after 12 days on International Space Station making a movie | World News
An actress and film director have returned to Earth after spending nearly two weeks in space making a movie on the International Space Station.
Yulia Peresild and Klim Shipenko emerged from the Russian capsule smiling after it landed on the Kazakhstan steppe along with cosmonaut Oleg Novitsky inside.
Two of the group had rocketed into orbit on 5 October for a 12-day stint to film segments of a movie called The Challenge, which the Russian space agency Roscosmos said would help attract the "cream of the crop" to the sector.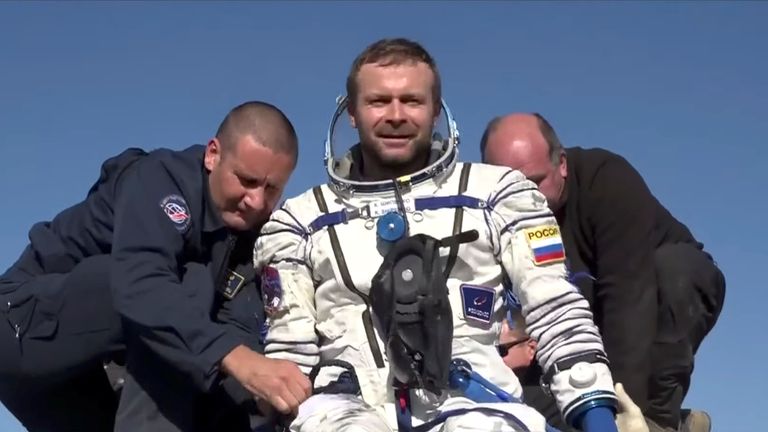 The movie focuses on the story of a doctor, played by Peresild, who is asked to go to the space station to save the life of a cosmonaut
Roscosmos cosmonauts Mr Novitsky and Peter Dubrov, who were already on board the ISS when the crew docked, and Anton Shkaplerov, who travelled to the ISS with Peresild, also took part in filming the scenes, which were directed on location by Shipenko.
In all, about 35-40 minutes of screen time should have been filmed in orbit.
Analysts have said the Russian movie aimed to be the first to be filmed in space before a Hollywood project announced earlier this year, which involves actor Tom Cruise, NASA and SpaceX.
The capsule landed on schedule at 5.35am UK time on Sunday morning after a three-and-a-half hour journey from the ISS.
Ground crews extracted the three from the capsule and placed them in seats set up nearby as they adjusted to the pull of gravity before taking them to a medical tent for examination.
All looked healthy and cheerful with a beaming Peresild holding a large bouquet of white flowers as reporters clustered around her.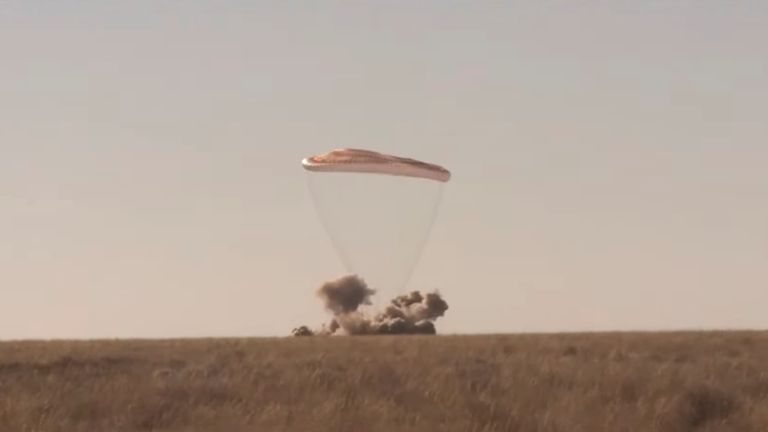 Roscosmos said the recovery of the actress and director will take about a week and their first news conference will be on Tuesday.
Seven astronauts – Russia's Mr Shkaplerov and Mr Dubrov; Americans Mark Vande Hei, Shane Kimbrough and Megan McArthur; Thomas Pesquet of the European Space Agency; and Japan's Aki Hoshide – remain on board the space station.
Haiti: 17 American missionaries, including children, kidnapped by gang | World News

A group of 17 US missionaries – including children – have been kidnapped in Haiti.
They were on their way home from building an orphanage in the capital of Port-au-Prince, Christian Aid Ministries said.
A voice message sent to a number of religious missions said: "This is a special prayer alert. Pray that the gang members would come to repentance."
Haiti has seen a spike in the number of gang-related kidnappings after President Jovenel Moïse was assassinated at his home in July.
A US government spokesperson told the AP news agency: "The welfare and safety of US citizens abroad is one of the highest priorities of the Department of State."
According to The New York Times, they were abducted from a bus that was heading to the airport.
The newspaper said parts of the capital are now so dangerous that many residents have fled – and few pedestrians now venture out during the day.
Haiti is the poorest country in the Americas, and the surge in gang violence has displaced thousands of people.
In August, an earthquake killed more than 2,000 people.