Germany election: As Angela Merkel bows out, the race to succeed her remains unclear with just hours left to run | World News
The Hofbrauhaus in the heart of Munich is a huge building dedicated to the art of beer.
It's been welcoming drinkers for 432 years, during which time Bavaria has been ruled variously by princes, emperors, kings, dukes, dictators and, latterly, a load of democrats.
The walls here have heard every grumble and every political aspiration. And now they seem to reverberate to a desire for…something.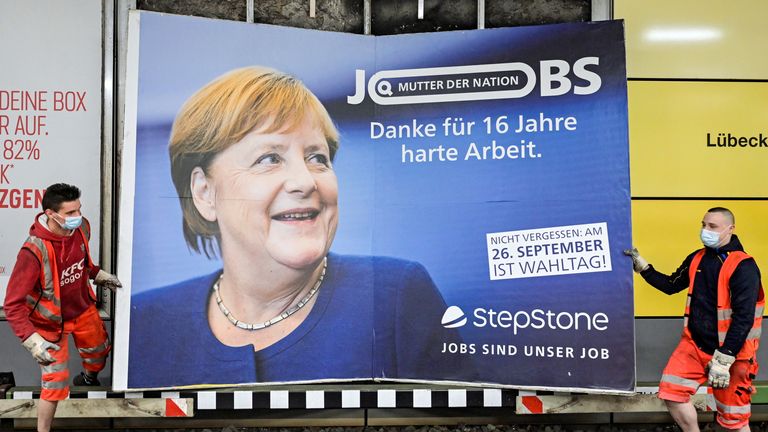 "We need a lot of change because over the last 16 years, even though lots of things have happened, not a lot has changed in the culture of the country," one drinker told us.
"Germany needs to think about lots of things, like climate change."
Climate change is one of those topics you hear mentioned a lot in this election.
Ever since the floods that wreaked such damage a few months ago, the topic has crept up in every interview and every debate.
But the curiosity is that, for all the discussion, it's still not clear whether voters really, truly care about climate change as much as they do about, say, income tax, the minimum wage or rent controls.
The Greens, for instance, are likely to enjoy the best result they've ever had in a federal election. But far from capitalising on the angst created by the floods, their polling is actually worse now than when water was cascading through so many houses.
Back in May, the Greens, and their young leader Annalena Baerbock, were the most popular party; now they're running in third place.
So what's going on? Michael Pahle is a working group leader at the Potsdam Institute for Climate Impact Research. He has watched the election with interest.
"The Green Party stands for change so when the election was a few months away, Germans embraced change as a concept and offered their support," he told Sky News.
"But the closer we came to the election, it's clearer that voting is actually a decision about what their lives will look like in the next four years so then they kind of stepped back into this old comfort zone of having stability and not embracing change as much."
Is Germany as green as it would like to think?

Mr Pahle told Sky News it was wholly predictable that, at a time of economic stability, people would think of stability. But he also raised the prospect that the Green Party might actually benefit from not winning, but instead playing a significant role in a coalition government.
"That's definitely not their worst option," he said. "They would have more responsibility, of course, if they led the government, but then they also have to make concessions.
"If they are in a coalition then they can push through their agenda, probably more than if they were the head of the government."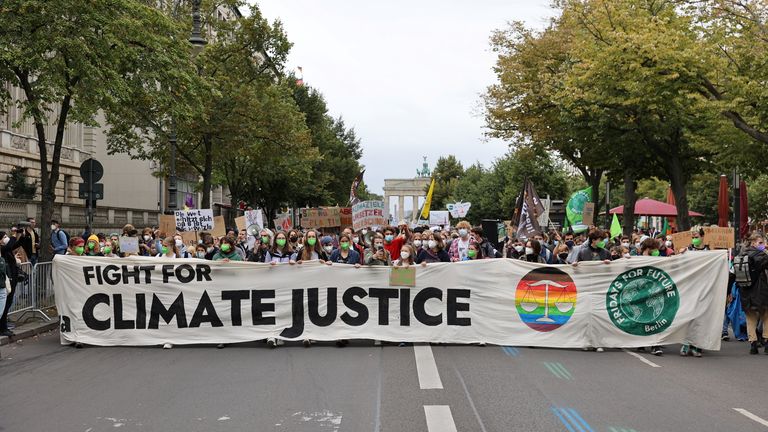 Greta: We must take to streets to demand climate action

Back in Munich, and we move across town.
Angela Merkel is back in Bavaria for a rally of her party, the CDU. Her successor as leader, Armin Laschet, arrives alongside her, but it's obvious who carries the star quality.
Ms Merkel has the presence of someone who has bestrode the global stage; Mr Laschet, by contrast, looks slightly edgy and awkward.
When he took over as head of the CDU, Mr Laschet inherited a political golden ticket. The party's alumni include some of the great names from German politics – Adenauer, Kohl, Schauble and, of course, Merkel.
And yet his campaign has stuttered. He was pictured, horribly, chuckling during a presidential speech to recognise victims of the floods. His performances during debates have sometimes seemed wooden.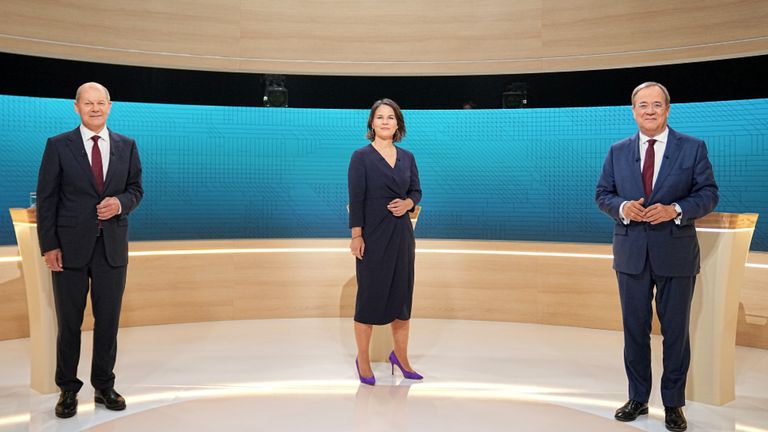 Were it not for the fact that his chief rival, the social democrat Olaf Scholz, is another uncharismatic white man in his 60s, Mr Laschet's failings may have appeared even more acute.
Yet it is Mr Scholz who leads, narrowly, as this race enters the home straight. We are bound to end up with another coalition, but the winner of the popular vote will probably end up as chancellor. Probably, but not definitely.
The bottom line is that nobody has really grasped this election, like a long-distance race where none of the runners wants to hit the front.
We are just hours from the end and, truly, we don't know what's going to happen. Mr Scholz and Mr Laschet, so often criticised for being dull, may just combine to create a thrilling denouement.
Colombian kingpin 'Otoniel' arrested in 'biggest blow to drug trafficking since fall of Pablo Escobar' | World News
A notorious Colombian drug kingpin has been arrested in what has been described as the biggest blow to the country's trafficking network since the death of Pablo Escobar.
Dairo Antonio Usuga, known as Otoniel, was captured by the armed forces during an operation in a rural area of the South American nation's Uraba region.
Both the Colombian and US governments had been willing to pay a premium for information about the gang leader's network and whereabouts – three billion pesos (£577,000) and $5m (£3.6m) respectively.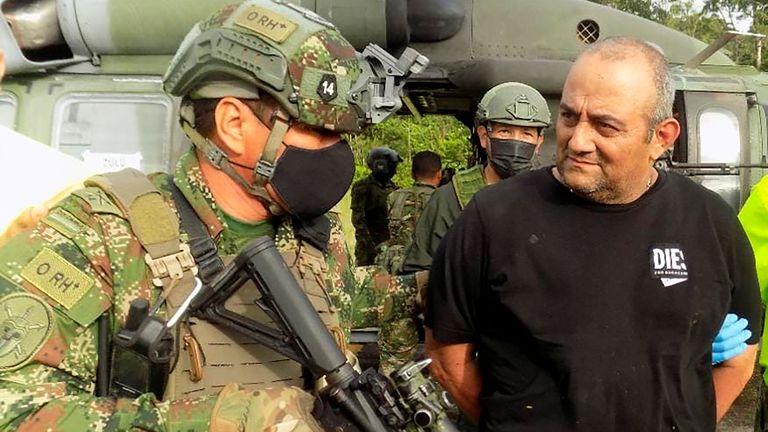 Otoniel is accused of sending dozens of shipments of cocaine to the US, killing police officers, illegal mining, recruiting minors, and sexually abusing children, among other crimes.
Colombian President Ivan Duque hailed the 50-year-old's arrest in a video message, saying: "This is the biggest blow against drug trafficking in our country this century.
"This blow is only comparable to the fall of Pablo Escobar in the 1990s."
Saturday's operation, Osiris, involved more than 500 members of Colombia's special forces and 22 helicopters, according to defence minister Diego Molano.
Such was the significance of the arrest, soldiers posed for pictures and took selfies with Otoniel.
The operation, which resulted in the death of one police officer, brought to an end years-long efforts to find Otoniel.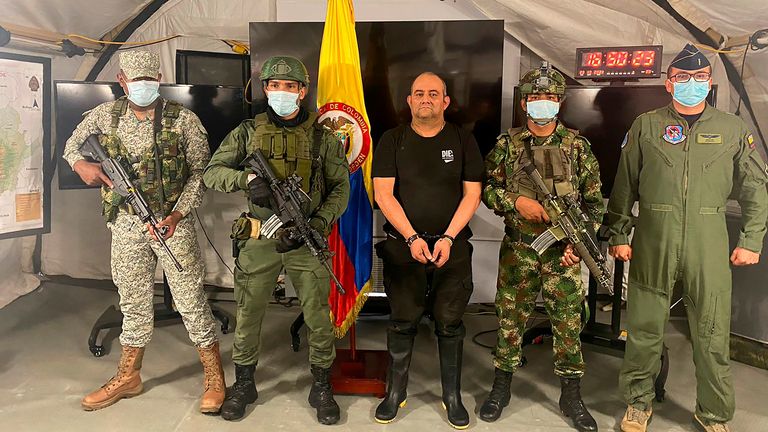 Dozens of his lieutenants were captured and killed in an operation in 2016, and his sister, Nini Johana Usuga, was arrested in March this year.
She was extradited to the US to face charges connected to drug trafficking and money laundering.
Otoniel's rise to prominence saw him become leader of drug trafficking group Clan del Golfo, or Gulf Clan, following stints as a left-wing guerrilla and later as a paramilitary.
Clan del Golfo has around 1,200 armed men – the majority being former members of far-right paramilitary groups, stationed across 10 of Colombia's 32 provinces.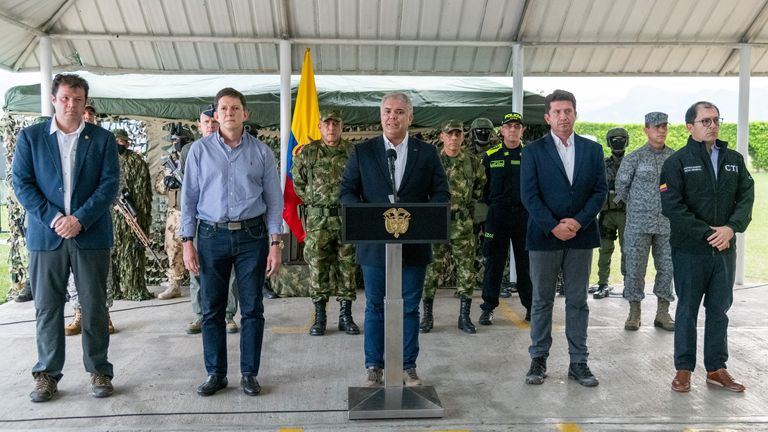 While Colombia's president was bullish in the wake of Otoniel's arrest, he has been warned that another figure will almost certainly take his place.
Sergio Guzman, director of the Colombia Risk Analysis organisation, said the arrest was a "big deal", but that Otoniel was "bound to be replaced".
Turkish president Erdogan says 10 ambassadors who backed activist are 'persona non grata' | World News
Turkey's president Recep Tayyip Erdogan has said 10 ambassadors, including those from the US and France, were "persona non grata" after they issued a statement in support of a jailed activist.
Osman Kavala, 64, is a Turkish businessman, publisher and activist who has been detained for more than four years despite having never been convicted of a crime.
He was acquitted last year in connection to nationwide protests in 2013, but then rearrested in connection with the attempted military coup in 2016.
A joint statement calling for Mr Kavala's release was jointly issued this week by the US, France, Germany, Canada, Finland, Denmark, the Netherlands, New Zealand, Norway and Sweden.
"The continuing delays in his trial, including by merging different cases and creating new ones after a previous acquittal, cast a shadow over respect for democracy, the rule of law and transparency in the Turkish judiciary system," the statement read.
The embassies of its signatories called for a "just and speedy resolution to his case… in line with Turkey's international obligations and domestic laws".
"Noting the ruling of the European Court of Human Rights on the matter, we call for Turkey to secure his urgent release," it added.
Erdogan vows traitor crackdown after failed coup

The ECHR called for Mr Kavala's immediate release two years ago, finding that there was no reasonable suspicion that he had committed an offence and accusing Turkey of detaining him for the purpose of silencing him.
The Council of Europe, the 47-member human rights body which drafted and now upholds the European Convention of Human Rights, said it would begin infringement proceedings against Turkey if Mr Kavala wasn't released.
In response to the joint statement, President Erdogan told a crowd on Saturday that the foreign ambassadors "cannot dare to come to the Turkish foreign ministry and give orders".
He said: "I gave the necessary order to our foreign minister and said what must be done. These 10 ambassadors must be declared persona non grata at once. You will sort it out immediately.
"They will know and understand Turkey," Mr Erdogan added of the ambassadors, telling the cheering crowd in the city of Eskisehir: "The day they do not know and understand Turkey, they will leave."
A host state may declare foreign ambassadors persona non grata (Latin for "person not welcome") "at any time and without having to explain its decision" under the Vienna Convention on Diplomatic Relations.
Doing so is usually a mechanism to expel the ambassador by stripping them of diplomatic immunity, but no official notification of the declaration has yet been received by the embassies involved.
Seven of the ambassadors represent fellow NATO members and their expulsion threatens to create the most significant rift between Turkey and the West in Erdogan's 19 years in power.
Six of them belong to EU members, and the European Parliament President David Sassoli tweeted: "The expulsion of ten ambassadors is a sign of the authoritarian drift of the Turkish government. We will not be intimidated. Freedom for Osman Kavala."
A source cited by Reuters from the German foreign ministry said that the 10 countries were consulting with one another.
Spain: Flash floods damage buildings and sweep away cars in Alicante | World News
Homes and businesses were left severely damaged after the Spanish region of Alicante was battered by flash flooding.
Up to four inches of rainfall hit the town of Torrevieja on Friday, according to the State Meteorological Agency (AEMET).
This resulted in the evacuation of the Dama de Guardamar school in Vega Baja del Segura.
Video footage showed deep levels of water sweeping through buildings, while cars were seen submerged as streets in Alicante were left underwater.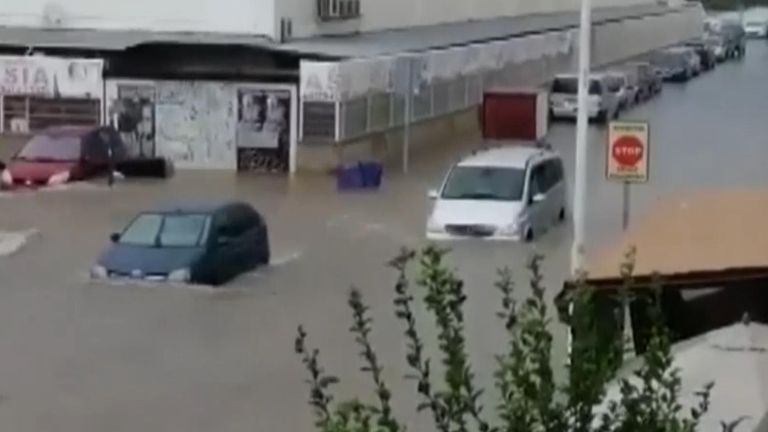 This is not the first time Alicante has been hit with flash flooding this year.
Alicantetoday.com reported Guardamar del Segura and Santa Pola in the south-east of Spain were also hit with flooding back in August due to a rare climate-linked weather phenomenon.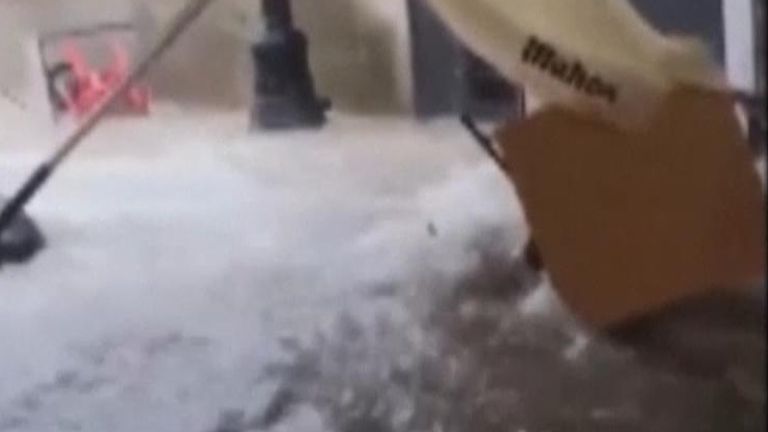 A "meteotsunami", which is also known locally as a "rissaga", caused the flooding due to a sudden change in atmospheric pressure that made the tide quickly recede, before a large tsunami-like wave then hit back into the coast.
Meanwhile, police in Costa Blanca, which lies along the coastline in the Alicante province, have been given new kits for their cars to help deal with flooding.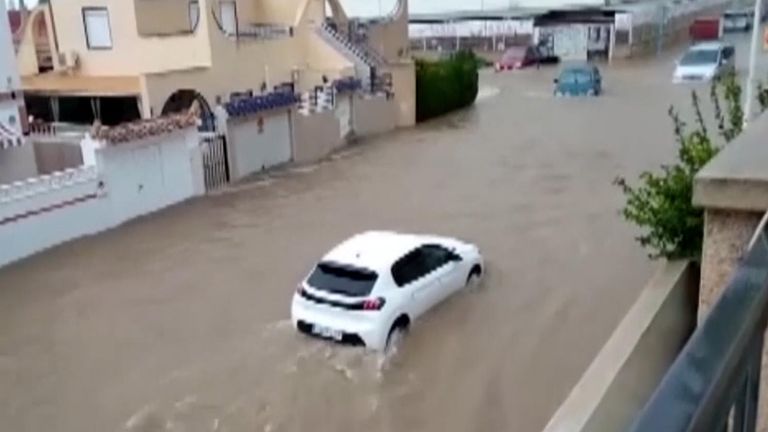 The new devices include portable communication radios so they can quickly alert other officers, fire fighters and the health services when extreme weather occurs.
Jose Sampere, the mayor of the San Fulgencio area, said the devices will be a "fundamental tool for the coordination of actions in case of emergency".