La Palma eruption: Lava spread raises fears of more damage on Spanish island as it rises 50 feet in places | World News
The advance of lava from a volcanic eruption in Spain's Canary Islands has slowed, rising in some places up to 50 feet as it thickens.
One giant river of lava on the island of La Palma slowed to 13 feet (4m) per hour on Wednesday – on Monday, a day after the eruption, it was moving at 2,300 feet (700m) per hour.
A second stream of lava has virtually ground to a halt.
As it slows, it has raised concerns that the molten rock may fan out across the land and destroy more homes.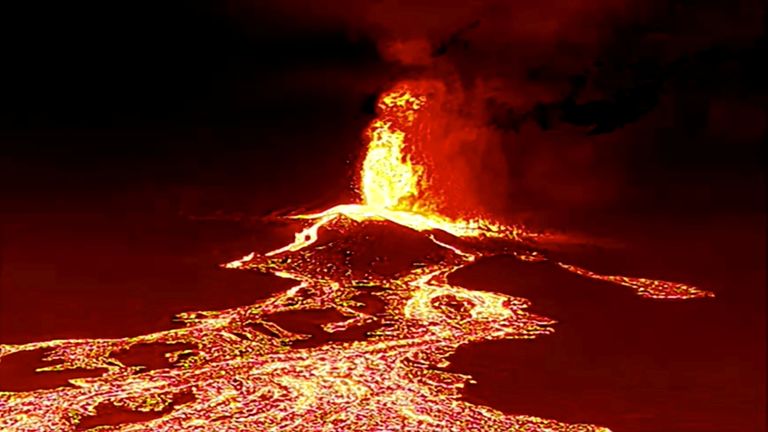 Correspondent broadcasts live as volcano erupts

It now covers 410 acres and has entombed 350 homes.
There have been no casualties reported from the eruption but damage to property, infrastructure, and farmland is expected to be extensive.
Almost 7,000 people were evacuated after scientists monitoring the volcano warned of the eruption.
The lava slowing has allowed more residents of towns in its path to grab belongings under police escort.
Officials had initially expressed fears about what would happen when the lava – with temperatures exceeding 1,000 degrees Celcius – reached the Atlantic ocean, as it could cause explosions, trigger landslides and produce clouds of toxic gas.
However, the head of the National Geographic Institute in the Canary Islands, Maria Jose Blanco, said some lava streams won't reach the ocean until the weekend, and others may never reach it at all.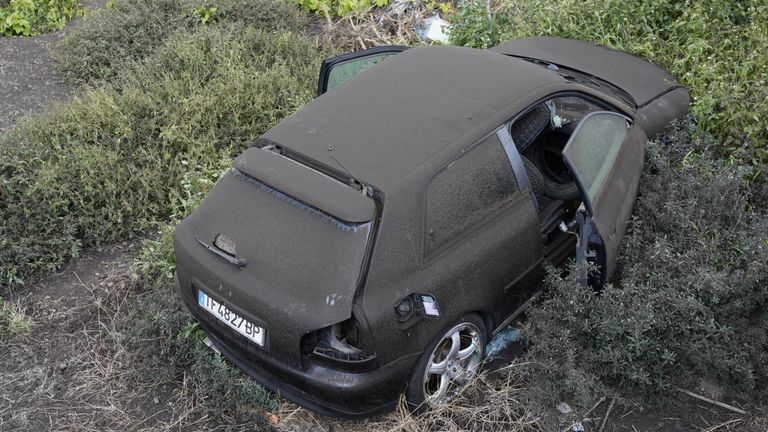 Meanwhile, molten lava, ash and smoke continue to pour from the volcano's mouth, shooting up to nearly 14,000 feet high, the Canary Islands Volcanology Institute said, raising concerns about whether airspace above the island could remain open.
Readings taken of the air found no threat to health, authorities said.
Joel Francisco, 38, said he and his elderly parents left their home with only a handful of belongings and important documents.
Now the flow appears to have slowed, he hopes to return, if police allow.
"We don't know how long we have to wait until we can return to our homes because the roads are closed," he told The Associated Press.
"Some people have it worse off, their houses are gone."
Video of La Palma eruptions burning buildings and destroying homes

The Canary Islands Volcanology Institute said the eruption and its aftermath could last for up to 84 days.
This means residents could still be at risk of earthquakes, lava flows, toxic gases, volcanic ash, and acid rain.
However, tourists visiting the island have been largely undeterred, with many continuing to land for previously planned holidays.
Myanmar: More than 5,600 prisoners to be released by junta as Aung San Suu Kyi remains incarcerated | World News
More than 5,600 prisoners in Myanmar will be released by the military junta which seized power earlier this year.
Videos and pictures from the country showed tearful reunions as those who had been detained were reunited with their loved ones.
An announcement on state television said the move was part of an amnesty for those who protested against the coup earlier this year, in which the democratically elected government of Aung San Suu Kyi was deposed.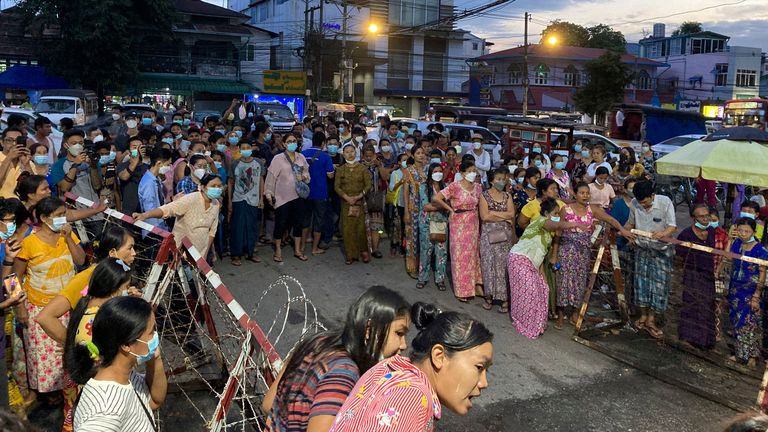 However, observers say the move was due to pressure put on the dictatorship by the Association of Southeast Asian Nations (ASEAN).
Footage from Insein Prison, Yangon – formerly known as Rangoon – showed the tearful scenes.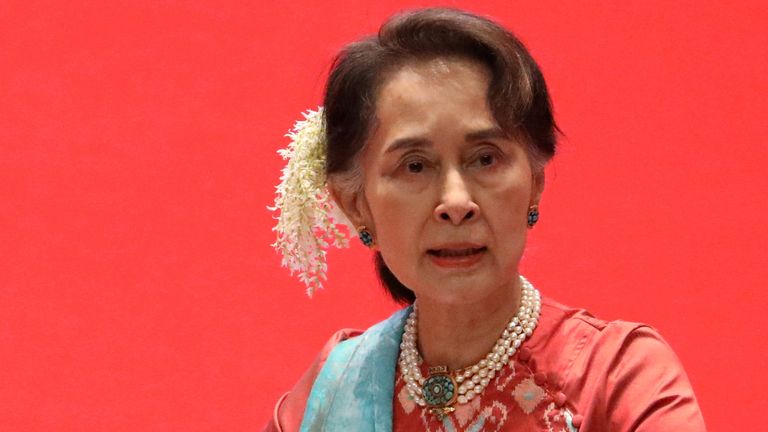 Bus-loads of people were taken outside the gates of the compound to waiting crowds, after the release was announced by state television.
It added that 1,316 convicts were freed and charges against 4,320 people were suspended.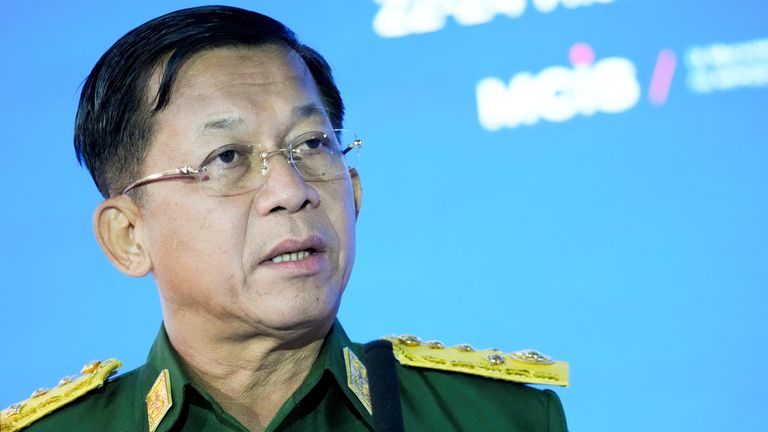 The Assistance Association for Political Prisoners says that at least 9,043 people have been arrested since the coup, and 7,355 remained in detention when the amnesty was announced.
Ms Suu Kyi is still being held in detention.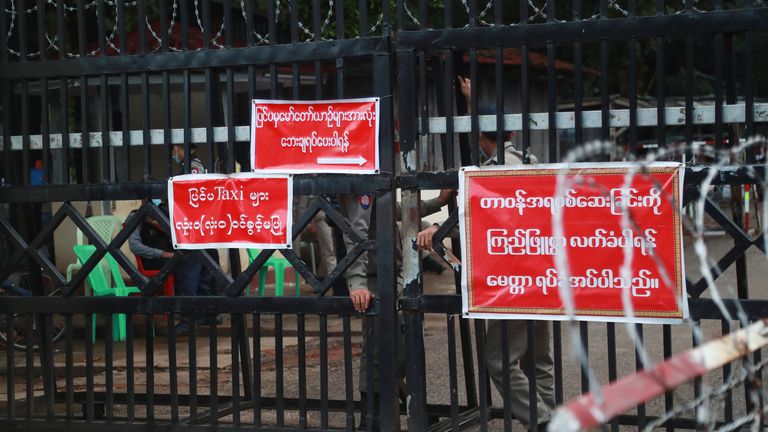 After her government was toppled, there were extensive demonstrations in Myanmar against the new regime.
Estimates place the death toll in the wake of the takeover at around 1,000 – a figure the junta says is exaggerated.
ASEAN recently snubbed the junta by inviting a non-political representative from the country to the upcoming summit of the organisation, as opposed to a member of the government.
Analysis by Siobhan Robbins, south east Asia correspondent
Desperately waiting after months without news, the raw emotion on display shows you what today's prisoner releases mean to families finally able to hug their loved ones.
Some simply disappeared without a word as relatives hunted for scraps of information to confirm if they were dead or alive.
While people across Myanmar celebrated the freedom of their fellow citizens, on social media many rejected any suggestion that they should be thankful to the military for its mercy.
Afterall, they argued, these peaceful protestors wouldn't be in jail if the junta hadn't seized power in February.
While this isn't the first prisoner release since the coup, this does appear to be the largest amnesty for those directly involved in demonstrations against the military government.
The timing isn't a coincidence. It comes just days after the junta leader was excluded from attending a summit by the Association of Southeast Asian Nations (ASEAN).
The unprecedented rebuke follows the ASEAN special envoy cancelling a much delayed trip to the country after he was denied access to ousted leader Aung San Suu Kyi and others as he had requested.
This amnesty is a gesture by the junta to its neighbours paying lip service to a request to release all political prisoners at a time when it has done little to fulfil all of the five demands agreed by ASEAN in April.
For opponents this is just empty political power play.
There's no sign high value prisoners including Aung San Suu Kyi are about to be freed and in recent weeks armed conflict has been escalating.
Instead, today's announcement was nothing more than "a form of distraction for foreign governments" according to monitoring group, the Assistance Association for Political Prisoners (Burma).
In a country used to decades of military rule, political parlour tricks no longer work.
ASEAN laid out a five-point roadmap for Myanmar to follow, but made the decision to shun the current administration after they failed to commit to the plan.
In response, Min Aung Hlaing, who led the coup in February, reiterated the junta's own five-stage plan to restore democracy.
Colin Powell death: Biden leads tributes to former US secretary of state, who 'could drive his Corvette Stingray like nobody's business' | US News
US President Joe Biden has paid tribute to former US secretary of state Colin Powell following his death, saying he "could drive his Corvette Stingray like nobody's business".
The 84-year-old died following complications from COVID-19, his family said in a statement today.
Figures from across the political spectrum have paid their tributes to the first black US secretary of state and top military officer following the news.
US President Joe Biden said he and his wife Jill were "deeply saddened" by the passing of their "dear friend and a patriot of unmatched honour and dignity".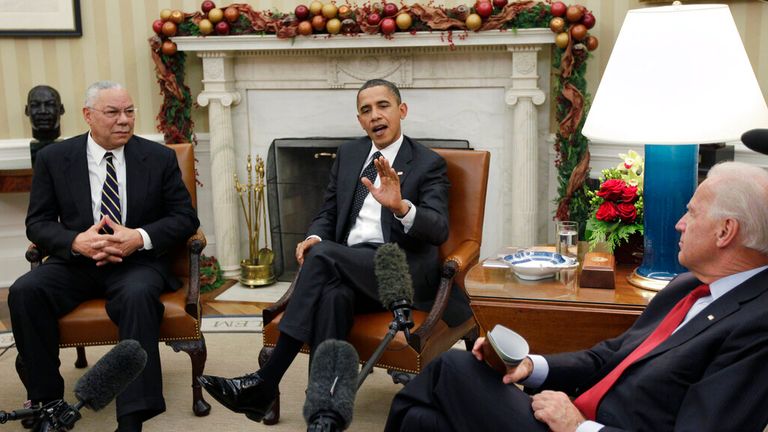 "Colin embodied the highest ideals of both warrior and diplomat. He was committed to our nation's strength and security above all," Mr Biden said.
"Having fought in wars, he understood better than anyone that military might alone was not enough to maintain our peace and prosperity."
He added that Mr Powell had repeatedly "broken racial barriers" and was "committed to investing in the next generation of leadership", but above all, "Colin was my friend. Easy to share a laugh with. A trusted confidant in good and hard times."
The US leader continued: "He could drive his Corvette Stingray like nobody's business – something I learned firsthand on the race track when I was vice president.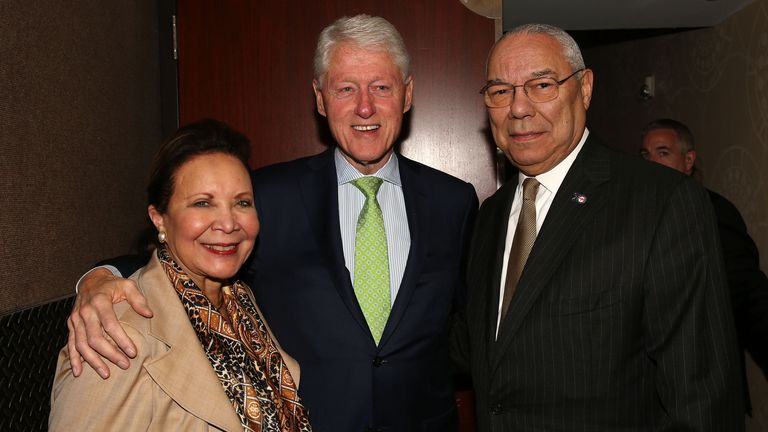 "And I am forever grateful for his support of my candidacy for president and for our shared battle for the soul of the nation. I will miss being able to call on his wisdom in the future."
US Secretary of State Anthony Blinken said: "Powell's career in the US military is legendary… By the
time he retired from the military he was arguably the most respected and celebrated American in uniform."
John Major, who was the UK prime minister from 1990 to 1997, said he was "proud" to call Mr Powell a friend.
"Colin Powell was one of the finest men I ever met. And, perhaps, one of the finest Americans never to be president," he said.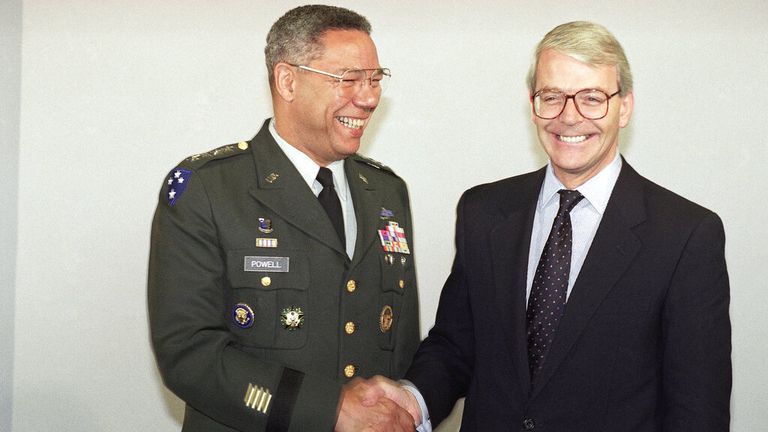 "Both in the military and in government he led with calm authority, and was an inspiration to all those who served alongside him.
"During the first Gulf War – as chairman of the US Joint Chiefs of Staff – we could not have wished for a stronger ally, nor one who commanded such affection and respect from our own armed forces. Throughout his long and exceptional career, Colin served with honour and distinction. He was a true public servant, who I was proud to call a friend."
Mr Powell served under George H W Bush through the Iraq War and had also overseen the US invasion of Panama in 1989.
He was then appointed secretary of state under Mr Bush's son, George W Bush, who embarked on the Iraq War in 2003.
In a statement, George W Bush said he and his wife Laura are "deeply saddened" by Mr Powell's death.
"He was a great public servant, starting with his time as a soldier during Vietnam. Many presidents relied on General Powell's counsel and experience.
"He was national security adviser under President Reagan, chairman of the Joint Chiefs of Staff under my father and President Clinton, and secretary of state during my administration."
Mr Bush added: "He was such a favourite of presidents that he earned the Presidential Medal of Freedom – twice. He was highly respected at home and abroad. And most important, Colin was a family man and a friend. Laura and I send Alma and their children our sincere condolences as they remember the life of a great man."
Tony Blair, who was UK prime minister during the Iraq War, described Mr Powell as a "towering figure in American military and political leadership over many years".
"He was wonderful to work with, he inspired loyalty and respect and was one of those leaders who always treated those under them with kindness and concern," Mr Blair said.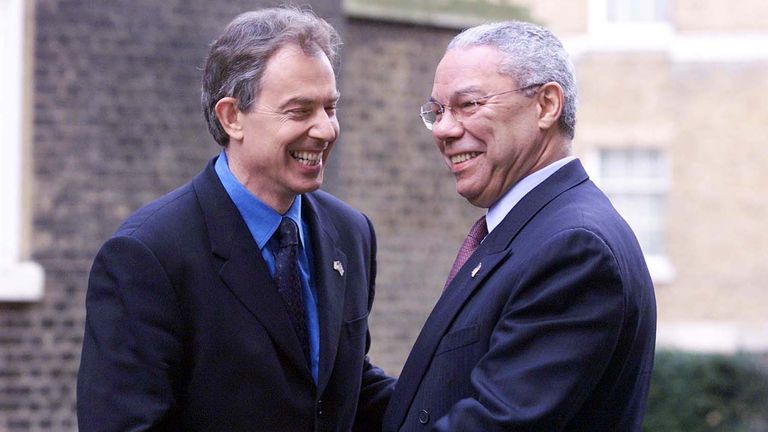 "His life stands as a testament not only to dedicated public service but also a strong belief in willingness to work across partisan division in the interests of his country. I am so sorry to hear the news of his death."
Prominent figures in the African-American community also paid tribute to him.
Lloyd Austin, who is the first African American to become US defence secretary, said: "The world lost one of the greatest leaders that we have ever witnessed.
"Alma lost a great husband, and the family lost a tremendous father and I lost a tremendous personal friend and mentor. He has been my mentor for a number of years. He always made time for me and I could always go to him with tough issues. He always had great counsel.
"First African American chairman of the joint chiefs, first African American secretary of state – a man who was respected around the globe… quite frankly, it is not possible to replace a Colin Powell. We will miss him."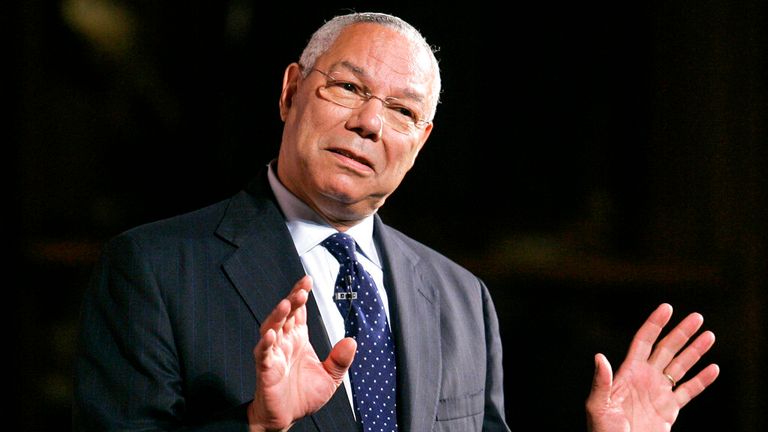 Rev Al Sharpton, the civil rights activist, said on Twitter: "My condolences to the family of Colin Powell. Though we disagreed on many issues, I always respected him and was proud of his achievements. When he and I ran into each other and conversed, I always left feeling he was a sincere and committed man to what he believed in. RIP".
Colin Powell: Former US Secretary of State dies following COVID complications, says family | US News
Former US Secretary of State Colin Powell has died following coronavirus complications, his family has said.
A statement on his Facebook page posted by his family said the 84-year-old "passed away this morning due to complications from COVID-19".
"He was fully vaccinated," they said.
"We have lost a remarkable and loving husband, father, grandfather and a great American."
NBC News cited his spokesperson Peggy Cifrino and a family member as saying he was at Walter Reed National Medical Centre in Maryland at the time he died, where he had been suffering from multiple myeloma.
Mr Powell was the first African American secretary of state and the first black chairman of the joint chiefs of staff.