La Palma volcano: Canary Islands eruption could last for three months, experts say | World News
A volcanic eruption in Spain's Canary Islands could last three months, experts have said.
The Canary Islands Volcanology Institute said on Wednesday that the eruption on the island of La Palma and its aftermath could last for up to 84 days.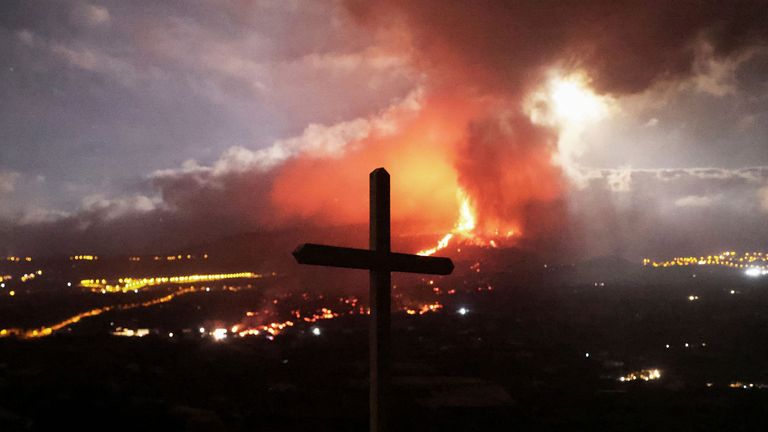 The institute said it had looked at calculations of the length of previous eruptions on the archipelago, which like the latest eruption were followed by heavy lava flows and lasting seismic activity.
This means residents could still be at risk of earthquakes, lava flows, toxic gases, volcanic ash and acid rain.
The institute also reported that Tuesday night saw a strong increase in the number of smaller eruptions that hurl rocks and cinders high into the air from the La Palma volcano.
Since last Sunday's eruption, powerful rivers of lava, up to six meters high, have swallowed up 185 buildings, mostly homes in the countryside.
The lava now covers 154 hectares, according to the volcanology institute.
On Tuesday, the lava flows were heading downhill toward the island's more densely populated coast.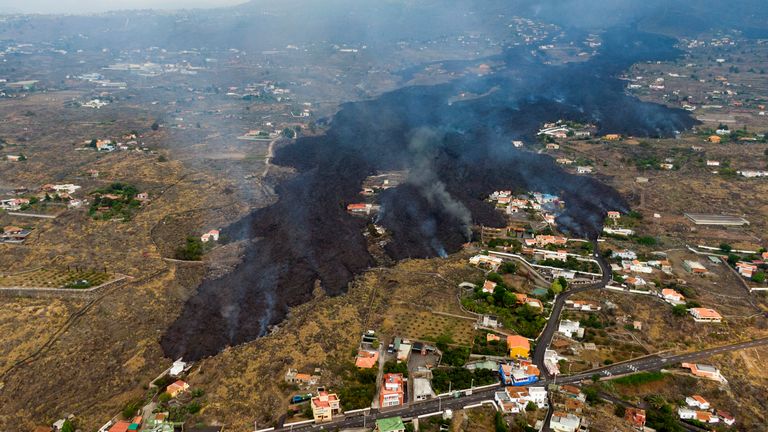 Emergency services on the island attempted to divert some of the lava by using front-loaders to clear a path for the molten rock to follow, hoping to steer it away from properties.
However, officials said they did not know if it would work.
Slow motion footage shows volcano's power

Some 1,000 people were evacuated later in the day from the neighbourhood of Todoque on the shoreline, bringing the total number of evacuated people to around 6,000.
The meeting of lava – which is more than 1,000C – with a body of water, could cause explosions and produce clouds of toxic gas.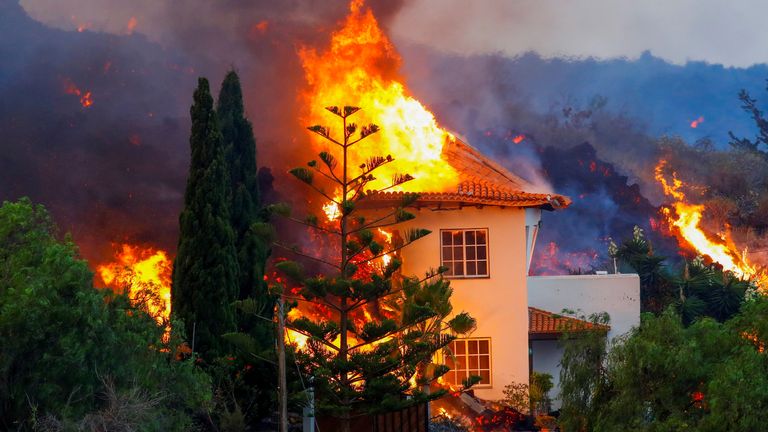 Prompt evacuations have helped avoid any casualties from the eruption, though damage to homes, infrastructure and farmland is significant, officials have said.
The volcano has also been spewing out between 8,000 and 10,500 tons of sulfur dioxide – which also affects the lungs – every day, the institute added.
COP26: Russia's President Vladimir Putin will not attend climate change summit in Glasgow, Kremlin announces | Climate News
Russia's President Vladimir Putin will not attend COP26 in Glasgow at the end of the month in what is being seen as another major blow for the climate summit.
A Kremlin spokesman said other representatives of Russia would attend the talks and that Mr Putin would take part remotely.
The decision to not attend by the leader of the world's fourth-biggest emitter of greenhouse gases is the latest setback for the summit.
There is also continuing doubt over whether Chinese President Xi Jinping and Indian Prime Minister Narendra Modi will be involved in the talks in Scotland.
The UK is hosting the summit from 31 October to 12 November and will be looking to agree a deal for a more radical plan to tackle global warming.
The Kremlin had previously announced that Mr Putin would not attend a Group of 20 summit in Rome in person this month due to concerns about the COVID-19 pandemic.
"He will also not fly to Glasgow, unfortunately," Mr Putin's spokesman Dmitry Peskov said.
"We need to work out in what format it will be possible (for Mr Putin) to speak via video conference, at what moment.
"The issues that will be discussed in Glasgow right now form one of the priorities of our foreign policy."
This is everything you need to know about COP26

Russia is warming 2.8 times faster than the global average, with the melting of Siberia's permafrost, which covers 65% of Russian landmass, releasing significant amounts of greenhouse gases.
Mr Putin said last week Russia would strive to be carbon neutral no later than 2060.
He said hydrogen, ammonia and natural gas were likely to play a larger role in the energy mix in coming years and that Russia was ready for dialogue on ways to tackle climate change.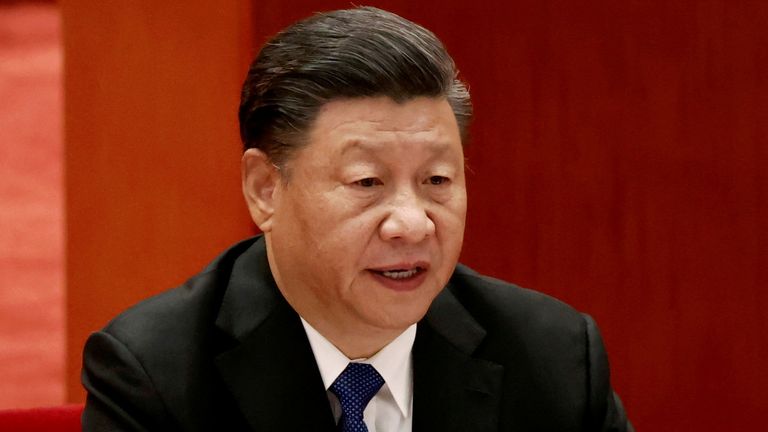 Meanwhile, China has not confirmed whether Mr Xi – who has not left his own country since the beginning of the COVID pandemic – will take part in the summit.
Asked by reporters if he would be at the COP26 talks in person or via a video call, China's special climate envoy, Xie Zhenhua, said: "We still need to wait for the information (from the) Ministry of Foreign Affairs, and only after they make an announcement will we tell you."
Subscribe to ClimateCast on Spotify, Apple Podcasts, or Spreaker
Mr Modi is also yet to decide whether he will attend, Indian officials have said.
However, a large number of other world leaders, including US President Joe Biden and French President Emmanuel Macron, will be at the talks.
COVID-19: Children as young as five to get vaccine within weeks, White House announces | US News
Children aged five to 11 in the US will soon be able to get a COVID-19 jab, the White House has announced. 
Officials say the expected authorisation of the Pfizer vaccine for younger children in a matter of weeks will allow them to receive the shot at their paediatrician's office, local pharmacy and potentially even their school.
Federal regulators will meet in the next two weeks to assess the benefits of giving COVID jabs to people in that age group, after lengthy studies intended to ensure the safety of the vaccines.
Within hours of formal approval, expected after the Centers for Disease Control and Prevention advisory meeting scheduled for 2-3 November, doses will start being shipped to providers across the country.
Smaller needles necessary for injecting younger children will also be sent out.
"We're completing the operational planning to ensure vaccinations for kids aged 5-11 are available, easy and convenient," said White House COVID-19 coordinator Jeff Zients on Wednesday.
The Biden administration noted the nationwide campaign to extend vaccination to the school-going cohort would not resemble the start of the country's vaccine rollout 10 months ago, when scarcity of doses and capacity issues meant a painstaking wait for many Americans.
The country now has ample supplies of the Pfizer shot to vaccinate the roughly 28 million children who will soon be eligible, White House officials said, and work has been ongoing for months to ensure widespread availability of shots once approved.
More than 25,000 paediatricians and primary care providers have already signed on to administer COVID vaccine shots to children, the White House said, in addition to the tens of thousands of retail pharmacies that are already administering shots to adults.
Hundreds of school- and community-based clinics will also be funded and supported by the Federal Emergency Management Agency to help speed the vaccination process.
US President Joe Biden has received his COVID booster jab – and told eligible Americans to theirs booked.

The White House is also preparing to roll out an intensified campaign to educate parents and young people about the safety of the shots and the ease of getting them.
"COVID has also disrupted our kids' lives. It's made school harder, it's disrupted their ability to see friends and family, it's made youth sports more challenging," US surgeon general Dr Vivek Murthy told NBC.
"Getting our kids vaccinated, we have the prospect of protecting them, but also getting all of those activities back that are so important to our children."
Dr Murthy said the administration, which is promoting employer vaccine mandates for adults, is leaving the question of requirements for schools to local and state officials, but described them as "reasonable".
The administration says children who get their first shot within a couple weeks of the expected approval in early November will be fully vaccinated by Christmas
Brazil's president Jair Bolsonaro should face homicide charges over 95,000 COVID-19 deaths, draft report finds | World News
Brazil's president should face homicide charges over errors that led to an estimated 95,000 COVID-19 deaths, a draft of a major inquiry report has found.
With more than 600,000 deaths, only the US has lost more people to coronavirus than Brazil and the president has been widely criticised for openly objecting to lockdowns, regularly refusing to wear a mask in public and stating he has not been vaccinated.
And now, the senator leading a congressional probe into his handling of the pandemic has recommended Mr Bolsonaro be charged with homicide.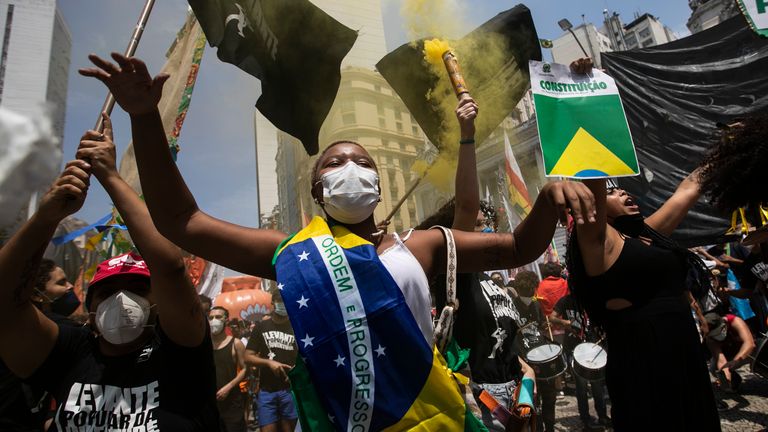 A 1,200-page document, prepared over six months by opposition senator Renan Calheiros for a Senate commission that conducted the probe, alleges that Mr Bolsonaro failed to take the opportunity to acquire vaccines, when they were presented, leading to the deaths of thousands.
It says he was guided "by an unfounded belief in the theory of herd immunity by natural infection" and is "principally responsible for the government's errors committed during the COVID-19 pandemic".
The president has been repeatedly criticised for pushing unproven remedies for the illness such as antimalaria drug hydroxychloroquine, which has been dismissed by scientists as ineffective.
The report, in its final form, is expected to presented to the committee on Wednesday with a vote taking place next week.
If approved, it will be sent to the country's chief prosecutor, who was appointed by Mr Bolsonaro, who will decide whether the president should be criminally charged.
But even if it then goes no further, analysts say the high-profile discussion about it could hurt the president in the upcoming election.
Mr Bolsonaro claims the probe is politically motivated and has denied responsibility for any deaths.
On Wednesday morning, the number of criminal charges the report recommends be brought against Mr Bolsonaro appeared to have been reduced to 11 from 13.
The charges include homicide, genocide, charlatanism and inciting crime.
Three of the seven opposition senators on the 11-person committee are understood to be opposed to including the homicide and genocide charges, AP reported.
The three were trying to persuade the four other opposition senators to join them in opposing the two charges, according to five of the senators AP spoke to anonymously.
The senate committee was formed in April to investigate allegations Mr Bolsonaro's management of the pandemic caused a substantial proportion of Brazil's deaths.
Brazilian congressional committees can investigate, but don't have the power to indict.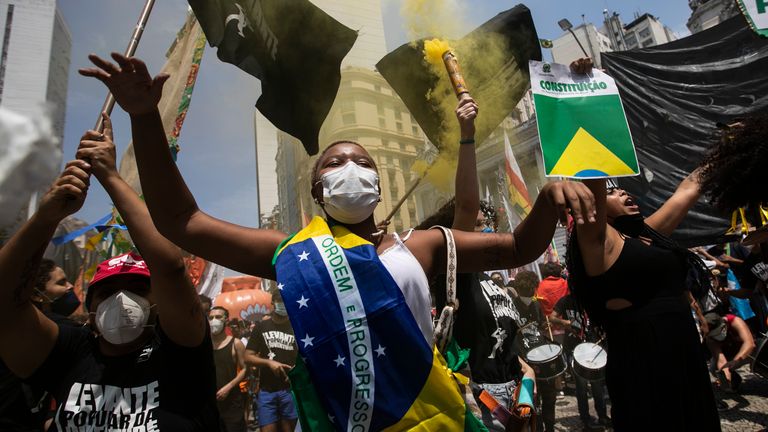 The allegations are expected to be used by opponents of the far-right leader, whose approval ratings have slumped ahead of his 2022 re-election campaign, despite his still sizable internal support base.
The biggest row has been over Senator Calheiros' determination to recommend that Mr Bolsonaro should be investigated by the International Criminal Court for possible genocide of indigenous peoples, as a substantial proportion of those who died were from the Amazon region.
But the committee members who oppose this, including critics of the government, say genocide is an exaggeration that could threaten the entire report's credibility.
Political analyst Carlos Melo, from Insper University in Sao Paulo, said: "The prosecutor-general's office will look with a magnifying glass for errors, failures and inconsistencies in order to wash their hands of it.
"If you have 10 accusations that are very strong, and one that has inconsistencies, that's what the government will latch on to, to try and discredit the whole report."
Senators on the committee have also been wary of calling for charges against members of Mr Bolsonaro's family, who are named in the report, and the military.