La Palma eruption: Residents warned of earthquakes, toxic gases, volcanic ash and acid rain | World News
Authorities have warned people on the island of La Palma of fresh dangers after a new volcanic vent blew open and rivers of unstoppable lava flowed towards more densely populated areas and the sea.
Residents were cautioned on Tuesday about earthquakes, toxic gases, volcanic ash and acid rain after several small earthquakes shook the Spanish island, which sits in the Canary Islands archipelago off northwest Africa.
How bad has the damage been?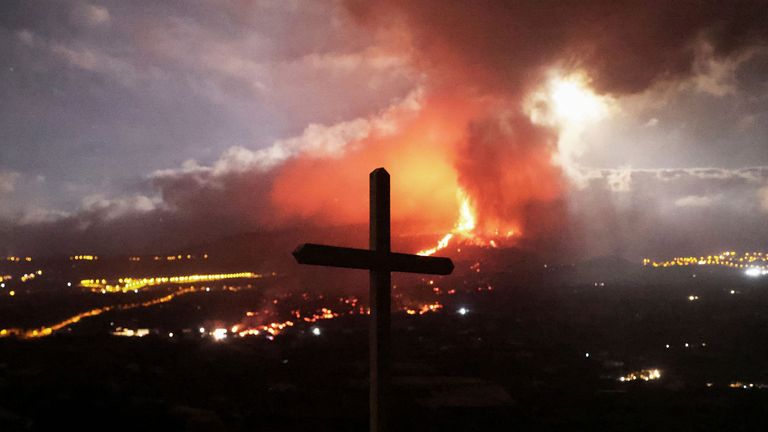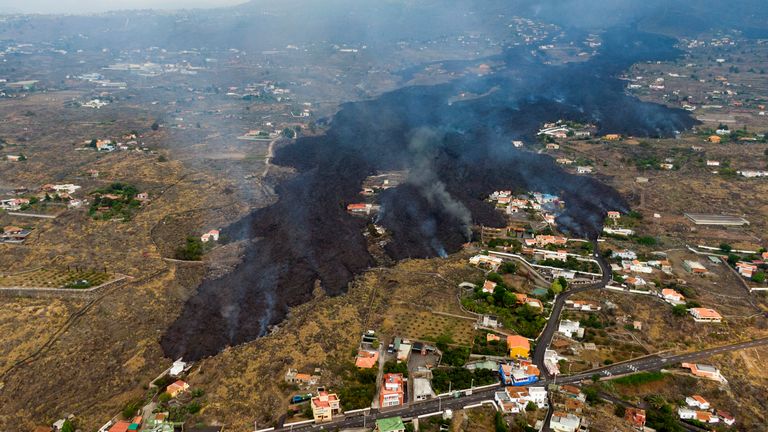 The volcanic eruption on Sunday afternoon forced the evacuation of 6,000 people and unstoppable rivers of molten lava have destroyed around 190 houses and caused significant damage to farmland and infrastructure.
The island of 85,000 people is a popular tourist destination for Europeans.
Thousands of small earthquakes have happened in the days following the eruption.
How long will the eruption last?
The aftermath of the volcanic eruption could last for up to 84 days, the Canary Islands Volcanology Institute has said.
It based its calculation on the length of previous eruptions in the archipelago.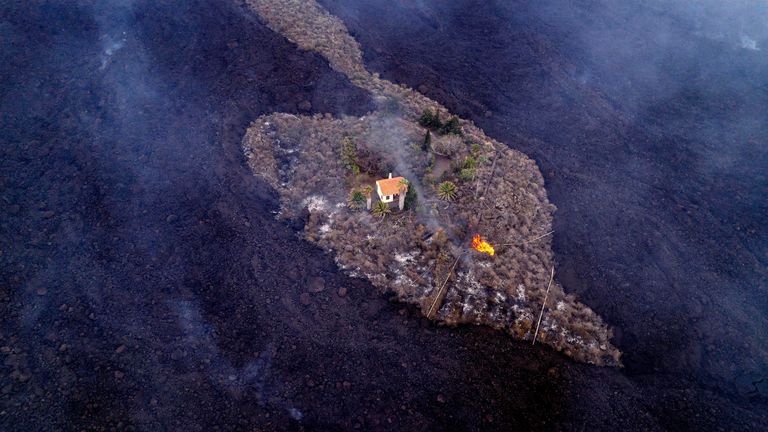 On Tuesday a new volcano vent opened up 3,000ft north of the Cumbre Vieja ridge, where the first eruption happened on Sunday.
Why is lava meeting the ocean so dangerous?
Drone footage shows lava swallowing swimming pools and homes

The flow of lava has slowed to around 120m (400ft) an hour and was not expected to reach the Atlantic Ocean until Wednesday, according to the head of the Canary Island Volcanic Emergency Plan, Miguel Angel Morcuende.
Angel Voctor Torres, the head of the Canary Islands government, said there would be a "critical moment" when the lava reaches the sea.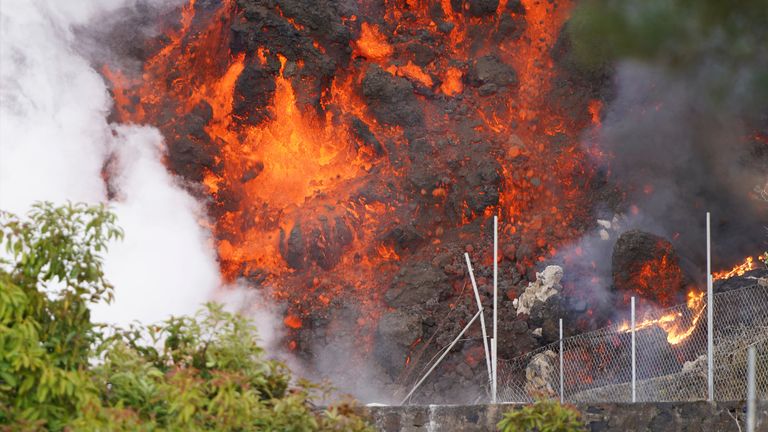 The rivers of molten rock, which are up to six metres (nearly 20ft) high, have a temperature exceeding 1,000C and could cause explosions and produce clouds of gas when they meet the sea.
Mr Torres reminded locals of the island's last eruption in 1971, when one person died after inhaling the gas emitted as lava met the water.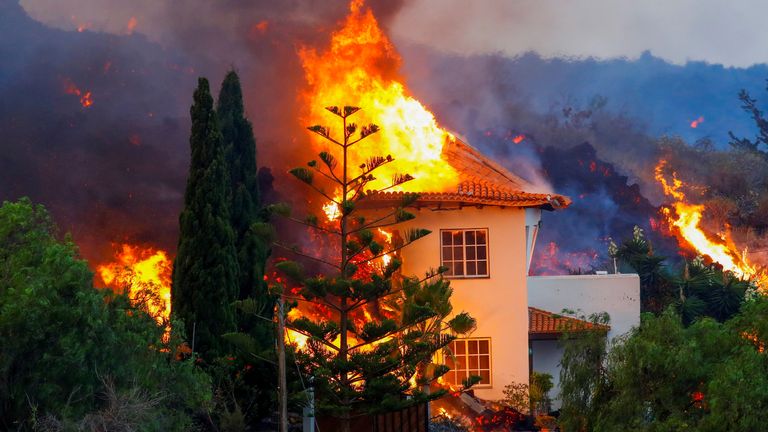 Late on Tuesday, emergency services attempted to divert some of the lava by using front-loaders to clear a path for it to follow in the hopes of steering it away from properties. Officials said they did not know if it would work.
What dangers lie ahead?
Firefighters filmed lava oozing down streets

A change in wind direction on Tuesday blew volcanic ashes, which irritate the eyes and lungs, over a vast area on the western side of the island.
The volcano has also been spewing out 8,000 to 10,500 tons of sulfur dioxide, which also affects the lungs, every day, according to the Volcanology Institute.
How is the government helping?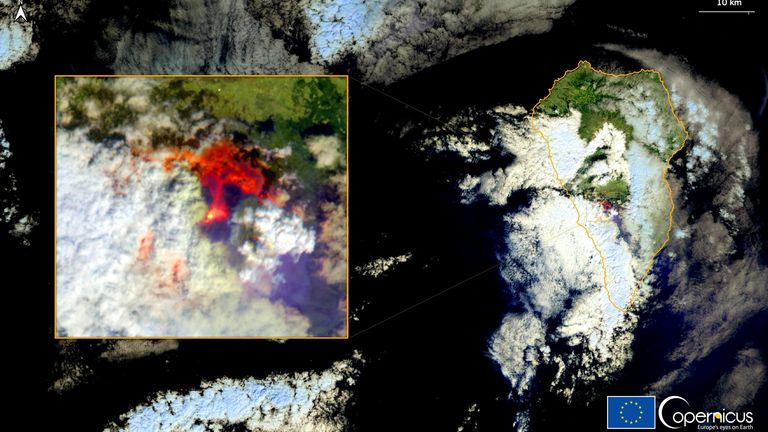 Mr Torres described the region as a "catastrophe zone" and said he would request funding to rebuild roads, water pipes and create temporary accommodation for families who have lost homes and their farmland.
Spain's King Felipe VI and Queen Letizia will visit the island on Thursday.
Haiti: 'I will put a bullet in the heads of these Americans' – Gang leader behind kidnap demand ransom in video | World News
A Haitian gang leader has threatened to kill 17 kidnapped American and Canadian missionaries if he is not given millions in ransom money.
In a video posted on YouTube, the leader of the 400 Mawozo gang that abducted the group said: "I swear by thunder that if I don't get what I'm asking for, I will put a bullet in the heads of these Americans."
Wilson Joseph, who was dressed in a blue suit, carrying a blue hat and wearing a large cross around his neck, also threatened Prime Minister Ariel Henry and Haiti's national police chief.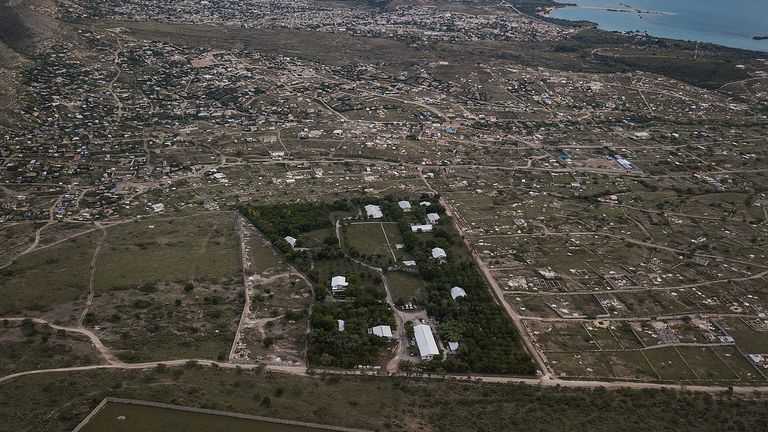 Speaking in front of open coffins that apparently held several members of his gang who were recently killed, he said: "You guys make me cry. I cry water. But I'm going to make you guys cry blood."
There was no immediate comment from Mr Henry or the national police chief, but on Thursday afternoon the president announced that the current national police chief Leon Charles had resigned and was being replaced by Frantz Elbe.
"We would like for public peace to be restored, that we return to normal life and that we regain our way to democracy," Mr Henry said.
Earlier this week, authorities said the gang was demanding $1m (£720,000) for each person kidnapped, but it was not immediately clear if this included the five children in the group, one of whom is eight months old.
The abducted group from Ohio-based Christian Aid Ministries is made up of 16 Americans and one Canadian.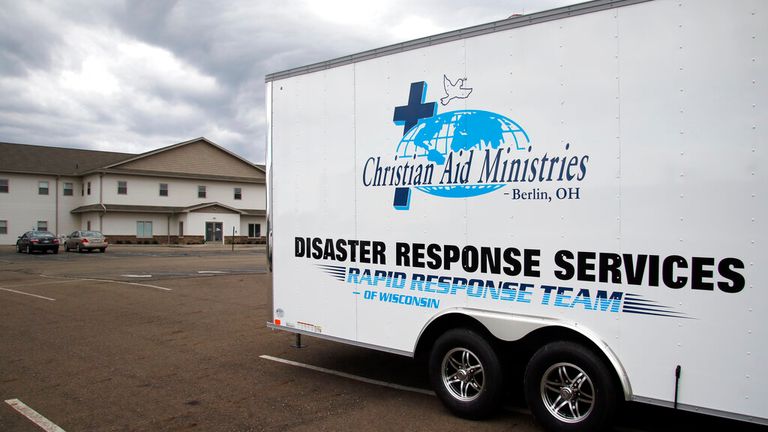 They were kidnapped in Croix-des-Bouquets over the weekend – about eight miles outside the capital Port-au-Prince – along with their Haitian driver.
Before the video was posted, Weston Showalter, a spokesman for Christian Aid Ministries, told a news conference that the missionaries' families are from Amish, Mennonite and other conservative Anabaptist communities in Ohio, Michigan, Wisconsin, Tennessee, Pennsylvania, Oregon and Ontario, Canada.
In a letter he read aloud from the families, they said: "God has given our loved ones the unique opportunity to live out our Lord's command to love your enemies."
He invited the public to join the group in praying for the kidnappers and those targeted, adding: "Pray for these families. They are in a difficult spot."
Christian Aid Ministries later said it would not comment on the video "until those directly involved in obtaining the release of the hostages have determined that comments will not jeopardise the safety and well-being of our staff and family members".
The number of women and children kidnapped in Haiti in the first eight months of this year has surpassed the total for all of last year, according to UNICEF.
Woman dies after actor Alec Baldwin fires prop firearm on film set | US News

A woman has died and a man has been injured after Alec Baldwin discharged a prop firearm on a film set, officials have confirmed.
According to Santa Fe County Sheriff's Office, the shooting happened on the set of Rust – a movie that is being filmed in New Mexico.
A spokesman for Baldwin, who is producing and starring in the film, said there was an accident involving the misfire of a prop gun with blanks.
The woman who died has been named as Halyna Hutchins – a 42-year-old director of photography.
She was transported via helicopter to University of New Mexico Hospital, but was later pronounced dead.
Joel Souza, the film's director, was injured and is now being treated in hospital.
Juan Rios, the spokesman for the sheriff's office, added: "This investigation remains open and active. No charges have been filed in regard to this incident. Witnesses continue to be interviewed by detectives."
Eastern European countries battle vaccine hesitancy as COVID-19 strengthens its grip | World News
Some European countries are seeing a resurgence in COVID-19, with the continent's eastern nations hampered by widespread vaccine hesitancy.
Polls show that trust in state institutions and public healthcare is much lower in eastern Europe than it is across the rest of the continent, something that has been blamed for the low vaccination rates.
At least one person in every three does not trust the healthcare system in eastern Europe, compared to an EU average of 18%, according to the European Commission.
And when it comes to vaccine uptake, the European states with the lowest rates – Bulgaria, Romania, Poland and Latvia – are all part of the former communist bloc.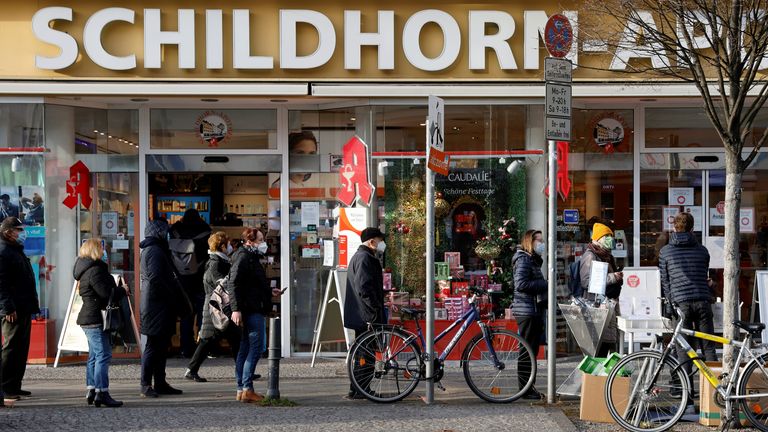 • Romania had the highest death rate per capita in the world this week and the number of new cases soared towards 19,000, but only 36% of adults are vaccinated, about half the EU rate. Distrust in public healthcare is put at 40%
• Russia's government announced workplaces will close from 30 October to 7 November after Thursday saw 1,036 deaths and 36,339 new infections – both record daily highs. Despite being quick to produce its Sputnik vaccine earlier in the pandemic, many Russians have refused it – only 48 million of a population of 144 million were fully-vaccinated as of mid-October
• In Bulgaria only one adult in four is fully-vaccinated. The number of people being admitted to hospital due to the virus has risen 30% in the past month, and hospitals in Sofia have halted non-essential surgeries
• Latvia has gone back into lockdown for a month. A study by SKDS has found that among Latvia's Russian-speaking population (who account for about a third of the overall population), only 46% are vaccinated, compared with 62% among ethnic Latvians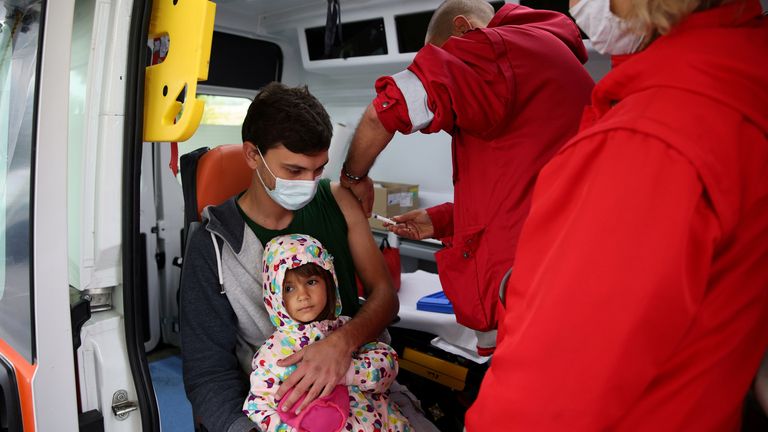 • Poland (52% vaccinated) reported more than 5,000 new cases on Wednesday – the highest number since May – prompting the health minister to warn that drastic measures could be necessary. Vaccine uptake is particularly low in conservative areas, leaving the government with extra vaccine doses it has donated or sold abroad
• Slovakia (41% vaccinated) reported its highest daily case numbers on Tuesday since 9 March and in the Czech Republic (56% vaccinated) the number of new cases passed 3,000 for the first time since April
The situation differs in western Europe, where vaccination rates are generally higher and restrictions are being weakened alongside the introduction of vaccination passes in some parts.
• In France, new cases jumped to 6,127, up 18% compared to a week earlier, having already risen by 8% on Wednesday. The country also registered 37 new deaths on Thursday, taking the total to 117,389. About two-thirds of people are fully-vaccinated
• Italy (71% vaccinated) reported 36 deaths on Thursday (up from 33 the day before) with 3,794 new infections (up from 3,702)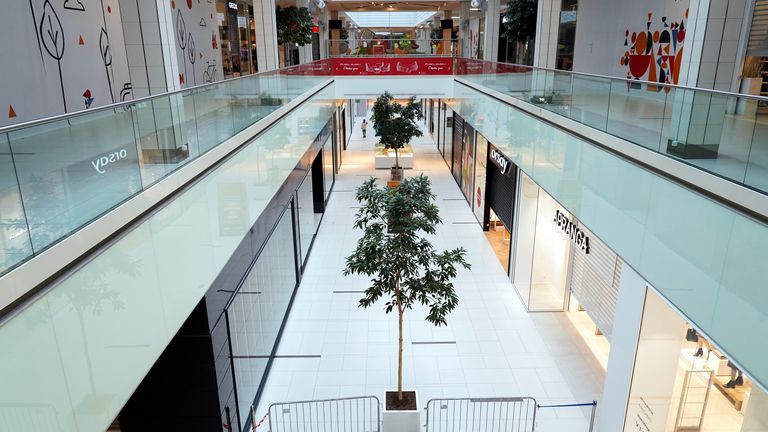 • Germany reported just over 17,000 new infections on Wednesday compared to 11,903 a week ago, with its 92 deaths similar to the same day last week. Roughly two-thirds of people are fully-vaccinated. Health Minister Jens Spahn has said the pandemic state of emergency can end on 25 November, although some measures should continue
• Portugal began the year with one of the highest rates of infection in the world but, with 85% fully vaccinated, it is turning things around. Masks are still widely worn and trust in state institutions is generally high. On Wednesday, 927 new cases were reported (up from 828 a week earlier). There were three deaths (down from nine a week earlier)
• Spain reported 2,528 new cases on Wednesday (down from 2,758 a week earlier). There were 31 deaths (down from 42) and 78% of the population is fully vaccinated
'115,000 health workers dead from COVID'

The World Health Organisation's emergency director Mike Ryan said: "Most (COVID-19) restrictions are now not in place anymore in many countries, and we're seeing that coincide with the winter period in which people are moving inside as the cold snaps appear.
"The question remains as to whether or not we will have the same experience as last year with health systems coming once again under pressure."