Climate change: President Xi Jinping vows to end Chinese funding of coal plants abroad at the United Nations General Assembly (UNGA) | Climate News
China will stop funding new coal-fire projects abroad, President Xi Jinping announced at the United Nations General Assembly (UNGA).
China was the last significant public financier of overseas coal – predominantly in Africa and Asia – delivered under its enormous global infrastructure project known as the Belt and Road Initiative (BRI).
But international pressure on Beijing to stop financing the most polluting fossil fuels has intensified, as the world attempts to meet Paris Agreement targets to prevent runaway climate breakdown.
Is President Biden's pledge enough to help developing countries tackle climate change?

In a pre-recorded video address, President Xi told the UNGA China will "step up support for other developing countries in developing green and low-carbon energy, and will not build new coal-fired power projects abroad".
Bernice Lee, director of Futures at global affairs think tank Chatham House, said recipient countries were already "moving away from [coal] plants anyway".
"But it is a big deal, credit where credit is due," she said. "It is important that this is now formalised and locked into the system."
The move could be a significant step towards tackling global emissions, potentially culling $50 billion of investment across 44 projects, according to US think tank Global Energy Monitor (GEM). The Chinese President did not specify when the commitment would come into effect – although his country has not directed any BRI funding toward coal power plants so far this year.
But China itself accounts for half of the world's coal consumption, according to Our World in Data.
The country's "substantial domestic plans" for new coal plants is "the next new frontier" said Ms Lee.
The move is not just about tackling climate change but also about geopolitics, according to Dr Rebecca Nadin, director of ODI's Global Risks and Resilience programme.
"Beijing also hopes the announcement will send a clear message to developing countries that they don't need to… rely on the US's 'Build Back Better World' (B3W) or the G7's Clean Green Initiative, if they want a clean energy future.
"The message is now very much that China can provide that, either as financier, technology provider, knowledge broker or development partner."
The announcement came hours after the US President Joe Biden promised to double his country's aid to help poorer nations cut emissions and cope with climate change, bringing the total to $11.4bn (£8.3bn).
In May the Group of Seven (G7) countries vowed to end all new finance for coal power abroad by the end of this year, and to rid forever their own power systems of unabated coal in the 2030s.
China's announcement could help galvanise COP26, United Nations (UN) climate talks hosted in Glasgow in November, as it had been under pressure to end the financing as a part of its updated package of climate pledges to be submitted to the UN.
However China has yet to confirm it will attend the talks, the COP26 president Alok Sharma told Sky News on Sunday.
Analysis by Thomas Cheshire, Asia Correspondent
China was the biggest financier of coal projects abroad – so Xi's pledge is a big deal. Simply, "it leaves no international financing for new coal", according to Lauri Myllyvirta, an analyst at the Centre for Research on Energy and Clean Air (CREA).
Coal's appeal had been waning internationally. A recent analysis from CREA found that overseas coal capacity linked to China was more likely to be cancelled than built, because of economic reasons and public opposition.
But this is now the official end – and hopefully prevents overseas coal creeping back if conditions were to improve.
So, good news. But, as ever, the more important issue is China's own use of coal.
It still relies on it a huge amount and remains the world's biggest polluter. Xi has promised that emissions will peak by 2030
But even if that is achieved – and that's a big if, with new coal power stations still being built – experts say it will be too late to prevent the worst effects of warming.
Watch the Daily Climate Show at 6.30pm Monday to Friday on Sky News, the Sky News website and app, on YouTube and Twitter.
The show investigates how global warming is changing our landscape and highlights solutions to the crisis.
North Korea fires submarine-launched ballistic missile, says South – and it disrupts Japan election campaign | World News
North Korea has fired a submarine-launched ballistic missile from its east coast into the Sea of Japan, South Korea's military has said.
The launch, which has been reported by officials in South Korea and Japan, is the latest in a recent series of weapon tests by the country.
It caused Japan's new prime minister to withdraw from his election campaign trail, and overshadowed the opening of a major arms fair in Seoul.
Military chiefs in Seoul said the rocket, launched from the sea in the vicinity of the port city of Sinpo at around 10.17am local time, was a submarine-launched ballistic missile (SLBM) test.
"Our military is closely monitoring the situation and maintaining readiness posture in close cooperation with the United States, to prepare for possible additional launches," South Korea's Joint Chiefs of Staff said in a statement.
The launch came after US and South Korean envoys met in Washington to discuss the nuclear stand-off with North Korea on Monday.
The US military's Indo-Pacific Command condemned the move as destabilising but said it did not pose an immediate threat to the United States or its allies.
Japan's prime minister, Fumio Kishida, said two ballistic missiles had been detected and that it was "regrettable" North Korea had conducted a string of missile tests in recent weeks.
There was no immediate explanation from South Korea's JCS for the conflicting number of missiles detected.
Mr Kishida cancelled scheduled appearances as part of his election campaign trail in northern Japan, and the deputy chief cabinet secretary told reporters that the prime minister was planning to return to Tokyo to deal with the missile situation.
Speaking to reporters, Mr Kishida said: "I'd rather not predict North Korea's intentions (of firing the missiles) from my point of view. But I think we must continue making efforts on grasping the situation and collecting information."
Despite struggling economically under a self-imposed pandemic lockdown, North Korea has continued breakneck development of missiles and expanded nuclear activity, said Leif-Eric Easley, a professor at Ewha University in Seoul.
"Now that the Kim regime is gradually loosening border restrictions for limited external engagement, it is simultaneously testing missiles to advance its military modernisation," he said.
"North Korea's renewed testing of ballistic missiles suggests the worst of domestic hardship between summer 2020-2021 could be over," Chad O'Carroll, CEO of Korea Risk Group, said on Twitter.
"Pyongyang tends to focus on one big strategic issue at a time, so the renewed testing could suggest military – later foreign policy – now priority," he added.
South Korea tests ballistic missile

Others have suggested the test appears to be aimed at matching or surpassing South Korea's quietly expanding arsenal.
The launch comes as representatives of hundreds of international companies and foreign militaries on Tuesday were gathered in Seoul for the opening ceremonies of the International Aerospace and Defence Exhibition (ADEX) – to include displays of next-generation fighter aircraft, attack helicopters, drones, and other advanced weapons, as well as space rockets and civilian aerospace designs.
South Korea is also preparing to test-fire its first homegrown space launch vehicle on Thursday.
Last month, South Korea successfully tested a SLBM – becoming the first country in the world without nuclear weapons to develop such a system. The same day, North Korea test-fired a missile launched from a train.
North Korea launches missile from train

Talks over Pyongyang's nuclear disarmament have floundered since Donald Trump's second meeting with Kim Jong Un in 2019, when the former US president rejected a request for major sanctions relief.
The North Korean leader has vowed to strengthen his nuclear deterrent and his government has so far rejected the Biden administration's offers to restart dialogue without preconditions.
Pyongyang says Washington must first abandon its "hostile policy" – referring to sanctions and US-South Korea military exercises.
Apple unveils big changes to Macbook Pro laptops and AirPods at latest launch event | Science & Tech News
A new range of laptops and the third generation of AirPods were the key highlights from Apple's latest launch event.
Chief executive Tim Cook announced Apple's much-anticipated new Macbook Pro computers, with new screens and high-end M1 Pro and M1 Max chips, as the tech giant continues its switch from Intel.
Mr Cook also announced the third generation of AirPods, five years after they were first launched, during the live-streamed event on Monday.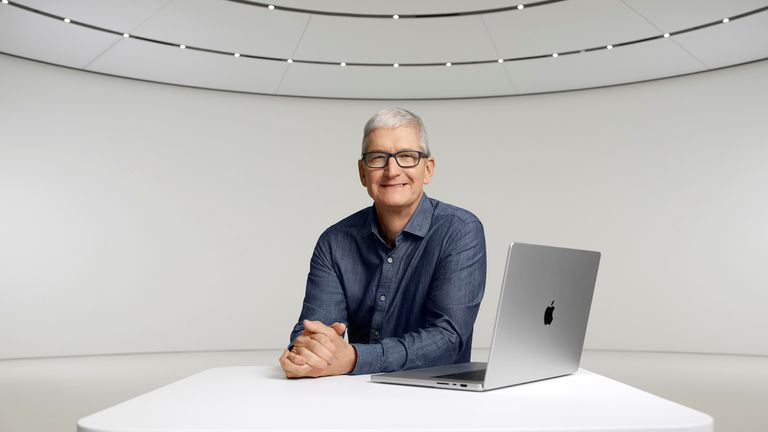 The new Macbooks mark the biggest change in Apple's laptop line since 2012, with HDMI ports making a return.
The secondary OLED "touch bar" screen, which was added in 2016, has been ditched after it proved unpopular, while they will be available in bigger screen sizes.
A 14.2 inch and 16.2-inch screen will be available, alongside an upgraded 1080p webcam.
Both sizes' have miniLED and 120Hz ProMotion technology, which has been utilised in the iPad Pro.
The new laptops mark the return of a variety of ports, including three Thunderbolt ports, HDMI, SD card slots and the Magsafe 3 magnetic charging system, which was replaced in 2016.
The body is made of 100% recycled aluminium and inside, Apple's new M1 Pro and Max chips drive the laptops engine.
The new chips have 10-core processors which are up to 70% faster than the M1 and 16 or 32-core graphics.
The 14in and 16in MacBook Pros start at £1,899 and £2,399 respectively and will ship on 26 October.
A new desktop operating system, macOS Monterey, will be released on 25 October.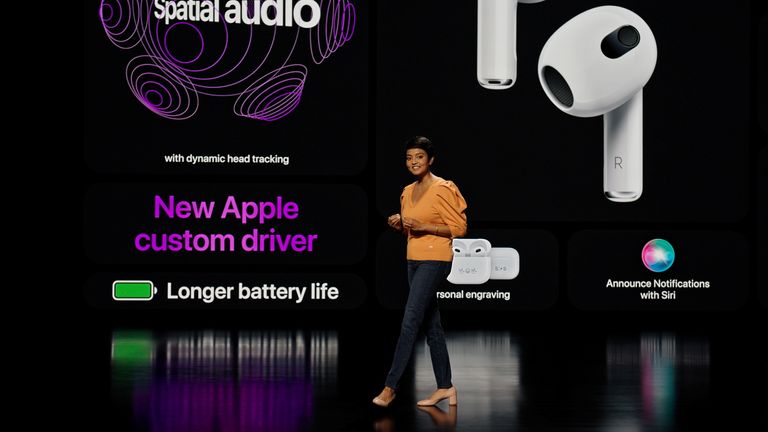 The new AirPods have a similar design to the AirPods Pro, which has shorter stalks and squeeze controls.
But they will not have silicone earbud tips or active noise cancelling.
The wireless earbuds have improved speakers for better quality audio, longer battery life and a redesigned case.
The third generation will also support head-tracking for Apple's spatial awareness surround-sound feature.
The third-generation AirPods will cost £169 and will ship on 26 October.
Apple also introduced a cheaper Apple Music plan costing £4.99 a month that can only be controlled via Siri on Apple devices.
Kobe Bryant's widow sues over first responders who shared photos of his body – but lawyers fight back | US News
Lawyers representing Kobe Bryant's widow have accused officials of "scorched-earth" tactics that are designed to "bully" her into dropping a lawsuit against them.
Vanessa Bryant is suing Los Angeles County after first responders took and shared graphic photos from the site of the helicopter crash that killed the basketball star, their teenage daughter and seven others.
She alleges that pictures of Kobe Bryant's body were shown to a bartender – and "gratuitous photos of the dead children, parents and coaches" were shared around following the tragedy in 2020.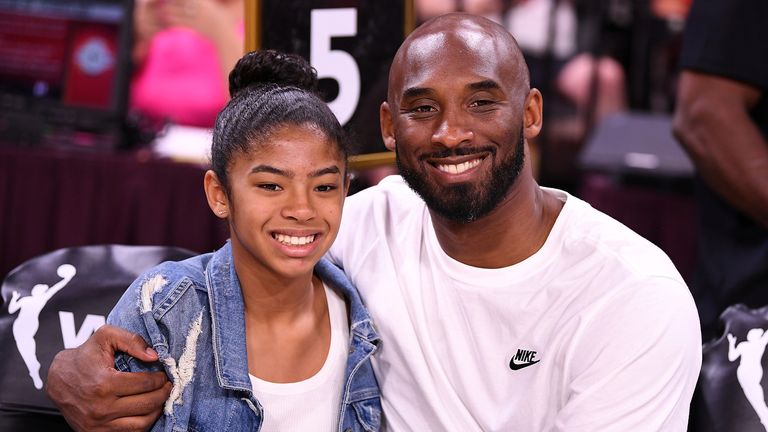 An internal investigation by a sheriff's department has concluded that deputies shared photos of the victims' remains, and new laws have been introduced that make it a crime for first responders to take unauthorised photos of those killed by accidents or crimes.
In her lawsuit, Ms Bryant has accused the county of invading her privacy and says she suffered "severe emotional distress" because of what the first responders did.
Court documents say: "Ms Bryant feels ill at the thought of strangers gawking at images of her deceased husband and child, and she lives in fear that she or her children will one day confront horrific images of their loved ones online."
But now, Los Angeles County wants her, and others who lost loved ones in the crash, to undergo psychiatric exams to determine if this is true.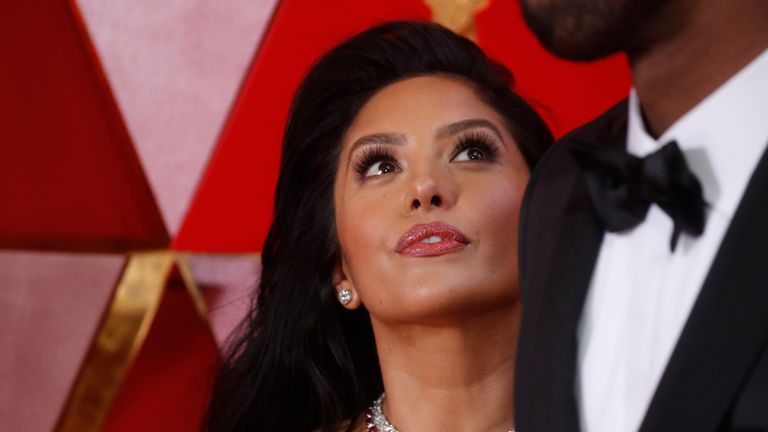 Lawyers representing the county have asked for these evaluations to be recorded, and say they should last eight hours for adults and four to six hours for children.
They say that "while the families have undoubtedly suffered severe distress and trauma from the crash and resulting loss of their loved ones, their distress was not caused by [the first responders] or any accident site photos that were never publicly disseminated".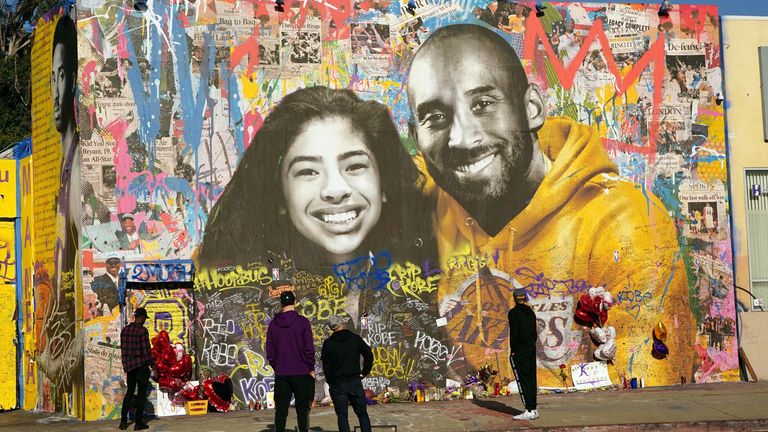 A statement added that the county has "great sympathy" for Ms Bryant's loss, but continued: "She has sued the county for something that didn't happen. There's been no public disclosure of crash site photos, none. So we see this case as a money grab and are doing what's necessary to defend our client."
Ms Bryant's legal team have said the request for psychiatric evaluations is attempting to force her, and the relatives of other victims, into "abandoning their pursuit of accountability".