Boris Johnson says France needs to 'get a grip' amid anger over AUKUS pact | Politics News
Boris Johnson has said France should get over its anger at a partnership between the UK, US and Australia that saw the latter pull out of a major contract with Paris for submarines.
"What I want to say about that is I just think it's time for some of our dearest friends around the world to prenez un grip [get a grip] about all this and donnez-moi un break [give me a break]," the prime minister said when asked about the continuing row over the AUKUS initiative.
"This is fundamentally a great step forward for global security. It's three very like-minded allies standing shoulder to shoulder and creating a new partnership for the sharing of technology.
'AUKUS alliance will bring us closer than ever'

"It's not exclusive, it's not trying to shoulder anybody out. It is not adversarial towards China, for instance.
"It is there to intensify links and friendship between three countries in a way that I think will be beneficial for things that we believe in."
The AUKUS deal saw the UK, Australia and the US form a trilateral security pact to develop and deploy nuclear-powered submarines, adding to the Western military presence in the Pacific region.
Nuclear-powered submarines are superior to their diesel counterparts, as they can operate more quietly and stay underwater for longer.
France recalled its ambassadors to the United States and Australia in a backlash over the new security partnership, with foreign minister Jean-Yves Le Drian describing it as a "stab in the back".
Brexit: Latest Northern Ireland Protocol talks 'constructive', says UK – as EU negotiators head for London | Politics News
UK officials have described the latest talks with the EU over the controversial Northern Ireland Protocol as "constructive", as a Brussels delegation prepares to travel to London on Tuesday.
Measures recently proposed by the EU would cut checks on retail agri-food products arriving in Northern Ireland from Great Britain by 80%.
A 50% reduction in customs paperwork is also on the cards.
It is understood, however, that the role of the European Court of Justice (ECJ) in resolving disputes between the UK and the EU remains a key sticking point.
A UK government source said the arrangement "must end", while the European Commission has insisted it will not budge on the issue.
EU's Sefcovic pushed on UK's red lines around ECJ

The UK source said: "The talks this week were constructive and we've heard some things from the EU that we can work with – but the reality is that we are still far apart on the big issues, especially governance.
"There's been plenty of speculation about governance this week but our position remains unchanged: the role of the European Court of Justice (ECJ) in resolving disputes between the UK and EU must end."
Follow the Daily podcast on Apple Podcasts, Google Podcasts, Spotify, Spreaker
The source added that "real progress" must happen "soon" to avoid a "process of endless negotiation".
At the end of the week, once several days of negotiations have been completed, Brexit minister Lord Frost and EU Commission vice president Maros Sefcovic are due to meet in Westminster.
The protocol is designed to avoid the introduction of a hard border between Ireland and Northern Ireland, following Brexit.
Newcastle United takeover: Crystal Palace fans' banner protesting Saudi-led consortium's Tyneside takeover investigated by police | UK News
A banner unfurled by Crystal Palace fans ahead of Saturday's draw with Newcastle, protesting the recent Saudi-led takeover of the Tyneside club is being investigated by police.
The graphic sign, held up at Selhurst Park, showed a man wearing Arab-style clothing wielding a bloodied sword about to behead a magpie, as faceless supporters in the background sing: "We've got our club back."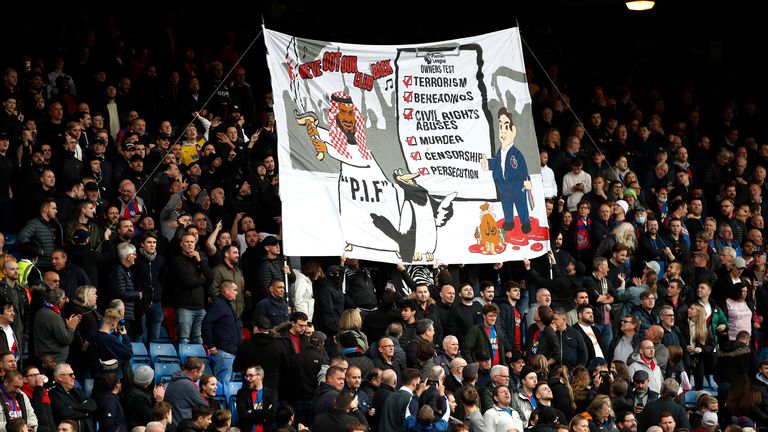 It listed offences the regime is accused of by human rights groups – terrorism, beheading, civil rights abuses, murder, censorship and persecution – which were all ticked off on a clipboard under the heading "Premier League Owners Test".
The top-flight league's chief executive Richard Masters is also depicted giving a thumbs-up to a bag of cash, standing in a pool of blood.
It comes after the controversial go-ahead was given for a consortium led by Saudi Arabia's state sovereign wealth fund – known as the Public Investment Fund or PIF – to take control of Newcastle United in a £300 m deal, earlier this month.
This was despite the closeness of the fund to the Saudi state, which has faced criticism over its human rights record.
PIF is chaired by Saudi's de facto ruler Crown Prince Mohammed bin Salman, who was linked to the gruesome 2018 murder of exiled journalist Jamal Khashoggi, although he has denied any involvement.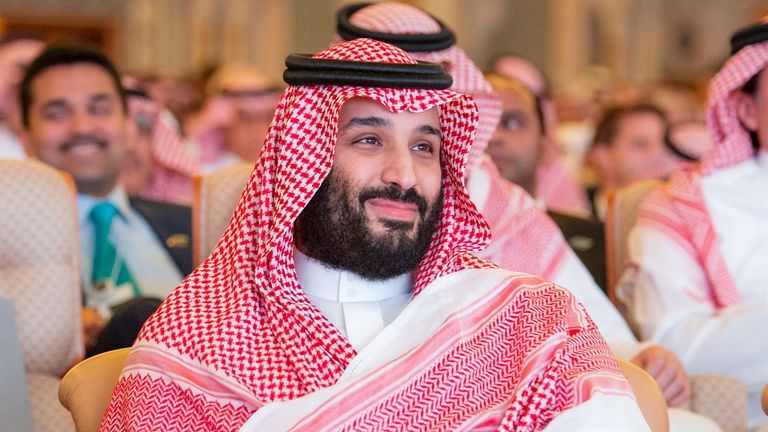 A post on the official Croydon Metropolitan Police Twitter account said: "On Saturday 23 October police received a report of an offensive banner displayed by Crystal Palace fans.
"Officers are assessing the information and carrying out enquiries. Any allegations of racist abuse will be taken very seriously."
Palace supporters' group Holmesdale Fanatics released a statement after the banner was unveiled.
It said: "The Saudi led takeover of Newcastle has rightly received widespread condemnation and anger.
"To give the thumbs up to this deal at a time when the Premier League is promoting the women's game and inclusive initiatives such as rainbow armbands, shows the total hypocrisy at play and demonstrates the league's soulless agenda where profits trump all."
Proud and Palace, the club's official LGBT+ supporters group, also posted a video on its Twitter account which highlighted the case of Suhail al Jameel, a gay man reportedly imprisoned in Saudi Arabia.
A spokeswoman for the group said: "We don't believe these owners have a place in the Premier League and we want to keep raising awareness."
Taiwan: Earthquake of magnitude 6.2 strikes island | World News

An earthquake with a magnitude of 6.2 has struck Taiwan, according to the European Mediterranean Seismological Centre (EMSC).
It had a depth of 25 miles (40km), the EMSC added.