Mafia raids: More than 100 suspects arrested in Spain and Italy for alleged money laundering | World News

More than a hundred people have been arrested by Spanish and Italian authorities for allegedly laundering money for mafia groups.
The majority of the 106 arrests took place in the Spanish Canary Island of Tenerife and most of the suspects were Italian nationals, Europol said.
The suspects allegedly made millions through online scams and laundered money for mafia groups.
According to Italian officials, the suspects tricked victims into sending large amounts of money to Spanish bank accounts controlled by the group.
The cash was then laundered through cryptocurrency purchases or reinvested into other criminal activities such as prostitution, drugs or weapons trafficking.
The group made almost €10m (£8.6m) in profit last year, Europol said.
Spanish officials said members of the group, who often used violence to intimidate victims and extort money from businesses and individuals, infiltrated law firms and banks.
During the operation, authorities froze 118 bank accounts and seized 224 credit cards and a marijuana plantation.
'They kill us and we are helping them': Ethiopia's increasingly nasty civil conflict | World News
We could see a seemingly endless line of trucks as we headed down the highway in northern Ethiopia.
As their contents drew closer we knew the battle ground was shifting in this country's increasingly nasty civil conflict.
There were thousands of troops perched on the back, clutching automatic weapons while fighting to stay upright. They were accompanied by specialist vehicles hauling artillery and tanks, moving at speed towards the region of Afar.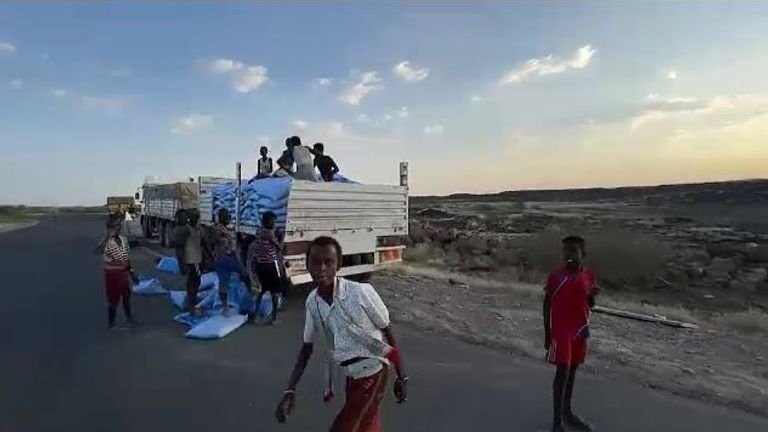 This arid and underpopulated place has been utterly overlooked as Ethiopia's federal government and leaders of the restive region of Tigray battle for power and control.
But a major offensive, sanctioned by the country's leader, Abiy Ahmed, has almost certainly stalled and fighters from the Tigrayan People's Liberation Front (TPLF) were advancing on communities in Afar.
The region has played host to convoys of a very different sort in recent months as the UN's World Food Programme (WFP) tries to send emergency aid into Tigray.
Estimating that some 400,000 Tigrayans are living in famine-like conditions, the WFP has created a 'staging post' in the regional capital of Semera, where humanitarian supplies are loaded onto oversized trucks and we watched as drivers set out on the two-day trip to the Tigrayan border.
But the terrain is difficult and the residents of Afar are decidedly hostile to what is a massive emergency operation.
We saw overturned trucks on the route to the border town of Abala and witnessed residents stealing bags of flour from the vehicles.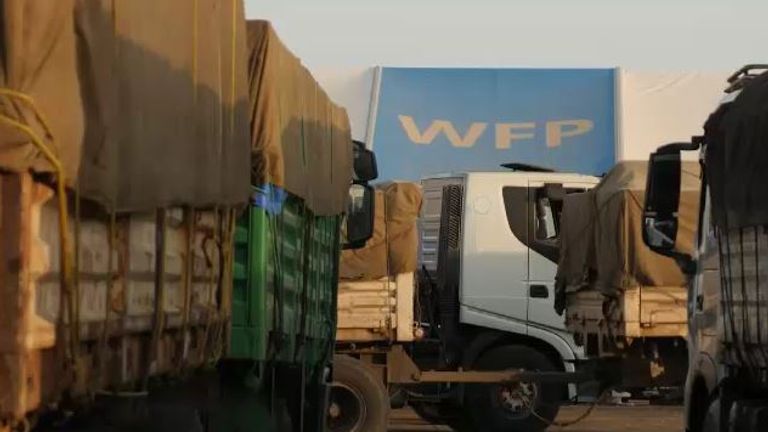 The drivers know that some trucks will be stopped – or attacked – and the road is too narrow to turn around.
Yet this is the only route they can use.
I spoke to one driver – a Tigrayan – as he was about to cross this internal frontier.
I asked him if people in Tigray need humanitarian aid.
"It's needed, my feeling is I am doing important work," he replied.
Yet the drivers know are taking a chance in the region of Afar.
"Are you worried about coming back?" I asked.
"Yes, I am but I haven't had any problems yet. I've gone back and forth safely."
The Afaris are angry, blaming Tigrayans for a series of raids and attacks on their communities and they made their displeasure clear to us.
"They kill us, not we kill them, they kill us and we are helping them, all the trucks are using this way and (we are) not stopping (them), not closing any roads," said a local resident called Ali Mussa Ahmed.
"This is our border, they are killing us (and) we are supporting them," said Abdu Ebrahim.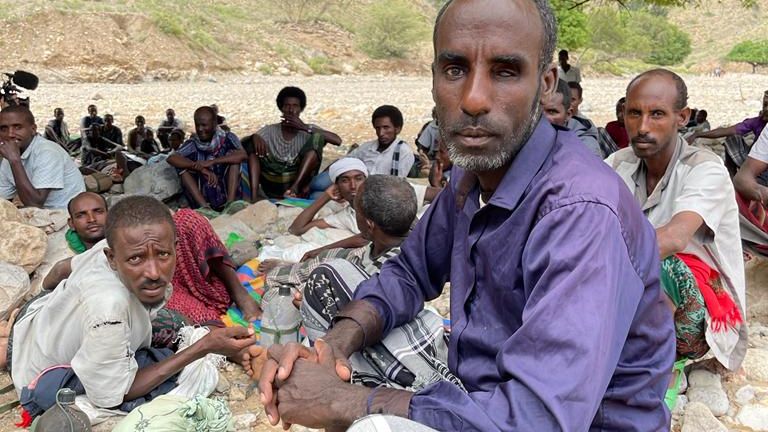 Some 60km to the north, near the Afar town of Shahigubi, we found 400 men living under the trees after they had been displaced from their homes by the fighting. Women and children had been sheltered in a nearby school.
I asked one elderly man how long he had been there.
"Three months," he said.
"How long will you have to stay?"
"Who could ever say?" he replied.
The same simmering resentment exists here at this camp as residents struggle on one meal a day.
During our visit, the men cut up a camel and boiled the meat in a pot but we could see there would not be much to go around.
"These people have destroyed our livelihoods and then we witness all the support that they are getting by land and by air. It bypasses us directly," said a man called Hamedur Nur.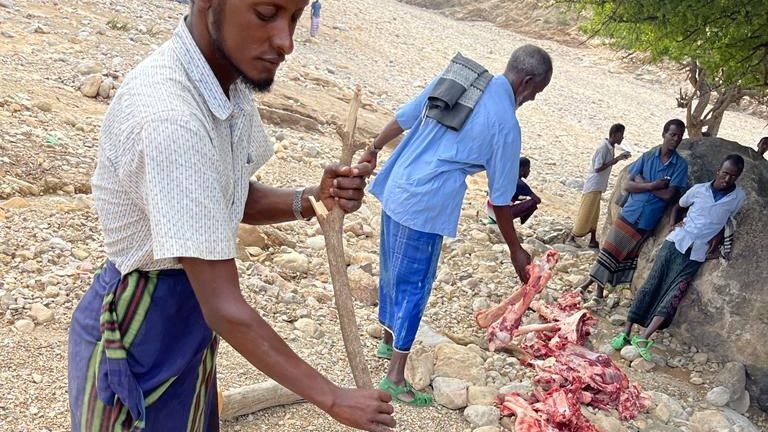 It is a challenging time for the UN's humanitarian staff as they try to keep the aid flowing into Tigray.
Three weeks ago, seven senior UN officials were expelled by the Ethiopian authorities for "meddling in the internal affairs of the country".
The move followed pointed remarks by UN aid chief Martin Griffiths who said a nearly three-month-long "de-facto blockade" had restricted aid deliveries to just 10% of what was needed.
In a statement released on Wednesday evening by the Ethiopian Embassy in London, ambassador Teferi Melesse Desta said: "The government of Ethiopia takes its responsibility to safeguard those who have been affected by the ongoing conflict in the northern part of Ethiopia very seriously and has demonstrated its willingness and commitment to work with the international community to respond to the humanitarian crisis in the affected regions."
COP26: Russia's President Vladimir Putin will not attend climate change summit in Glasgow, Kremlin announces | Climate News
Russia's President Vladimir Putin will not attend COP26 in Glasgow at the end of the month in what is being seen as another major blow for the climate summit.
A Kremlin spokesman said other representatives of Russia would attend the talks and that Mr Putin would take part remotely.
The decision to not attend by the leader of the world's fourth-biggest emitter of greenhouse gases is the latest setback for the summit.
There is also continuing doubt over whether Chinese President Xi Jinping and Indian Prime Minister Narendra Modi will be involved in the talks in Scotland.
The UK is hosting the summit from 31 October to 12 November and will be looking to agree a deal for a more radical plan to tackle global warming.
The Kremlin had previously announced that Mr Putin would not attend a Group of 20 summit in Rome in person this month due to concerns about the COVID-19 pandemic.
"He will also not fly to Glasgow, unfortunately," Mr Putin's spokesman Dmitry Peskov said.
"We need to work out in what format it will be possible (for Mr Putin) to speak via video conference, at what moment.
"The issues that will be discussed in Glasgow right now form one of the priorities of our foreign policy."
This is everything you need to know about COP26

Russia is warming 2.8 times faster than the global average, with the melting of Siberia's permafrost, which covers 65% of Russian landmass, releasing significant amounts of greenhouse gases.
Mr Putin said last week Russia would strive to be carbon neutral no later than 2060.
He said hydrogen, ammonia and natural gas were likely to play a larger role in the energy mix in coming years and that Russia was ready for dialogue on ways to tackle climate change.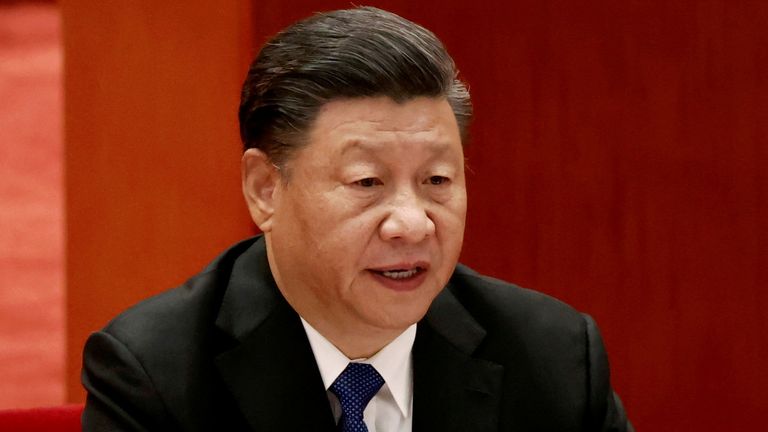 Meanwhile, China has not confirmed whether Mr Xi – who has not left his own country since the beginning of the COVID pandemic – will take part in the summit.
Asked by reporters if he would be at the COP26 talks in person or via a video call, China's special climate envoy, Xie Zhenhua, said: "We still need to wait for the information (from the) Ministry of Foreign Affairs, and only after they make an announcement will we tell you."
Subscribe to ClimateCast on Spotify, Apple Podcasts, or Spreaker
Mr Modi is also yet to decide whether he will attend, Indian officials have said.
However, a large number of other world leaders, including US President Joe Biden and French President Emmanuel Macron, will be at the talks.
COVID-19: Children as young as five to get vaccine within weeks, White House announces | US News
Children aged five to 11 in the US will soon be able to get a COVID-19 jab, the White House has announced. 
Officials say the expected authorisation of the Pfizer vaccine for younger children in a matter of weeks will allow them to receive the shot at their paediatrician's office, local pharmacy and potentially even their school.
Federal regulators will meet in the next two weeks to assess the benefits of giving COVID jabs to people in that age group, after lengthy studies intended to ensure the safety of the vaccines.
Within hours of formal approval, expected after the Centers for Disease Control and Prevention advisory meeting scheduled for 2-3 November, doses will start being shipped to providers across the country.
Smaller needles necessary for injecting younger children will also be sent out.
"We're completing the operational planning to ensure vaccinations for kids aged 5-11 are available, easy and convenient," said White House COVID-19 coordinator Jeff Zients on Wednesday.
The Biden administration noted the nationwide campaign to extend vaccination to the school-going cohort would not resemble the start of the country's vaccine rollout 10 months ago, when scarcity of doses and capacity issues meant a painstaking wait for many Americans.
The country now has ample supplies of the Pfizer shot to vaccinate the roughly 28 million children who will soon be eligible, White House officials said, and work has been ongoing for months to ensure widespread availability of shots once approved.
More than 25,000 paediatricians and primary care providers have already signed on to administer COVID vaccine shots to children, the White House said, in addition to the tens of thousands of retail pharmacies that are already administering shots to adults.
Hundreds of school- and community-based clinics will also be funded and supported by the Federal Emergency Management Agency to help speed the vaccination process.
US President Joe Biden has received his COVID booster jab – and told eligible Americans to theirs booked.

The White House is also preparing to roll out an intensified campaign to educate parents and young people about the safety of the shots and the ease of getting them.
"COVID has also disrupted our kids' lives. It's made school harder, it's disrupted their ability to see friends and family, it's made youth sports more challenging," US surgeon general Dr Vivek Murthy told NBC.
"Getting our kids vaccinated, we have the prospect of protecting them, but also getting all of those activities back that are so important to our children."
Dr Murthy said the administration, which is promoting employer vaccine mandates for adults, is leaving the question of requirements for schools to local and state officials, but described them as "reasonable".
The administration says children who get their first shot within a couple weeks of the expected approval in early November will be fully vaccinated by Christmas