Afghanistan: Youngsters protest online against order telling girls not to go to school | World News
Afghan girls and boys have joined a social media protest against a decision by the Taliban to prevent young females going to school.
Putting their own safety at risk, many have created makeshift banners to make their points, opposing an edict by the Taliban government that female middle and high school students should not return to school for the time being, while boys of the same age can resume their studies this weekend.
It comes as the interim mayor of Kabul is telling female city authority employees to stay home, with only those whose jobs cannot be done by men allowed to work.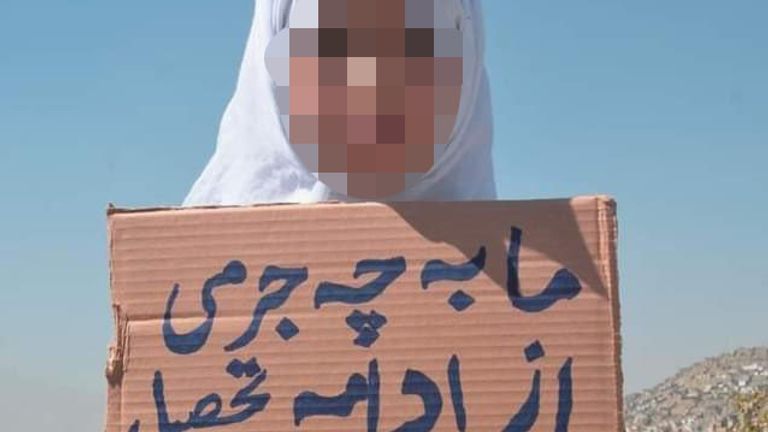 The moves are further evidence the Taliban, which overran Kabul last month, is enforcing its harsh interpretation of Islam despite initial promises that it would be tolerant and inclusive.
Among the slogans on the banners displayed by the youngsters are statements like: "What is our crime that we are prevented from education?" and "I won't go to school without my sister. I support my sister. We are equal."
Sky News has blurred the faces of some of those protesting, as there are fears they could be at risk in a country that appears to be clamping down on the right of expression.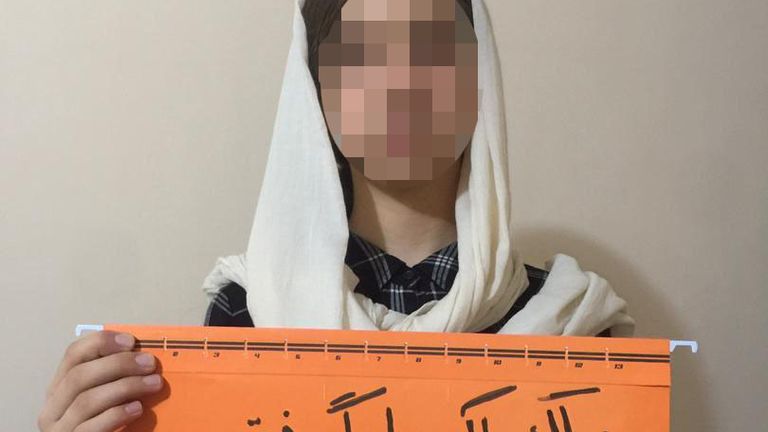 On Sunday, just over a dozen women staged a protest outside the new ministry, holding up placards calling for the right of women to participate in public life.
The protest lasted for about 10 minutes before a short verbal confrontation occurred with a man and the women got into cars and left, as members of the Taliban watched from nearby cars.
Kabul's new interim mayor, Hamdullah Namony, told his first news conference that, pending a further decision, most of the 1,000 or so female city authority employees would be required to stay home.
He said exceptions would only be made for women who could not be replaced by men, including some in the design and engineering departments and the attendants of public toilets for women.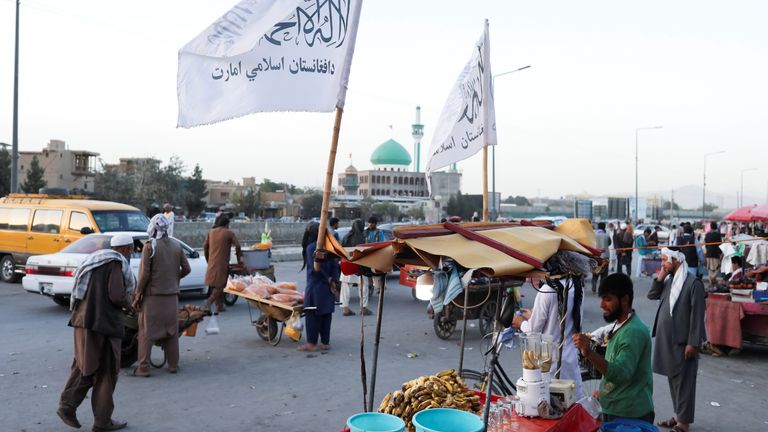 Mr Namony added: "There are some areas that men can't do it, we have to ask our female staff to fulfil their duties, there is no alternative for it."
During its previous rule between the mid 1990s and 2001, the Taliban had forbidden girls and women from schools, jobs and public life.
In recent days, Taliban officials told female university students that classes would take place in gender-segregated settings, and they must abide by a strict Islamic dress code.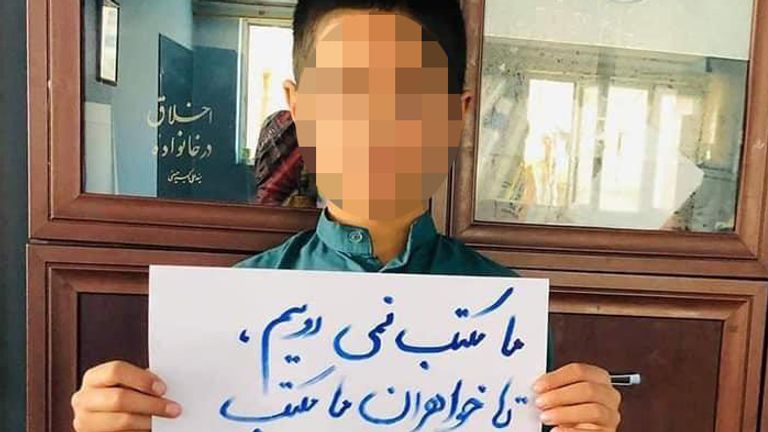 Under the previous US-backed administration, before it was deposed by the Taliban in August, men and women had sat alongside each other in universities, for the most part.
On Friday, the Taliban shut down the ministry for women's affairs, replacing it with a government department responsible for the "propagation of virtue and the prevention of vice", with the job of enforcing Islamic law.
Amid deteriorating conditions for ordinary Afghans, many of whom previously relied on international aid, witnesses said an explosion targeted a Taliban vehicle in the provincial city of Jalalabad, the second such deadly blast in as many days in an area where Islamic State militants are said to dominate.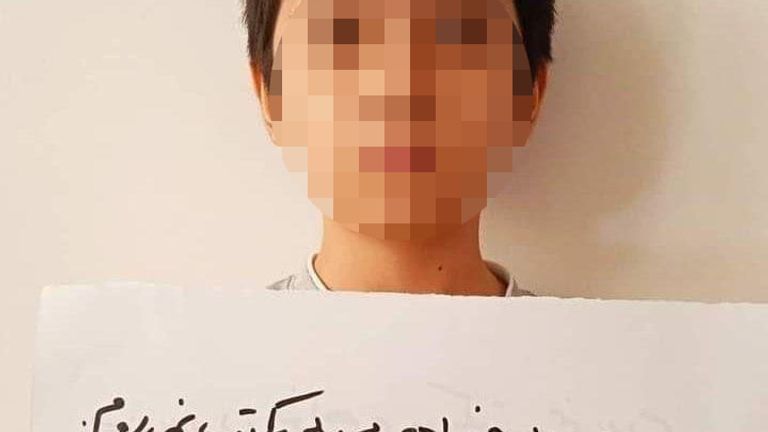 The Taliban and IS extremists are enemies and battled each other before the Taliban took control of Afghanistan last month.
Initial reports said five people were killed, with a child among the two civilians said to have died. The Taliban were not immediately available for comment.
Brazil's president Jair Bolsonaro should face homicide charges over 95,000 COVID-19 deaths, draft report finds | World News
Brazil's president should face homicide charges over errors that led to an estimated 95,000 COVID-19 deaths, a draft of a major inquiry report has found.
With more than 600,000 deaths, only the US has lost more people to coronavirus than Brazil and the president has been widely criticised for openly objecting to lockdowns, regularly refusing to wear a mask in public and stating he has not been vaccinated.
And now, the senator leading a congressional probe into his handling of the pandemic has recommended Mr Bolsonaro be charged with homicide.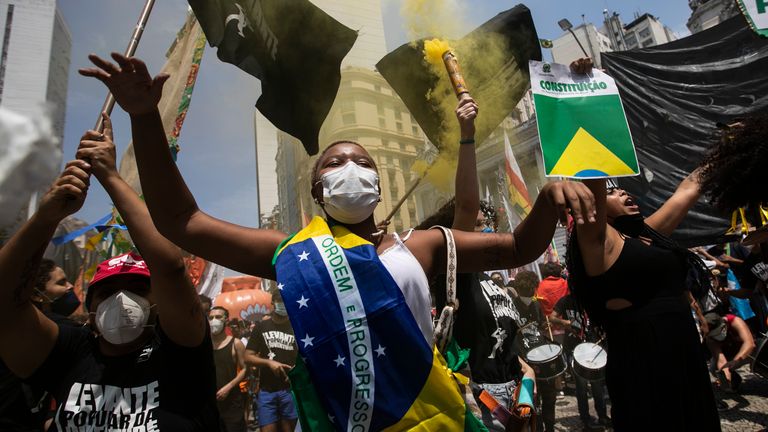 A 1,200-page document, prepared over six months by opposition senator Renan Calheiros for a Senate commission that conducted the probe, alleges that Mr Bolsonaro failed to take the opportunity to acquire vaccines, when they were presented, leading to the deaths of thousands.
It says he was guided "by an unfounded belief in the theory of herd immunity by natural infection" and is "principally responsible for the government's errors committed during the COVID-19 pandemic".
The president has been repeatedly criticised for pushing unproven remedies for the illness such as antimalaria drug hydroxychloroquine, which has been dismissed by scientists as ineffective.
The report, in its final form, is expected to presented to the committee on Wednesday with a vote taking place next week.
If approved, it will be sent to the country's chief prosecutor, who was appointed by Mr Bolsonaro, who will decide whether the president should be criminally charged.
But even if it then goes no further, analysts say the high-profile discussion about it could hurt the president in the upcoming election.
Mr Bolsonaro claims the probe is politically motivated and has denied responsibility for any deaths.
On Wednesday morning, the number of criminal charges the report recommends be brought against Mr Bolsonaro appeared to have been reduced to 11 from 13.
The charges include homicide, genocide, charlatanism and inciting crime.
Three of the seven opposition senators on the 11-person committee are understood to be opposed to including the homicide and genocide charges, AP reported.
The three were trying to persuade the four other opposition senators to join them in opposing the two charges, according to five of the senators AP spoke to anonymously.
The senate committee was formed in April to investigate allegations Mr Bolsonaro's management of the pandemic caused a substantial proportion of Brazil's deaths.
Brazilian congressional committees can investigate, but don't have the power to indict.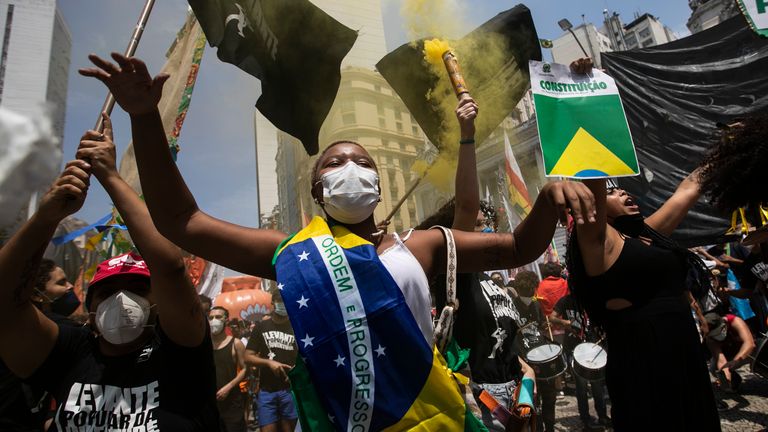 The allegations are expected to be used by opponents of the far-right leader, whose approval ratings have slumped ahead of his 2022 re-election campaign, despite his still sizable internal support base.
The biggest row has been over Senator Calheiros' determination to recommend that Mr Bolsonaro should be investigated by the International Criminal Court for possible genocide of indigenous peoples, as a substantial proportion of those who died were from the Amazon region.
But the committee members who oppose this, including critics of the government, say genocide is an exaggeration that could threaten the entire report's credibility.
Political analyst Carlos Melo, from Insper University in Sao Paulo, said: "The prosecutor-general's office will look with a magnifying glass for errors, failures and inconsistencies in order to wash their hands of it.
"If you have 10 accusations that are very strong, and one that has inconsistencies, that's what the government will latch on to, to try and discredit the whole report."
Senators on the committee have also been wary of calling for charges against members of Mr Bolsonaro's family, who are named in the report, and the military.
North Korea test-fires 'new ballistic missile' from submarine | World News
North Korea has test-fired a new ballistic missile from a submarine, according to state media.
It confirms reports on Tuesday from South Korea that such a launch had taken place, with the missile landing in the Sea of Japan.
North Korea said the new SLBM (submarine-launched ballistic missile) has "lots of advanced control guidance technologies" including "flank mobility and gliding skip mobility".
The missile "will greatly contribute to putting the defence technology of the country on a high level and to enhancing the underwater operational capability of our navy", according to the country's KCNA media outlet.
It is the fifth round of missile tests for the totalitarian state since September, which last month included a launch from a train.
Pictures from Tuesday's test appeared to show a smaller, thinner missile – which could mean more could be stored on one submarine, according to experts.
"It's an interesting development but with only one submarine in the water that can launch notionally one or two of these it doesn't change much," said Joseph Dempsey from the International Institute for Strategic Studies.
"North Korea's goal is building more powerful SLBMs that can be fired from big submarines like the US does," added Moon Keun-sik, from Kyonggi University in South Korea.
Diplomats said Britain and the US planned to raise the test at a UN Security Council meeting on Wednesday, while the White House urged North Korea to refrain from further "provocations".
North Korea launches missile from train

America has imposed tough sanctions on the country but has said it remains open to restarting talks over its weapons programme.
North Korea has so far refused and says Washington must first abandon its "hostile policy", referring to sanctions and US-South Korea military exercises.
The test also comes days before President Biden's special envoy on North Korea is due in Seoul for talks on the possibility of restarting diplomacy with Pyongyang.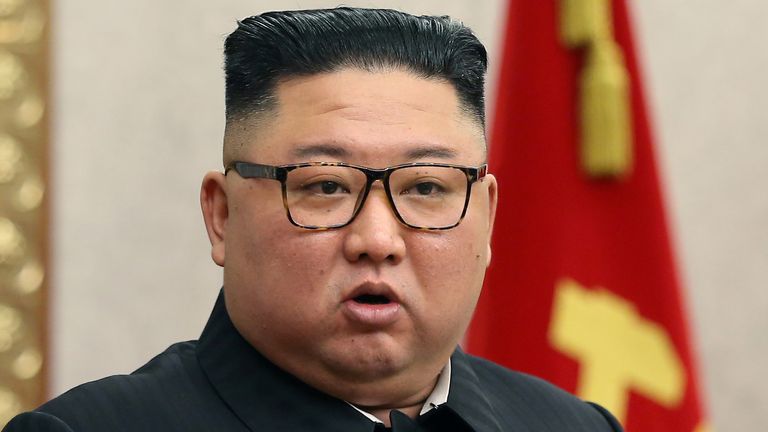 Talks over its nuclear disarmament ground to a halt after Donald Trump's second meeting with Kim Jong Un in 2019, when the former US president rejected a request for major sanctions relief.
South Korea, meanwhile, is accelerating its own weapons programme, which President Moon Jae-in said at a defence expo on Wednesday is aimed at achieving peace on the peninsula.
Syria: 13 killed and three injured after explosion destroys bus in Damascus | World News

At least 13 people have been killed after an explosion destroyed a bus in the Syrian capital of Damascus.
A local television station said two explosive devices went off as the bus was on the Hafez al Assad bridge – and a third device was being defused by an army engineering unit.
Syrian state TV showed footage of the charred bus and said the blasts occurred during rush hour when people were heading to work and school.
Such attacks in Damascus have been rare in recent years after government forces captured suburbs that were once held by insurgents.
Since the country's civil war began in March 2011, the United Nations says at least 350,000 people have been killed.
The war has also left more than half of the country's population displaced, including five million who are refugees abroad.