Ocean Photography Awards capture the beauty of marine life – and its suffering | Climate News
A striking image of an endangered turtle among glass fish, taken on the spur of the moment, has won this year's Ocean Photographer of the year award.
Aimee Jan, a tour guide and photographer based in Western Australia, took the picture at a moment's notice when she was told a turtle could be hiding down below at the UNESCO World Heritage Site, Ningaloo Marine Park.
Ms Jan told Sky News seeing the "amazing and magic things" that live in our oceans was a "huge reminder that we all must do everything we can to protect it".
Other finalists captured an array of ocean life, scenery and conservation issues, from haunting underwater imagery in Mexico to the shocking impact of plastic on a lifeless sea bird in the Shetlands.
The organisers said the awards aim to "highlight environmental threats faced by the world's oceans as well as showcasing their beauty".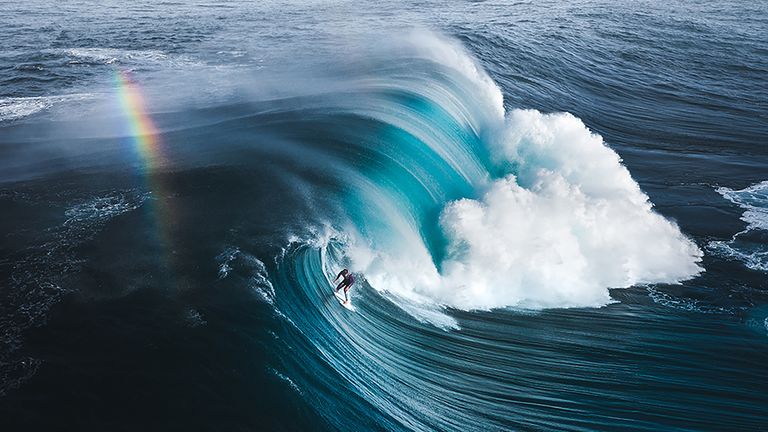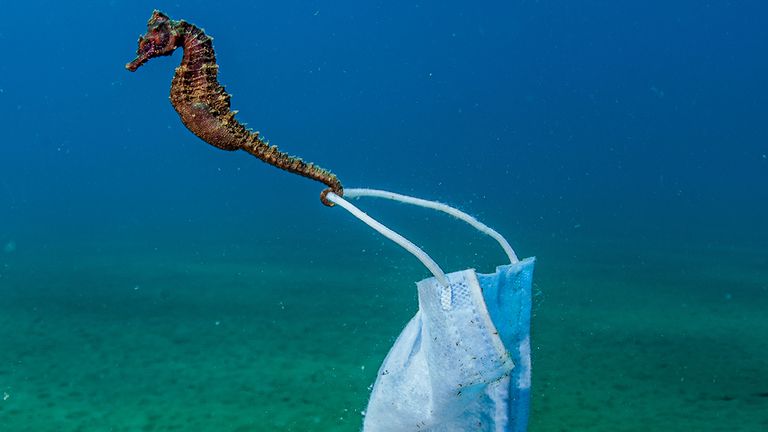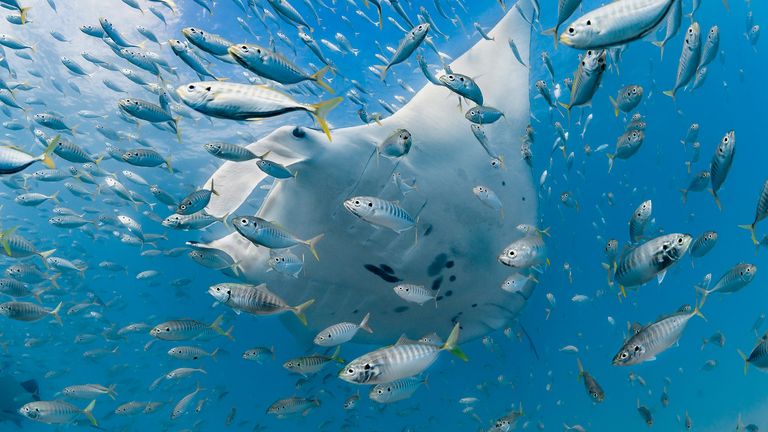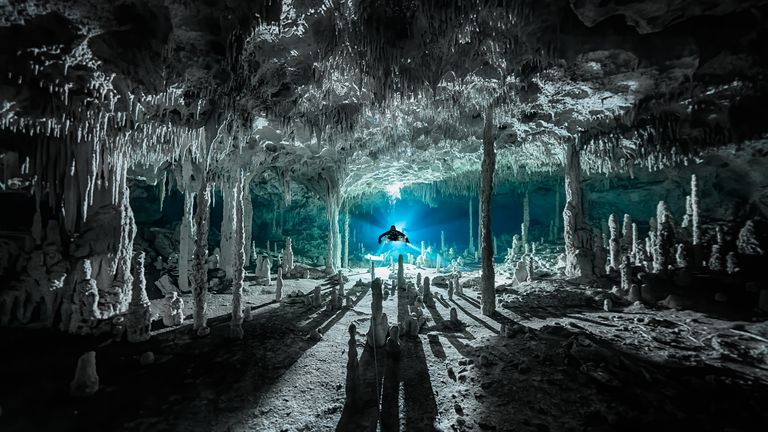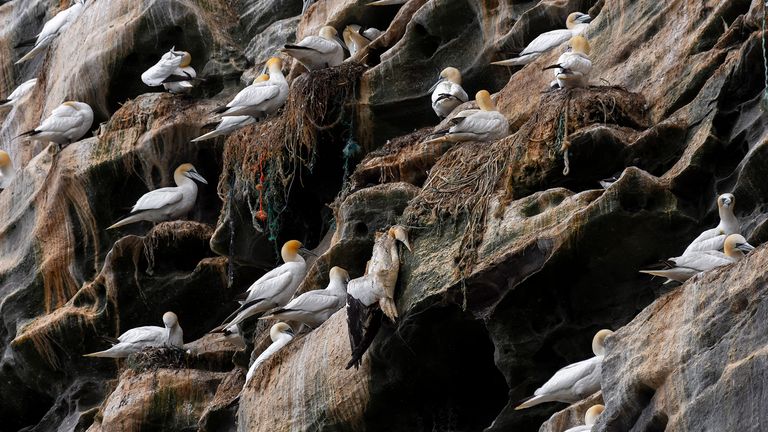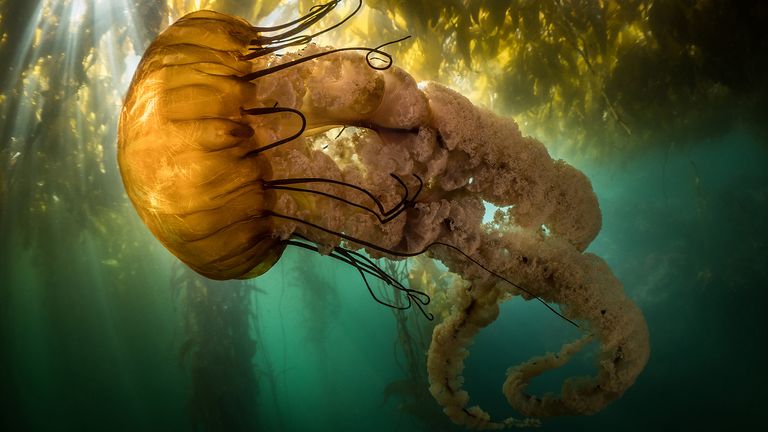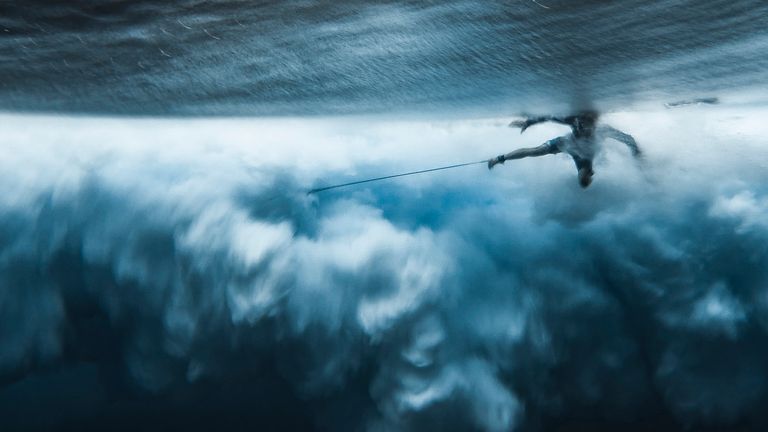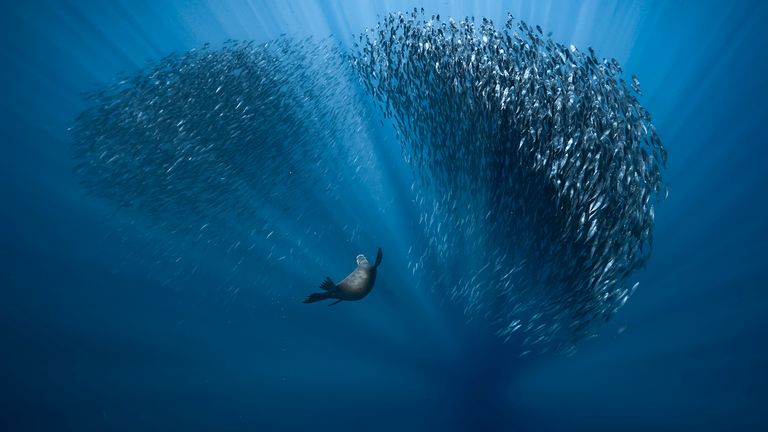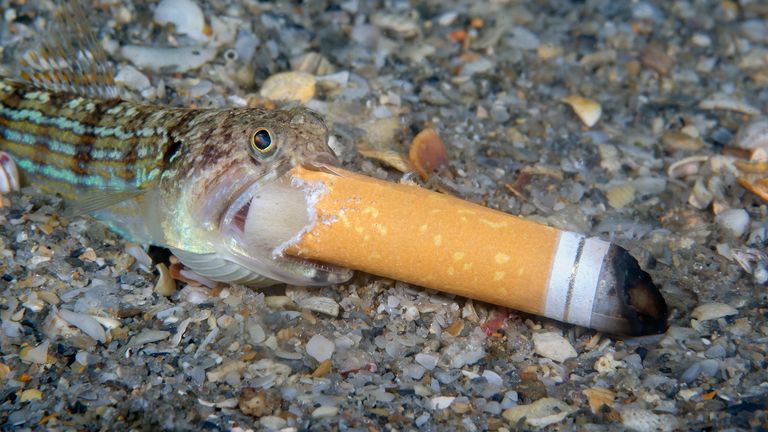 The photos are on display in a free outdoor public exhibition alongside the River Thames from 17 September – 17 October on the Queen's Walk, near Tower Bridge, central London.
Watch the Daily Climate Show at 6.30pm Monday to Friday on Sky News, the Sky News website and app, on YouTube and Twitter.
The show investigates how global warming is changing our landscape and highlights solutions to the crisis.
Spain: Flash floods damage buildings and sweep away cars in Alicante | World News
Homes and businesses were left severely damaged after the Spanish region of Alicante was battered by flash flooding.
Up to four inches of rainfall hit the town of Torrevieja on Friday, according to the State Meteorological Agency (AEMET).
This resulted in the evacuation of the Dama de Guardamar school in Vega Baja del Segura.
Video footage showed deep levels of water sweeping through buildings, while cars were seen submerged as streets in Alicante were left underwater.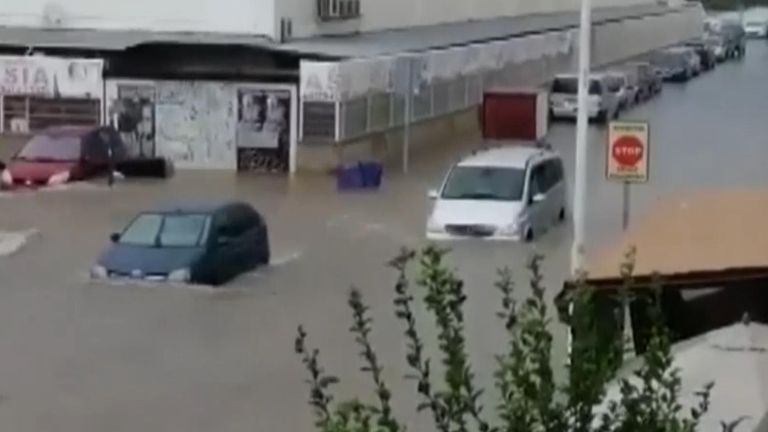 This is not the first time Alicante has been hit with flash flooding this year.
Alicantetoday.com reported Guardamar del Segura and Santa Pola in the south-east of Spain were also hit with flooding back in August due to a rare climate-linked weather phenomenon.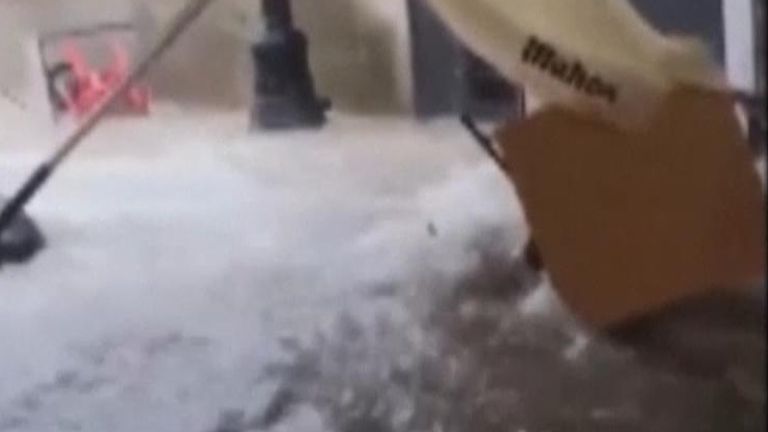 A "meteotsunami", which is also known locally as a "rissaga", caused the flooding due to a sudden change in atmospheric pressure that made the tide quickly recede, before a large tsunami-like wave then hit back into the coast.
Meanwhile, police in Costa Blanca, which lies along the coastline in the Alicante province, have been given new kits for their cars to help deal with flooding.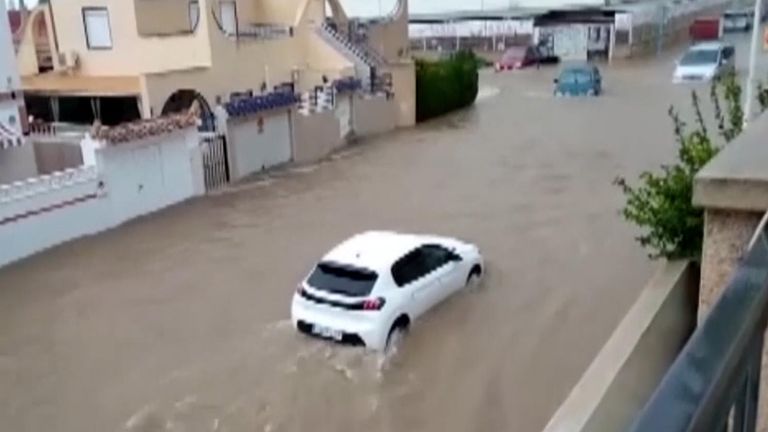 The new devices include portable communication radios so they can quickly alert other officers, fire fighters and the health services when extreme weather occurs.
Jose Sampere, the mayor of the San Fulgencio area, said the devices will be a "fundamental tool for the coordination of actions in case of emergency".
Italian former minister Matteo Salvini goes on trial for kidnap over blocked migrant ship | World News
The first trial of Italy's former interior minister Matteo Salvini, who is charged with kidnapping after he refused to allow a migrant rescue ship dock in Sicily in 2019, has begun.
Mr Salvini – who likened humanitarian rescue ships to migrant taxi services – left 147 people rescued from the Mediterranean Sea on board the ship for days in August 2019.
He was present for the opening day of the trial in Palermo, which is the first against him regarding his actions to prevent migrant landings while in office.
Migrants jumped off the boat in an attempt to swim to shore

Mr Salvini had taken a hard line on migrant arrivals, attempting to block ships from entering Italian territorial waters and from docking at Italian ports while calling for other European nations to take the burden of the arrivals.
The politician built his reputation by campaigning against illegal immigration but agreed to allow "presumed minors" to disembark.
Actor Richard Gere boarded a migrant boat refused access to a port by Mr Salvini in order to deliver food and supplies.
At the time, Filippo Grandi, the UN High Commissioner for Refugees, advised European countries to "do the right thing" and aid the migrants "in their time of need", but so far only Ireland and Albania have offered to take about 20 each.
"European solidarity is important and this is the right thing to do," the Irish foreign minister, Simon Coveney, said on Twitter.
Contemporary reports in Italy announced that prosecutors had opened an inquiry into Mr Salvini for "illegal confinement, illegal arrest and abuse of power" regarding his treatment of the boats.
Earlier this year another court in Catania, Sicily, decided not to try Mr Salvini in a similar case – this time for keeping 116 migrants on board an Italian coastguard ship at sea for five days – also in 2019.
In court he is now accused of dereliction of duty and of refusing to allow the ship into port for almost three weeks, during which time some migrants threw themselves overboard and the captain pleaded for a safe nearby port.
During this period some of the migrants were taken to land for humanitarian or health reasons while the remaining 83 were eventually permitted to disembark on the Italian island of Lampedusa when Salvini was overruled by then prime minister Giuseppe Conte.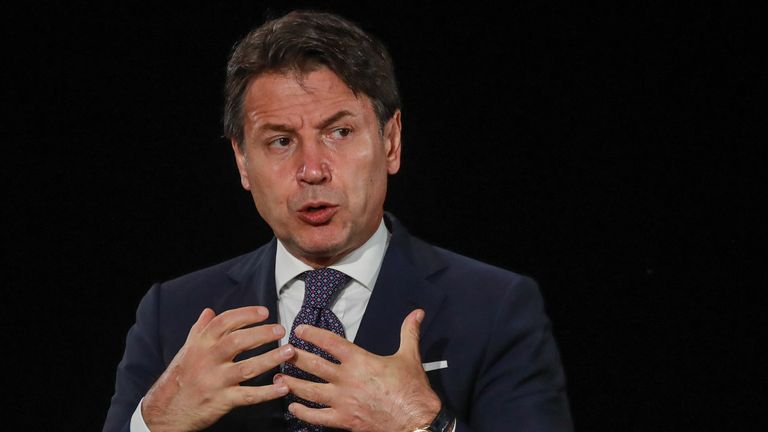 "We expect justice for the unnecessary suffering that all the people had in those 20 days," said Oscar Camps, head of the Spanish non-governmental organisation Open Arms, whose ship had rescued the migrants off the coast of Libya.
Later that same August, Mr Salvini resigned from the coalition government formed between his own right-wing League group and Mr Conte's supporters in the populist 5-Star movement.
He announced a motion of no confidence against Mr Conte, though in the end the prime minister remained in post by resigning before forming a new coalition with Italy's centre-left Democratic Party.
Harrison Ford's lost credit credit returned after being found by tourist in Sicily | World News
Harrison Ford has been reunited with his credit card after losing it during a stay at a beach resort near Palermo, Sicily.
A German tourist found the card with the Hollywood star's name on it and handed it into the local police station in the town of Mondello, on the Italian island.
Officers tracked the Star Wars actor down and returned the mislaid item, police said.
Harrison Ford joins fans on set in Sicily

Italian media published a photo of the smiling, casually dressed Ford holding the card up for the camera alongside two officers and the local commander.
Mondello is known for its long sandy beach.
The 79-year-old is currently in Sicily filming scenes for his fifth outing as the swashbuckling archaeologist, Indiana Jones.
His latest film has also taken in locations across the UK, including Grosmont in North Yorkshire and London's Hatton Garden.
August: Harrison Ford surprises retiring fireman

Over the summer, the actor surprised a firefighter who was retiring from the London Fire Brigade after 31 years service.
Ford spoke to Andrew Shaw, who was completing his final shift, and wished him well for the future.