China says AUKUS submarine deal 'highly irresponsible' and 'intensifies the arms race' | World News
A new security deal between the United States, Britain, and Australia in the Indo-Pacific "severely damages regional peace" and "intensifies the arms race", China has said.
On Wednesday, the three western powers announced they will establish a security partnership that will help Australia acquire US nuclear-powered submarines.
In Beijing, Chinese Foreign Ministry spokesman Zhao Lijian condemned the move and said: "The US, the UK and Australia's cooperation in nuclear submarines severely damages regional peace and stability, intensifies the arms race, and jeopardises the international efforts in promoting the non-proliferation of nuclear weapons.
'AUKUS alliance will bring us closer than ever'

"The US and UK's action of exporting highly sensitive nuclear submarine technology once again proves that they are using nuclear exports as a tool for geopolitical games and adapts double standards.
"This is a highly irresponsible act."
It comes as France accused US President Joe Biden of stabbing it in the back and acting like predecessor Donald Trump after Paris was snubbed from a $40bn (£29bn) defence deal it had signed with Australia.
The deal, dubbed AUKUS, will see Australia scrap its 2016 agreement with French shipbuilder Naval Group to build a new fleet to replace its ageing Collins submarines.
"This brutal, unilateral and unpredictable decision reminds me a lot of what Mr Trump used to do," foreign minister Jean-Yves Le Drian said on franceinfo radio.
"I am angry and bitter. This isn't done between allies."
"It's a stab in the back. We created a relationship of trust with Australia and that trust has been broken," he added.
He had previously said in a statement the "choice to exclude a European ally and partner such as France" was something the country "can only note and regret".
London, Canberra and Washington have said they will seek to collaborate in cyber, quantum technologies and artificial intelligence, as well as other underwater capabilities.
Defence Secretary Ben Wallace told Sky News on Thursday: "We have no intention of doing anything to antagonise the French – the French are some of our closest military allies in Europe, we are sizable and comparable forces and we do things together."
He added: "The French were contracted to deliver diesel submarines and the Australians took a decision they wanted to switch out of that and into nuclear.
"Each country has to make those choices in their own national security interests."
Did Biden forget Australian PM's name?

Nuclear-powered submarines are superior to their diesel counterparts as they can operate more quietly and stay underwater for longer.
How the collaboration will work, what it will cost, how many boats will be built, where and which companies will be involved has not yet been revealed.
However, just two weeks ago the Australian defence and foreign ministers had reconfirmed the deal to their French counterparts.
But the agreement had been beset with issues and delays, due to Canberra's requirement the majority of manufacturing and components be sourced locally.
Mr Biden said France remained a "key partner in the Indo-Pacific zone", while Australian Prime Minister Scott Morrison said his country looked forward to continuing to work "closely and positively" with the French, adding: "France is a key friend and partner to Australia and the Indo-Pacific."
In a joint statement, the pair along with Britain's Prime Minister Boris Johnson said: "The endeavour we launch today will help sustain peace and stability in the Indo-Pacific region.
"For more than 70 years, Australia, the United Kingdom, and the US have worked together, along with other important allies and partners, to protect our shared values and promote security and prosperity. Today, with the formation of AUKUS, we recommit ourselves to this vision."
Although the word "China" was not mentioned specifically, the predominant security and defence challenge in the region is the rise of an increasingly assertive, authoritarian Beijing.
Brexit: Latest Northern Ireland Protocol talks 'constructive', says UK – as EU negotiators head for London | Politics News
UK officials have described the latest talks with the EU over the controversial Northern Ireland Protocol as "constructive", as a Brussels delegation prepares to travel to London on Tuesday.
Measures recently proposed by the EU would cut checks on retail agri-food products arriving in Northern Ireland from Great Britain by 80%.
A 50% reduction in customs paperwork is also on the cards.
It is understood, however, that the role of the European Court of Justice (ECJ) in resolving disputes between the UK and the EU remains a key sticking point.
A UK government source said the arrangement "must end", while the European Commission has insisted it will not budge on the issue.
EU's Sefcovic pushed on UK's red lines around ECJ

The UK source said: "The talks this week were constructive and we've heard some things from the EU that we can work with – but the reality is that we are still far apart on the big issues, especially governance.
"There's been plenty of speculation about governance this week but our position remains unchanged: the role of the European Court of Justice (ECJ) in resolving disputes between the UK and EU must end."
Follow the Daily podcast on Apple Podcasts, Google Podcasts, Spotify, Spreaker
The source added that "real progress" must happen "soon" to avoid a "process of endless negotiation".
At the end of the week, once several days of negotiations have been completed, Brexit minister Lord Frost and EU Commission vice president Maros Sefcovic are due to meet in Westminster.
The protocol is designed to avoid the introduction of a hard border between Ireland and Northern Ireland, following Brexit.
Newcastle United takeover: Crystal Palace fans' banner protesting Saudi-led consortium's Tyneside takeover investigated by police | UK News
A banner unfurled by Crystal Palace fans ahead of Saturday's draw with Newcastle, protesting the recent Saudi-led takeover of the Tyneside club is being investigated by police.
The graphic sign, held up at Selhurst Park, showed a man wearing Arab-style clothing wielding a bloodied sword about to behead a magpie, as faceless supporters in the background sing: "We've got our club back."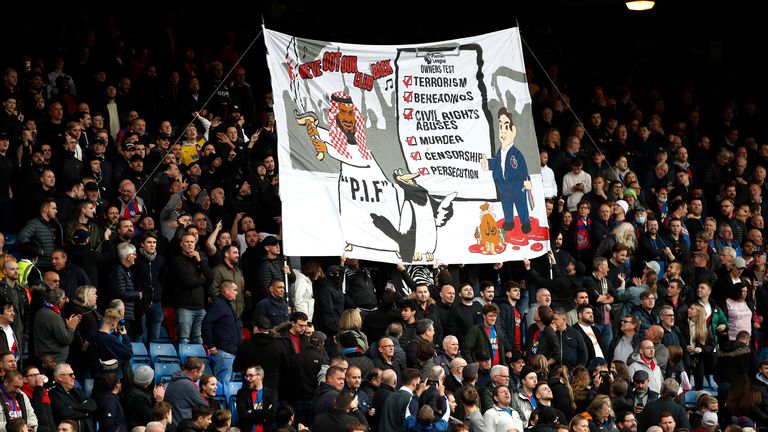 It listed offences the regime is accused of by human rights groups – terrorism, beheading, civil rights abuses, murder, censorship and persecution – which were all ticked off on a clipboard under the heading "Premier League Owners Test".
The top-flight league's chief executive Richard Masters is also depicted giving a thumbs-up to a bag of cash, standing in a pool of blood.
It comes after the controversial go-ahead was given for a consortium led by Saudi Arabia's state sovereign wealth fund – known as the Public Investment Fund or PIF – to take control of Newcastle United in a £300 m deal, earlier this month.
This was despite the closeness of the fund to the Saudi state, which has faced criticism over its human rights record.
PIF is chaired by Saudi's de facto ruler Crown Prince Mohammed bin Salman, who was linked to the gruesome 2018 murder of exiled journalist Jamal Khashoggi, although he has denied any involvement.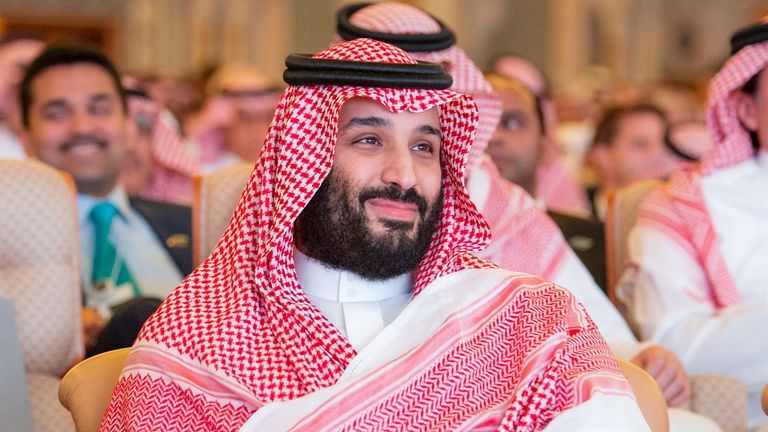 A post on the official Croydon Metropolitan Police Twitter account said: "On Saturday 23 October police received a report of an offensive banner displayed by Crystal Palace fans.
"Officers are assessing the information and carrying out enquiries. Any allegations of racist abuse will be taken very seriously."
Palace supporters' group Holmesdale Fanatics released a statement after the banner was unveiled.
It said: "The Saudi led takeover of Newcastle has rightly received widespread condemnation and anger.
"To give the thumbs up to this deal at a time when the Premier League is promoting the women's game and inclusive initiatives such as rainbow armbands, shows the total hypocrisy at play and demonstrates the league's soulless agenda where profits trump all."
Proud and Palace, the club's official LGBT+ supporters group, also posted a video on its Twitter account which highlighted the case of Suhail al Jameel, a gay man reportedly imprisoned in Saudi Arabia.
A spokeswoman for the group said: "We don't believe these owners have a place in the Premier League and we want to keep raising awareness."
Taiwan: Earthquake of magnitude 6.2 strikes island | World News

An earthquake with a magnitude of 6.2 has struck Taiwan, according to the European Mediterranean Seismological Centre (EMSC).
It had a depth of 25 miles (40km), the EMSC added.