Milley acted to prevent Trump from misusing nuclear weapons, war with China, book says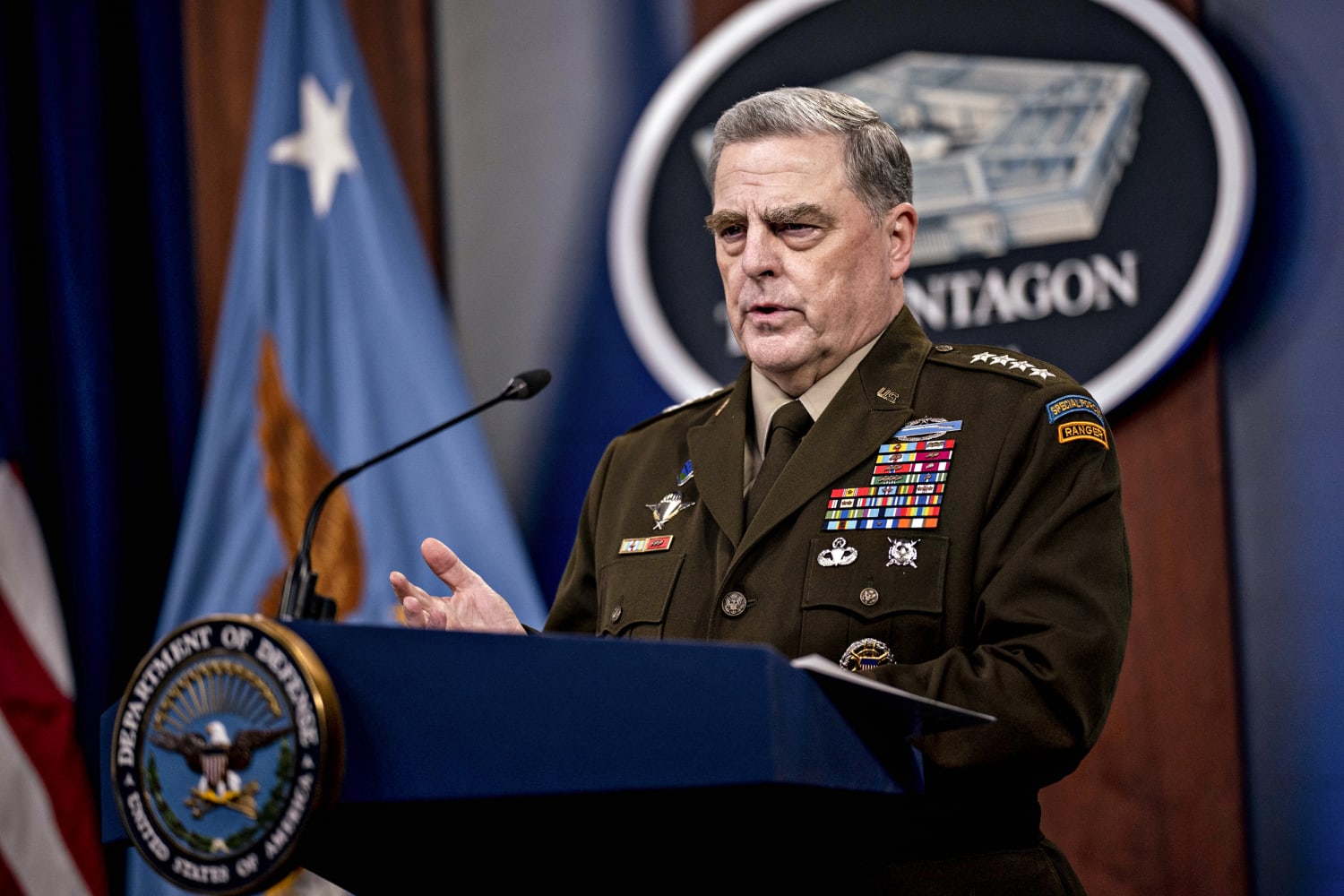 Chairman of the Joint Chiefs of Staff Mark Milley took steps to prevent then-President Donald Trump from misusing the country's nuclear arsenal during the last month of his presidency, according to a new book by the Washington Post's Bob Woodward and Robert Costa obtained by NBC News.
Their book, "Peril," said in the days before the 2020 election, there was Milley also acted to prevent a potential conflict with China. The book says that Milley received intelligence that Chinese officials believed the U.S. was getting ready to attack them. In order to defuse tensions, Milley called the head of China's military, Gen. Li Zuocheng, and told him the "American government is stable" and "we are not going to attack."
"If we're going to attack, I'm going to call you ahead of time. It's not going to be a surprise," Milley is quoted as saying.
"We're not going to have a fight," Milley told him, according to the book. Li replied, "Okay." "I take you at your word," Li said.
Trump told Newsmax on Tuesday evening that he "never thought" of attacking China.
"For him to say I was going to attack China is the most ridiculous thing I ever heard," he said.
Trump said that if Milley did tell the Chinese that he would warn them ahead of an attack that the conversation is "treasonous."
"That is a disgrace," Trump said.
The book, set to be released on Sept. 21., also recounts a phone conversation Milley had with House Speaker Nancy Pelosi after the Jan. 6 violence at the Capitol, which Pelosi blamed on an "unhinged" Trump. Pelosi said in January that she spoke to Milley about "preventing an unstable president from initiating military hostilities or accessing the launch codes and ordering a nuclear strike."
"I can guarantee you, you can take it to the bank, that there'll be, that the nuclear triggers are secure and we're not going to do – we're not going to allow anything crazy, illegal, immoral or unethical to happen," Milley told her, according to a transcript of the call obtained by the authors.
"The president alone can order the use of nuclear weapons. But he doesn't make the decision alone. One person can order it, several people have to launch it," he said later in the conversation.
After the call, Milley summoned senior officers from the National Military Command Center to go over the procedures for launching nuclear weapons, the book said. He told the officers that if they got a call, "you do the procedure. You do the process. And I'm part of that procedure," he said – making sure he was in the loop on any planned military actions, the book said.
Those scenarios didn't come to fruition.
The book also revealed a previously unreported call between then-Vice President Mike Pence and former VP Dan Quayle in late December. Pence was seeking advice about Trump's demand that he refused to recognize the election results during the electoral vote count on Jan. 6.
Quayle thought Trump's suggestion was "preposterous and dangerous," according to the book. He told Pence, "You have no flexibility on this. None. Zero. Forget it. Put it away."
Pence told him, "I've been trying to tell Trump," but "there are other guys there saying I have this power."
"You don't," Quayle told him.
Pence told his fellow native Indianan he did have some concerns about the vote in Arizona. Quayle responded, "Mike, I live in Arizona." "There's nothing out here," he said.
Boris Johnson says Brexit Britain won't get quick US deal – Rather one 'that really works'
BORIS JOHNSON has said Brexit Britain may not strike a quick trade deal with America but also assured journalists the UK would rather wait for a deal "that really works".

Source link
'Disgusting!' Richard Madeley demands police find where Rosie Duffield abusers live
ROSIE DUFFIELD'S social media abusers should be tracked down and found by police, Richard Madeley has said, as the Labour MP is forced to abandon her party's conference over security concerns.

Source link
Arkansas man sues Texas doctor who admitted he violated state's strict new abortion law
An Arkansas man sued a Texas abortion provider Monday in what is believed to be the first lawsuit filed since the state's restrictive abortion law was enacted.
The man, Oscar Stilley, a former lawyer who was convicted of federal tax evasion in 2009, sued Dr. Alan Braid, a Texas physician who publicly admitted to performing an abortion that was illegal under the new law, known as S.B. 8.
The law, which the Supreme Court declined to block from going into effect this month, includes a provision that allows private citizens to sue abortion providers and awards them $10,000 if they are successful.
Braid, who provides abortion care in San Antonio, wrote in a Washington Post op-ed published Saturday that he violated the new law on the morning of Sept. 6.
Braid wrote that he "provided an abortion to a woman who, though still in her first trimester, was beyond the state's new limit," adding, "I acted because I had a duty of care to this patient, as I do for all patients, and because she has a fundamental right to receive this care.
"I fully understood that there could be legal consequences — but I wanted to make sure that Texas didn't get away with its bid to prevent this blatantly unconstitutional law from being tested," he wrote.
In 2009, Stilley was convicted of one count of conspiring to defraud the U.S. and two counts of tax evasion. He was sentenced to 15 years in prison and is finishing his sentence on home confinement, according to the filing.
In the lawsuit, Stilley refers to himself as a "disbarred and disgraced" former lawyer while describing the charges he was convicted of as "utterly fraudulent."
Stilley claimed that he called Braid's office Monday and asked whether Braid would "repent of his ideology as well as his deeds" but that he wasn't able to "secure any such agreement despite respectful efforts," according to the lawsuit.
Stilley, who is representing himself, is seeking $100,000 or at least the $10,000 minimum that the Texas law requires be awarded for a successful suit.
Braid didn't immediately respond to a request for comment.
Over the weekend, the Center for Reproductive Rights issued a statement pledging to defend him against lawsuits.
"Dr. Braid has courageously stood up against this blatantly unconstitutional law. We stand ready to defend him against the vigilante lawsuits that S.B. 8 threatens to unleash against those providing or supporting access to constitutionally protected abortion care," Nancy Northup, the group's president and CEO, said in the statement.
"For more than two weeks this unconscionable law has been in effect, harming numerous Texans, and falling hardest on those struggling to make ends meet and people of color, who already face barriers to health care. It's past time for a court to step in and block it," she said.