Jovenel Moise assassination: Haiti prosecutor asks judge to charge PM over president's killing | World News
Haiti's chief prosecutor has asked a judge to charge the country's prime minister over the assassination of the president.
President Jovenel Moise was shot dead by assassins who stormed his home in the capital Port-au-Prince on the night of 7 July.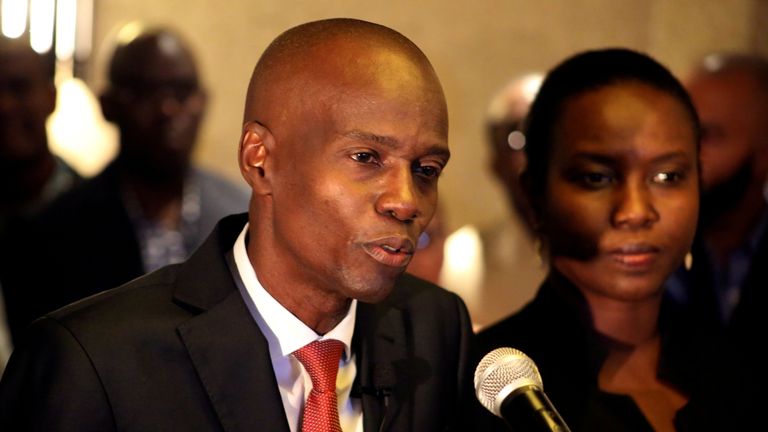 The killing plunged the impoverished Caribbean country deeper into turmoil and a political vacuum.
In a letter to Judge Garry Orelien, Port-au-Prince prosecutor Bed-Ford Claude asked for Prime Minister Ariel Henry to be indicted over the assassination.
Mr Claude also wrote a request to migration services to bar him from leaving the country.
The order was filed on the same day he requested Mr Henry to meet him and explain why a key suspect in the killing called him twice just hours after the killing.
In the two-page document, Mr Claude said phone records showed two calls between the prime minister and Joseph Badio at 4.03am and 4.20am.
The calls lasted a total of seven minutes and that Mr Henry was at the Hotel Montana in Port-au-Prince at that time whereas evidence shows Badio was in the vicinity of Mr Moise's home, Mr Claude wrote.
"There are enough compromising elements… to prosecute Henry and ask for his outright indictment," he added.
August: Devastation left behind after Haiti earthquake

Badio, who had worked for Haiti's anti-corruption unit, was sacked in May amid accusations of violating unspecified ethical rules.
Haiti's Office of Citizen Protection demanded on Saturday that Mr Henry step down and hand himself over to the justice system.
But the prime minister dismissed the allegations against him, writing on Twitter that "no distractions, no summonses or invitations, no manoeuvres, no threats, no rear-guard combat" would distract him from his work.
Chenald Augustin, who works in the prime minister's communications office, said it did not have an immediate comment.
Mr Moise, a 53-year old former provincial businessman, had been governing by decree for more than a year after Haiti failed to hold elections amid a political gridlock. He had faced many calls to step down.
Decades of political instability as well as natural catastrophes have hindered Haiti's development and led to acute food insecurity, widespread gang crime and an aid-dependent economy.
CIA's Vienna station chief recalled after mysterious 'Havana syndrome' hits US spies | World News
The recall of the CIA's station chief in Vienna has highlighted the growing number of "Havana syndrome" cases around the world.
The mysterious illness is named after the Cuban capital where its symptoms were first reported among US Embassy officials in 2016.
Symptoms including migraines, nausea, memory lapses, and dizziness.
Roughly 200 cases of the syndrome have been reported in the past five years, stretching to every continent except Antarctica.
The Washington Post reported on Friday that the CIA's Vienna station chief had been criticised for responding too slowly to claims of the illness among intelligence personnel.
The newspaper quoted "people familiar with his performance" describing him as sceptical that the illness was genuine and insensitive to the suffering of the staff.
Dozens of US personnel in the Austrian capital have reported symptoms, including diplomats, intelligence officials, and some children of US employees.
Even five years after its symptoms were first reported, however, the origin of the illness remains unclear.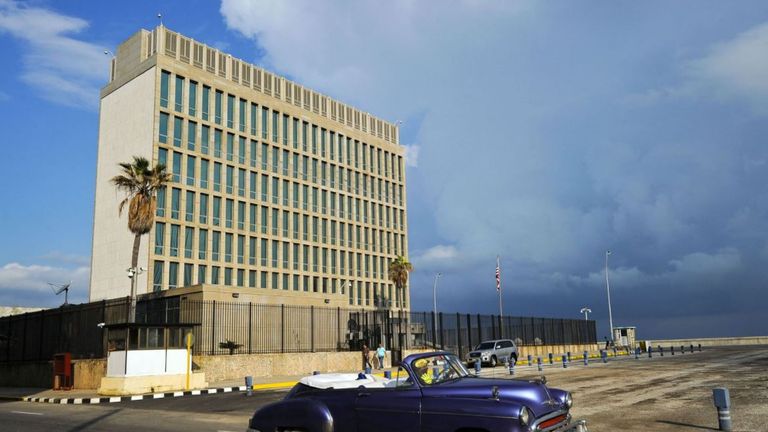 Back in 2016, it was blamed on a covert sonic device, a claim which prompted American officials to bring some staff home from Havana.
Scientists later suggested that the attacks, which also led to Canada bringing home some of its workers, could have been caused by the sound of crickets.
Another theory emerged in 2019, when a sociologist and expert in neurodegenerative diseases blamed emotional trauma and fear for the symptoms.
And last year, a US National Academy of Sciences panel blamed "directed, pulsed radio frequency energy".
Initially the Cubans were blamed but then US officials wondered if another state actor, such as Russia, could be behind the attacks in Havana without Cuba's knowledge.
Cuba's ministry of foreign affairs had said it "has never permitted, nor will permit, that Cuban territory be used for any action against accredited diplomatic officials or their families".
In July CIA director William Burns chose a senior CIA officer who played a leading role in the hunt for Osama bin Laden to take charge of the taskforce looking in to the cause of the illnesses.
Mr Burns has described the incidents as "attacks", saying in July that there was a "very strong possibility" that the syndrome was caused intentionally and that Russia could be behind it.
Moscow has denied any involvement.
Afghanistan: UK paid out for 289 civilian deaths, analysis shows – with one family getting just £104 | World News
At least 16 children are among almost 300 civilian deaths in Afghanistan that the UK government paid out compensation for, analysis suggests.
According to a study of internal Ministry of Defence (MoD) documents, payouts were made over the deaths of 289 people in 189 incidents between 2006 and 2013 – including one family who received just £104.17.
That's less than was paid out for a lost mobile phone on a British army base.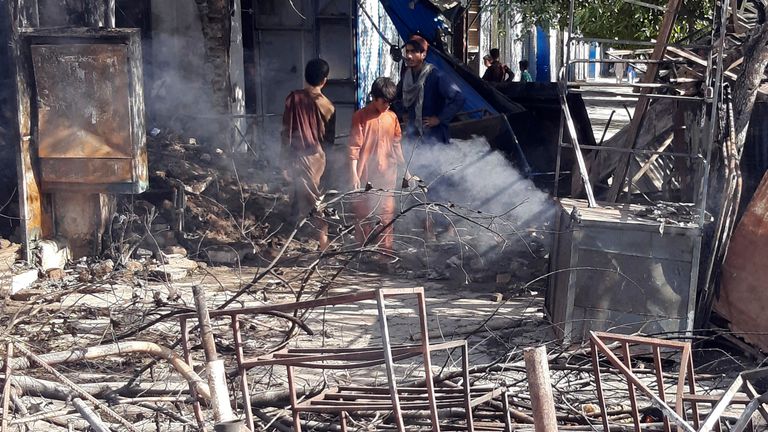 Overall, £688,000 was paid out by the British military – an average of £2,380 per fatality.
However, some of these payouts were combined with compensation for injuries and property, meaning the average is somewhat inflated, say the findings from charity Action on Armed Violence (AOAV).
One family received just £586.42 for the death of their 10-year-old son in December 2009 – less than another family was given for the death of a herd of donkeys (£662).
On several occasions, electronics and animals were valued above human life, with 106 instances in 2009-10 where property – including crops, vehicles, and building – involved a greater payout than the unnamed 10-year-old.
Key pay-outs included:
£104.17 given to a family in February 2008 for a confirmed fatality and property damage in Helmand
£873 paid for a damaged crane
£662 given for the death of six donkeys who
£240 paid out for
£110 given for a lost mobile phone in Camp Bastion
£4,223.60 given in compensation after four children were shot and killed by International Security Assistance forces in December 2009
£586.42 given to a family following the death of a 10-year-old
£527.11 given in November 2009 after a nine-year-old girl was shot in the head and survived
£607.64 given after a
£54,347 given for a single fatality in Kabul in November 2007
£7,204.97 compensation after eight family members killed in May 2009 by a bombing
According to analysis by AOAV, at least 20,390 civilians were killed or injured by international and Afghan forces between 2007 and 2020.
The amounts paid were highly inconsistent, with only a sporadic amount of detail given.
Overall, it is estimated by the Costs of War project at Brown University that around 47,245 civilians in Afghanistan died violent deaths as a result of the 20-year conflict, which ended in chaotic fashion with a hasty evacuation of international troops from Kabul airport in August.
Most of the deaths occurred in Helmand, the scene of some of the fiercest fighting involving UK forces, and were recorded in compensation payout data obtained under a Freedom of Information request.
How popular is the Taliban in Afghanistan?

The youngest recorded casualty was a three-year-old boy, killed in December 2009 by "shock from (a) controlled explosion" during an operation to clear an improvised explosive device.
The files recorded the deaths of 16 children, but the true figure could be as high as 86 by including cases that mention the terms "son", "daughter" or "nephew".
Afghanistan has a population with a median age of 18.4, so the likelihood of someone's child being a minor is high.
The MoD said the UK had always sought to minimise the risk of civilian casualties through "rigorous targeting processes".
Murray Jones, the author of the AOAV report, said: "These files do not make for easy reading. The banality of language means hundreds of tragic deaths, including dozens of children, read more like an inventory.
"Sadly, due to the way civilian casualties were recorded, these totals are likely to be just a fraction of the true number."
The amount of compensation paid is determined by common law principles, which include factors such as pain and suffering along with financial loss.
Follow the Daily podcast on Apple Podcasts, Google Podcasts, Spotify, Spreaker.
An MoD spokesman said: "Every civilian death is a tragedy and the UK always seeks to minimise the risk of civilian casualties through our rigorous targeting processes, but that risk can never be removed entirely.
"The amount of compensation paid is determined by legal principles which consider the degree of injury and both past and future losses; settlements also reflect local customs and practice."
Italy: Close associate of ex-PM Silvio Berlusconi cleared of negotiating with mafia after bombings | World News
A close associate of ex-Italian PM Silvio Berlusconi and three former police investigators have had their convictions overturned, in a case where the state was accused of colluding with the mafia during its 1990s bombing campaign.
Former senator Marcello Dell'Utri, along with Mario Mori, Antonio Subranni and Giuseppe De Donno, have now been acquitted by a judge at an appeals court in Palermo. They had all maintained their innocence.
Dell'Utri was accused of brokering a deal to stop the attacks, in return for scaling back crackdowns by authorities and loosening strict conditions for top bosses behind bars.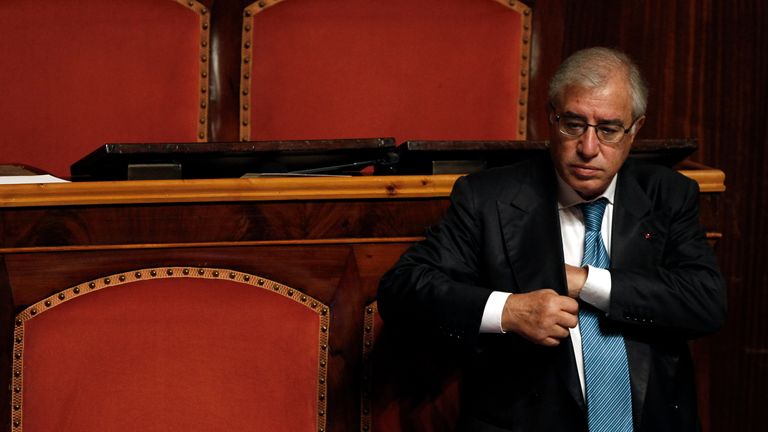 Dell'Utri, who had been a politician for Berlusconi's right-wing Forza Italia party, was convicted in 2018 of acting as a liaison between state institutions and Cosa Nostra bosses in Sicily.
He had been sentenced to 12 years behind bars for undermining the state, as were former generals Mori and Subranni, while ex-colonel De Donno received an eight-year jail term.
But the judge in Palermo, Angelo Pellino, has ruled the charges did not constitute a crime, suggesting state officials could contact mobsters if deemed necessary.
However, he upheld guilty verdicts against two mobsters, including Leoluca Bagarella, a convicted killer for the Corleone mafia family.
Dell'Utri told Italy's Adnkronos news agency: "This acquittal is a turning point, not only for me but for Italian justice. This trial was monstrous."
The prosecution case claimed state representatives had negotiated with the mob following a string of mafia bombings that killed 23 people, including prominent anti-mafia magistrates Giovanni Falcone and Paolo Borsellino.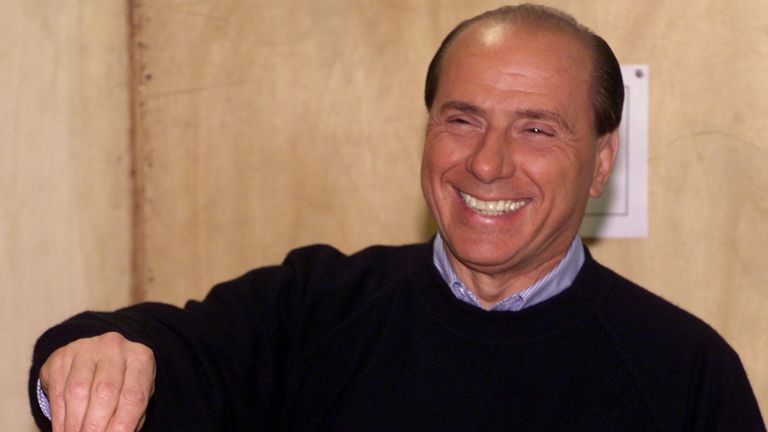 According to prosecutors, talks between the mafia and the Italian state began after judge Falcone, his wife and three bodyguards were killed by a device under a motorway in May 1992.
The state's willingness to enter negotiations after Falcone's murder encouraged further bombings, it was alleged.
The prosecution said those attacks included the one that killed Mr Borsellino two months later because he had opposed the negotiations.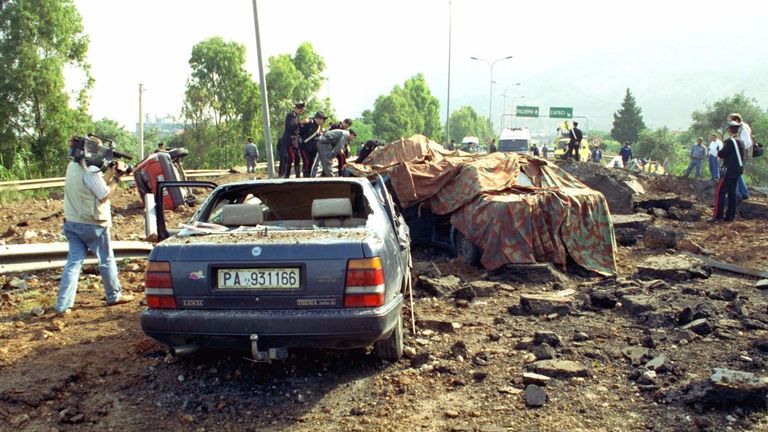 The following year, Cosa Nostra carried out unprecedented mainland attacks on cultural and church targets, including Florence's Uffizi Gallery.
Ten people were killed in Milan and Florence. After 1993, the attacks abruptly stopped.
The prosecutors said they would review Thursday's ruling to decide if they would appeal the decision to the Supreme Court.