Afghanistan: Taliban announce caretaker government, including FBI-wanted militant as minister | World News
The Taliban has appointed several old guard members to Afghanistan's caretaker government.
Among those appointed to the new interim cabinet as interior minister is Sarajuddin Haqqani, who is on the FBI's most-wanted list.
Interim prime minister Mullah Hasan Akhund had headed the Taliban government in Kabul during the last years of its rule.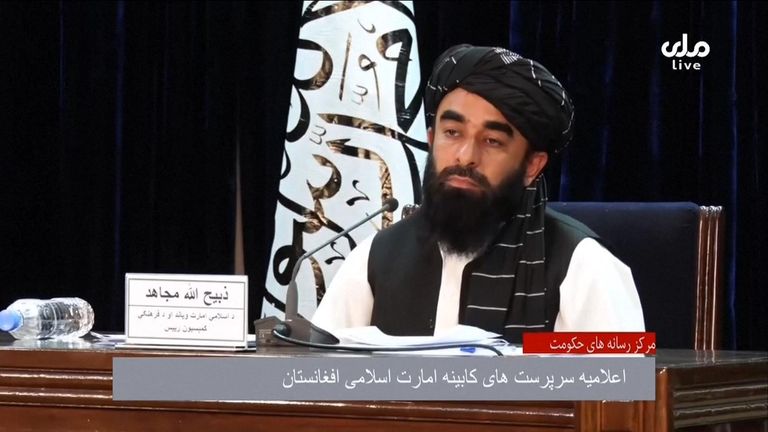 One of his deputies will be Mullah Abdul Ghani Baradar, who had led talks with the US and signed the deal that led to America's final withdrawal from Afghanistan.
Taliban spokesperson Zabihullah Mujahid said in a news conference that this government is not a "tribal" one and will represent all Afghanis.
There is no evidence of non-Taliban members in the line-up, defying the demands of the international community.
The government will be led by Mr Akhund, with the Taliban's co-founder, Ghani Baradar, acting as his deputy.
Mr Haqqani is head of the militant group – the Haqqani network – who are affiliated with the Taliban and have been behind some of the deadliest attacks in Afghanistan in the last 20 years.
The Haqqani network has been designated as a foreign terrorist organisation by the United States.
Other appointments include Mullah Yaqoob as the acting defence minister, Amir Khan Muttaqi as the foreign minister and Abdul Salam Hanafi as the second deputy.
Texas begs for help as 10,000 migrants camp in squalid conditions under US-Mexico bridge | US News
Migrants have camped out under a bridge in a remote American town dividing Texas and Mexico – as the US border force attempts to process thousands of asylum claims.
The bridge connects Del Rio in Texas and Mexico's Ciudad Acuna – with food and water supplies running low after migrants created a makeshift camp in squalid conditions.
On Thursday, Del Rio Mayor Bruno Lozano said 10,503 migrants were under the bridge and called on the federal government's help.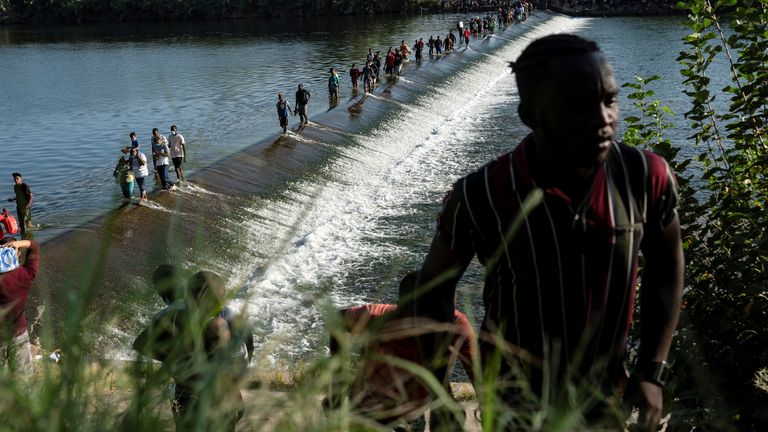 In a video posted on social media, Mr Lozano said: "The border patrol is so overwhelmed by the influx of migrants. We have about 2,000 to 3,000 at any given moment in detention.
"We have the threat of health, yesterday we had a woman that went into labour. We have the threat of COVID-19 and other diseases found in our area because of this vast migration.
"This is something that really needs to be brought to light, we need quick action from the administration. We need quick attention to this. We need a response in real time."
The majority of the migrants are from Haiti, which was devastated by a 7.2-magnitude earthquake in August that displaced tens of thousands of people and killed more than 1,400.
People from Cuba, Venezuela and Nicaragua have also made the journey.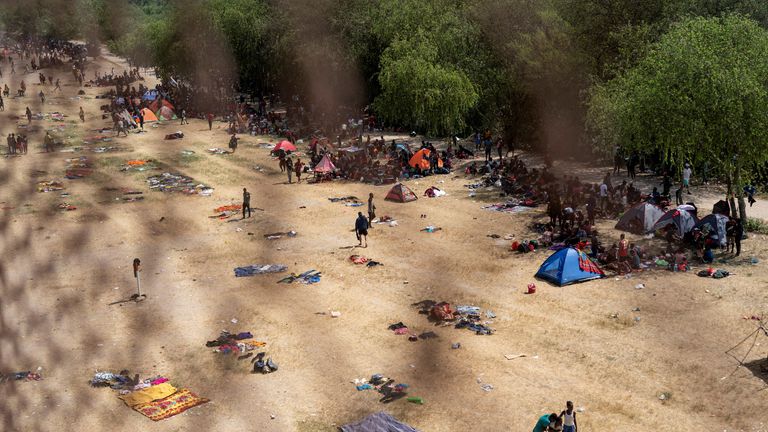 Temperatures have risen to 37C (99F) in Texas and hundreds of migrants were seen wading through the Rio Grande river and back into Mexico to stock up on essentials.
This is the latest challenge for Joe Biden's administration, with border arrests nearing 20-year highs.
US authorities arrested more than 195,000 migrants at the Mexican border in August, according to government data released on Wednesday.
Ernesto, a 31-year-old Haitian migrant, slipped back into Mexico on Thursday to buy water and food for the fourth time.
He declined to give his surname and said he and his three-year-old daughter had not been fed at the camp.
"But now money is running out," he added.
Border Patrol said in a statement it was increasing staffing in Del Rio to facilitate a "safe, humane and orderly process".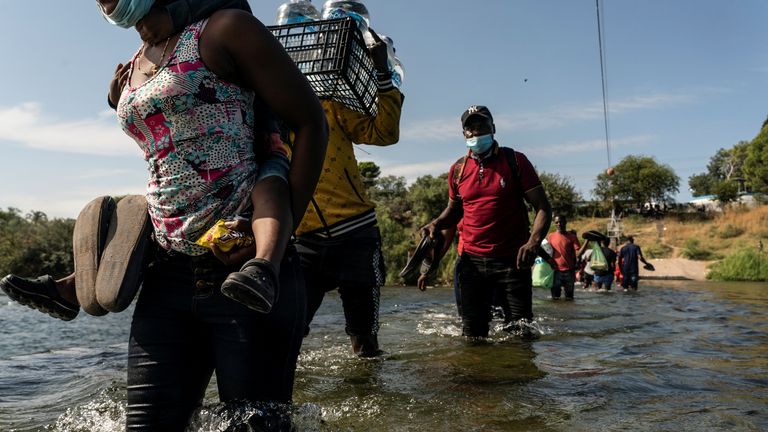 Drinking water, towels and portable toilets have been provided while migrants wait to be transported to facilities, it added.
Mr Biden has rolled back many of the immigration measures that were implemented under Donald Trump's presidency.
But some Democrats have criticised him for not doing more to help migrants, and opponents say his policies have encouraged illegal immigration.
Del Rio is in Val Verde County and voted for Trump in 2020.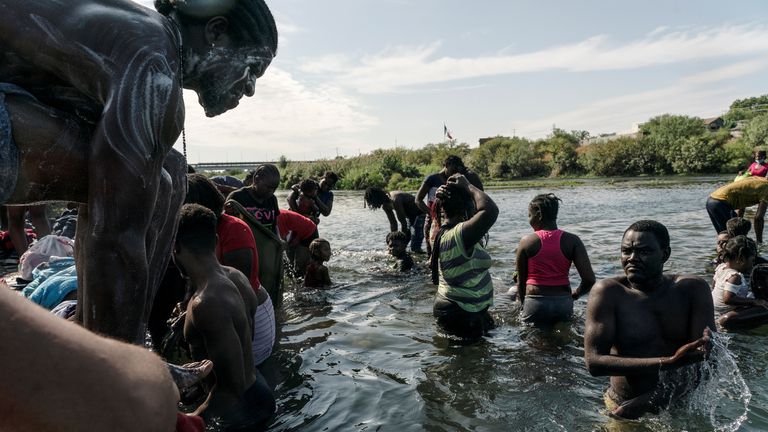 Both migrants and Mexican officials said many more people are expected in the coming days.
Jeff Jeune, a 27-year-old Haitian said he and his young family were exhausted, hungry and sleeping on the ground.
"My 10-year-old asks: 'When are we leaving?' He's always asking that," Mr Jeune said.
Father sues school for $1m after teacher cuts daughter's hair without permission | US News
The father of a seven-year-old girl whose hair was cut by a teacher without parental permission is demanding $1m (£724,000) in damages.
Jimmy Hoffmeyer is suing a school district, a librarian and a teacher's assistant in Michigan, alleging assault and battery.
He has also made accusations of racial discrimination, ethnic intimidation and intentional infliction of emotional distress – and that his daughter's constitutional rights were violated, MLive.com reported.
The local school board described the allegations as "baseless" and said it would "aggressively defend" them in court.
Mr Hoffmeyer said his daughter Jurnee, who is mixed race, arrived home from Ganiard Elementary School in Mount Pleasant in March with much of the hair on one side of her head cut.
She said a classmate had done it on the school bus, her father added.
A complaint was made to the principal and Jurnee's hair was restyled at a salon to make the differing lengths less obvious.
Two days after the incident on the bus, Jurnee got back from school with her hair cut on the other side, too.
"I asked what happened and said 'I thought I told you no child should ever cut your hair'," Mr Hoffmeyer said at the time.
"She said, 'but Dad, it was the teacher'. The teacher cut her hair to even it out."
The girl who cut Jurnee's hair on the bus was white, as was the teacher, Mr Hoffmeyer said.
The local school board, in Mount Pleasant, said an independent investigation had found no racial bias.
Staff, pupils and families were questioned and videos and photos reviewed, including posts on social media.
But Mr Hoffmeyer said neither he nor his daughter, who now attends another school, had been interviewed.
School policy was violated when Jurnee's hair was cut, the investigation found.
Despite having "good intentions", the member of staff who did it has been reprimanded.
Two other employees were aware of the incident but did not report it. All three have apologised.
The lawsuit claims the school district "failed to properly train, monitor, direct, discipline, and supervise their employees, and knew or should have known that the employees would engage in the complained of behaviour given the improper training, customs, procedures, and policies, and the lack of discipline that existed for employees".
Amy Bond, president of Mount Pleasant Public Schools Board of Education, said: "We are confident that the facts will prevail given our district's appropriate and aggressive response to the incident and the findings of the third-party investigation that was conducted.
"We will aggressively defend against these baseless allegations in court and will not allow this to distract us from our mission to provide every child a world-class education that prepares them for college and careers."
COVID-19: Italy makes vaccine passport compulsory – workers can be fined and suspended without pay | World News
Italy is to become the first European country to make a vaccine passport system compulsory for all workers.
Proof of vaccination, a negative test or recent recovery from infection must be provided or staff will be suspended without pay and face a fine.
However, they cannot be sacked.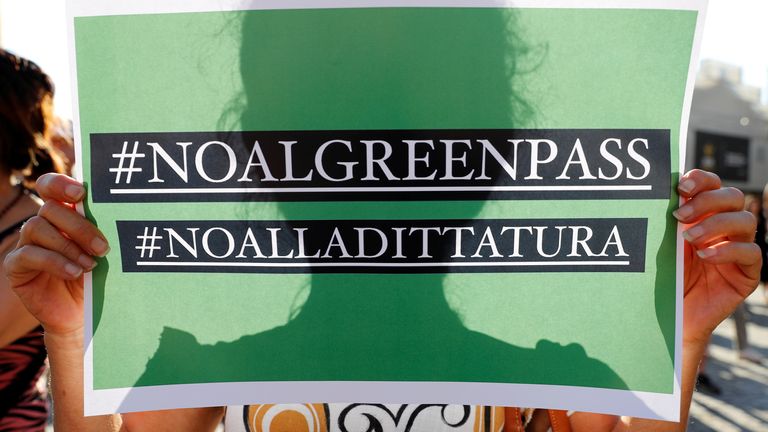 The law set to apply to both public and private employees from 15 October after the Italian government approved the measures on Thursday.
"Nothing like this has been done in Europe… we are putting ourselves in the forefront internationally," said public administration minister Renato Brunetta.
It's hoped the move will lead to more people getting vaccinated and the minister said the government expected an "enormous" jump in people getting jabbed.
Some European Union countries have made it mandatory for health workers to get vaccinated, but none have made its so-called Green Pass a requirement for all employees.
It was originally intended to ease European travel, but Italy was one of a few countries that made it a requirement for entering venues such as indoor dining, gyms and museums.
Italian Prime Minister Mario Draghi faced resistance from right-wing leader Matteo Salvini on extending the reach of the country's COVID pass.
However, Mr Salvini's party is split on the issue and the cabinet unanimously approved the change.
COVID-19: Booster jabs explained

The main employers' federations have also backed the move in the hope it will prevent any more lockdowns.
Unions said tests should be free for workers who don't want to be vaccinated, but the government said they would be capped at 15 euros.
Italy's COVID-19 death toll is the highest in Europe after the UK, with more than 130,000 deaths, and it was the first country on the continent to go into lockdown.
About 74% of people have had one vaccine dose and 68% are fully vaccinated.
In the UK, the government rowed back on plans to bring in a vaccine certificate system for access to large and crowded venues such as nightclubs, but has kept the option on the table as part of its "Plan B" for winter.
Care home workers will also need to be fully vaccinated by 11 November in order to be employed, while Health Secretary Sajid Javid has said the requirement is "highly likely" to be extended to all frontline NHS staff.
On Thursday, the French government said about 3,000 workers in hospitals, care homes and health centres have been suspended for failing to comply with mandatory COVID vaccination.