Maria Kolesnikova: Belarus activist and opposition leader sentenced in Minsk | World News
Two of Belarus's opposition figures who challenged the presidential elections in 2020 have been jailed for trying to threaten national security.
Maria Kolesnikova, 39, who was one of the leaders of mass street protests against President Alexander Lukashenko, has been sentenced to 11 years in prison, the state-run Belta news agency said.
She was arrested in September after ripping up her passport, preventing Belarusian security forces from deporting her in a standoff at the Ukrainian border.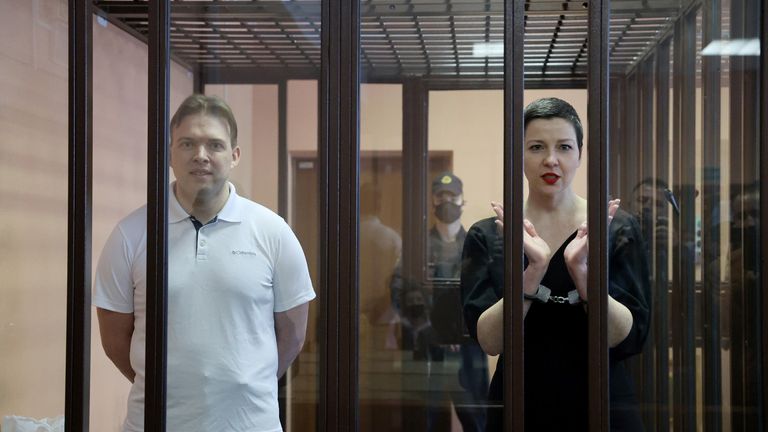 The musician-turned-politician was one of the faces of the mass opposition movement during last year's election, which opposition leaders say was rigged to extend Mr Lukashenko's presidency.
Ms Kolesnikova and another senior opposition figure, lawyer Maxim Znak, have been charged with extremism and trying to seize power illegally.
Mr Znak was sentenced to 10 years in prison at a court in Minsk.
Both deny any wrongdoing and Ms Kolesnikova called the charges absurd.
"Maria & Maksim are the heroes for Belarusians. The regime wants us to see them crushed & exhausted. But look – they are smiling & dancing," said exiled opposition figure Sviatlana Tsikhanouskaya on Twitter.
The regime sentenced Maria Kalesnikava & Maksim Znak to 11 & 10 years in prison. We demand the immediate release of Maria & Maksim, who aren't guilty of anything. It's terror against Belarusians who dare to stand up to the regime. We won't stop until everybody is free in Belarus. pic.twitter.com/RbnefQzX0q

— Sviatlana Tsikhanouskaya (@Tsihanouskaya) September 6, 2021
"They know – we will release them much earlier than these 11 years. Their terms shouldn't frighten us – Maksim and Maria wouldn't want this."
The trial began last month but was not open to the public on national security grounds.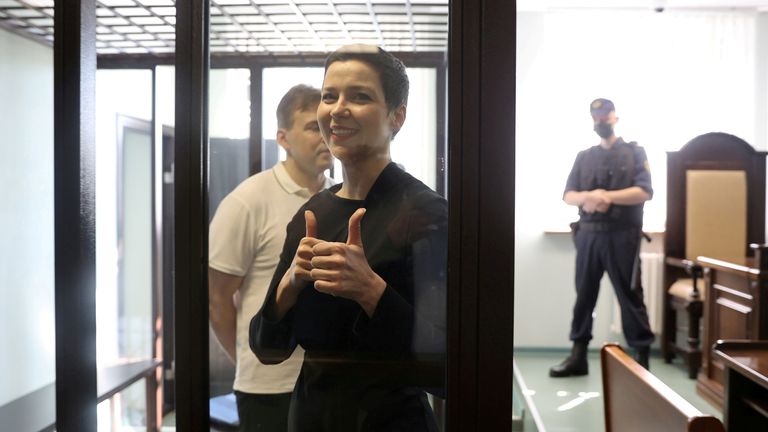 Ms Kolesnikova is among thousands of people who have been detained after the protests began.
She was one of three women who joined forces to front last year's protests against Mr Lukashenko after male candidates were prevented from standing against him.
Follow the Daily podcast on Apple Podcasts, Google Podcasts, Spotify, Spreaker
Victor Babariko, one of the men who tried to run in the election, was jailed for 14 years in July.
Mr Lukashenko, who has denied electoral fraud, has been in office since 1994 and has faced western sanctions since launching the crackdowns on his opponents.
La Palma: Thousands evacuated and 100 homes destroyed as Cumbre Vieja volcano erupts | UK News
Around 5,000 people on La Palma in the Canary Islands have been evacuated to escape the erupting Cumbre Vieja volcano.
The eruption started on Sunday afternoon and officials said about 100 properties had so far been destroyed by rivers of lava. No deaths or injuries have been reported.
The four villages evacuated included El Paso and Los Llanos de Aridane, with temporary shelters set up to house displaced residents.
House engulfed by lava on La Palma

Lava with a temperature of more than 1,000C (1,800F) was still flowing at 700 metres (2,300ft) per hour on Monday, according to the Canary Islands Volcanology Institute, but mostly through unpopulated areas.
Explosions and clouds of acidic steam were expected when it meets the Atlantic Ocean around sunset.
Mariano Hernandez, president of La Palma island, also asked people to stay away, describing the scene in the area as "bleak".
He said a wall of lava six metres (20ft) high "is consuming houses, infrastructure [and] crops in its path to the coast".
Canary Islands President Angel Victor Torres told locals to "stay in your houses" on Sunday after people from all over the island began blocking roads trying to get close to the volcano.
People in areas where volcanic ash was falling were also told to stay indoors with their doors and windows closed.
"It is not foreseeable that anyone else will have to be evacuated," Mr Torres added.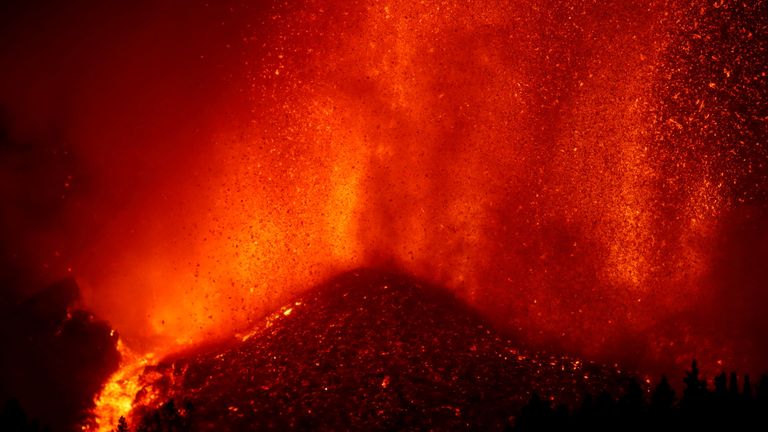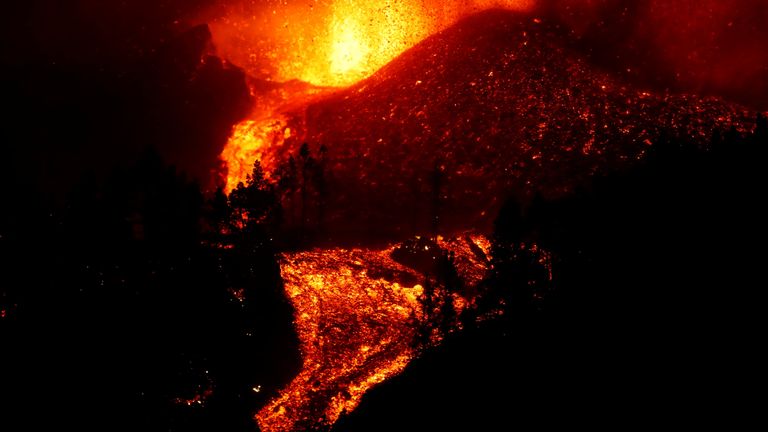 Spain's tourism minister faced criticism after telling a local radio station the eruption was a opportunity to attract visitors to the island.
"The island is open," Reyes Maroto told Canal Sur radio, calling the sprays of lava "a wonderful show".
"There are no restrictions on going to the island… on the contrary, we're passing on the information so tourists know they
can travel to the island and enjoy something unusual, see it for themselves," she said.
About 360 tourists were evacuated from a resort in La Palma following the eruption and taken to the nearby island of
Tenerife by boat on Monday, a spokesperson for ferry operator Fred Olsen said.
Another 180 visitors were facing the same prospect. Meanwhile local airline Binter cancelled four flights to and from the neighbouring island of La Gomera.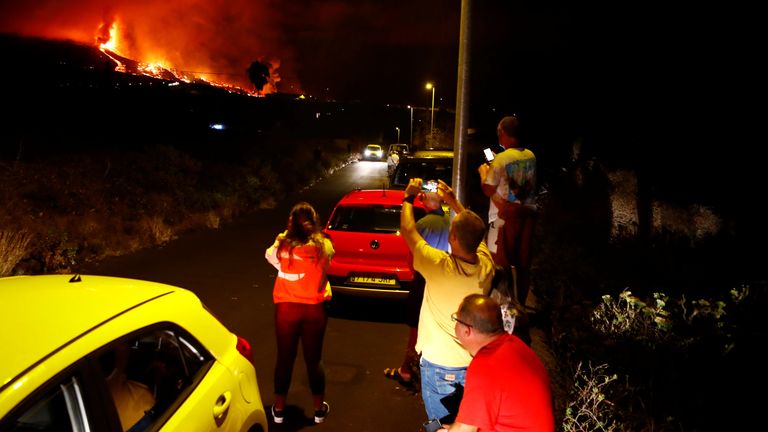 Garcia Egea, secretary general of the opposition People's Party, posted an article on Twitter quoting the minister and asked: "Can someone confirm the minister said that while hundreds of people are losing everything they have?"
Spanish Prime Minister Pedro Sanchez arrived on the island late on Sunday to meet Mr Torres to oversea rescue efforts.
He praised scientists for monitoring the eruption, saying their work was "fundamental" in avoiding casualties, and promised that his government would help local people rebuild their lives.
The prime minister delayed his departure for the UN General Assembly in New York to attend.
A 4.2-magnitude quake was recorded before the eruption, which took place in Cabeza de Vaca on the western slope of the ridge that descends to the coast.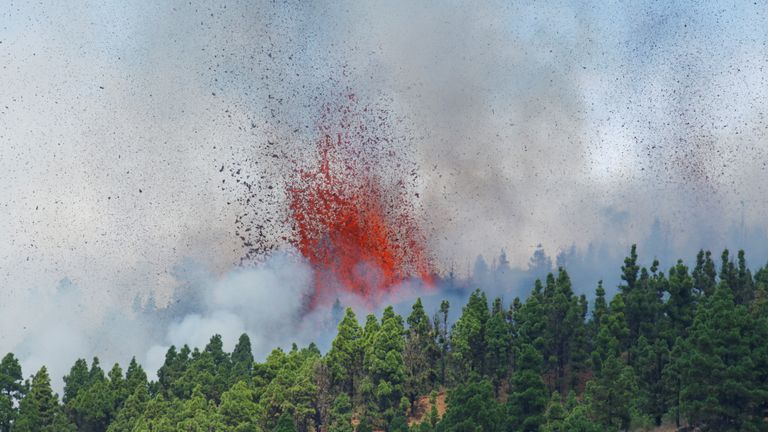 La Palma had been on high alert after more than 22,000 tremors were reported in the space of a week.
Cumbre Vieja is part of a chain of volcanoes that last had a major eruption in 1971 and is one of the most active volcanic regions in the Canaries.
It lies in the south of La Palma, which is home to around 80,000 people.
Itahiza Dominguez, head of seismology of Spain's geology institute, told Canary Islands Television that although it was too early to tell how long the eruption would last, prior eruptions had lasted weeks or even months.
Scientists said the lava flows could last for the same amount of time, but that the immediate danger to local people appeared to be over.
US launches mass expulsion of Haitian migrants from Texas | US News
The US has started expelling Haitians from a large makeshift camp at the Texas border, in an operation that could become one of America's swiftest large-scale expulsions of migrants in decades.
The sprawling camp under the international bridge attracted more than 12,000 migrants at one point after they crossed from Ciudad Acuna, Mexico.
Officials have moved 3,300 migrants from Del Rio, Texas, since Friday and have announced a new daily schedule of flights to the Haitian capital, Port-au-Prince.
Thousand of migrants under Texas bridge

More than 320 migrants arrived in Port-au-Prince on three flights on Sunday, and Haiti said six planes were expected on Tuesday.
From Wednesday, the US plans to begin seven daily expulsion flights, four to Port-au-Prince and three to the northern city of Cap-Haitien, according to a US source.
Flights will continue to depart from San Antonio but authorities may add El Paso, they added.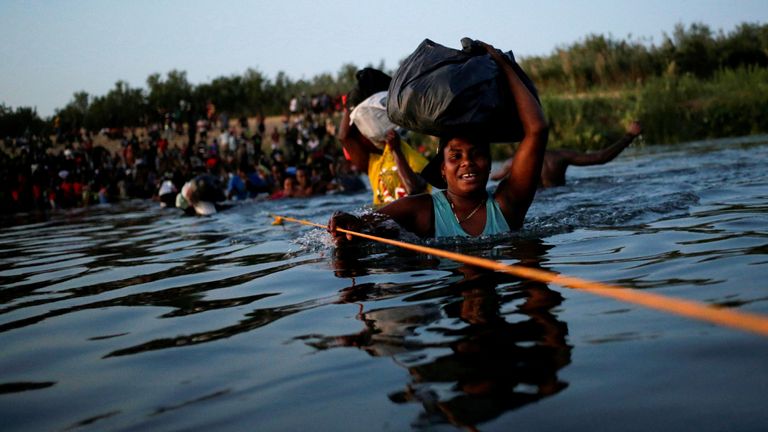 US Border Patrol chief Raul Ortiz said at a news conference that over the next week the government aims
to "quickly" process 12,662 migrants from underneath the bridge that links Del Rio with Ciudad Acuña, Mexico.
"We are working around the clock to expeditiously move migrants out of the heat, elements and from underneath this bridge to our processing facilities in order to quickly process and remove individuals from the United States consistent with our laws and our policies," he added.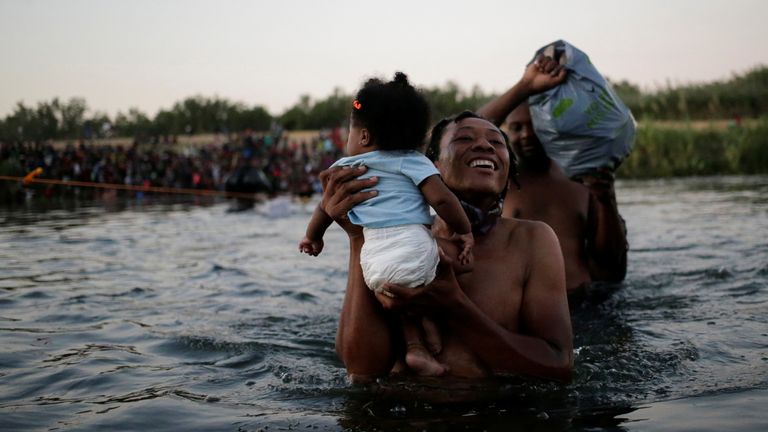 US officials are also blocking other migrants from crossing the border with Mexico.
When the border closed on Sunday, migrants found alternative routes to cross the Rio Grande – the fifth-longest river of North America – but were eventually confronted by federal and state law enforcement.
Despite the heightened security on the US side, migrants were continuing to cross the river over the weekend.
In one incident, an officer on a horse was seen charging the animal to block migrants and swung what looked like a lariat at a person trying to climb up the US embankment from the water.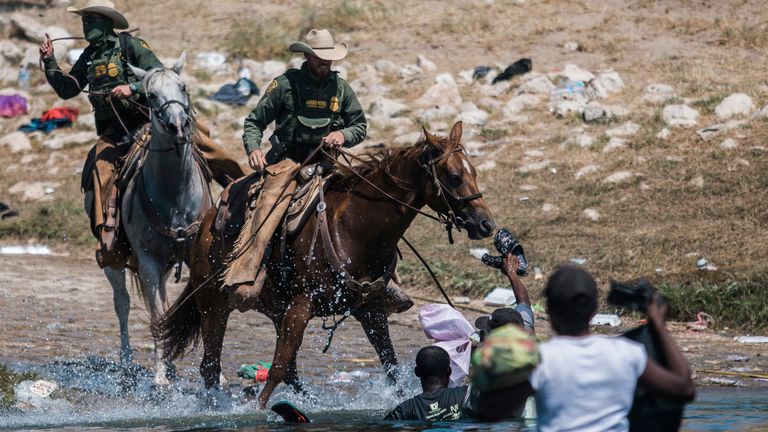 At least 100 Haitians, including families with small children, crossed back into Mexico from the camp on Sunday evening
Mexico said it would also begin deporting Haitians to Haiti, with a government official saying the flights would be from towns near the US border and the Guatemala border, where the largest group of migrants remains.
Haitians have been migrating to the United States in large numbers from South America for several years, many having left the Caribbean nation after a devastating earthquake in 2010.
The country was also hit by another disastrous earthquake last month – which saw more than 1,149 people killed.
The rapid expulsions were made possible by a pandemic-related authority adopted by former president Donald Trump in March 2020 that allows for migrants to be immediately removed from the country without an opportunity to seek asylum.
Unaccompanied children are exempt from the order, a decision made by President Joe Biden.
Haitians who are not expelled are subject to immigration laws, which include rights to seek asylum and other forms of humanitarian protection. And because the US government cannot generally hold children, families are often quickly released.
COVID-19: US to relax travel rules for vaccinated passengers from UK and EU | World News
Vaccinated passengers will be able to enter the US from the UK and EU from November onwards.
The new rules would be part of broader policy changes for international travel.
The shift in rules will apply to fully vaccinated people – meaning those who have received two doses of a COVID-19 vaccine.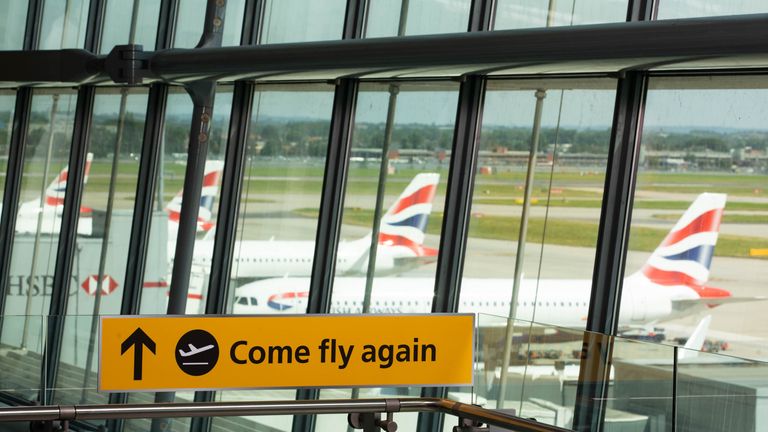 All foreign travellers will need to demonstrate proof of vaccination before boarding, as well as proof of a negative COVID-19 test taken within three days of the flight, said White House COVID-19 coordinator Jeff Zients.
It will end an 18-month patchwork of travel restrictions imposed by former president Donald Trump at the start of the pandemic.
President Biden will also tighten rules for unvaccinated American citizens, who now need to be tested within a day of their departure to the US as well as on their return.
Those fully vaccinated will not need to quarantine.
Airlines will be required to collect contacting tracing information from international travellers.
Under the previous policy, only American citizens, their immediate families, or green card holders could enter the US from the UK or EU.
However, the American government had the power to grant national interest exemptions to allow people to travel.
The US also banned travel for anyone who had been in China, Iran, Brazil, South Africa, or India, 14 days prior to arriving in the country.
Anyone travelling outside any of these areas had to apply for a visa or Electronic System for Travel Authorisation (ESTA) visa waiver to enter or transit the US as a visitor.
In July, the UK waived quarantine requirements for fully-vaccinated arrivals from the USA.