The mystery of the whisky bottle, the US secretary of state and the department searching for answers | US News
The US State Department is investigating the apparent disappearance of a bottle of whisky worth nearly $6,000 (£4,320).
The Japanese government gave the bottle to Mr Pompeo in June 2019 when the then-secretary of state visited the country.
The department reported the investigation in its annual accounting of gifts given to senior US officials by foreign governments and leaders.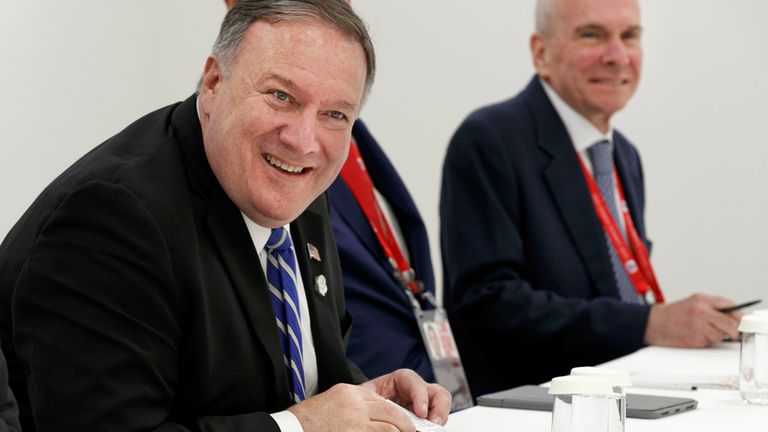 It noted that it could find no trace of the bottle's whereabouts and that there was an "ongoing inquiry" seeking an explanation.
A spokesman for Mr Pompeo said he was unaware of the gift and the inquiry into its whereabouts.
It is thought the bottle of whisky was given to Mr Pompeo while he was attending a G20 summit in Japan, along with then-president Donald Trump.
But the state department's Office of Protocol, which records gifts given to US officials, said that, while every other gift had been recorded, there was no record of the whisky.
If a gift is over a certain value, the recipient can give it to the National Archives or another government entity, or they can keep the gift and reimburse the Treasury Department.
Among the items given to Mr Pompeo during his time as secretary of state were two carpets worth a total of $19,400 (£14,000) from the president of Kazakhstan and the foreign minister of the United Arab Emirates.
Mr Trump and his wife Melania received more than $120,000 (£86,400) worth of presents from foreign leaders in 2019, including an Ottoman Empire rifle worth $8,500 (£6,120) from the Bulgarian prime minister, a bronze sculpture of an Arabian horse from the crown prince of Bahrain worth $7,200 (£5,100), and a statue of an Arabian oryx worth $6,300 (£4,500) from the emir of Qatar.
The Office of Protocol said all of these were given to the National Archives.
Mafia raids: More than 100 suspects arrested in Spain and Italy for alleged money laundering | World News

More than a hundred people have been arrested by Spanish and Italian authorities for allegedly laundering money for mafia groups.
The majority of the 106 arrests took place in the Spanish Canary Island of Tenerife and most of the suspects were Italian nationals, Europol said.
The suspects allegedly made millions through online scams and laundered money for mafia groups.
According to Italian officials, the suspects tricked victims into sending large amounts of money to Spanish bank accounts controlled by the group.
The cash was then laundered through cryptocurrency purchases or reinvested into other criminal activities such as prostitution, drugs or weapons trafficking.
The group made almost €10m (£8.6m) in profit last year, Europol said.
Spanish officials said members of the group, who often used violence to intimidate victims and extort money from businesses and individuals, infiltrated law firms and banks.
During the operation, authorities froze 118 bank accounts and seized 224 credit cards and a marijuana plantation.
Gabby Petito disappearance: FBI search Florida home of missing fiance Brian Laundrie | US News
The FBI have searched the home of Brian Laundrie – the fiance of Gabby Petito, whose body was apparently found over the weekend in a Wyoming national park.
Video showed a dozen law enforcement officers, including one wearing an FBI jacket, pulling up to the house in North Port, Florida, on Monday.
According to local media reports, Mr Laundrie's parents were seen getting into a police van while the house, which belongs to them, was searched. The FBI's Tampa office said in a tweet that it was serving a search warrant.
Ms Petito, 22, disappeared after she and Mr Laundrie, 23, left on a cross-country trek in a converted van to visit national parks in July.
They got into a fight along the way, and Mr Laundrie was alone when he returned in the van to his parents' home in North Port on 1 September – making him a "person of interest", police said.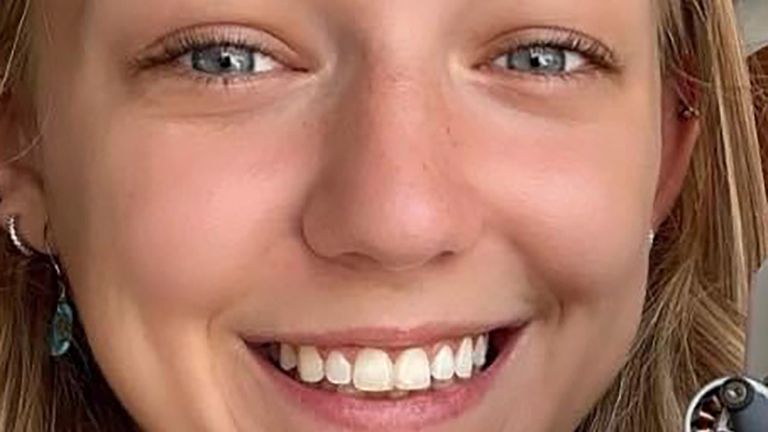 Mr Laundrie and Ms Petito had been living with his parents before making the trek.
It comes after a police search for Mr Laundrie was launched at the weekend. His family reported him missing, with relatives telling officers they had not seen him for three days.
On Sunday, the FBI announced the discovery of a body on the edge of Grand Teton National Park in Wyoming, which the couple had visited.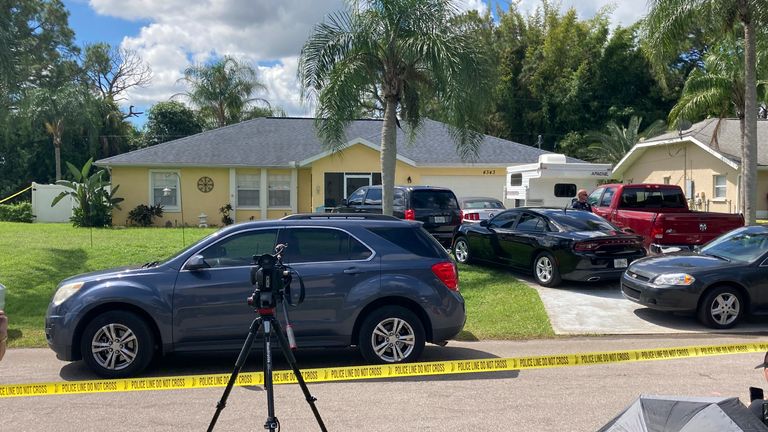 "Full forensic identification has not been completed to confirm 100% that we found Gabby, but her family has been notified," FBI agent Charles Jones said.
"This is an incredibly difficult time for [Petito's] family and friends."
Ms Petito's father Joseph posted on social media an image of a broken heart above a picture of his daughter, with the message: "She touched the world."
A post-mortem examination is set for Tuesday and a lawyer acting as a spokesman for the family asked in a statement that they be given room to grieve.
Mr Jones said investigators were still seeking information from anyone who may have seen Ms Petito or Mr Laundrie.
A weekend search of the Florida nature preserve failed to find Mr Laundrie, North Port police said.
They said in a statement that they "exhausted all avenues in searching the grounds" of the 24,000-acre Carlton Reserve in Sarasota County.
Investigators focused on the area Mr Laundrie's parents told police he may have visited.
Ms Petito's family on New York's Long Island have been pleading for the Laundrie family to tell them where their son last saw her.
She and Mr Laundrie were childhood sweethearts who met while growing up on Long Island.
Police bodycam of Gabby Petito

Video released by police in Moab, Utah, showed that an officer pulled the couple's van over on 12 August after it was seen speeding and hitting a curb near the entrance to Arches National Park. The body-camera video showed an upset Ms Petito.
Mr Laundrie said on the video that the couple had got into a scuffle after he climbed into the van with dirty feet.
He said he did not want to pursue a domestic violence charge against Ms Petito, who officers decided was the aggressor.
Moab police separated the couple for the night, with Mr Laundrie checking into a motel and Ms Petito remaining with the van.
England cricket matches in Pakistan called off following security concerns | World News

The England and Wales Cricket Board (ECB) has cancelled a warm-up tour in Pakistan for both its men's and women's teams following last week's security concerns expressed by New Zealand.
The teams were each scheduled to play two T20 international matches on 13 and 14 October in Rawalpindi, with the women's side due to stay on for further internationals from 17-21 October.
The ECB says it is "sincerely sorry" for the decision, made "reluctantly", and that members "understand that this decision will be a significant disappointment to the PCB (Pakistan Cricket Board)".
The historic trip, which would have been the first ever by an England women's team and the first by their male counterparts since 2005, had been in doubt due to security fears.
It comes three days after New Zealand Cricket abandoned its men's limited-overs tour of Pakistan, saying it had been warned of a possible attack outside Rawalpindi Stadium.
The ECB said: "The mental and physical well-being of our players and support staff remains our highest priority and this is even more critical given the times we are currently living in.
"We know there are increasing concerns about travelling to the region and believe that going ahead will add further pressure to a playing group who have already coped with a long period of operating in restricted COVID environments."
Ramiz Raja, the chairman of the Pakistan Cricket Board, expressed disappointment over the decision on Twitter.
He wrote: "Disappointed with England, pulling out of their commitment & failing a member of their Cricket fraternity when it needed it most.
"Survive we will inshallah. A wake up call for Pakistan team to become the best team in the world for teams to line up to play them without making excuses."