Gender gap: Ageing societies give more advantages to men than women, researchers say | World News
Men have more advantages than women in ageing populations, an international study has found.
Researchers say the gender differences in societal ageing suggest men have better resources to cope with the challenges of getting older.
Different gender roles within society not only shape women's and men's life opportunities but also their experience of ageing, the research suggests.
Worldwide, the number of people aged 65 years and older is expected to more than double in the next 30 years, rising from 703 million in 2019 to 1.5 billion in 2050.
Age UK on difficulties facing elderly after lockdown

The study, by researchers from the National University of Singapore and Columbia University in America, found men are especially advantaged when it comes to income and wealth.
They are more likely to be financially secure, have paid work and spend fewer years in ill-health than women in later life.
The first of its kind, the research investigated gender differences in the experience of people growing older in 18 countries in the Organisation for Economic Cooperation and Development (OECD), which includes the likes of the UK and the US.
Women across the countries analysed were shown to have a three year longer average life expectancy than men, but spend more years in poor health.
They are also more likely to live alone at the end of their lives and earn less than men.
A disproportionately greater risk of disability and ill-health in women increased their likelihood of needing long-term care, the study found, as well.
Researchers used the latest data from the OECD and World Bank between 2015 and 2019 for 18 of the 35 OECD countries with sufficient data to develop a gender-specific ageing index.
The new index accounts for five categories that capture social and economic factors affecting the quality of ageing: wellbeing, productivity and engagement, equity, cohesion and security.
Using the system, researchers calculated the overall index and individual category scores that range from 0 to 100 for men and women.
A higher score suggests a successfully ageing society.
Key differences between men and women in ageing societies according to the study:
Men have better resources to cope with the challenges of ageing
Women have a three year longer average life expectancy than men
Men are especially advantaged when it comes to income and wealth
Women spend more years in poor health
Men are more likely to be financially secure
Women have a greater risk of disability and ill-health, which increases their likelihood of needing long-term care
Men are more likely to be engaged in paid work
Women are more likely to live alone at the end of their lives
Women earn less than men
Denmark, Sweden, Finland, Norway, the Netherlands and Japan did well for both genders with an overall index score of 66 or above for men and 55 or above for women.
Countries in much of eastern and southern Europe were at the bottom of the rankings.
The UK achieved an overall index score of 57 for men and 47 for women. It also had the largest difference in wellbeing scores between the two genders, with a score of 74 assigned for men and 61 for women.
America's overall performance score was 55 for men and 47 for women.
Both the US and the UK performed poorly in the study, indicating growing inequality in the distribution of income and wealth.
Lead author Dr Cynthia Chen, from the National University of Singapore, said: "Ageing societies reinforce the prevailing gender norms in which men continue to be allocated the majority of opportunities, resources, and social support.
"With the world's population ageing at an unprecedented rate, and the ratio of older women to older men expected to increase, there is an urgent need to challenge the structural and policy biases that favour men."
The authors have suggested four measures to help address gender bias and inequality in societal ageing including assessing minimum income requirements for healthy living in older people and minimum pensions.
Italy: Close associate of ex-PM Silvio Berlusconi cleared of negotiating with mafia after bombings | World News
A close associate of ex-Italian PM Silvio Berlusconi and three former police investigators have had their convictions overturned, in a case where the state was accused of colluding with the mafia during its 1990s bombing campaign.
Former senator Marcello Dell'Utri, along with Mario Mori, Antonio Subranni and Giuseppe De Donno, have now been acquitted by a judge at an appeals court in Palermo. They had all maintained their innocence.
Dell'Utri was accused of brokering a deal to stop the attacks, in return for scaling back crackdowns by authorities and loosening strict conditions for top bosses behind bars.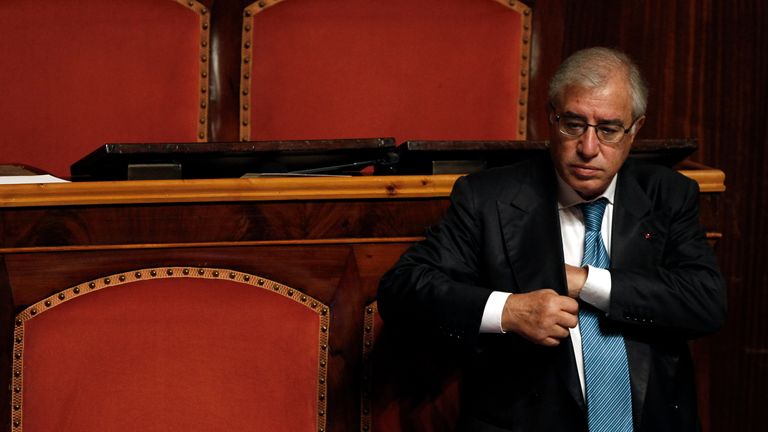 Dell'Utri, who had been a politician for Berlusconi's right-wing Forza Italia party, was convicted in 2018 of acting as a liaison between state institutions and Cosa Nostra bosses in Sicily.
He had been sentenced to 12 years behind bars for undermining the state, as were former generals Mori and Subranni, while ex-colonel De Donno received an eight-year jail term.
But the judge in Palermo, Angelo Pellino, has ruled the charges did not constitute a crime, suggesting state officials could contact mobsters if deemed necessary.
However, he upheld guilty verdicts against two mobsters, including Leoluca Bagarella, a convicted killer for the Corleone mafia family.
Dell'Utri told Italy's Adnkronos news agency: "This acquittal is a turning point, not only for me but for Italian justice. This trial was monstrous."
The prosecution case claimed state representatives had negotiated with the mob following a string of mafia bombings that killed 23 people, including prominent anti-mafia magistrates Giovanni Falcone and Paolo Borsellino.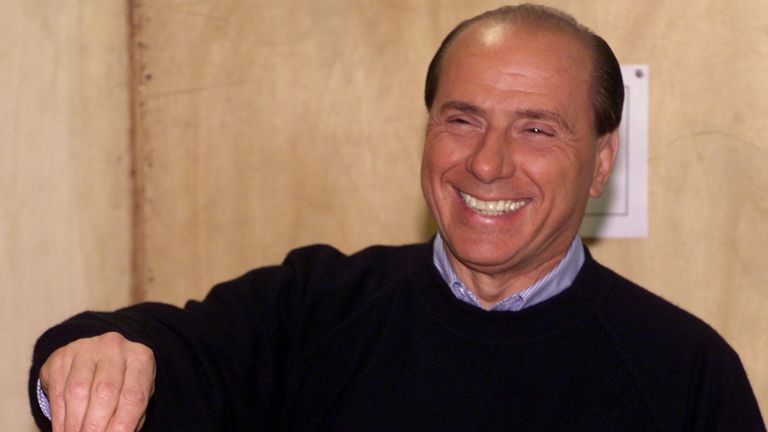 According to prosecutors, talks between the mafia and the Italian state began after judge Falcone, his wife and three bodyguards were killed by a device under a motorway in May 1992.
The state's willingness to enter negotiations after Falcone's murder encouraged further bombings, it was alleged.
The prosecution said those attacks included the one that killed Mr Borsellino two months later because he had opposed the negotiations.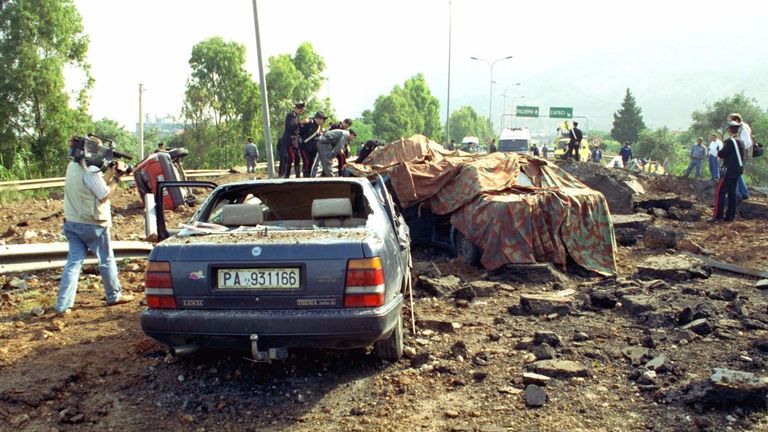 The following year, Cosa Nostra carried out unprecedented mainland attacks on cultural and church targets, including Florence's Uffizi Gallery.
Ten people were killed in Milan and Florence. After 1993, the attacks abruptly stopped.
The prosecutors said they would review Thursday's ruling to decide if they would appeal the decision to the Supreme Court.
La Palma eruption: Lava spread raises fears of more damage on Spanish island as it rises 50 feet in places | World News
The advance of lava from a volcanic eruption in Spain's Canary Islands has slowed, rising in some places up to 50 feet as it thickens.
One giant river of lava on the island of La Palma slowed to 13 feet (4m) per hour on Wednesday – on Monday, a day after the eruption, it was moving at 2,300 feet (700m) per hour.
A second stream of lava has virtually ground to a halt.
As it slows, it has raised concerns that the molten rock may fan out across the land and destroy more homes.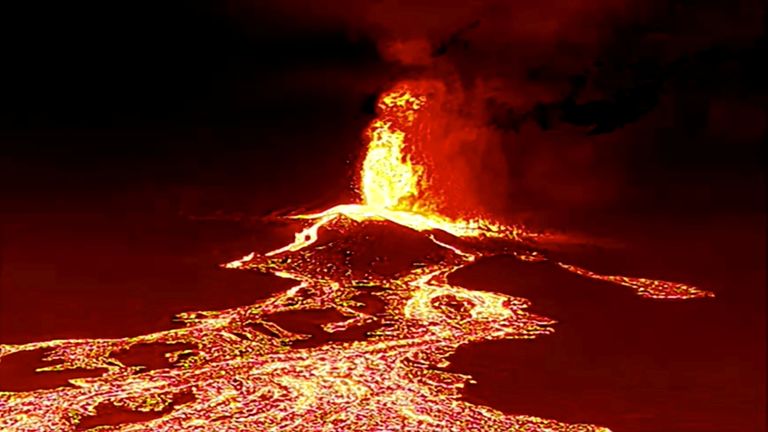 Correspondent broadcasts live as volcano erupts

It now covers 410 acres and has entombed 350 homes.
There have been no casualties reported from the eruption but damage to property, infrastructure, and farmland is expected to be extensive.
Almost 7,000 people were evacuated after scientists monitoring the volcano warned of the eruption.
The lava slowing has allowed more residents of towns in its path to grab belongings under police escort.
Officials had initially expressed fears about what would happen when the lava – with temperatures exceeding 1,000 degrees Celcius – reached the Atlantic ocean, as it could cause explosions, trigger landslides and produce clouds of toxic gas.
However, the head of the National Geographic Institute in the Canary Islands, Maria Jose Blanco, said some lava streams won't reach the ocean until the weekend, and others may never reach it at all.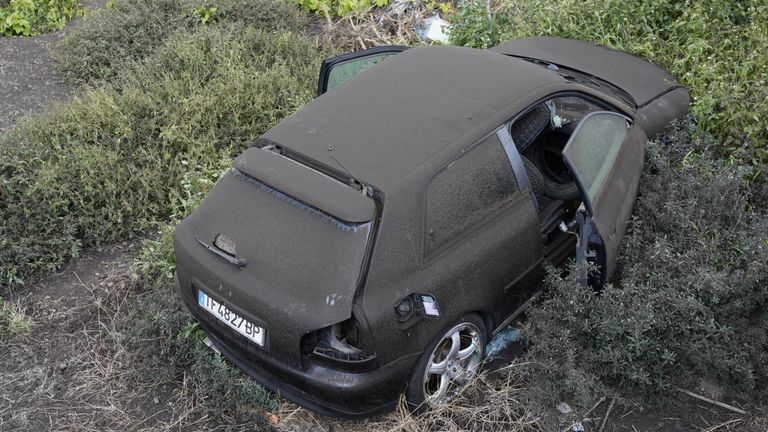 Meanwhile, molten lava, ash and smoke continue to pour from the volcano's mouth, shooting up to nearly 14,000 feet high, the Canary Islands Volcanology Institute said, raising concerns about whether airspace above the island could remain open.
Readings taken of the air found no threat to health, authorities said.
Joel Francisco, 38, said he and his elderly parents left their home with only a handful of belongings and important documents.
Now the flow appears to have slowed, he hopes to return, if police allow.
"We don't know how long we have to wait until we can return to our homes because the roads are closed," he told The Associated Press.
"Some people have it worse off, their houses are gone."
Video of La Palma eruptions burning buildings and destroying homes

The Canary Islands Volcanology Institute said the eruption and its aftermath could last for up to 84 days.
This means residents could still be at risk of earthquakes, lava flows, toxic gases, volcanic ash, and acid rain.
However, tourists visiting the island have been largely undeterred, with many continuing to land for previously planned holidays.
Ukraine leader pledges 'strong response' after shots fired at aide's car in assassination attempt | World News
Ukrainian president Volodymyr Zelenskiy has warned the "response will be strong" after one of his top aides survived an assassination attempt.
At least 10 bullets struck Serhiy Shefir's car, the top aide and close personal friend of Mr Zelenskiy, outside of Kiev on Wednesday.
The driver of his black Audi was badly wounded and taken to hospital, but Mr Shefir escaped uninjured.
It is not known who carried out the shooting and the gunman is still at large.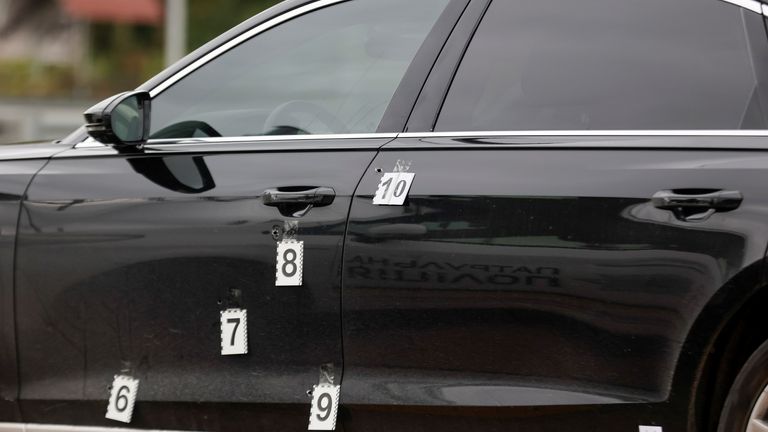 Mr Zelenskiy issued a warning to the attacker from New York, where he is taking part in the UN General Assembly.
He said he did not know who was responsible for the attack, but pledged "a strong response".
"These could be internal or external forces. But I don't consider them to be strong because sending me a 'hello' by firing from a forest into the automobile of my friend is weakness," he said.
"This [attack] will not affect the strength of our team.
"This does not affect the path toward change that I have chosen with my team, for taking our economy out of the shadows, for the fight against criminal elements with large, influential financial groups – on the contrary, because the people of Ukraine gave us a mandate for change."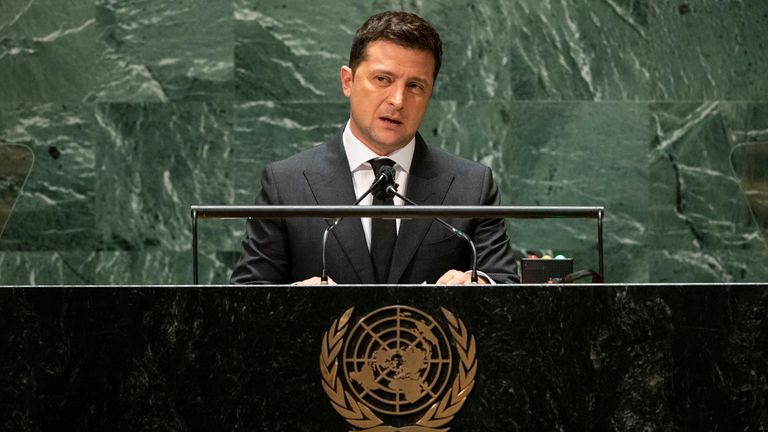 Mr Shefir praised his driver for acting "heroically" by accelerating away from the gunman as the "shots rang out".
He added: "We had to speed up a little, it was scary."
Mr Shefir also said he believed he had been targeted in an attempt to intimidate the "highest echelon of power", but added this would not work.
He said: "One has to understand that our president [Zelenskiy] is very strong-willed, he has a spine and cannot be intimidated."
The Kremlin has denied any Russian involvement.
Kremlin spokesman Dmitry Peskov added any suggestion of a link with Russia showed "the signs of an excessively excited emotional state".
He said: "Unfortunately nowadays, whatever happens in Ukraine, none of the current politicians is able to rule out the Russian trace."
Ukraine has seen a huge rise in violence since its conflict with Russia began in 2014 when the Crimean peninsula was annexed.
Several military and political officers have been targeted in assassination attempts since then, with seven deaths taking place between 2016 and 2017 alone in the Ukrainian capital Kiev.
The attack came just days before Ukrainian politicians were set to debate Mr Zelenskiy's bill on cracking down on the country's powerful oligarchs, who dominate the economic and political landscape.
On Thursday, a day after the shooting, Ukraine's parliament passed a law which bans oligarchs from financing political parties or taking part in privatisations.
It must now be approved by the president to come into force.