Beirut explosion: Protesters clash with security forces as Lebanon marks one year since blast | World News
Security forces in Lebanon have fired water cannon and tear gas at anti-government protesters calling for justice on the one-year anniversary of the Beirut explosion.
Demonstrators in the city had been throwing stones at the parliament building, with some trying to climb its gate.
Earlier, thousands of people gathered to hold a moment of silence to mark exactly one year since the blast at the city's port, which killed more than 200 people and wounded thousands.
Minute silence one year on from Beirut blast

Protesters were seen marching through the streets, waving Lebanese flags and holding pictures of victims.
Banks, businesses and government offices were closed to pay tribute to those who lost their lives on what was declared a national day of mourning.
No senior official has yet been held to account for the explosion, which was caused by a huge quantity of ammonium nitrate stored unsafely at the port for years.
"We will not forget and we will not forgive them ever," said Hiyam al Bikai, dressed in black and clutching a picture of her son, Ahmad, who was killed when masonry fell on his car.
"And if they can't bring them to account, we will by our own hands."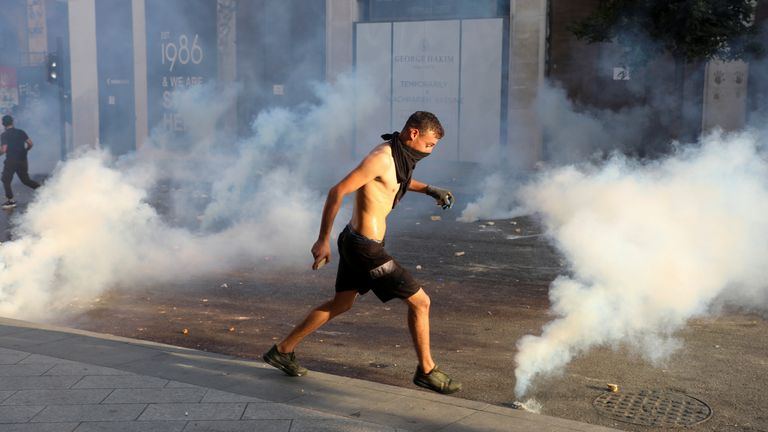 Another source of public anger is the country's crippling economy, which will receive £266m in emergency aid raised at a donor conference on Wednesday.
In his remarks at the event, French President Emmanuel Macron criticised a "failing" Lebanese political class that has been unable to form a government in the year since the blast, despite French and international pressure.
"Lebanese leaders seem to bet on a stalling strategy, which I regret and I think is a historic and moral failure," he said.
President Joe Biden said the US will give the country almost $100m (£72m) in additional humanitarian aid.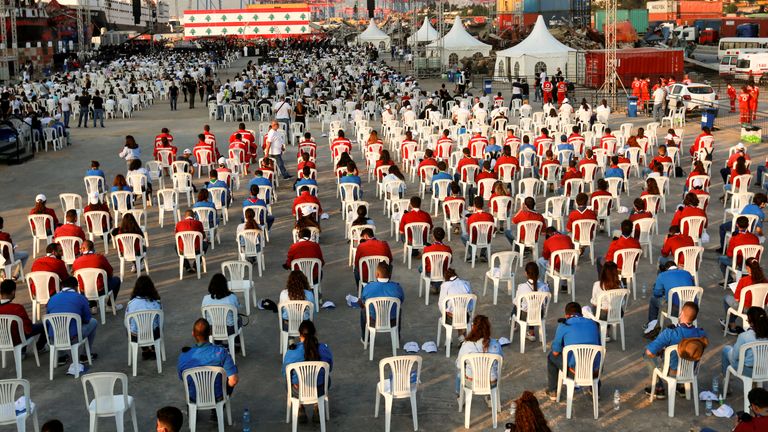 A Lebanese investigation into the explosion is at a standstill as requests have been denied for senior politicians and formal officials to lose immunity.
All those sought for questioning by the Lebanese investigators have denied responsibility.
Lebanon's most senior Christian cleric also held a mass with the families of the victims at the port, saying the Lebanese people need to know who engaged in actions that led to the blast.
Follow the Daily podcast on Apple Podcasts, Google Podcasts, Spotify, Spreaker
"Justice isn't just the demand of the families of the victims but of all Lebanese," Maronite Patriarch Bechara Boutros al Rai said.
He added: "We want to know who brought in the explosives… who allowed for their unloading… who withdrew quantities [of explosives] from it and where it was sent."
The damage from the blast is still visible across large swathes of Beirut and the port remains unrepaired.
Russia: State authorities look to exercise control as parliamentary elections begin | World News
Shortly after polls opened on Friday morning, a long queue had already formed outside a polling station in Moscow's central Arbat district.
Many of those waiting were workers from the nearby Ministry of Defence as evidenced by the branded briefcases they were holding.
They'd been given the morning off to cast their votes at the start of three days of elections for the Russian parliament
Vladislava was monosyllabic. Did she think her vote would make a difference? Yes. Did she want change? She likes things how they are. Does she work for the state? Yes.
The ruling party United Russia has 353 of the 450 seats in the state parliament or Duma.
It is a supermajority the party wants to keep. But United Russia has been polling badly.
That's why there are long queues so early in the voting process. It's all about monitoring and mobilising as many United Russia voters as the state can muster.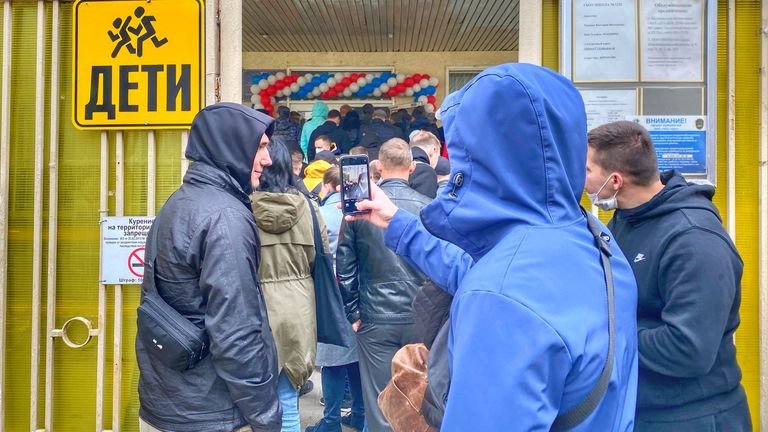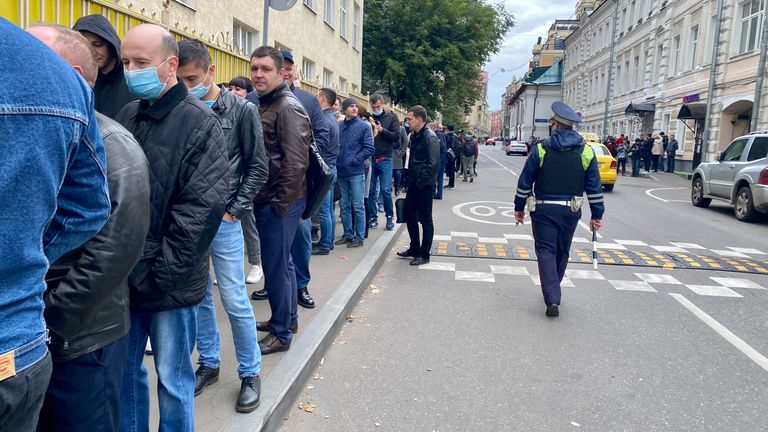 Given President Vladimir Putin's cast-iron grip on power, you might ask why the Kremlin is working so hard to control the outcome.
In the run-up to these elections, the full panoply of dirty tricks has been at play.
Doppelgänger spoiler candidates, cash handouts; independent candidates barred from running on spurious grounds – often for supposedly foreign links; and the time-honoured traditions of state workers marched out to cast their votes for United Russia. Old habits die hard.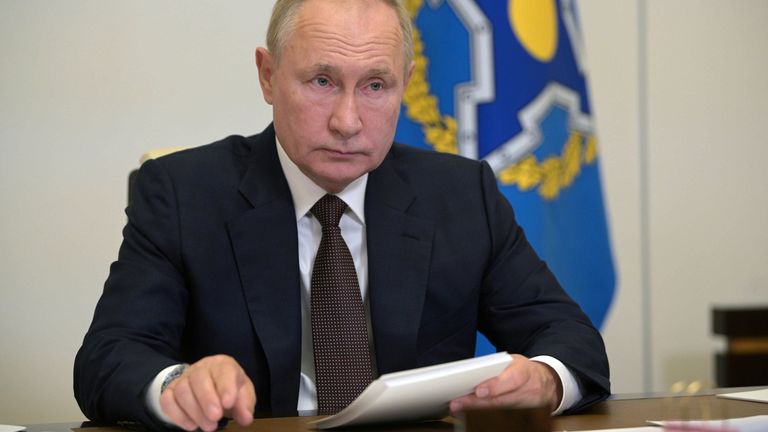 Then there are the Soviet-style repressions as if President Putin is trying to outdo his neighbour over in Belarus.
Alexander Lukashenko has been hammering anything even resembling dissent since mass protests last summer.
In Russia, around the same time, opposition leader Alexei Navalny was poisoned.
He is now in jail and most of his top team have fled the country.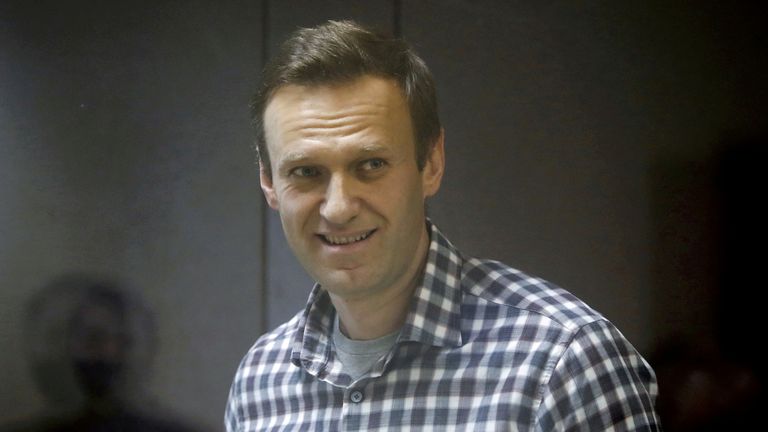 On Friday, US tech giants Apple and Google caved into demands they remove an app designed by Mr Navalny's allies from their stores.
The Smart Voting app gives people detailed recommendations on who to vote for in an effort to thwart the electoral chances of the ruling United Russia party.
Sources at Google told Sky News it was not a decision they took lightly but that their staff on the ground had received "multiple threats".
More and more journalists are now joining the ever-growing numbers of Russians in exile.
Each Friday more names are added to the list of so-called foreign agents, which now stretches to 47 media outlets, activists and individuals.
Being on the list essentially brands you an enemy of the state, which means advertising falls away and you must prepare labour-intensive audits.
Even the tiniest mistakes can lead down a path of escalating criminal charges.
"I think for a long time the Russian authorities pretended that you have a democracy here.
"But one day they decided not to pretend anymore and to become a real autocracy," Tikhon Dzyadko, editor-in-chief of independent TV station Dozhd, or Rain TV, told Sky News.
"If you can't improve the economic situation yourself, you've got to find an enemy and blame them," Pavel Grudinin, a wealthy farmer who was disqualified from running as a candidate for the Communist party, added.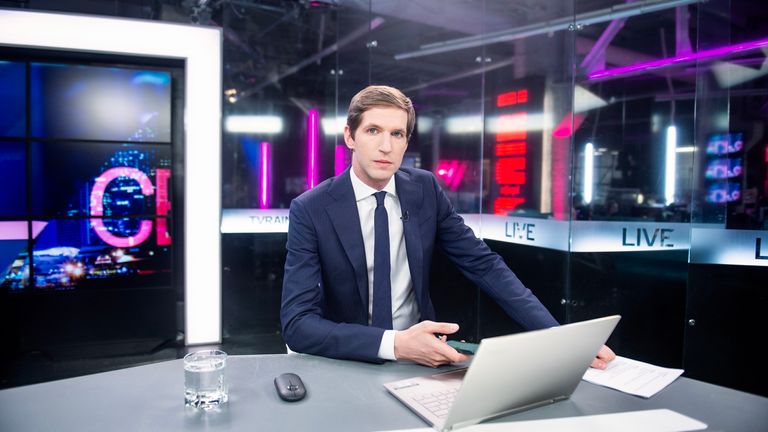 Mr Grudinin ran for president against Vladimir Putin in 2018. He won just 12% of the vote but that was closer than anyone else came to defeating Mr Putin and it clearly riled powerful forces.
Since then he has faced off around 1,000 lawsuits – an aggressive campaign he thinks is designed to force him into bankruptcy.
Barring the likes of Mr Grudinin from the elections runs the risk of turning the communist party from a mostly pliant subordinate to United Russia into an actual political force.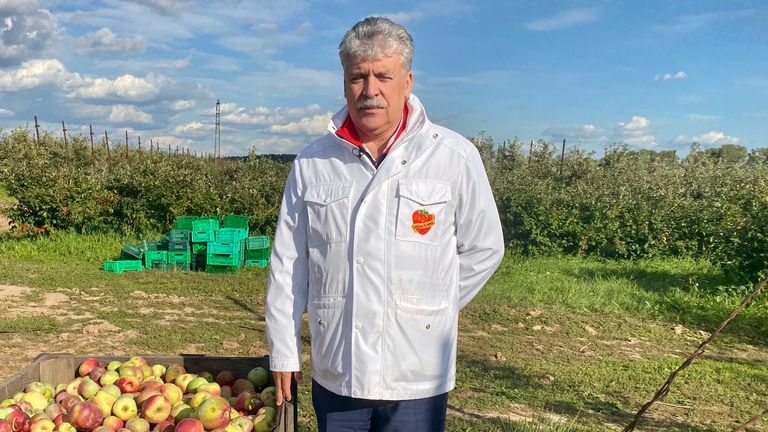 Thanks to Mr Navalny's Smart Voting app the communists look like they'll be putting in their strongest showing in years.
There will most likely be a threshold they dare not cross, but it is an interesting new political dynamic in a carefully controlled political environment.
Outside the Arbat polling station, a man who gives his name simply as Andre says he was instructed by his state-employer to come but that he'll use Smart Voting to make his choice.
"If everyone uses Smart Voting, then maybe things will change," he said.
Things are unlikely to change, not now. But for all the certainty that this election will be neither free nor fair and that voter turnout will be pitifully low, there is still the potential for surprises.
"Forecasts in Russian politics never come true," Mr Grudinin said.
"The rules are changing every time we hold an election. The British invented football. Just imagine if the rules of football changed every world championship. That is how we live."
South Africa: Farm where Nelson Mandela started anti-apartheid journey risks closure 'because of pandemic and corruption' | World News
There are no fields or streams on display as you travel down the road to Liliesleaf farm.
Instead, the property has been completely enveloped by the suburban sprawl of northern Johannesburg.
But the fact that this unfashionable structure still occupies a patch of South Africa's largest city speaks volumes about the role it played in the formation of modern, democratic South Africa.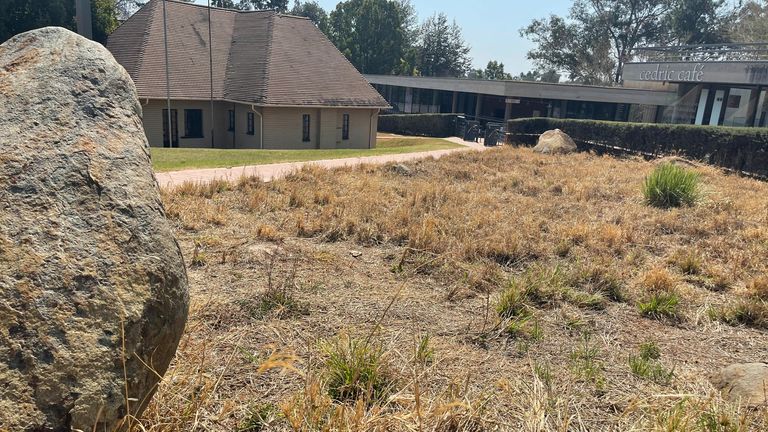 It was at this unremarkable farmhouse that a collection of activists and idealists – both black and white – held key debates and meetings based on one critical idea.
They used Liliesleaf farm as a secret base to plot the downfall of the apartheid regime.
Together, they formed a who's who of the liberation struggle, including Walter Sisulu, Ahmed Kathrada, Joe Slovo, Denis Goldberg, Govan Mbeki (father of president Thabo Mbeki) and a so-called houseboy named Nelson Mandela.
"Liliesleaf was an old house that needed work and no one lived there. I moved in under the pretext that I was a houseboy or caretaker that would live there until my master took possession… I wore the simple blue overalls that were the uniform of the black male servant," wrote Mandela in his book, Long Walk To Freedom.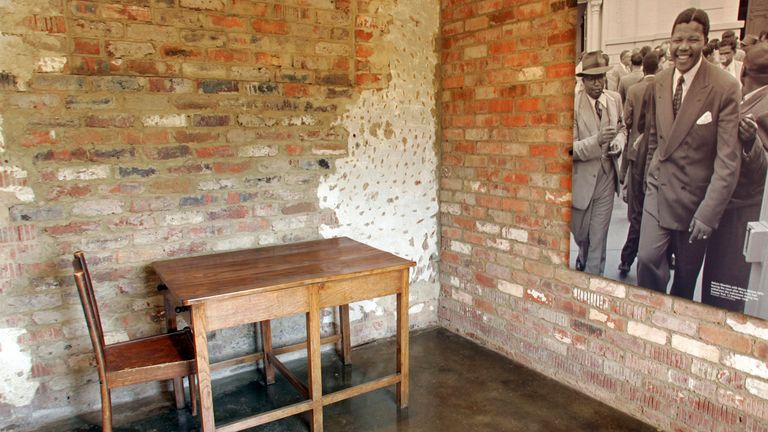 A man called Harold Wolpe purchased the house in 1961 for the underground South African Communist Party and his son, Nicholas, now heads the organisation which runs the property.
When we found him at Liliesleaf however, he was slumped in a chair next to the ticket booth and there was not a single visitor to be seen.
I asked him what was going on.
"We're closed," he said. "I don't have money to pay for the staff and you can't expect them to work for nothing can you? If they don't come, we can't open it, who is going to interact with the guests? It is the only option I had."
He told me the government had refused his pleas for financial support after a series of COVID-related lockdowns destroyed the organisation's revenue base.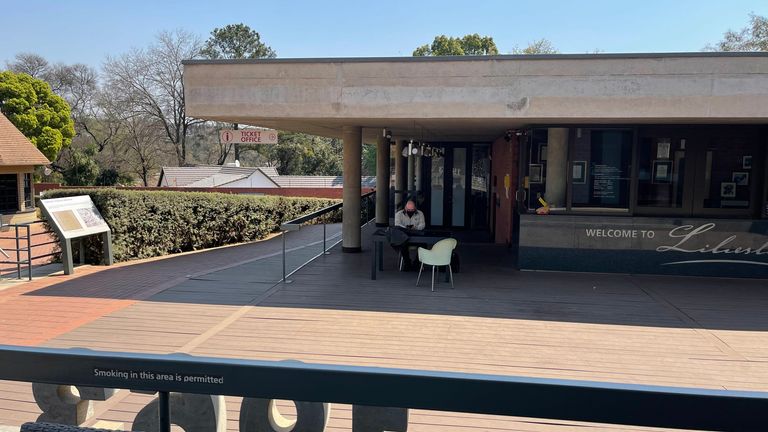 "Sooner or later there will be no historic sites, no museums, no theatres and eventually there will be nothing left for us to protect because they will have all disintegrated into wilderness."
When Mr Wolpe went public with his criticisms, decrying the "abject failure" of the country's arts of culture department, officials fired back, accusing farm managers of misusing 8.1 million rand (£400,000) donated by the department for the renewal of exhibition infrastructure in 2015.
Mr Wolpe says he had to use the money for operational costs and questions why the department is raising the issue now.
"There have been times where I have wanted to burst out crying because… we have been able to stay above (allegations of corruption) for the last 19 years, that toxicity, the corruption and maladministration, we have managed to stay away from and now we find ourselves embedded, now we are in the middle of it."
Allegations of corruption and shoddy administration are widespread and go to the top – and the heart of South African society.
Former president Jacob Zuma faces 16 counts of corruption, racketeering, fraud, and money laundering in relation to a £1.4bn arms deal with French manufacturer Thales.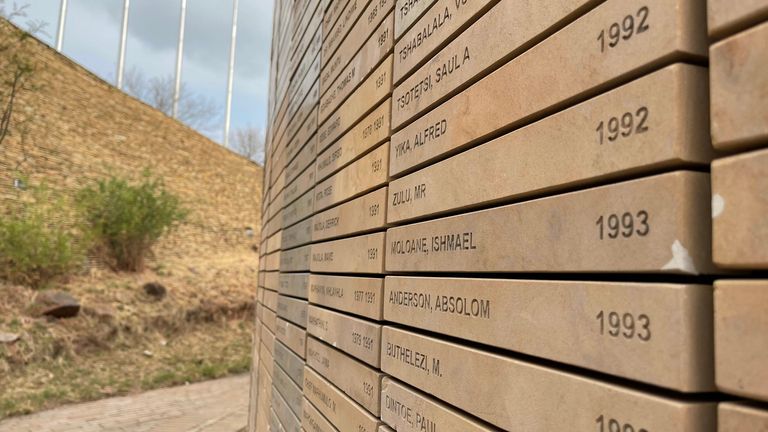 He and his lawyers have managed to delay the trial for over 16 years by deploying a so-called "Stalingrad-approach".
Zuma was sentenced to 15 months in prison in June after failing to show up to a commission of inquiry into corruption that he appointed when he was president.
Controversially, he was granted "medical parole" after serving two months in a correctional centre in Durban.
Billions of rand have been lost to what South Africans term "state-capture" and the people charged with running the country's key heritage sites are struggling to cope.
Jane Mufamadi is the head of Freedom Park, a heritage facility occupying 52 glorious hectares overlooking the capital Pretoria.
It was built on Nelson Mandela's request in 2003 and honours thousands of freedom fighters who helped to challenge and dismantle the white-supremacist governments of the apartheid-era.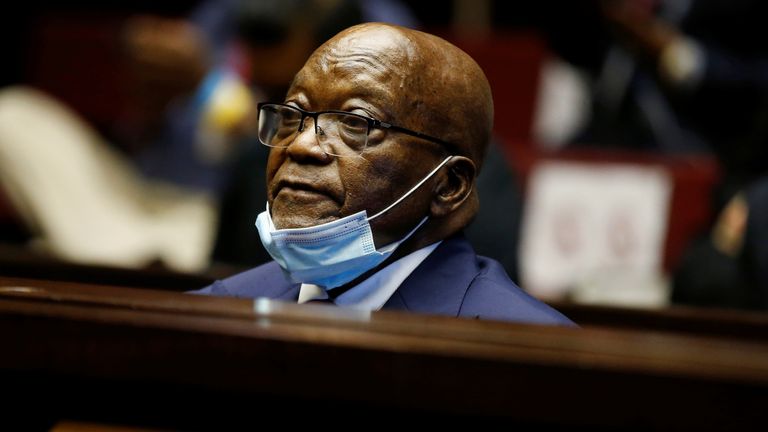 Yet government grants have been cut and monies from ticket sales and events have virtually disappeared.
Ms Mufamadi said: "People are no longer coming as they used to do. In terms of the numbers we are just under 10% of normal visitations."
"Even though people can come (after the lifting of COVID restrictions)?" I asked.
"Even though people can come – so we have to go back to the drawing board," she replied.
Ms Mufamadi does not shy away from the fact the party of South Africa's liberation struggle, the ANC, is also the party of Jacob Zuma and host of other discredited figures. Few would choose to honour them now.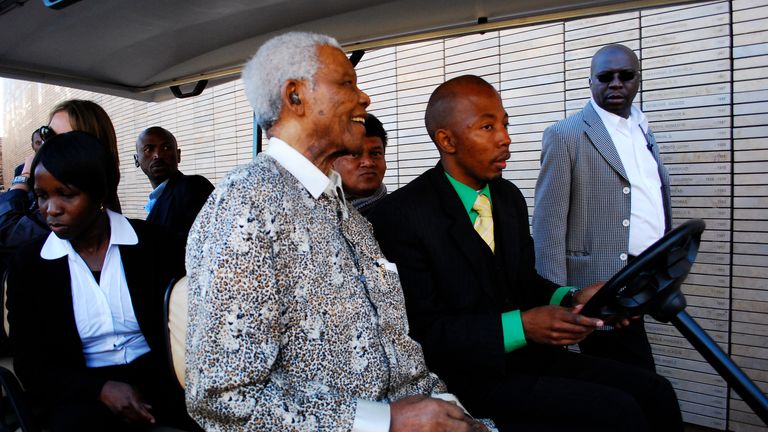 "You can see why young people are cynical," I said.
"Yes definitely, definitely, there is no denying the fact we have challenges but we are a hopeful nation and if we could overcome apartheid we believe we can win against this."
France: AUKUS submarine deal has caused one of the gravest rifts among Western allies in living memory | World News
France's drastic decision to recall its ambassadors to the United States and Australia marks one of the gravest rifts among allies in living memory.
And it will also be watched by rivals like China and Russia with glee.
The extraordinary diplomatic rebuke follows a decision by Canberra to ditch a French submarine contract for a new nuclear submarine partnership with Washington and London.
Yet the French fury – conveyed in a communique by the foreign minister – omitted any mention of Britain even though the UK is clearly also in the firing line.
'AUKUS alliance will bring us closer than ever'

Gerard Araud, a former French ambassador to the US, wrote on Twitter: "You can interpret the omission of the UK as a sign of conciliation or contempt. Your choice."
The French move dashes hopes on the UK, US and Australian side that normal relations with Paris would resume once French "disappointment" at losing out on the multi-billion pound submarine deal faded.
Their so-called AUKUS partnership was meant to be about bolstering the defences of democratic countries in the face of a growing challenge posed by authoritarian China in the Indo-Pacific and beyond.
British nuclear-powered subs make rare 'surface'

But instead of strengthening western unity, it has triggered this significant rupture – an outcome that could well be exploited by Beijing and Moscow.
Any friction between western allies is an opportunity for their authoritarian rivals to amplify.
The US, UK and France are all members of the G7 group of industrialised, democratic powers and the NATO defence and security alliance, while Australia is also a close and like-minded ally.
Frantic efforts will be going on behind the scenes to try and defuse the row
However, President Emmanuel Macron, heading into an election year, has been badly bruised on the international stage and needs to hit back.
Subscribe to Into The Grey Zone podcast on Apple Podcasts or Spotify.
His country not only lost a big chunk of business when Australia sank the submarine contract, but it will also miss out on the prestige of providing the Australian navy with such a strategic asset over several decades.
Adding to the injury, Mr Macron will have to watch the US and the UK take France's place.
Not a great look for a president who sees his country as the predominant military power in Europe.
The anger was clear in foreign minister Jean-Yves Le Drian's statement: "The abandonment of the ocean-class submarine project… and the announcement of a new partnership with the United States… constitutes unacceptable behaviour between allies and partners".