'COVID is a warning that much worse lies in store': Alarm raised ahead of biggest climate report since 2013 | Climate News
The COVID-19 pandemic is "a warning from the planet that much worse lies in store unless we change our ways", a leading UN environment figure has said, ahead of the publication of the biggest climate report in almost a decade.
"While the climate crisis, together with biodiversity loss and pollution, has indeed been under way for decades, the COVID-19 pandemic has brought this triple planetary crisis into sharp focus," Joyce Msuya, assistant secretary general of the United Nations and deputy executive director of the UN Environment Programme (UNEP) said today.
"The pandemic is a warning from the planet that much worse lies in store unless we change our ways."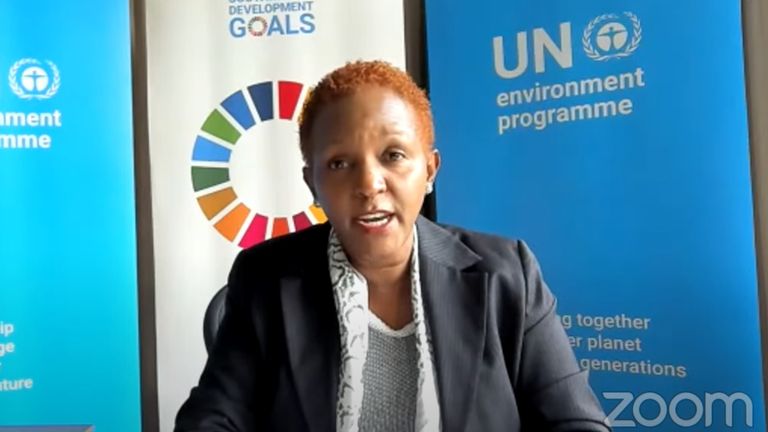 Live COVID updates from the UK and around the world
Ms Msuya was speaking to mark the finalisation of the most comprehensive assessment of global warming of its kind since 2013.
The Intergovernmental Panel on Climate Change's (IPCC) Working Group I has compiled its latest update on the science behind climate change, assessing the impacts of global warming and warning of future threats.
Its researchers will now spend the next two weeks talking representatives of 195 governments through their findings, before the report is published on 9 August.
The need for such a wide-reaching study has been thrown into sharp focus by a spate of climate change-linked environmental disasters suffered the world over, from flooding in Europe to famine in Madagascar. Siberia burned while swathes of the US and Brazil suffered record heat and drought.
It will set the scene for the all-important COP26, crucial climate negotiations taking place just three months later in Glasgow. The aim of the talks is to get governments to agree on how to limit emissions and limit global warming ideally to 1.5C above pre-industrial levels.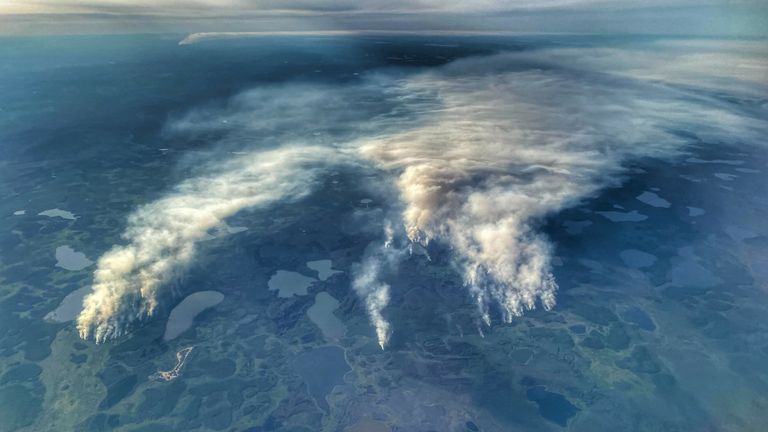 With 100 days to COP26, what are these climate talks and why are they so important?
Ms Msuya added: "After years of promises but not enough action, it is a warning that we must get on top of this crisis that threatens our collective future.
"As I speak it is clear that extreme weather is the new normal. From Germany to China to Canada or the United States, wildfires, floods, extreme heatwaves. It is an ever-growing tragic list.
"And as countries invest unprecedented amounts of resources into kickstarting the global economy, as we all call for this recovery to be green, we need the IPCC more than ever."
Hot topics in the report could be humanity's impact on the climate, feedback loops and the impacts of climate change already happening, the role of forests and oceans as carbon sinks or potential carbon sources.
How to prepare for extreme weather

What is the IPCC?
For more than three decades the UN's climate science body, the IPCC, has provided politicians with assessments on the global climate, publishing a series of reports every seven years, as well as special interim reports.
IPCC reports have historically underpinned global climate action and influenced decisions to reduce greenhouse gas emissions.
Its 2013 assessment that humans had been the "dominant cause" of global warming since the 1950s set the stage for the landmark climate accord known as the Paris Agreement in 2015.
In 2018, the IPCC released a special report on keeping global temperature rise under 1.5C, which changed public discourse on climate.
The global atmosphere is already 1.2C warmer than the preindustrial average.
A further two reports in this assessment cycle are on track to be published next year.
Working Group II, slated for February, will calculate the vulnerability of humans and nature to the climate crisis and subsequent adaption. Working Group III, to follow in March, will assess ways of keeping to global temperature targets, including options on renewable energy or carbon capture and storage.
Subscribe to ClimateCast on Spotify, Apple Podcasts, or Spreaker.
Sky News has launched the first daily prime time news show dedicated to climate change.
The Daily Climate Show is broadcast at 6.30pm and 9.30pm Monday to Friday on Sky News, the Sky News website and app, on YouTube and Twitter.
Hosted by Anna Jones, it follows Sky News correspondents as they investigate how global warming is changing our landscape and how we all live our lives.
The show also highlights solutions to the crisis and how small changes can make a big difference.
German election frontrunner Olaf Scholz: Who is the man likely to replace Chancellor Angela Merkel? | World News
After 16 years of Angela Merkel in the chancellorship, Germany can be said to value leaders who are regarded as strong and steady.
It is something the leading contender in Sunday's election, Olaf Scholz, is counting on as he bids to become the natural successor to the outgoing leader – despite being from a different party.
The pair know each other well – Social Democrat Mr Scholz has been Ms Merkel's finance minister and vice chancellor in the uneasy "grand coalition" of conservatives and members of the Social Democratic Party (SPD) she had to bring together to form a government in 2017.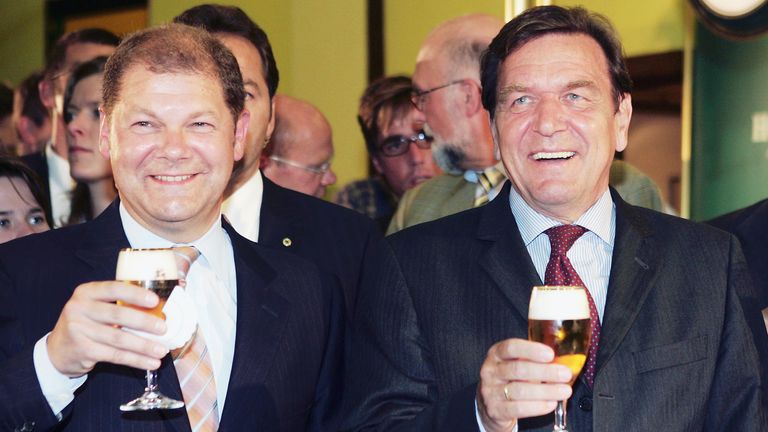 The latest polls suggest Mr Scholz has come from behind in his bid to replace her, while the main conservative candidate Armin Laschet has fallen behind.
If Mr Scholz wins, it will be a vindication of his attempt to follow in Ms Merkel's footsteps.
Germany election: What's at stake?

Although frequently labelled "boring", the 63-year-old finance minister has been keen to present himself as a man of action who can be trusted to get things done.
And, despite promising continuity and stability, Mr Scholz has distanced himself from his former conservative partners in the coalition, claiming they are too cozy with business.
A lawyer by background, he is a widely experienced politician having served in some of the highest offices at local and national level.
He first entered the German parliament at the age of 40 in 1998, and, amid spells of various lengths within the government of the city-state of Hamburg, has been high up in the federal government or SPD for the last 20 years.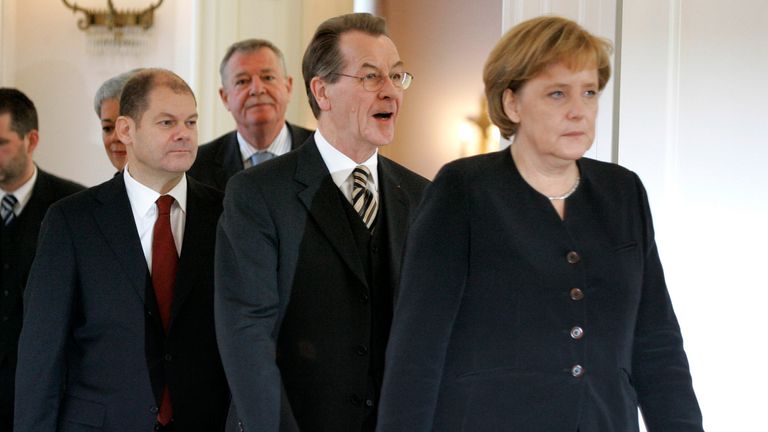 He was mayor of Hamburg from 2011 to 2018 but has also held the position of SPD chief whip, SPD deputy leader, and minister of labour and social affairs in Ms Merkel's first government, as well as his current roles.
During the pandemic, Mr Scholz won praise from the International Monetary Fund for his measures, having ditched a balanced budget at home to protect the German economy and helped create the EU's COVID recovery fund, despite Ms Merkel's initial resistance.
Amid soaring German inflation and pressure from his conservative adversaries, he has been keen to keep the activities of the European Central Bank (ECB) separate to the government's handling of the German economy, pointing to the need to respect the ECB's independence, following the lead of his chancellor.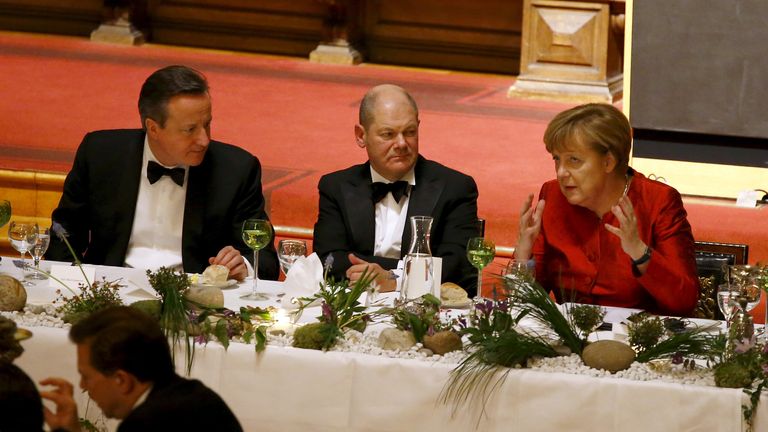 He also cooperated with France to drive forward efforts to introduce a global minimum rate of corporate tax and new tax rules for tech giants.
His combination of prudence and vital assistance amid the crisis have paid off.
A snap poll after the last TV debate showed Mr Scholz won a clean sweep, despite conservative candidate Armin Laschet attacking his record on tackling money laundering.
Is Germany as green as it would like to think?

From the moderate wing of his party and thoroughly versed in the realities of German government, if he wins he will set about the task of building a coalition, probably with the Greens, but perhaps of the grand coalition type that Ms Merkel has lived happily with repeatedly, alongside her CDU party.
During the COVID era, he has underwritten his left-of-centre credentials with a significant stimulus package but, in opposition to some on the left of his party – which is similar to the UK's Labour movement – he wants Germany to rein in debt by 2023, reintroducing strict limits on federal and state government spending.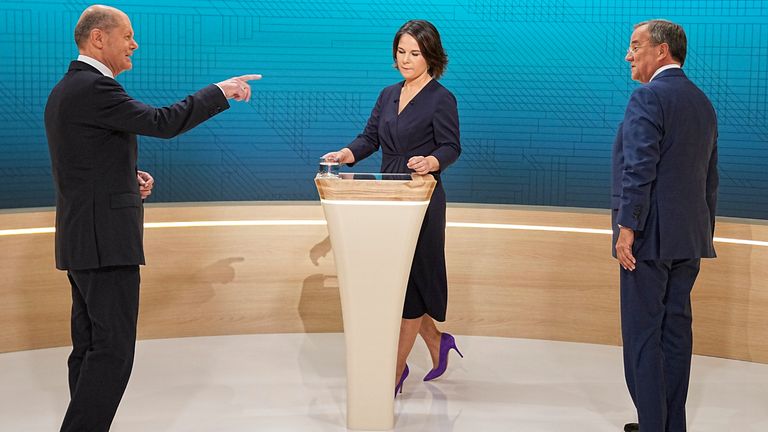 His claim to be as calm and collected as his potential predecessor may be on shakier ground than he admits, having shown a tetchiness in the past in his dealings with the media and rioters during the Hamburg G20 event, but he is adamant he is driven by pragmatism, not personality.
"I'm applying for chancellor, not to be a circus ringmaster," he told women's magazine Brigitte.
Taliban prisons chief says the group will resume executions and amputations as punishment | World News
One of the founders of the Taliban has said that the group will resume executions and amputations as punishment.
Mullah Nooruddin Turabi warned the world against interfering in the plans, which come just weeks after the Taliban took control of Afghanistan following the withdrawal of Western troops.
Mr Turabi, who was chief enforcer of the Taliban's harsh interpretation of Islamic law when they last ruled the country in the late 1990s, said: "Everyone criticised us for the punishments in the stadium, but we have never said anything about their laws and their punishments.
"No one will tell us what our laws should be.
"We will follow Islam and we will make our laws on the Quran."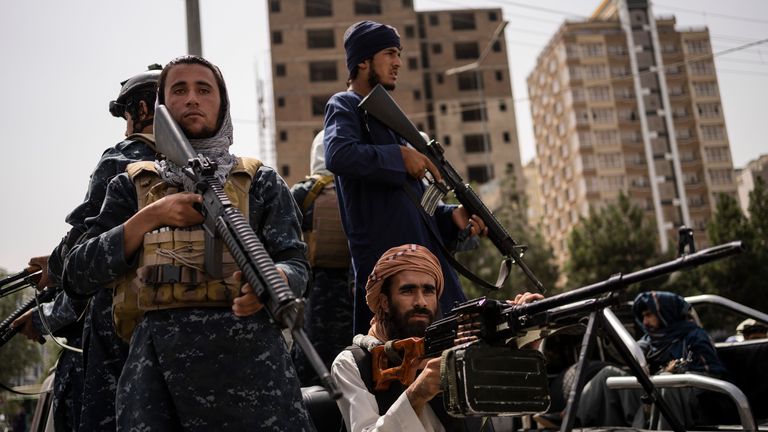 Previously, convicted murderers were shot in the head by the victim's family who also had the choice of accepting money and allowing the offender to live.
Convicted thieves had their hand amputated and highway robbers had a hand and a foot amputated.
Mr Turabi told the Associated Press that amputating hands "is very necessary for security", adding that during the Taliban's previous rule, such harsh punishments helped bring "complete safety" to the country.
US State Department spokesperson Ned Price said on Friday that the punishments "would constitute clear gross abuses of human rights".
"We stand firm with the international community to hold perpetrators of these, of any such abuses, accountable," he added.
"We are watching very closely, and not just listening to the announcements that come out but watching very closely as the Taliban conducts itself."
How popular is the Taliban in Afghanistan?

Taliban fighters have already revived an old punishment of public humiliation for men accused of small thefts.
At least twice in the past week men in Kabul have reportedly been put on the back of a pickup truck, their hands tied, and driven around the city.
But despite the revival of the old punishments, Mr Turabi insisted: "We are changed from the past."
Subscribe to the Daily podcast on Apple Podcasts, Google Podcasts, Spotify, Spreaker
Previously, the judiciary was heavily-influenced by hardline Islamic clerics but Mr Turabi said judges, including women, would adjudicate future cases.
He also said the Taliban would allow technology such as mobile phones, TV, photos and video "because this is the necessity of the people and we are serious about it."
Huawei's Meng Wanzhou released after reaching agreement with US prosecutors | Science & Tech News

Huawei's chief financial officer has reached a deal with US prosecutors that allows her to return to China.
Meng Wanzhou, who is also the daughter of the company's founder Ren Zhengfei, has been in Canada since she was arrested at Vancouver's airport in December 2018.
Her arrest followed an extradition warrant issued by the US for a range of charges relating to alleged breaches of sanctions against Iran.
But the deal means the US Department of Justice will drop its request to extradite her to the US and fraud charges against her will be dismissed in December 2022 – exactly four years after her arrest.
This will depend on her complying with certain conditions, including accepting responsibility for misrepresenting her company's business dealings in Iran.
Meng's defence lawyer Michelle Levin said she expected Meng to adhere to the conditions, adding: "We're very pleased that in the meantime she can go home to her family".
The details were confirmed during a court hearing, with Meng appearing via video from the Vancouver mansion where she was bailed after her arrest.
The court revoked all bail conditions, and Meng left for China shortly afterwards.
Before she left, Meng said: "Over the last three years my life has been turned upside down.
"It was a disruptive time for me as a mother, a wife and as a company executive.
"But I believe every cloud has a silver lining. It really was an invaluable experience in my life.
"I will never forget all the good wishes I received."
About an hour after Meng's departure, Canada's prime minister Justin Trudeau said that two Canadians arrested by Chinese authorities were also on their way home.
Michael Kovrig and Michael Spavor had been accused of spying and were arrested in China in December 2018 – shortly after Meng was arrested in Canada.
Mr Trudeau said: "These two men have been through an unbelievably difficult ordeal. For the past 1,000 days, they have shown strength, perseverance and grace and we are all inspired by that."