Arab Spring: What is legacy of protests and uprisings as Tunisia's president ousts PM in 'coup' | World News
Long considered one of the few success stories that sprang from the Arab Spring, Tunisia has seen its president accused of staging a coup after he sacked his prime minister and suspended parliament with the help of the army.
President Kais Saied's dismissal of Prime Minister Hichem Mechichi on Sunday followed violent demonstrations across the country over the government's handling of the coronavirus pandemic.
It has led to clashes between supporters and opponents of the president in the streets of the capital, Tunis.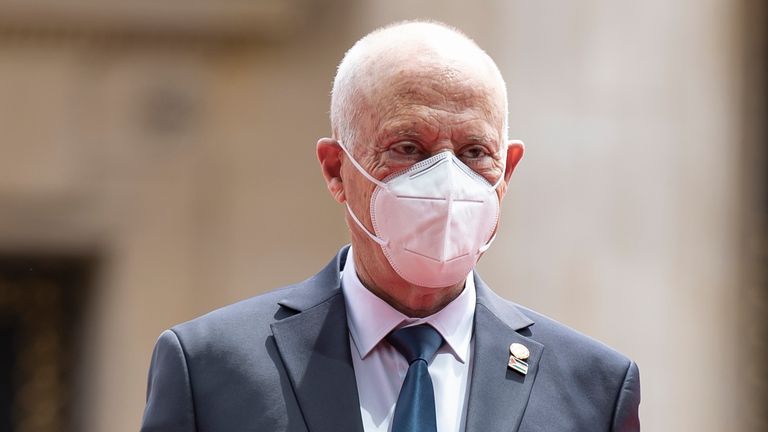 Mr Saied has said he will name a new prime minister, but his critics have accused him of a power grab that threatens Tunisia's young democracy.
Here is a look at the legacy of the Arab Spring and how protests and uprisings dramatically altered the political structure of much of the Arab world.
The Arab Spring
The Arab Spring spread across much of the Arab world from early 2010 as demonstrators rallied against the region's dictatorial leaders in protests over corruption, poverty and oppression.
Escalating anti-government protests spilt over into uprisings and eventually civil wars in several countries as the Arab Spring spread from Tunisia to Egypt, Syria, Libya and Yemen, resulting in the ousting of the leaders in those countries, with the exception of Syria.
It has directly contributed to the refugee crisis and the rise of the Islamic State and has seen fresh authoritarian leaders seize power in many countries, leaving many with their hopes crushed as they struggle to live under increasingly authoritarian regimes in countries beset by greater levels of poverty and unemployment.
Tunisia
People took to the streets in the capital, Tunis, to celebrate the PM's dismissal – but others have called the move 'a coup'

The roots of the Arab Spring can be traced back to Tunisia, where Mohamed Bouazizi, a fruit seller, set himself on fire in protest after police confiscated his goods and a female officer slapped him on 17 December 2010.
Footage of his self-immolation spread across the country and led people in his home city of Sidi Bouzid to take to the streets in rage.
Within a month, protests had forced Tunisia's authoritarian president, Zine El Abidine Ben Ali, to flee to Saudi Arabia.
Despite the relative success of Tunisia's revolution, the country has recently seen large protests over mass unemployment and many consider its parliament inefficient and stagnant.
These problems have been exacerbated by the coronavirus pandemic, which has hit the economy hard as infection rates soared over the summer.
Egypt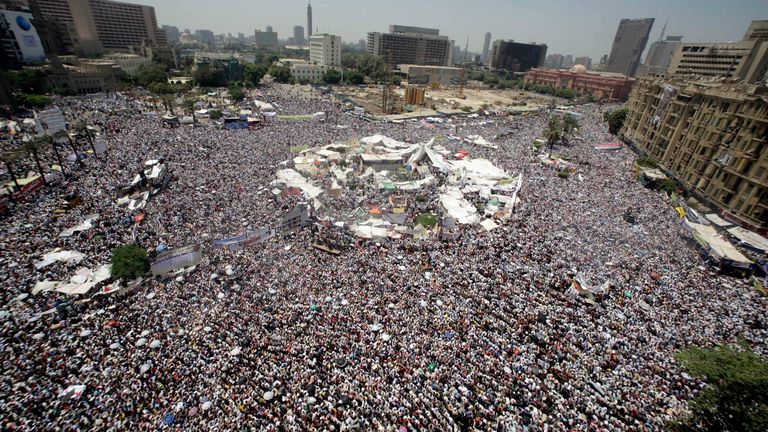 Demonstrations in Tunisia following the death of Bouazizi inspired massive protests across Egypt, leading President Hosni Mubarak to leave office within weeks.
A presidential election in 2012 gave power to President Mohammed Morsi and the Muslim Brotherhood, but Mr Morsi himself was later deposed when Egypt's military generals seized power in 2013.
Field Marshal Abdul Fattah al-Sisi then became president and imposed a police state, which has seen tens of thousands of Egyptians imprisoned and hundreds executed.
The country remains under military rule.
Syria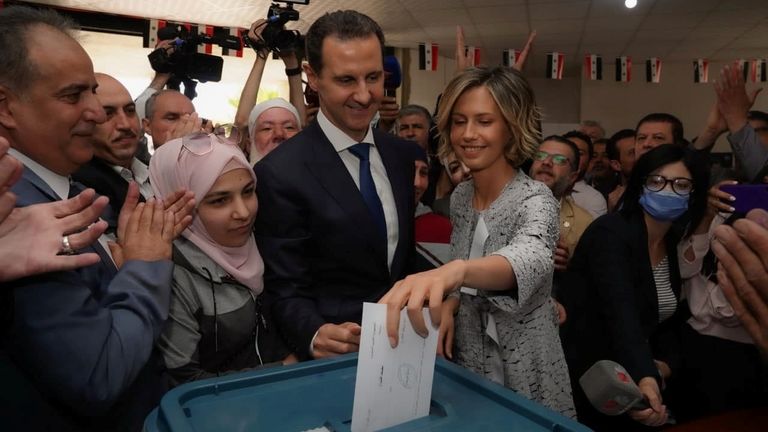 As unrest spread across Syria, Bashar al Assad's government began using live ammunition against protesters, leading tensions to boil over and igniting a civil war in 2011 between the regime and rebel groups.
IS emerged from among the myriad rebel groups and expanded across the border into Iraq, where it declared a new Islamic caliphate in 2014.
Sky's Mark Stone visits refugee camps in northern Syria and hears of the growing influence of Islamic State inside

Syria's brutal decade-long civil war has seen hundreds of thousands of people killed and over 6.8 million Syrians become asylum seekers and 6.7 million displaced within the country's borders.
Despite this, Mr Assad has managed to cling on to power with the support of Russia, Iran and Lebanon-based Shia-militant group Hezbollah, although fighting in the war-ravaged country continues and several areas remain under the control of rebels.
Libya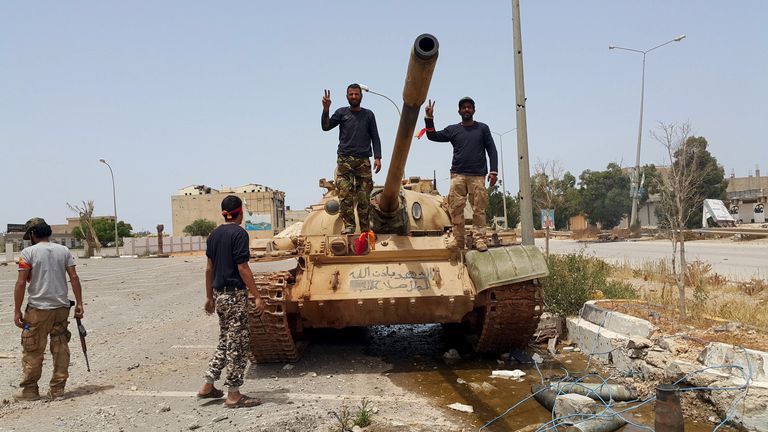 Similarly, Libya's Muammar Gaddafi decided to crack down on the largest protests in the country's history with force.
The move sparked a civil war and a NATO-led coalition began conducting airstrikes in support of the country's rebels.
Rebel forces deposed and later killed Gaddafi in October 2011. However, efforts to transition away from Gaddafi's rule broke down and the country descended into a renewed civil war.
The internationally recognised Government of National Accord remains in control of Tripoli and the city of Misrata, while the Libyan National Army, commanded by General Khalifa Haftar, runs Benghazi and much of the oil-rich east. General Haftar's forces are supported by Russia, Egypt and the United Arab Emirates.
Yemen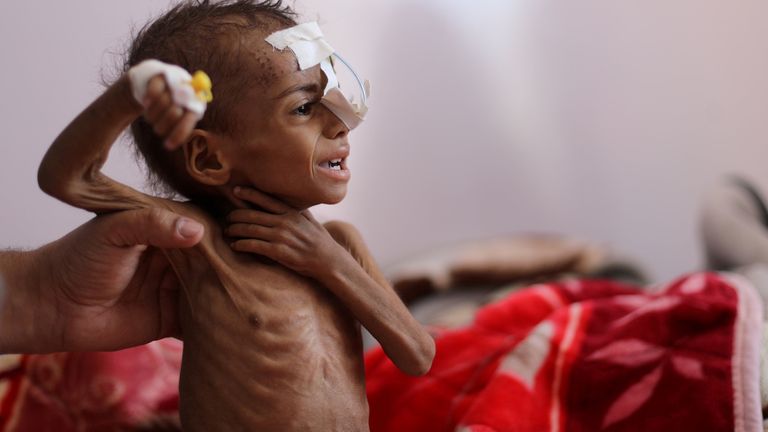 As protests spread throughout much of the Arab world, pressure on Yemen's authoritarian president Ali Abdullah Saleh led him to hand power to his deputy, Abdrabbuh Mansour Hadi, in 2011.
However, Mr Hadi's presidency was beset by continuing problems of corruption, unemployment and an insurgency from the Houthi militia.
The Houthis took control of the capital, Sana'a, in 2014 and declared themselves in charge of the government. Yemen's President, Abdrabbuh Mansur Hadi, fled to Aden, where he continues to lead Yemen's internationally-recognised government.
David Miliband criticises Yemen aid cut

Fierce fighting between the Iran-backed Houthi group and the western-backed coalition led by Saudi Arabia has led to one of the worst famines the world has ever seen, with half of the population lacking food and almost 16 million on the brink of starvation in 2016.
Other countries affected
While the Arab Spring saw rulers deposed in Tunisia, Libya, Egypt and Yemen, it also led to street protests in Iraq, Morocco, Algeria, Lebanon, Jordan, Kuwait, Oman and Sudan. Some countries, such as Saudi Arabia, were able to use military force to effectively end revolts before they could seriously threaten the status quo.
Legacy of the Arab Spring
While the reverberations of the Arab Spring continue to affect life in the Arab World, continuing issues including corruption, authoritarianism and poverty are likely to be exacerbated by the coronavirus crisis.
Only Tunisia's uprising resulted in a transition to a constitutional democracy, but with the country's president ousting his prime minister, the shift away from authoritarian rule is looking increasingly fragile.
German election frontrunner Olaf Scholz: Who is the man likely to replace Chancellor Angela Merkel? | World News
After 16 years of Angela Merkel in the chancellorship, Germany can be said to value leaders who are regarded as strong and steady.
It is something the leading contender in Sunday's election, Olaf Scholz, is counting on as he bids to become the natural successor to the outgoing leader – despite being from a different party.
The pair know each other well – Social Democrat Mr Scholz has been Ms Merkel's finance minister and vice chancellor in the uneasy "grand coalition" of conservatives and members of the Social Democratic Party (SPD) she had to bring together to form a government in 2017.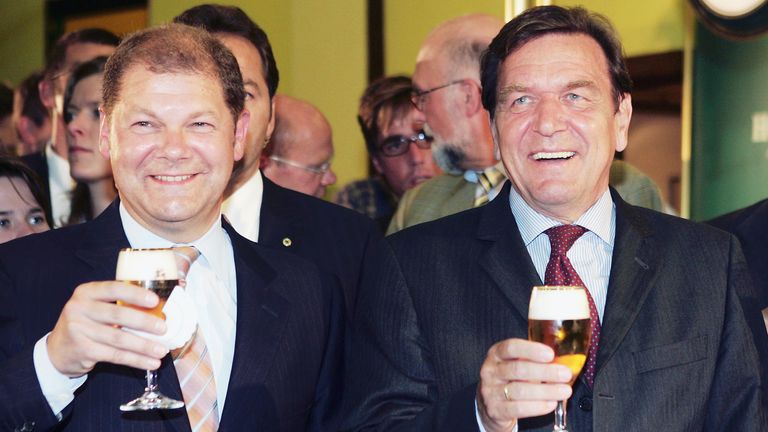 The latest polls suggest Mr Scholz has come from behind in his bid to replace her, while the main conservative candidate Armin Laschet has fallen behind.
If Mr Scholz wins, it will be a vindication of his attempt to follow in Ms Merkel's footsteps.
Germany election: What's at stake?

Although frequently labelled "boring", the 63-year-old finance minister has been keen to present himself as a man of action who can be trusted to get things done.
And, despite promising continuity and stability, Mr Scholz has distanced himself from his former conservative partners in the coalition, claiming they are too cozy with business.
A lawyer by background, he is a widely experienced politician having served in some of the highest offices at local and national level.
He first entered the German parliament at the age of 40 in 1998, and, amid spells of various lengths within the government of the city-state of Hamburg, has been high up in the federal government or SPD for the last 20 years.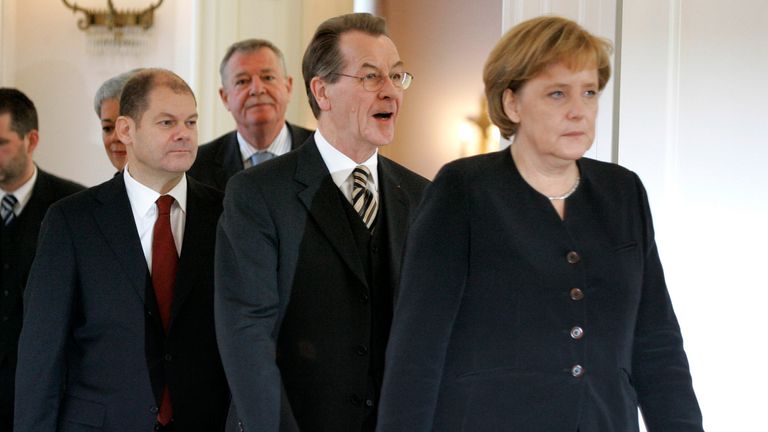 He was mayor of Hamburg from 2011 to 2018 but has also held the position of SPD chief whip, SPD deputy leader, and minister of labour and social affairs in Ms Merkel's first government, as well as his current roles.
During the pandemic, Mr Scholz won praise from the International Monetary Fund for his measures, having ditched a balanced budget at home to protect the German economy and helped create the EU's COVID recovery fund, despite Ms Merkel's initial resistance.
Amid soaring German inflation and pressure from his conservative adversaries, he has been keen to keep the activities of the European Central Bank (ECB) separate to the government's handling of the German economy, pointing to the need to respect the ECB's independence, following the lead of his chancellor.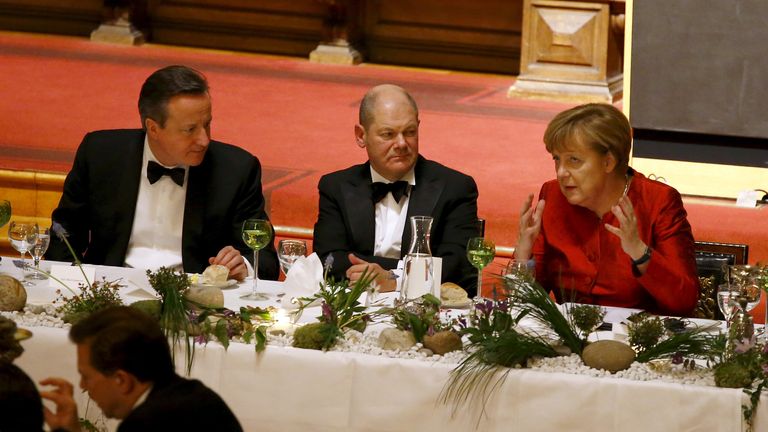 He also cooperated with France to drive forward efforts to introduce a global minimum rate of corporate tax and new tax rules for tech giants.
His combination of prudence and vital assistance amid the crisis have paid off.
A snap poll after the last TV debate showed Mr Scholz won a clean sweep, despite conservative candidate Armin Laschet attacking his record on tackling money laundering.
Is Germany as green as it would like to think?

From the moderate wing of his party and thoroughly versed in the realities of German government, if he wins he will set about the task of building a coalition, probably with the Greens, but perhaps of the grand coalition type that Ms Merkel has lived happily with repeatedly, alongside her CDU party.
During the COVID era, he has underwritten his left-of-centre credentials with a significant stimulus package but, in opposition to some on the left of his party – which is similar to the UK's Labour movement – he wants Germany to rein in debt by 2023, reintroducing strict limits on federal and state government spending.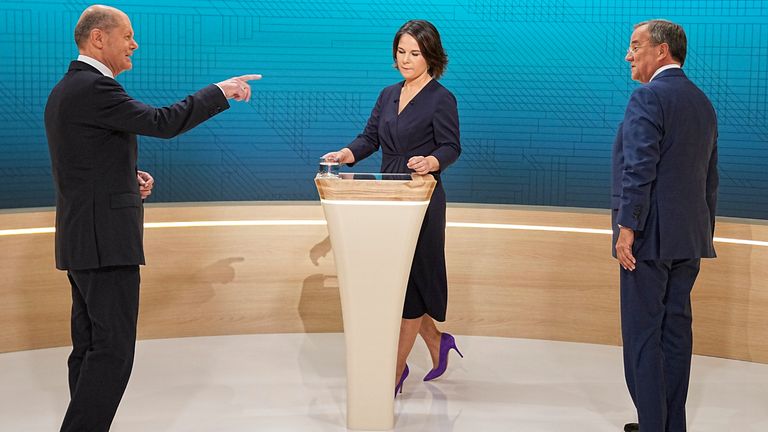 His claim to be as calm and collected as his potential predecessor may be on shakier ground than he admits, having shown a tetchiness in the past in his dealings with the media and rioters during the Hamburg G20 event, but he is adamant he is driven by pragmatism, not personality.
"I'm applying for chancellor, not to be a circus ringmaster," he told women's magazine Brigitte.
Taliban prisons chief says the group will resume executions and amputations as punishment | World News
One of the founders of the Taliban has said that the group will resume executions and amputations as punishment.
Mullah Nooruddin Turabi warned the world against interfering in the plans, which come just weeks after the Taliban took control of Afghanistan following the withdrawal of Western troops.
Mr Turabi, who was chief enforcer of the Taliban's harsh interpretation of Islamic law when they last ruled the country in the late 1990s, said: "Everyone criticised us for the punishments in the stadium, but we have never said anything about their laws and their punishments.
"No one will tell us what our laws should be.
"We will follow Islam and we will make our laws on the Quran."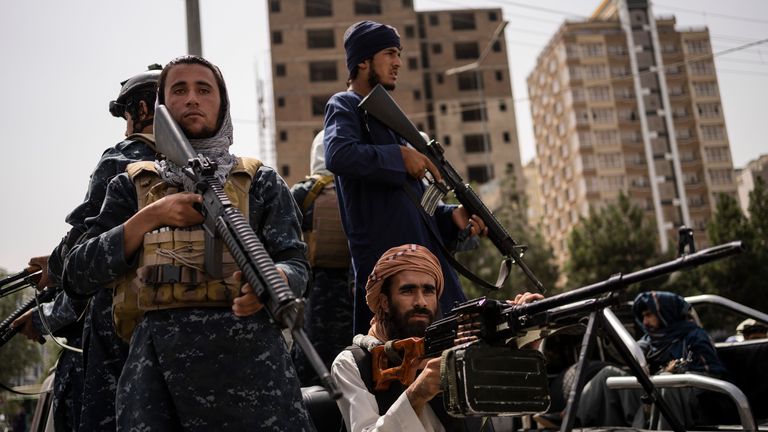 Previously, convicted murderers were shot in the head by the victim's family who also had the choice of accepting money and allowing the offender to live.
Convicted thieves had their hand amputated and highway robbers had a hand and a foot amputated.
Mr Turabi told the Associated Press that amputating hands "is very necessary for security", adding that during the Taliban's previous rule, such harsh punishments helped bring "complete safety" to the country.
US State Department spokesperson Ned Price said on Friday that the punishments "would constitute clear gross abuses of human rights".
"We stand firm with the international community to hold perpetrators of these, of any such abuses, accountable," he added.
"We are watching very closely, and not just listening to the announcements that come out but watching very closely as the Taliban conducts itself."
How popular is the Taliban in Afghanistan?

Taliban fighters have already revived an old punishment of public humiliation for men accused of small thefts.
At least twice in the past week men in Kabul have reportedly been put on the back of a pickup truck, their hands tied, and driven around the city.
But despite the revival of the old punishments, Mr Turabi insisted: "We are changed from the past."
Subscribe to the Daily podcast on Apple Podcasts, Google Podcasts, Spotify, Spreaker
Previously, the judiciary was heavily-influenced by hardline Islamic clerics but Mr Turabi said judges, including women, would adjudicate future cases.
He also said the Taliban would allow technology such as mobile phones, TV, photos and video "because this is the necessity of the people and we are serious about it."
Huawei's Meng Wanzhou released after reaching agreement with US prosecutors | Science & Tech News

Huawei's chief financial officer has reached a deal with US prosecutors that allows her to return to China.
Meng Wanzhou, who is also the daughter of the company's founder Ren Zhengfei, has been in Canada since she was arrested at Vancouver's airport in December 2018.
Her arrest followed an extradition warrant issued by the US for a range of charges relating to alleged breaches of sanctions against Iran.
But the deal means the US Department of Justice will drop its request to extradite her to the US and fraud charges against her will be dismissed in December 2022 – exactly four years after her arrest.
This will depend on her complying with certain conditions, including accepting responsibility for misrepresenting her company's business dealings in Iran.
Meng's defence lawyer Michelle Levin said she expected Meng to adhere to the conditions, adding: "We're very pleased that in the meantime she can go home to her family".
The details were confirmed during a court hearing, with Meng appearing via video from the Vancouver mansion where she was bailed after her arrest.
The court revoked all bail conditions, and Meng left for China shortly afterwards.
Before she left, Meng said: "Over the last three years my life has been turned upside down.
"It was a disruptive time for me as a mother, a wife and as a company executive.
"But I believe every cloud has a silver lining. It really was an invaluable experience in my life.
"I will never forget all the good wishes I received."
About an hour after Meng's departure, Canada's prime minister Justin Trudeau said that two Canadians arrested by Chinese authorities were also on their way home.
Michael Kovrig and Michael Spavor had been accused of spying and were arrested in China in December 2018 – shortly after Meng was arrested in Canada.
Mr Trudeau said: "These two men have been through an unbelievably difficult ordeal. For the past 1,000 days, they have shown strength, perseverance and grace and we are all inspired by that."