Senators hopeful bipartisan infrastructure spending bill could land Monday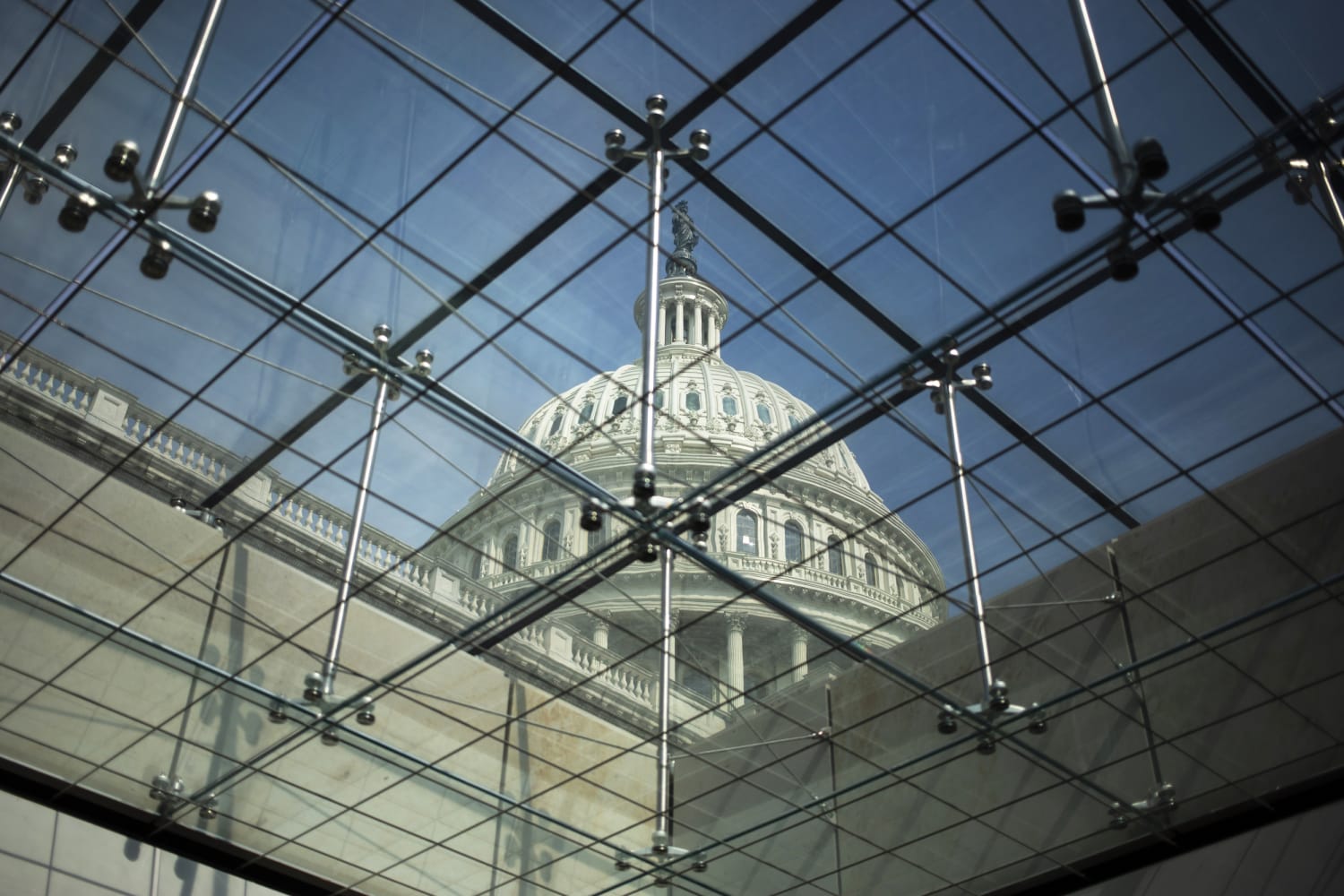 WASHINGTON — A bipartisan infrastructure bill could be finalized Monday, Sen. Mark Warner said on Sunday, pushing the massive spending bill forward to face another test on the Senate floor.
"I believe we will," said Warner, D-Va., when asked on Fox News Sunday if there would be a bill in place on Monday.
Last month, senators announced an agreement on an infrastructure framework at the White House with President Joe Biden's endorsement, but major disputes on the details have delayed getting the legislation to the floor for a vote.
"We're about 90 percent of the way there," Republican Sen. Rob Portman said on ABC's "This Week." "I feel good about getting that done this week."
Congress is facing crunch time, with only two work weeks remaining before the scheduled August recess, a self-imposed deadline for lawmakers to finish wrangling the infrastructure bill and a separate massive spending package that would address the social safety net. Schumer has vowed to finish or delay the recess.
Lawmakers want to go home with victories to tout as the nation faces another surge of Covid cases in areas with low vaccines rates coupled with rising consumer prices and dipping optimism.
Democratic Sen. Chris Coons, D-Del., also signaled optimism the bill will be complete.
"I think this is the week we get the infrastructure bill to the floor," he said on MSNBC on Sunday.
One remaining sticking point is where to spend the money.
Sen. Jon Tester, D-Mont., said the main point of contention in the five-year, $579 billion package was "the ratio" of money distributed between highways and public transit.
Senators and aides say Democrats want 80 percent of the funds allocated for transportation projects for highways and 20 percent for transit, citing past precedent. Republicans want less than 20 percent to go to mass transit, saying that ratio needs to be adjusted.
Commerce Secretary Gina Raimondo highlighted the complexity of reaching a bipartisan agreement.
"Yes, it is complicated. No, we're not there yet, but it is going to happen," said Raimondo on CBS's "Face The Nation."
House Speaker Nancy Pelosi also reiterated she would not hold a vote on an infrastructure package until the Senate passes the second, larger spending bill that is a priority for liberals. The larger bill that focuses on the social safety net is being passed using arcane rules that allow Democrats to advance the bill without Republican support.
"I won't put it on the floor until we have the rest of the initiative," Pelosi said on ABC's "This Week."
Republicans voted last Wednesday to block the Senate from beginning debate on the infrastructure proposal, saying they wanted more time to finalize the details of the agreement. The procedural motion failed 49-51, with Senate Majority Leader Chuck Schumer switching his vote to "no" at the end to preserve his option to call the same vote on another day. The motion needed 60 to succeed.
Republican Sen. Tim Scott, R-S.C. criticized Schumer for holding the vote before the bill was finalized.
"You can't see it, you can't negotiate it. I don't support that," he said on Fox News Sunday.
'It's going to be tough!' Boris Johnson set to pressure Joe Biden on £70bn climate pledge
BORIS Johnson will tell world leaders today that rich nations must stump up more money to help poorer countries slash carbon emissions.

Source link
Democrats blocked from including immigration legalization in spending bill
WASHINGTON — Senate Democrats hit a roadblock Sunday in their effort to slip an overhaul of the country's immigration laws into a spending bill that can pass without Republican support, according to a document obtained by NBC News.
Democrats had hoped to include legislation that would grant a path to citizenship for an estimated 8 million undocumented people in their sweeping tax and spending bill. But their effort to circumvent the filibuster hit a roadblock.
Democrats sought to provide a pathway to citizenship for beneficiaries of the DACA program, farmworkers, essential workers who aided during the coronavirus pandemic and recipients of temporary protected status.
Getting immigration policy into the sweeping $3.5 trillion package has always been a long shot. Previous efforts to overhaul immigration laws have failed — even provisions that are popular, like providing a path to citizenship for so-called Dreamers who were brought to the U.S. as children.
Senate Majority Leader Chuck Schumer, D-N.Y., responded to the decision by promising to try again, saying Democrats would appeal to the nonpartisan parliamentarian, who decides which provisions are allowed in the spending bill.
"We are deeply disappointed in this decision but the fight to provide lawful status for immigrants in budget reconciliation continues. Senate Democrats have prepared alternate proposals and will be holding additional meetings with the Senate parliamentarian in the coming days," he said in a statement.
Senate rules permit including provisions related only to taxing and spending in so-called reconciliation bills, which can pass the Senate with a simple majority, thus avoiding the 60-vote filibuster. Democrats could try to circumvent the parliamentarian, but doing so would be unusual, and it is unlikely.
The parliamentarian argued that the proposed changes to immigration law are "policy changes" and that the budget impact was only incidental, saying it was "not appropriate for inclusion in reconciliation."
"Changing the law to clear the way to LPR [lawful permanent resident] status is tremendous and enduring policy change that dwarfs its budgetary impact," the parliamentarian said.
Leigh Ann Caldwell contributed.
'Only temporary!' Boris abates fears UK will be hit by meat shortages as gas prices surge
BORIS Johnson last night allayed fears that the UK would be hit by meat shortages because of the rising cost of gas.

Source link