US and Germany agree Nord Stream 2 pipeline deal and vow to counter Russian 'aggression' | World News
The United States and Germany have announced a deal to allow the completion of a controversial Russian gas pipeline to Europe without further sanctions.
The agreement aims to allay fears about European dependence on Russian energy.
However, critics have said the deal does not go far enough.
American officials had opposed the project, which would allow Russia to export gas directly to Germany and potentially cut off other nations.
But under the terms of the deal, the US and Germany committed to impose costs on Russia to prevent it from using the $11bn (£8bn) Nord Stream 2 pipeline as a political weapon.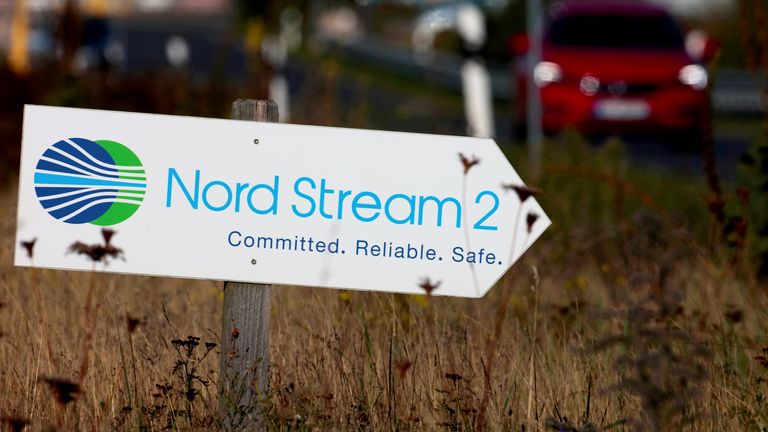 They have also agreed to support Ukraine and Poland – who are both bypassed by the project and fear Russia's intentions – by funding alternative energy and development projects.
"The United States and Germany are united in their determination to hold Russia to account for its aggression and malign activities by imposing costs via sanctions and other tools," they said in a joint statement.
"Should Russia attempt to use energy as a weapon or commit further aggressive acts against Ukraine, Germany will take action at the national level and press for effective measures at the European level, including sanctions, to limit Russian export capabilities to Europe in the energy sector," it said.
The Nord Stream 2 project has posed a major foreign policy dilemma for the Biden administration.
US officials from both parties have long feared that it would give Russia too much power over European gas supplies, potentially shutting off gas to Ukraine and Poland.
But the pipeline is 98% completed and the US has been determined to rebuild ties with Germany that were damaged during the Trump administration.
In a nod to Poland, Germany also agreed to sign on to the "Three Seas Initiative", an EU and US-promoted scheme that aims to boost investment, infrastructure development and energy security among the countries bordering the Baltic, Black, and Adriatic seas.
Despite the agreement, there remains strong bipartisan opposition to the pipeline in Congress, as well as in Ukraine and Poland.
Train driver faces trial over crash that killed 80 people near Santiago de Compostela in Spain | World News

The driver of a train which crashed and killed 80 people in Spain in July 2013 is to go on trial, a court has ruled.
The train derailed and hit a concrete wall after approaching a curve at more than double the speed limit on the outskirts of Santiago de Compostela, in the northwestern region of Galicia.
The prosecutor is requesting four-year sentences for both the train driver and the head of traffic safety.
They are accused of 80 crimes of homicide due to gross professional negligence, 145 crimes of injury to gross professional negligence and one crime of damage.
A start date for the trial has yet to be set.
The investigation into the crash has taken almost eight years, as it was prolonged to potentially determine the responsibilities of other senior officials who were dismissed.
The driver was injured in the incident and was held in custody at a hospital while three days of mourning took place in the aftermath of the crash.
Footage showed carriages flipped over and bursting into flames, with bodies and debris strewn across the tracks.
United Arab Emirates tackles hot weather by 'creating its own rain' with drones | World News
The United Arab Emirates is using drone technology to enhance its rainfall amid temperatures of over 40C.
Abu Dhabi and Al Ain are among the cities that have been drenched after the National Centre for Meteorology (NCM) implemented cloud seeding technology.
The drones fly into clouds and release electric charges, which helps water droplets merge together and form precipitation.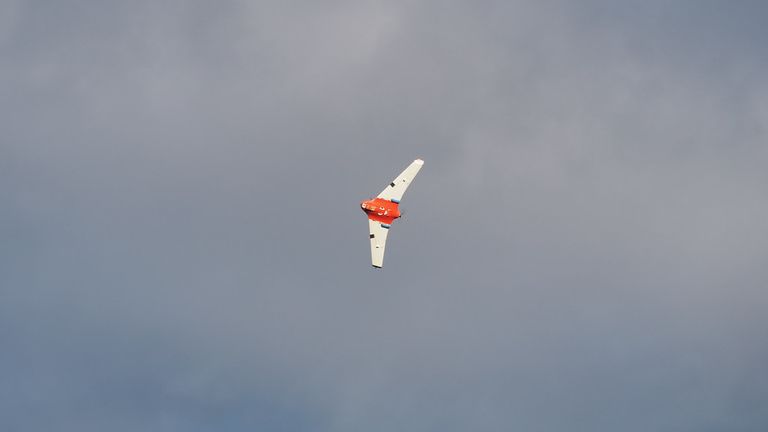 The country typically sees less than 100mm of rainfall a year, compared with the UK's average of 1300 mm.
The NCM has carried out 126 cloud seeding flights since the beginning of 2021, according to Gulf Today.
This includes 14 flights since last Tuesday, with a two to three hour flight operated in most of the country's regions.
The organisation has partly attributed increased rain to its cloud seeding efforts.
Other techniques used to stimulate rainfall in the country involve dropping salt or other chemicals into clouds, designed to accelerate the growth of water droplets.
Some studies suggest cloud seeding could increase rainfall by up to 35%, but others dispute its effectiveness.
China and India are among other countries trialling this technology.
Professor Giles Harrison, of the University of Reading, is working on the research and said it is "intended to bring blue-sky thinking to cloud and rain".
He said: "Our project is about changing the balance of charges on the tiniest cloud droplets, a neglected aspect of clouds which could revolutionise our ability to manipulate rainfall in areas that need it most."
"Water scarcity is one of the biggest problems facing humanity, and climate change is providing more uncertainty around rainfall," said Dr Keri Nicoll, another academic who conducted preliminary tests in Bath.
She said initiatives to improve rainfall are crucial in parts of the world that are "really struggling for water".
China: Dams swell to warning levels and more rain forecast after 25 die in horror flooding | World News
Further rain has been forecast until the weekend in China's Henan province where at least 25 people have been killed in days of flooding.
From Saturday to Tuesday, 3,535 weather stations in Henan saw rainfall exceeding 5cm, of which 1,614 had levels above 10cm and 151 above 25cm.
Twelve people died and more than 500 were pulled to safety after a subway tunnel flooded in the Zhengzhou, with images and video posted on social media showing commuters immersed in chest-deep waters in the dark.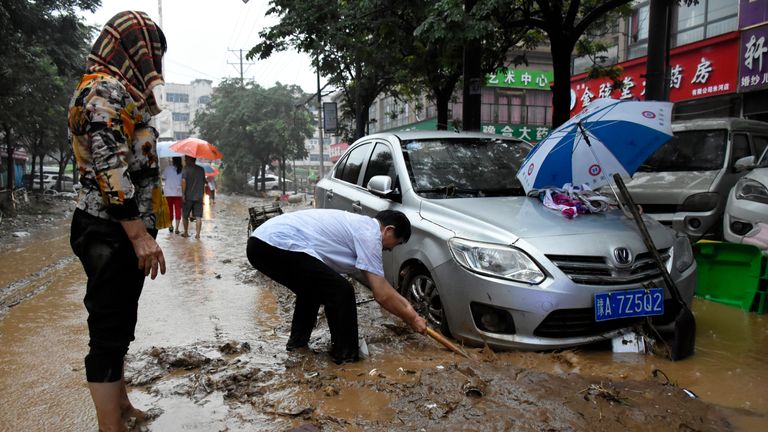 "I was really scared, but the most terrifying thing was not the water, but the diminishing air supply in the carriage," one person wrote.
Around 100,000 people have been evacuated after dams and reservoirs swelled to critical levels.
The three days of rain matched a level seen only "once in a thousand years", the Zhengzhou weather bureau said.
China: Subway passengers drown as rains hit

The torrential downpours halted bus services in the city of 12 million people about 650 km (400 miles) southwest of China's capital Beijing.
And schools and hospitals were marooned and people caught in the floods flocked to shelter in libraries, cinemas and museums.
People swept away by floodwater in Henan

"We've up to 200 people of all ages seeking temporary shelter," said staff member at the Zhengzhou Science and Technology Museum.
The People's Liberation Army has sent more than 5,700 soldiers and personnel to help with search and rescue.
Like recent heatwaves in the United States and Canada and extreme flooding seen in western Europe, the rainfall in China was almost certainly linked to global warming, scientists have claimed.
Subscribe to ClimateCast on Spotify, Apple Podcasts, or Spreaker
"Such extreme weather events will likely become more frequent in the future," said Johnny Chan, a professor of atmospheric science at City University of Hong Kong.
"What is needed is for governments to develop strategies to adapt to such changes," he added, referring to authorities at city, province and national levels."
President Xi Jinping said in a statement broadcast by state television: "Flood prevention efforts have become very difficult."