Young North Koreans ordered to stop speaking, dressing and dancing like South Koreans – or else | World News
Young North Koreans have been warned they must follow traditional lifestyles and adhere to the country's dialect.
The secluded state's official newspaper made the demand in a column as Pyongyang tries to eradicate cultural influences from South Korea.
Kim Jong Un's regime is particularly focused on the speaking habits of millennials, with some mimicking their neighbours by referring to their husbands as "oppa" – a term that means "older brother".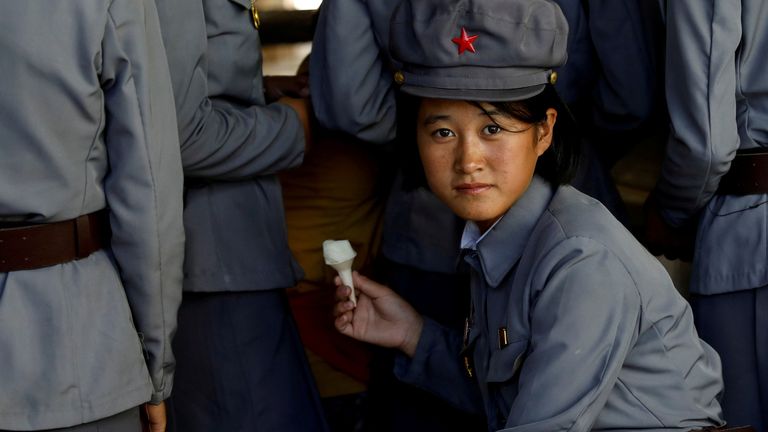 The Rodong Sinmun newspaper said North Korea's standard language is superior and young people must use it correctly – all while ensuring their clothes, hairstyle, music preferences and dancing styles are acceptable.
According to South Korea's Yonhap news agency, its article warned: "The ideological and cultural penetrated under the colourful signboard of the bourgeoisie is even more dangerous than the enemies who are taking guns."
Late last year, harsh new measures were introduced that mean parents can be fined if their children are caught enjoying South Korean entertainment or copying the way they speak.
Those caught with media from South Korea can face up to 15 years in a prison camp – and punishments are also administered for using unregistered televisions, radios, computers and mobile phones from other countries.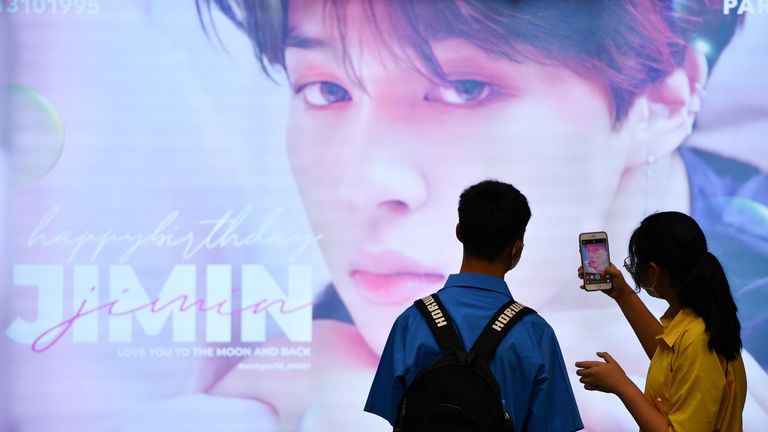 A life sentence can be imposed if someone is convicted of importing banned material from South Korea too, while those smuggling large amounts of content made in the US or Japan can face the death penalty.
Tae Yong-ho, the first North Korean defector to become a South Korean politician, told Reuters in January: "In the daytime, the population is shouting 'Long live Kim Jong Un' – but at night they all watch South Korean dramas and movies."
Last month, reports suggested that Mr Kim had compared K-pop to a "vicious cancer" that could make North Korea "crumble like a damp wall".
COVID-19: Australia deploys thousands of police officers to counter anti-lockdown protests in Sydney and Melbourne | World News
Thousands of police officers have been deployed to counter anti-lockdown protests in Sydney and Melbourne, as Australia grapples with a surge in coronavirus cases.
Australia recorded 1,882 new COVID-19 cases on Saturday, along with seven deaths in the latest 24-hour period, fuelled by an outbreak of the Delta variant that has been causing problems since mid-June.
The country had been widely praised for its response to the coronavirus pandemic, but Sydney; Melbourne; and the capital city, Canberra, all find themselves under strict lockdown.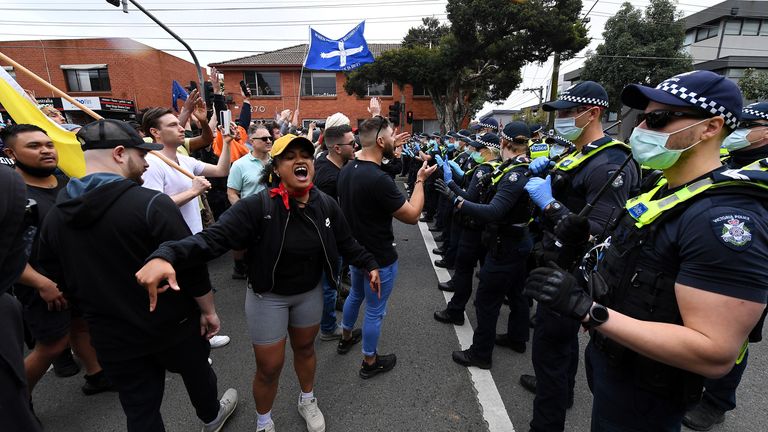 Officers used pepper spray in an attempt to disperse a gathering of around 1,000 demonstrators in Melbourne, Australia's second-largest city.
Protesters scuffled with officers in the suburb of Richmond, where the protest was located, after a last-minute change intended to evade the authorities.
About 700 people managed to gather in parts of Melbourne and 235 have been arrested.
Most of the protesters did not wear face masks, defying regulations.
Around 2,000 police officers were deployed at road checkpoints and barricades in an attempt to stop the rally from going ahead.
The city entered its sixth lockdown on 5 August.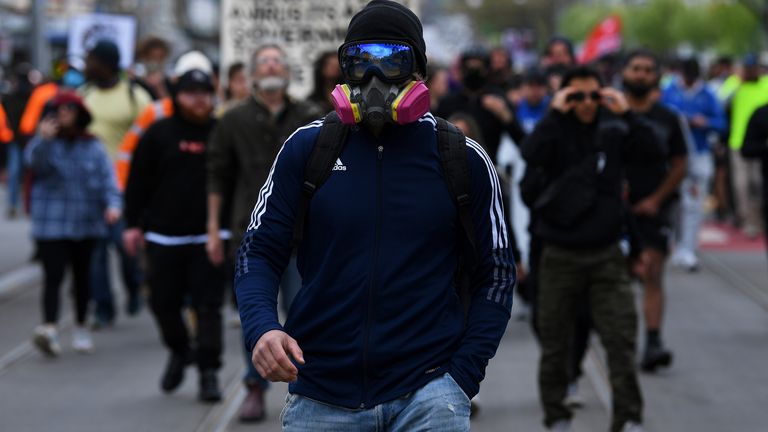 Along with police officers in Sydney, riot squad officers, highway patrol and detectives were deployed to counter the protests.
Thirty-two people have been arrested there.
New South Wales reported 1,331 cases on Saturday, mostly in the state capital Sydney, along with six deaths, while Victoria reported 535 new cases, mostly in the capital state Melbourne, along with one death.
Australia's lockdown restrictions in Victoria, New South Wales, and Canberra will remain until at least 70% of people aged 16 and older are fully vaccinated.
Based on the current rate of inoculations, that could take until late October or early November.
While the vast majority of Australians support vaccinations and the restrictions, there have been protests against the country's management of the pandemic.
The vaccine rollout has been slow compared to other developed nations, not helped by many Australians having been made reluctant to get the AstraZeneca jab due to conflicting government advice.
Australia has seen just under 85,000 coronavirus cases and 1,145 deaths since the pandemic began.
On Friday, police in New South Wales issued a warning against the protests, cautioning that participants could expect punishments ranging from a fine to being arrested.
SpaceX Inspiration4 mission: Crew appear in live video featuring weightless flips and ukulele performance | Science & Tech News
The first all-civilian astronaut crew to reach orbit have appeared in a live video feed featuring weightless flips and a ukulele performance.
The crew of SpaceX's Inspiration4 broadcast a 10-minute live YouTube video showing Chris Sembroski, a 42-year-old data engineer, strumming chords while the craft orbits Earth.
The four-member team hosted a show-and-tell session as they soared over Europe at about 17,500mph.
Go to the 16-minute mark for Mr Sembroski's ukulele performance:
Sian Proctor, 51, a geoscientist and former NASA astronaut candidate, showed off a piece of artwork she had made in orbit showing the Crew Dragon capsule being carried into space by an actual dragon.
Hayley Arceneaux, 29, a physician assistant at St Jude Children's Research Center in Tennessee, where she was treated for cancer herself as a child, performed flips to illustrate microgravity.
"Hayley is a champ at spinning. She's been spinning from the moment we got in orbit," Ms Proctor said.
Ms Arceneaux showed a small plush-toy dog in a white coat, which the crew use to indicate they are in zero-gravity.
They said when the toy floats freely in the cabin, they know they are in zero-G.
The dog is inspired by one of the golden retrievers which serve as comfort dogs for young St Jude patients.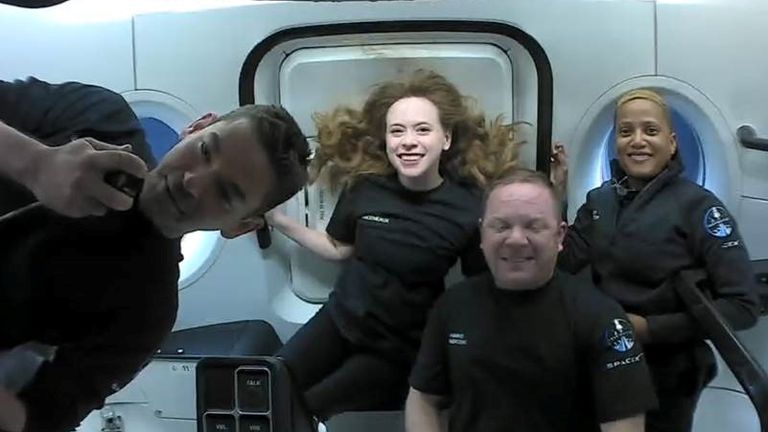 The crew also attempted to show off spectacular views of Earth through the capsule's cupola (a dome-shaped window), but the spacecraft flew into Earth's own shadow.
Ms Proctor said she could see an aurora borealis display, a spectacular lights showing akin to the Northern Lights, but it did not show up well on the camera.
From ground to orbit: Day one of SpaceX launch

The astronauts have also phoned friends, family, and supporters such as Elon Musk and Tom Cruise.
They also appeared by video on the New York Stock Exchange on Friday for the ringing of the closing bell.
Meet the crew of the SpaceX Inspiration4 mission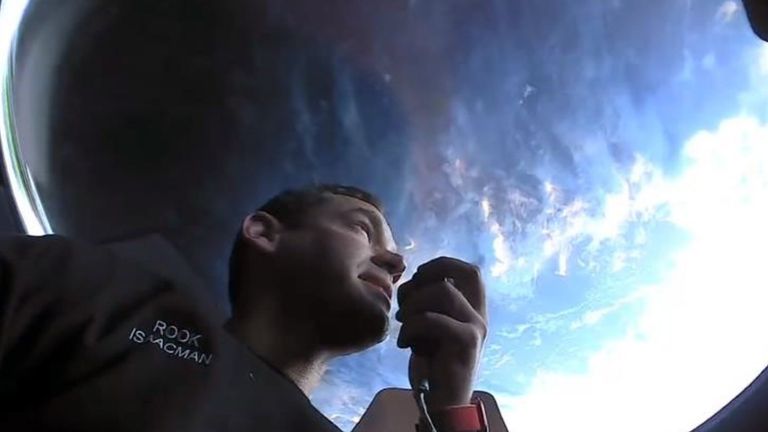 The flight was funded by billionaire Jared Isaacman, chief executive of e-commerce firm Shift4 Payments Inc, and a crew member.
He paid SpaceX's Mr Musk an undisclosed sum for the flight, which is reported to be roughly $200m (£146m).
He hopes to raise the same amount for St Jude and has said his donation will make up half of that amount.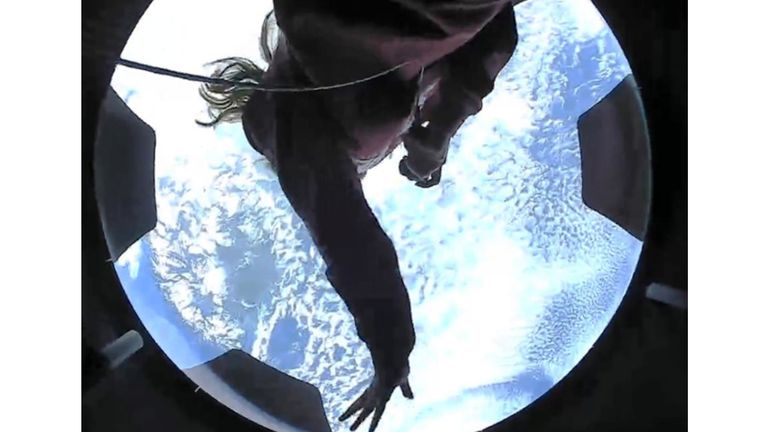 Inspiration4 launched from the Kennedy Space Center in Cape Canaveral on top of a SpaceX Falcon 9 rocket on Wednesday.
SpaceX has announced that the crew are expected to return to Earth on Saturday, with splashdown in the Atlantic off Florida's coast set for just after 11pm GMT.
On Friday, the spacecraft completed two rocket "burns" to reduce altitude and line up the capsule's trajectory with the landing site.
Russia: State authorities look to exercise control as parliamentary elections begin | World News
Shortly after polls opened on Friday morning, a long queue had already formed outside a polling station in Moscow's central Arbat district.
Many of those waiting were workers from the nearby Ministry of Defence as evidenced by the branded briefcases they were holding.
They'd been given the morning off to cast their votes at the start of three days of elections for the Russian parliament
Vladislava was monosyllabic. Did she think her vote would make a difference? Yes. Did she want change? She likes things how they are. Does she work for the state? Yes.
The ruling party United Russia has 353 of the 450 seats in the state parliament or Duma.
It is a supermajority the party wants to keep. But United Russia has been polling badly.
That's why there are long queues so early in the voting process. It's all about monitoring and mobilising as many United Russia voters as the state can muster.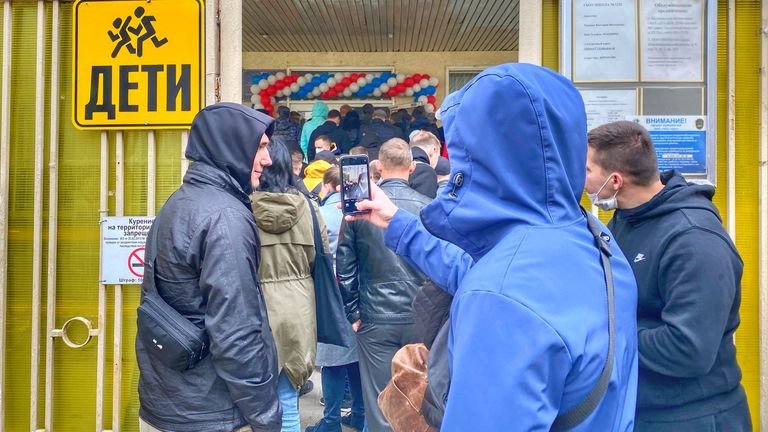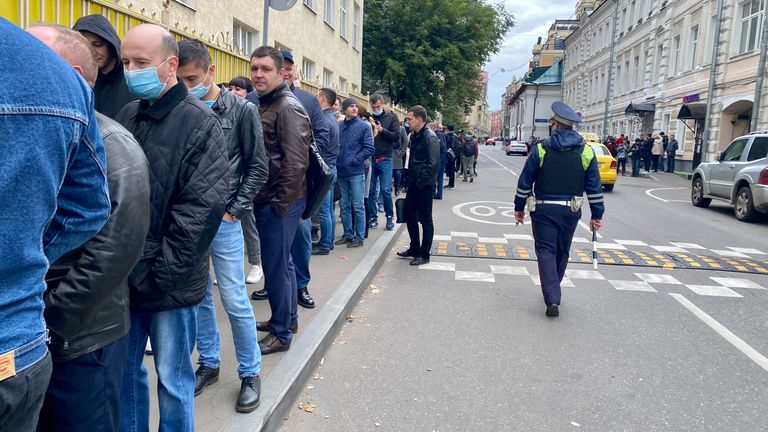 Given President Vladimir Putin's cast-iron grip on power, you might ask why the Kremlin is working so hard to control the outcome.
In the run-up to these elections, the full panoply of dirty tricks has been at play.
Doppelgänger spoiler candidates, cash handouts; independent candidates barred from running on spurious grounds – often for supposedly foreign links; and the time-honoured traditions of state workers marched out to cast their votes for United Russia. Old habits die hard.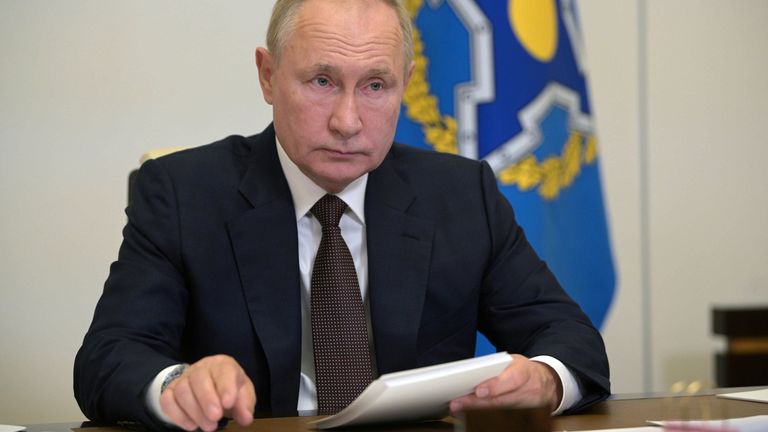 Then there are the Soviet-style repressions as if President Putin is trying to outdo his neighbour over in Belarus.
Alexander Lukashenko has been hammering anything even resembling dissent since mass protests last summer.
In Russia, around the same time, opposition leader Alexei Navalny was poisoned.
He is now in jail and most of his top team have fled the country.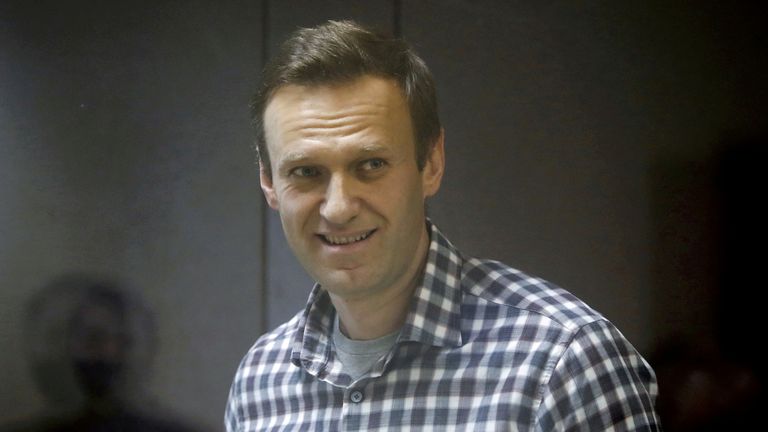 On Friday, US tech giants Apple and Google caved into demands they remove an app designed by Mr Navalny's allies from their stores.
The Smart Voting app gives people detailed recommendations on who to vote for in an effort to thwart the electoral chances of the ruling United Russia party.
Sources at Google told Sky News it was not a decision they took lightly but that their staff on the ground had received "multiple threats".
More and more journalists are now joining the ever-growing numbers of Russians in exile.
Each Friday more names are added to the list of so-called foreign agents, which now stretches to 47 media outlets, activists and individuals.
Being on the list essentially brands you an enemy of the state, which means advertising falls away and you must prepare labour-intensive audits.
Even the tiniest mistakes can lead down a path of escalating criminal charges.
"I think for a long time the Russian authorities pretended that you have a democracy here.
"But one day they decided not to pretend anymore and to become a real autocracy," Tikhon Dzyadko, editor-in-chief of independent TV station Dozhd, or Rain TV, told Sky News.
"If you can't improve the economic situation yourself, you've got to find an enemy and blame them," Pavel Grudinin, a wealthy farmer who was disqualified from running as a candidate for the Communist party, added.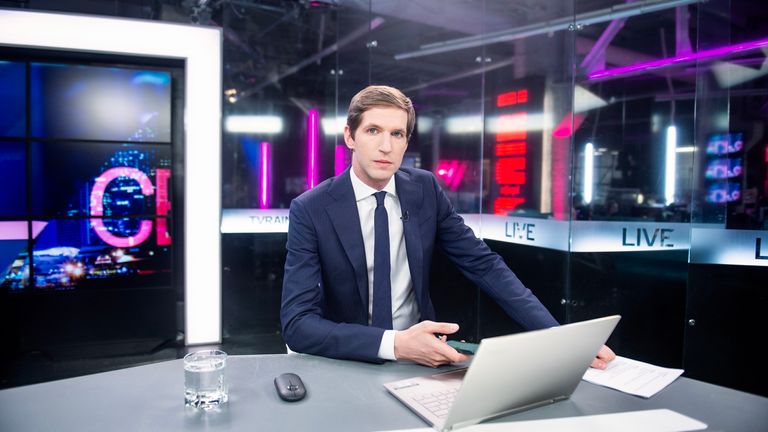 Mr Grudinin ran for president against Vladimir Putin in 2018. He won just 12% of the vote but that was closer than anyone else came to defeating Mr Putin and it clearly riled powerful forces.
Since then he has faced off around 1,000 lawsuits – an aggressive campaign he thinks is designed to force him into bankruptcy.
Barring the likes of Mr Grudinin from the elections runs the risk of turning the communist party from a mostly pliant subordinate to United Russia into an actual political force.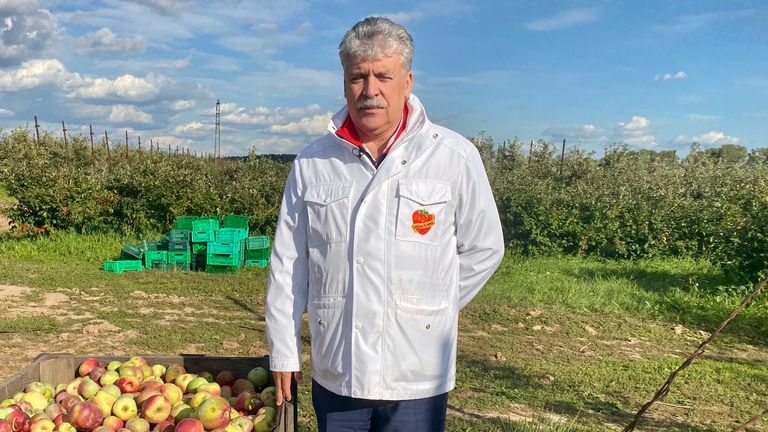 Thanks to Mr Navalny's Smart Voting app the communists look like they'll be putting in their strongest showing in years.
There will most likely be a threshold they dare not cross, but it is an interesting new political dynamic in a carefully controlled political environment.
Outside the Arbat polling station, a man who gives his name simply as Andre says he was instructed by his state-employer to come but that he'll use Smart Voting to make his choice.
"If everyone uses Smart Voting, then maybe things will change," he said.
Things are unlikely to change, not now. But for all the certainty that this election will be neither free nor fair and that voter turnout will be pitifully low, there is still the potential for surprises.
"Forecasts in Russian politics never come true," Mr Grudinin said.
"The rules are changing every time we hold an election. The British invented football. Just imagine if the rules of football changed every world championship. That is how we live."