HMS Defender: Boris Johnson insists warship was sailing legally as Moscow warns 'no options can be ruled out' | UK News
Boris Johnson has insisted Royal Navy warship HMS Defender was sailing legally in Ukrainian waters and that Russia did not any fire warning shots.
Russia has accused the UK of "barefaced lies" over Wednesday's incident and said it would respond robustly to any future incursions into what it says are Russian waters.
It summoned the British ambassador in Moscow for a dressing down, while a Kremlin spokesman called it a "deliberate and premeditated provocation".
Russia claims this is HMS Defender 'chased out'

"In the event of a repeat of unacceptable provocative action – if those actions go too far, no options can be ruled out in terms of legally defending Russia's borders," added Dmitry Peskov.
The UK rejects Russia's claim that a border patrol boat fired warning shots and that warplanes dropped bombs into path of the ship off the Crimean coast.
Speaking on Thursday, Boris Johnson said it was "not my information" when asked if the Russians had fired warning shots.
"My understanding is that the Carrier Strike Group proceeded in a way you would expect through international waters and in accordance with the law," said the prime minister.
He added: "We don't recognise the Russian annexation of Crimea – it was illegal. These are Ukrainian waters and it was entirely right to use them to get from A to B."
Foreign Secretary Dominic Raab has also said shots were not fired and called the Russian account "predictably inaccurate".
The Ministry of Defence said it had been made aware in advance that the Russians were conducting "gunnery exercises" in the area.
"No shots were directed at HMS Defender and we do not recognise the claim that bombs were dropped in her path," it said.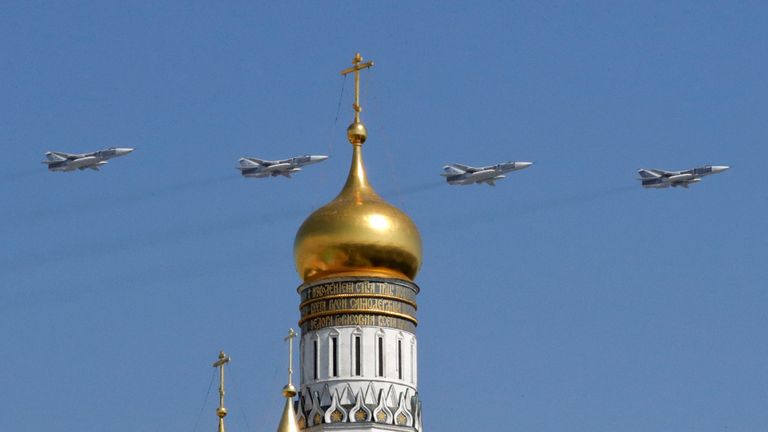 However, a BBC journalist on board the 152 metre-long ship said Russian planes had flown nearby and he also heard radio warnings that shots would be fired if HMS Defender didn't change course .
He said firing was later heard but "well out of range".
Foreign ministry spokeswoman Maria Zakharova accused Britain of "barefaced lies" over the incident.
Russia claims the British ship had gone as far as three kilometres (2 miles) into Russian waters near Cape Fiolent, near the port of Sevastopol in Crimea.
Crimea was seized from Ukraine in 2014 by the Russians, who claim ownership of waters around its coast.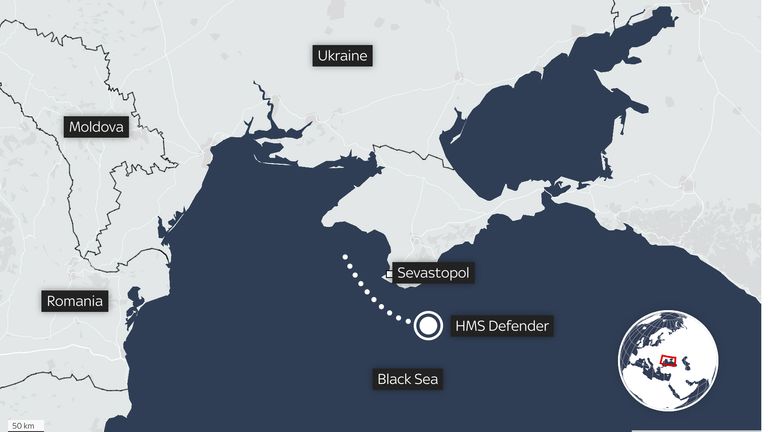 Western countries regard Crimea to have been taken illegally.
Mr Johnson also rejected the assertion that the relationship with Russia was now at a new low, following other recent incidents such as the poisoning of former spy Sergei Skripal in the UK in 2018.
"I can remember times in my own lifetime when things have been far worse," the prime minister said.
Sky's Moscow correspondent Diana Magnay said the incident was to a large extent about "testing each other's mettle" and seeing "how far Russia is prepared to go to defend what it claims are its territorial waters – and how far the UK and NATO are prepared to go to defend Ukrainian sovereignty".
UK blames Iran for deadly oil tanker attack off Oman | UK News

The UK has blamed Iran for an attack on an oil tanker in which two crew members, including a British national, were killed.
In a statement published on Sunday, Foreign Secretary Dominic Raab accused Iran of carrying out a "deliberate, targeted" assault which he says constituted "a clear violation of international law".
The incident occurred last Thursday when the MV Mercer Street was off Oman's Coast in the Arabian Sea.
"The UK condemns the unlawful and callous attack committed on a merchant vessel off the coast of Oman, which killed a British and a Romanian national," Mr Raab said.
"Our thoughts are with the friends and family of those killed in the incident.
"We believe this attack was deliberate, targeted, and a clear violation of international law by Iran.
"UK assessments have concluded that it is highly likely that Iran attacked the MV Mercer Street in international waters off Oman on July 29 using one or more unmanned aerial vehicles (UAVs).
"Iran must end such attacks, and vessels must be allowed to navigate freely in accordance with international law.
"The UK is working with our international partners on a concerted response to this unacceptable attack."
Earlier this week Israeli foreign minister Yair Lapid blamed "Iranian terrorism" for the attack.
Iran has not yet commented on the allegations.
A Romanian citizen was also killed in the attack.
The tanker is operated by London-based company Zodiac Maritime who say they are working to establish what happened.
The incident has sparked concern that tensions are increasing in the region.
Earlier this week, the UK government said it was trying to "urgently establish the facts".
"Our thoughts are with the loved ones of a British national who has died following an incident on a tanker off the coast of Oman," a statement said.
A UK source said crew members reported being targeted by "some sort of drone" on Thursday in the Arabian Sea before communications with the ship were lost.
If a drone attack is confirmed it would raise speculation about a possible link to a government or some kind of proxy group.
Iran in the past has repeatedly been accused of targeting tankers in the Gulf.
The country has been locked in a tit-for-tat contest with arch-rival Israel, with both sides accusing the other of targeting ships and launching cyber attacks.
According to Eikon's ship tracking, the Mercer Street was headed to Fujairah, a bunkering port and oil terminal in the United Arab Emirates, from Dar es Salaam, in Tanzania.
Tokyo Olympics: Belarus sprinter Krystsina Tsimanouskaya says she has been taken to airport against her will for criticising national Olympic coaches | World News
An Olympic sprinter from Belarus has said she refuses to return to her home country after apparently being taken to the airport against her will for publicly complaining about national coaches.
Krystsina Tsimanouskaya, who was due to compete in the women's 200 metres and the 4×400 metres relay at the Tokyo Olympics next week, can be seen in pictures surrounded by police, taken at the city's Haneda airport on Sunday.
The 24-year-old says she has sought the protection of officers so she does not have to board a flight home.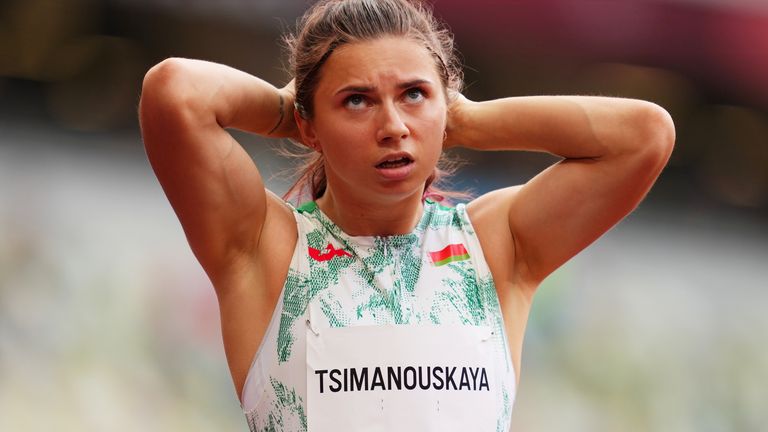 "I will not return to Belarus," she told the Reuters news agency in a message over Telegram.
Coaching staff went to Tsimanouskaya's room on Sunday and told her to pack, she claimed. She said she had been removed from the team due "to the fact that I spoke on my Instagram about the negligence of our coaches".
But in a statement on its Facebook page, the Belarus Olympic Committee said Tsimanouskaya was removed from the Games because of her "emotional and psychological state".
It said: "According to doctors, due to the emotional and psychological state of the Belarusian athlete Christina Tsimanouskaya, the coaching staff of the national athletics team decided to stop the performance of the athlete at the XXXII Olympics.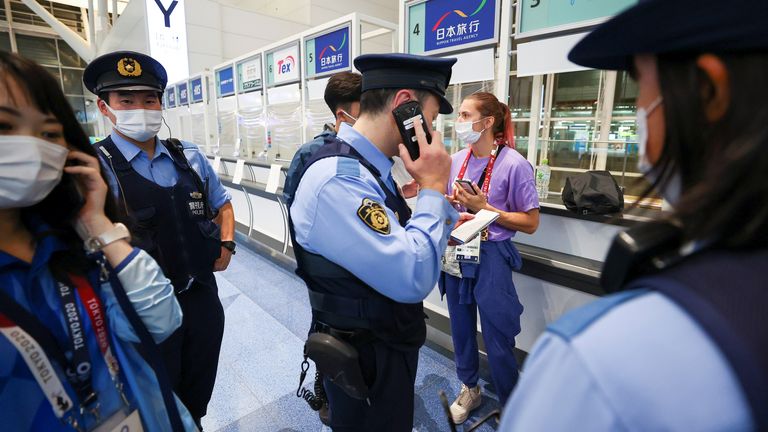 "Consequently, the athlete's application for participation in qualifying races at 200m and in the 4x400m relay was recalled."
Tsimanouskaya, who also ran in the heats for the 100m, had previously complained she was entered in the 4x400m relay after some members of the team were found to be ineligible to compete at the Olympics because they had not undergone a sufficient amount of doping tests.
"Some of our girls did not fly here to compete in the 4×400 m relay because they didn't have enough doping tests," Tsimanouskaya said from the airport.
"And the coach added me to the relay without my knowledge. I spoke about this publicly. The head coach came over to me and said there had been an order from above to remove me."
A Reuters source at the Belarusian Sport Solidarity Foundation, which supports athletes jailed or sidelined for their political views, said Tsimanouskaya planned to request asylum in Germany or Austria on Monday.
Tokyo Olympics: Agony for Team GB after Zharnel Hughes disqualified in men's 100m final, as Italy takes gold | World News
Lamont Marcell Jacobs has won the men's 100m final at the Tokyo Olympics after Team GB's Zharnel Hughes was disqualified with a false start.
Jacobs is the first man to win the title other than sprinting great Usain Bolt since 2004.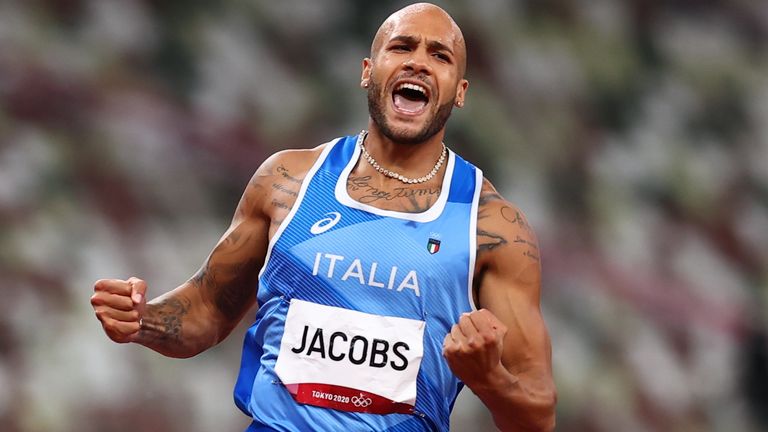 After the race, Hughes spoke of his disappointment, telling the BBC: "I feel If I was in the final, I would have won one of the medals – no doubt about it."
Hughes was set to be the first Briton to compete in the men's Olympic 100m final since Dwain Chambers and Darren Campbell at the Sydney Games in 2000, but missed out on the race after the false start.
Italian Jacobs came home in a time of 9.8 seconds, edging out Fred Kerley of the United States by 0.04secs.
Canada's Andre De Grasse collected a second successive bronze in the event, having also finished third at Rio 2016.
American Trayvon Bromell was favourite to win gold before the Games after running the world's fastest time this year at 9.77 but failed to qualify for the final.