EE brings back EU roaming charges for mobile phone customers from next year | Business News
Mobile network EE is to charge customers for using their phone in Europe from next year.
The company, owned by BT, had previously said it had no plans to reintroduce the charges after Brexit.
It will affect new customers and those upgrading from 7 July.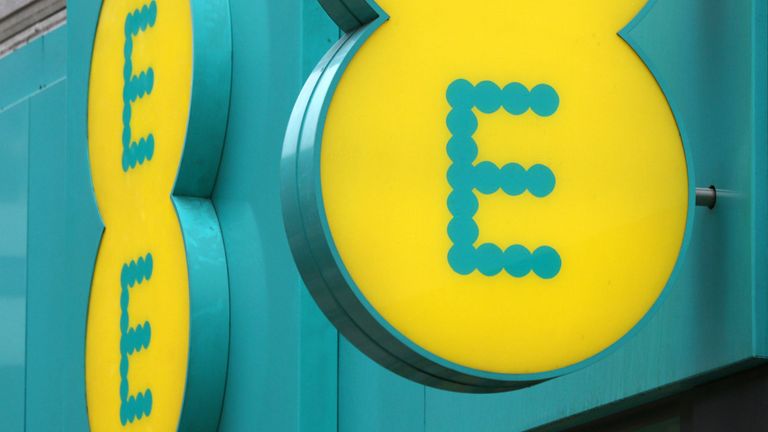 They will face a £2 daily fee from January next year to be able to use their data, call minutes and text allowances in 47 European destinations.
The change will not apply to customers travelling to the Republic of Ireland.
British travellers have not had to pay roaming charges on their mobile phone bills since June 2017, when they were abolished after changes to European regulation.
Before then they added an estimated £350m a year to users' bills.
Britain's departure from the European Union meant that from January UK customers no longer had the right to use their phone in Europe without roaming charges.
However, Britain's major mobile operators had said they had no plans to introduce them.
December 2020: What's in the Brexit trade deal?

EE said its decision was designed to "support investment into our UK-based customer service and leading UK network".
It said customers travelling abroad for longer will be able to use a 30-day Roam Abroad Pass.
Ernest Doku, a mobiles expert at Uswitch.com, said: "It's hugely disappointing for consumers to see that situation change so quickly.
"If you're an existing EE customer, these charges won't affect you yet, but make sure you check the small print if you're due an upgrade in the coming months."
Sky News contacted other networks to ask if they had any similar plans.
O2 and Three said they had not made any changes to roaming.
However, both are altering their policies on "fair usage" daily data limits while in the EU – though in each case said the limits were more than enough for the vast majority of holidaymakers' needs.
Vodafone also said it had no plans to bring back roaming charges.
Wildfires and deaths across southeast Europe amid most severe heatwave in decades | World News
The worst heatwave in decades is causing deaths and mayhem across southeast Europe, with wildfires causing entire villages to be evacuated and millions of people instructed not to venture out into the midday sun.
Hot air from Africa is driving the heatwave, with temperatures reaching above 40C (104 F) in many areas, and meteorologists expect the weather will continue into next week making it the most severe since the 1980s.
Authorities in Greece, Turkey, Serbia and Bulgaria, and many other countries in the region, are warning residents to avoid direct sunlight during midday hours, while firefighting crews across the region are scrambling to protect properties.
More wildfires break out in Turkey

Dozens of wildfires in Turkey have already claimed several lives and left more than 50 people in hospital according to officials, with villages and beach resorts being evacuated across the south of the country.
Satellite images have shown the devastation caused by deadly wildfires raging across the region.
Those killed in Turkey included a married couple and an 82-year-old man, as well as a 25-year-old volunteer who was taking drinking water to firefighters but was involved in a motorcycle crash.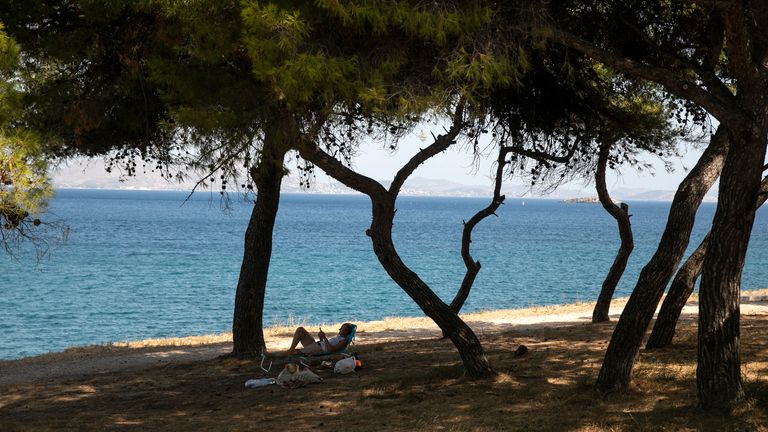 Azerbaijan has announced that it is sending hundreds of emergency responders to help with the effort, alongside helicopters and specialist equipment.
Russia and Ukraine have also sent planes to help tackle the fires from the skies, with neighbouring Greece offering its assistance.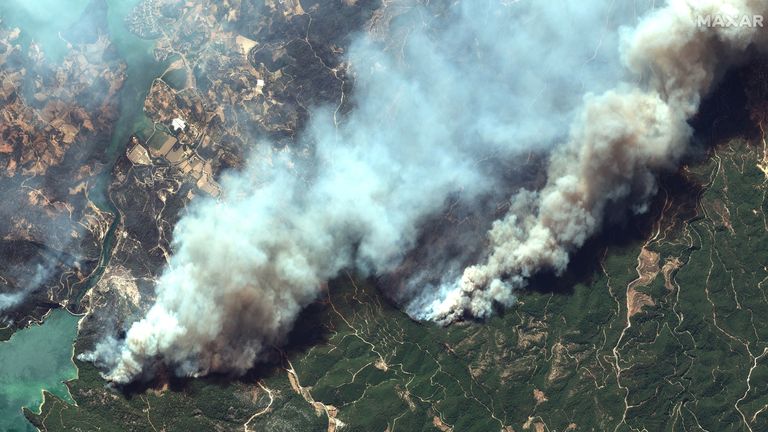 Authorities in Greece warned members of the public not to embark on unnecessary journeys on Friday as thermometers rose to 40C (104 F) in Athens.
Athens is the location of the hottest weather ever recorded in Europe, at 48C (118 F) on 10 July 1977.
Sicilian beach burned to ashes

Extreme weather such as the recent deadly floods in Germany and Belgium, and the unprecedented heatwave in Canada and the US are expected to become more frequent due to climate change creating greater instability in weather patterns.
"If we think more globally, we've had some very, very severe weather events recently, 49.6C (121.28 F), an all-time temperature record in Canada," said Mike Kendon, the senior climate scientist at the UN World Meteorological Office (WMO) said.
"When you see observations like that, they are taking us outside our own envelope of experience of what we have seen before. An event like that is simply not possible to explain without the human influence on the climate system."
The UN WMO says that 2020 was one of the three warmest years ever recorded, and the warmest on record for Europe.
Amanda Knox says Matt Damon film Stillwater rips of her life story 'without her consent' | Ents & Arts News
Amanda Knox has claimed new film Stillwater sensationalises her life and rips off her story "without her consent" and "at the expense of her reputation".
Stillwater stars Matt Damon as a father who flies to France to help his estranged daughter, Allison, played by Abigail Breslin.
She has been convicted and imprisoned for murdering her girlfriend in Marseille, in a case that has generated lurid headlines.
Knox is never named on screen, but in interviews the filmmakers have noted her sensational case was an initial jumping off point for the script.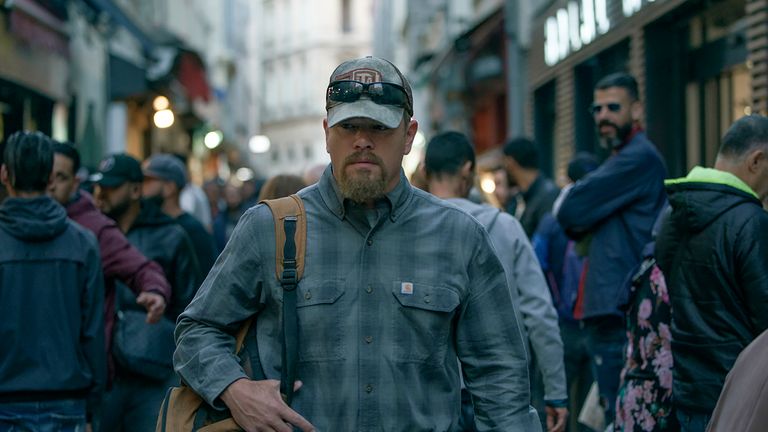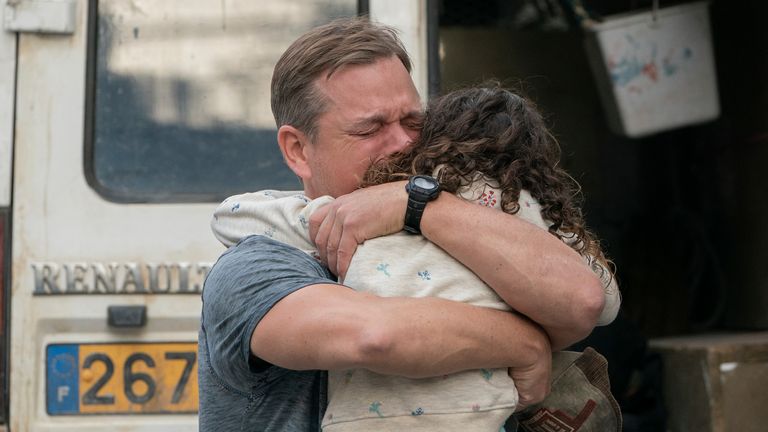 In tweets and an essay on the site Medium, Knox called out various publications and director Tom McCarthy for using her name to promote the movie.
She wrote that his "fictionalised version of me is just the tabloid conspiracy guiltier version of me".
She added: "Does my name belong to me? Does my face? What about my life? My story? Why is my name used to refer to events I had no hand in?
"I return to these questions because others continue to profit off my name, face, and story without my consent."
This new film by director Tom McCarthy, starring Matt Damon, is "loosely based" or "directly inspired by" the "Amanda Knox saga," as Vanity Fair put it in a for-profit article promoting a for-profit film, neither of which I am affiliated with.

— Amanda Knox (@amandaknox) July 29, 2021
Knox was the subject of worldwide headlines after the 2007 murder in Perugia, Italy, of British student Meredith Kercher.
Knox and her then-boyfriend Raffaele Sollecito were placed under suspicion. Both were initially convicted, but after a series of different decisions Italy's highest court threw out the convictions in 2015.
Rudy Guede was eventually convicted for the murder and sentenced to a 16-year prison sentence in 2008.
"By fictionalising away my innocence, my total lack of involvement, by erasing the role of the authorities in my wrongful conviction, McCarthy reinforces an image of me as a guilty and untrustworthy person," Knox wrote.
At the Cannes Film Festival earlier this month, where Stillwater was screened, McCarthy said Knox's case served as an "initial inspiration point but not much beyond that. I just had a daughter then and I thought how it would be like".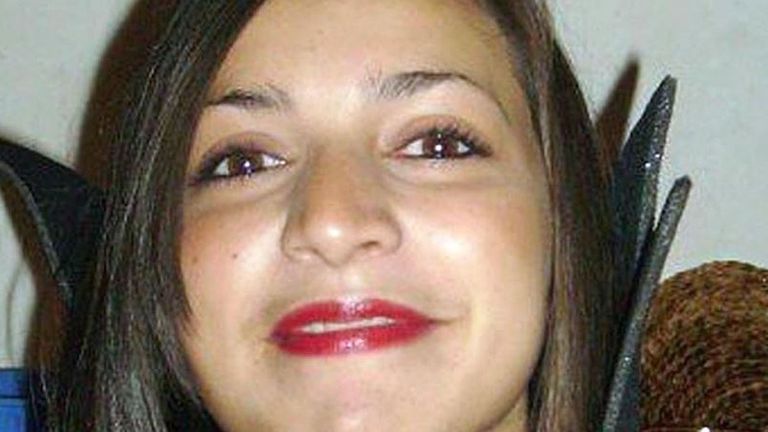 In a later interview with The Associated Press to promote Stillwater, McCarthy said he "didn't want to kind of copy or mimic" Knox's legal ordeal.
"It's loosely inspired by that case, so I didn't want to try and do a recreation of that. I want Allison to kind of be her own stand-alone character, but it was definitely great to have that for a reference," he said.
Many reviews and feature stories about Stillwater have mentioned Knox as an inspiration for the plot. The film opens Friday.
The studio releasing the film, Focus Features, didn't immediately respond to emails from the Associated Press on Friday.
<a href='https://www.skysports.com/olympics/live-blog/15234/12358749/tokyo-2020-build-up-live' target='_blank'>Tokyo Olympics: Day eight as Team GB look for more medals</a>


<a href='https://www.skysports.com/olympics/live-blog/15234/12358749/tokyo-2020-build-up-live' target='_blank'>Tokyo Olympics: Day eight as Team GB look for more medals</a>

Source link