Democratic super PAC vows $20 million to counter new state voting restrictions
Priorities USA, a Democratic super PAC, on Tuesday pledged $20 million as an "initial" investment to fund programs targeting voters who may be effected by new Republican-backed voting restrictions, announcing the new effort ahead of a crucial Senate vote.
The bill, known as S. 1 or the "For the People Act," would make sweeping changes to the election laws, including banning gerrymandering, rewriting campaign finance rules, and requiring early and absentee voting access. The bill would gut many of the Republican-advanced restrictions enacted in some states this year.
The bill is expected to hit a roadblock on Tuesday. It lacks the support it needs to clear the 60-vote threshold in the Senate. All Republicans are expected to oppose a procedural vote on Tuesday.
The announcement by Priorities USA appeared o acknowledge that the bill remains unlikely to become law, shifting their focus to challenging new voting restrictions in the courts and educating voters about changes.
The super PAC, which can raise and spend unlimited sums of money, will purchase digital advertisements to inform voters about changes to the election system in hopes of mitigating "intended discriminatory effects," the group said in a statement. The group also noted it spent $34 million during the 2020 election litigating attempts to suppress voter turnout.
While Priorities USA is keeping their focus on opposing changes by filing lawsuits, other groups remain hopeful that ultimately Congress will pass legislation to reverse the state laws.
In a letter to congressional leaders obtained by NBC News, 480 state lawmakers repeated calls for Congress to enact the voting bill.
"We are out of options. We need your help," the group wrote.
The letter was organized by Texas state Rep. Trey Martinez Fischer, one of the Democrats who blocked a restrictive voting bill in Texas last month with a dramatic walkout. Several lawmakers who joined him in the walkout, visited the Capitol last week to lobby senators. The group also met on Wednesday with Vice President Kamala Harris at the White House on Wednesday.
Separately, a group of more than 900 political science academics signed a letter urging Congress to pass the bill. The signatories include Laurence Tribe, Harvard Law School professor, and Michael McFaul, a Stanford University professor and former US Ambassador to Russia.
"The stakes could not be higher. The crisis of American democracy is upon us, with consequences none of us can or should ignore. The window of opportunity for reform is likely to be brief. Congressional inaction will not simply preserve the status quo—it will invite further attacks on American democracy," the group wrote.
Priti Patel fury as Labour tries to block removal of failed asylum seekers
PRITI Patel has hit out at Labour for trying to block her from evicting failed asylum seekers living in state-funded housing – which costs the taxpayer £1billion a year.

Source link
Republicans are desperate for Gov. Chris Sununu to run for Senate. What's stopping him?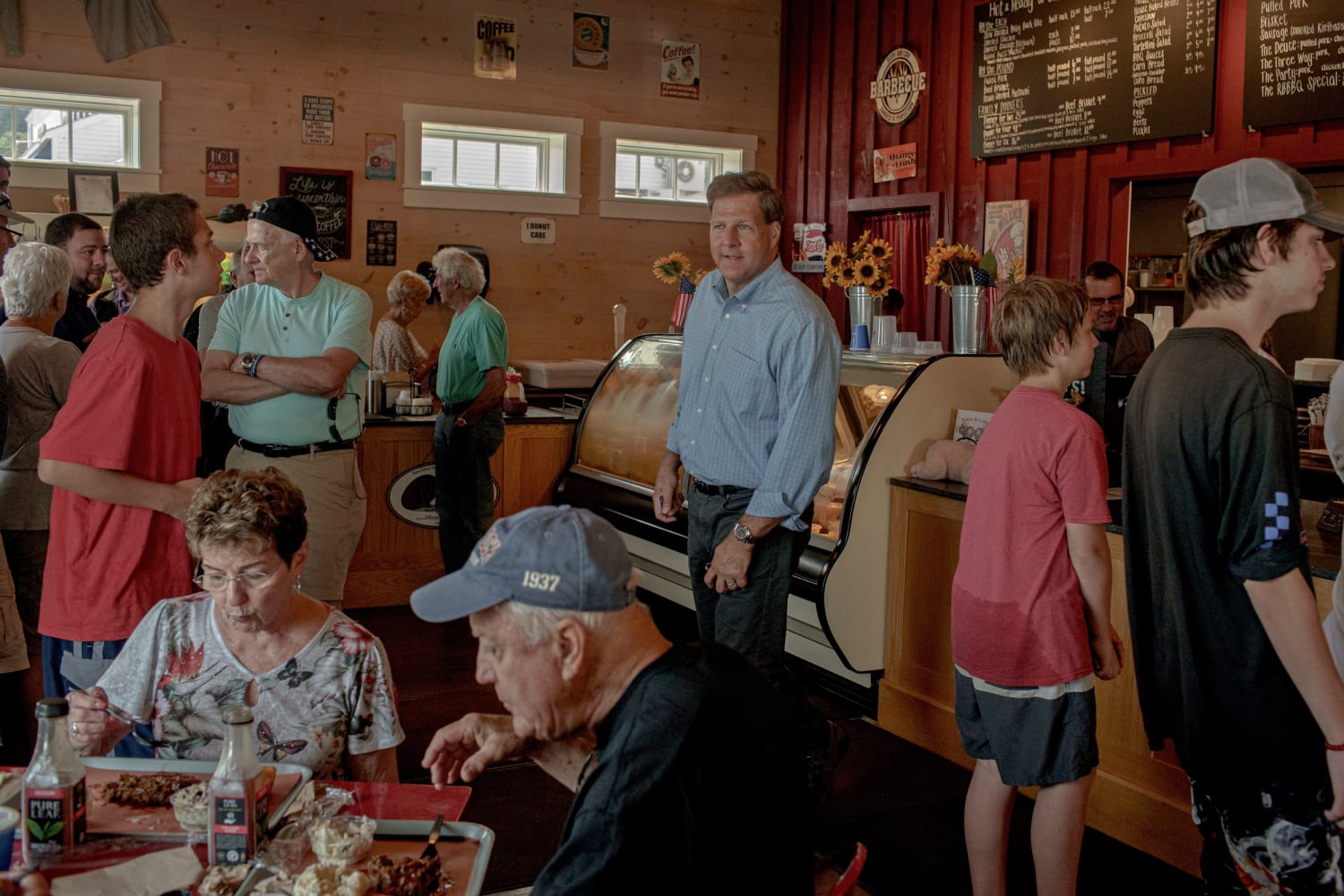 Trump, the wild card
Sununu's ambivalence about the Senate race shines particularly on the topic of Trump.
He has said he voted for Trump twice. He also has rebuked him on occasion, including last fall, after Trump declined to condemn white supremacists at a presidential debate. Sununu quickly acknowledged President Joe Biden's victory last year and criticized Trump's efforts to pressure officials in other states to subvert the election results in his favor.
Trump, who lost New Hampshire by 7 points in 2020, rarely came up as Sununu worked his way around the Lakes Region. But in the national conversation surrounding GOP politics and 2022 Senate races, Trump remains the irresistible force.
"I think you can go to governors all across the country — they've all chosen a path that they feel is right for them in their state," said John E. Sununu, the governor's older brother, who represented New Hampshire as a senator and congressman. "If you're running for the House or the Senate, you're dealing with national issues that are shaped by rhetoric and policies that emanate from Washington. And that's different. It's a little harder to control."
Don Bolduc, a retired Army general who lost a Republican Senate primary last year, is already running for Hassan's seat. He partially attributes Sununu's landslide and Trump's loss in the state to unsubstantiated claims of voting machine errors. He's running as an unwavering Trump supporter.
"My advice to them," Bolduc said of national Republicans clamoring for Sununu, "is to stay out of New Hampshire."
For the moment, Trump is one of the few following that advice. Unlike in other states where he has vowed to exact revenge on Republicans who refuse to perpetuate his baseless claims of a stolen election, he has shown no interest in scaring away Sununu. One prominent Trump ally, Fox News commentator Sean Hannity, has publicly encouraged Sununu to challenge Hassan. Sununu said he hasn't heard from Trump directly but does not expect the former president to cause him problems.
"We always had, I think, a very good understanding," Sununu said. "I never surprised him with anything."
As he dug into a plate of pulled pork and potato salad at Rubbin' Butts BBQ in Center Harbor, Sununu lamented how Trump has inspired candidates and conspiracy theorists who care more about yelling on Fox News than advancing conservative ideas that once defined the party. He has thought about how he might elevate the discourse.
"If there's a pathway to make that louder and more national, well, maybe there's some value there," he said.
Brexit showdown: Furious Britons demand Boris ditches EU for WTO after VDL rejection
BRITONS have called on Boris Johnson to ditch the EU trade deal after a minister refused to reopen talks over Brexit issues

Source link