Aston Martin sues Swiss car dealer over deposits on £2.5m Valkyrie model | Business News
Aston Martin is suing a Swiss car dealer which it claims failed to hand over customer deposits for its £2.5m Valkyrie supercar.
The luxury vehicle maker said civil proceedings had been filed against Nebula Project and that, backed by some of its customers, it was asking prosecutors to consider a criminal investigation.
Aston Martin said the saga was expected to dent annual profits by £15m as it tries to recoup the money.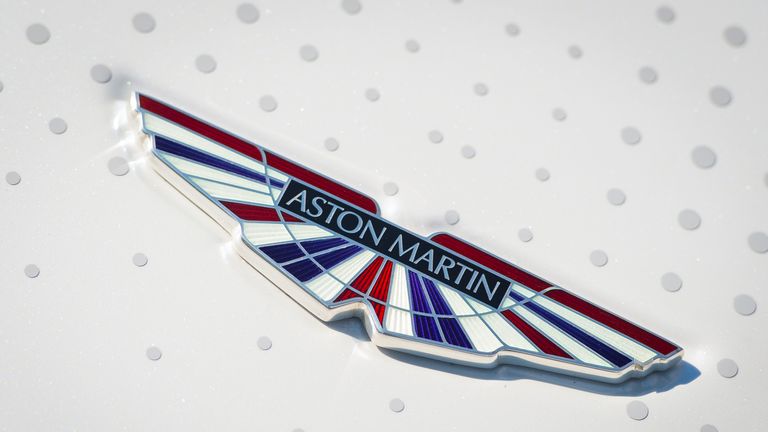 It said it was fully committed to customers receiving delivery of their supercars on schedule despite not having received the deposited funds.
The company added that it was on track to make its first deliveries of the Valkyrie – a limited edition supercar which uses Formula One technology – in the second half of this year.
It said in future it would take deposits for "special vehicles" directly and not through a third party.
Nebula had signed an agreement in 2016 to help finance the Valkyrie, which would have entitled it to potentially "significant" royalty payments as they rolled off the production line, alongside commission on sales of Valhalla and Vanquish models – but this has now been terminated, Aston Martin said.
The deal had been signed at a time when the carmaker was struggling financially.
Aston Martin also said that it was scrapping dealership arrangements with AF Cars, a company operating in Switzerland with the same board members as Nebula, "after learning that vehicles have been sold in breach of terms of the dealership agreement".
Aston Martin, famous as the maker of cars driven by fictional spy James Bond, said that aside from the "short term negative financial impact" of this issue, it was on course to meet financial guidance for 2021.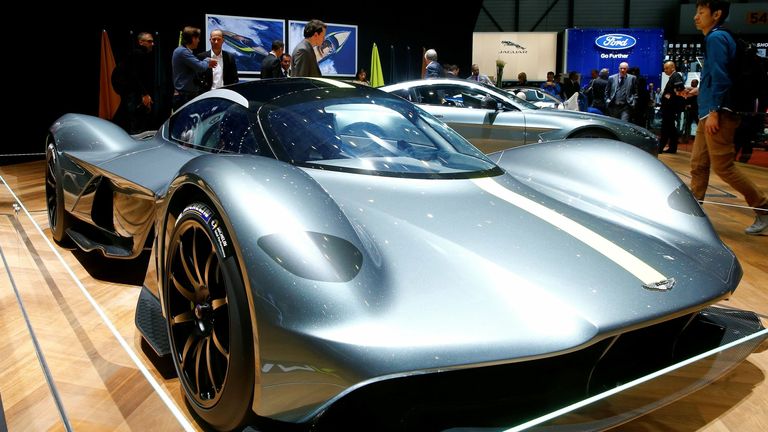 Reuters news agency reported that Nebula and one of its board members, Andreas Baenziger, did not respond immediately to emailed requests for comment.
Florian Kamelger, another board member, said in an email that Nebula would release a statement later on Tuesday, Reuters reported.
Tokyo Olympics: Transgender weightlifter Laurel Hubbard praises organisers for allowing her to compete | World News
New Zealand weightlifter Laurel Hubbard has praised Olympics organisers for allowing her to compete in the Games ahead of her controversial debut in the 87kg category.
Hubbard is the first openly transgender athlete to compete in an individual sport in the 125-year history of the Games and said: "The Olympic Games are a global celebration of our hopes, our ideals and our values.
"I commend the IOC for its commitment to making sport inclusive and accessible."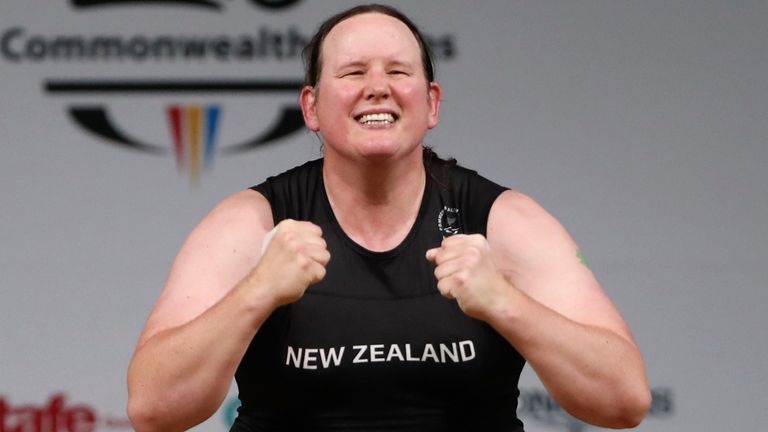 She transitioned in 2012 and has been the focus of both support and criticism in the build up to her first Olympics.
Hubbard met the qualifying criteria on levels of testosterone set by the International Olympic Committee (IOC), which revised its rules for trans athletes in 2016.
One of the IOC advisers was Joanna Harper from Loughborough University, who told Sky News: "Yes, Laurel has advantages – but within this group of 14 women that she is competing against, Laurel is probably somewhere in the middle of the pack.
"She could theoretically finish anywhere from third to 14th – and isn't that sort of the definition of fair competition that a lot of things could potentially happen?"
Critics have argued that her inclusion is unfair on other competitors and that Hubbard is naturally stronger – the New Zealander is ranked 15th in the world.
Earlier at the Games, IOC President Thomas Bach said he wanted to review the rules further and "finally to come up with some guidelines which cannot be rules, because this is a question where there is no one-size-fits-all solution".
He said: "It differs from sport to sport."
Team GB weightlifter Emily Campbell will compete against Hubbard on Monday, and her teammate Emily Muskett told Sky News: "It's a controversial topic – but at the end of the day the rules have been set by the IOC and the IWF (International Weightlifting Federation) so she is allowed to compete.
"Obviously we will put all of our support behind Emily and it will be a great competition to watch."
Canadian footballer, Quinn – who is transgender and non-binary – also made their debut at the Tokyo Olympics. They posted on their Instagram account recently: "I feel optimistic for change. Change in legislature. Changes in rules, structures, and mindsets."
COVID-19: Tear gas fired amid clashes at coronavirus vaccine passport protests in Paris | World News
Police fired tear gas at protesters in Paris amid fierce clashes at demonstrations against COVID vaccine passports.
Protesters marched on the French capital to voice their displeasure at the introduction of vaccine passes starting on 9 August.
Legislation was passed on Wednesday to require a proof of vaccination, recent recovery from the disease, or a negative test for a variety of scenarios.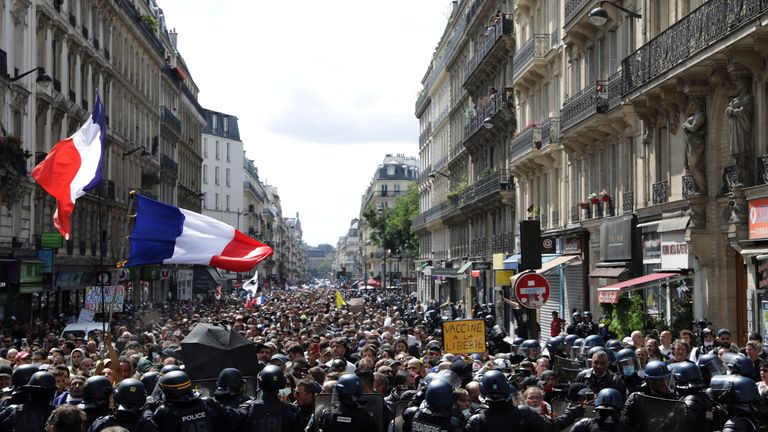 This includes eating at cafes, getting on trains or boarding a plane.
At least four marches took place in Paris on Saturday, as well as a number of other protests around the country.
Previous demonstrations have been against the proposal of restrictions, and other steps the government has taken to try and control the pandemic.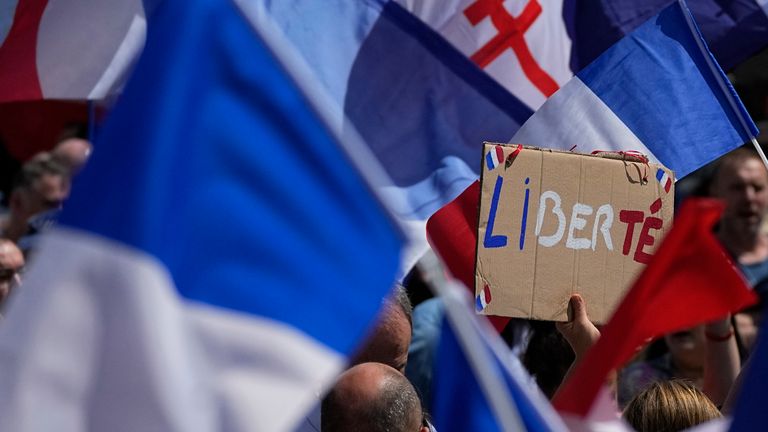 It comes as France faces a spike in coronavirus cases, with the delta variant now taking hold.
Many of those demonstrating against vaccine passes say they are a violation of their liberty.
Around 3,000 members of the security forces have been deployed to Paris this weekend, with many stationed on the Champs-Elysees to prevent the famous avenue from being overrun.
Some parts of the capital saw muted protests, but tempers flared in other areas.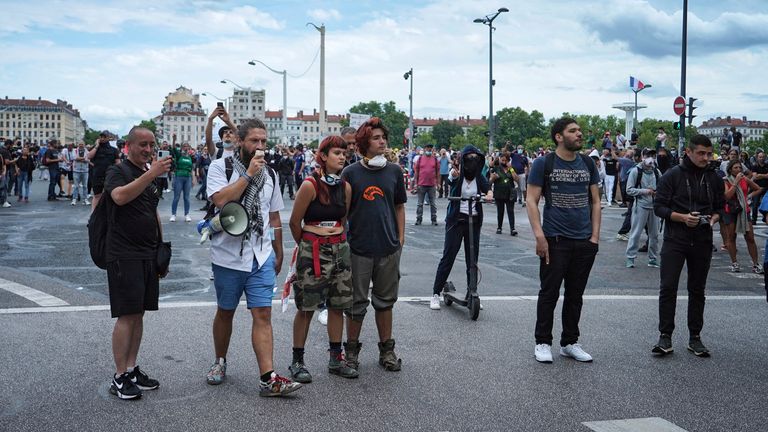 Outside the famous Moulin Rouge club, riot police threw punches to disperse violent protesters, and tear gas was launched into crowds.
More than 24,000 new cases of COVID-19 were reported in France on Friday – this compares to just a few thousand per day at the start of July.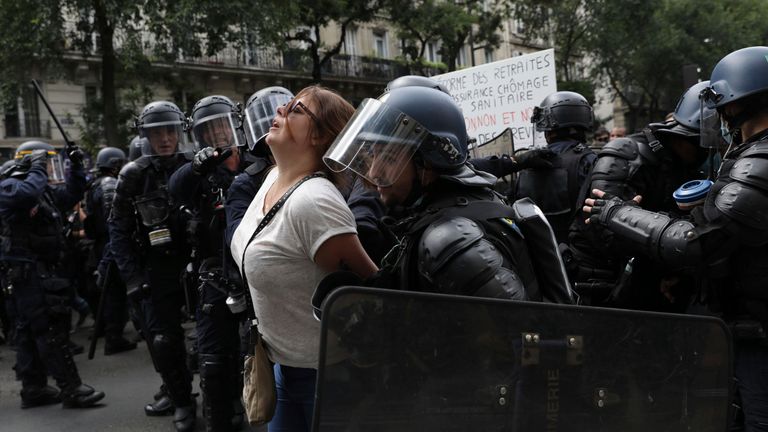 According to the Johns Hopkins University tracker, 72,887,307 vaccine doses have been administered in France, with 31,841,857 people – 47.48% of adults – fully inoculated.
The government is trying to encourage people to get jabbed, after a slow start to the rollout.
Follow the Daily podcast on Apple Podcasts, Google Podcasts, Spotify, Spreaker
Vaccines are now widely available, with some jab centres available at beaches.
There have been 6,166,690 cases in the country during the pandemic, according to Johns Hopkins, and 112,011 deaths.
Wildfires and deaths across southeast Europe amid most severe heatwave in decades | World News
The worst heatwave in decades is causing deaths and mayhem across southeast Europe, with wildfires causing entire villages to be evacuated and millions of people instructed not to venture out into the midday sun.
Hot air from Africa is driving the heatwave, with temperatures reaching above 40C (104 F) in many areas, and meteorologists expect the weather will continue into next week making it the most severe since the 1980s.
Authorities in Greece, Turkey, Serbia and Bulgaria, and many other countries in the region, are warning residents to avoid direct sunlight during midday hours, while firefighting crews across the region are scrambling to protect properties.
More wildfires break out in Turkey

Dozens of wildfires in Turkey have already claimed several lives and left more than 50 people in hospital according to officials, with villages and beach resorts being evacuated across the south of the country.
Satellite images have shown the devastation caused by deadly wildfires raging across the region.
Those killed in Turkey included a married couple and an 82-year-old man, as well as a 25-year-old volunteer who was taking drinking water to firefighters but was involved in a motorcycle crash.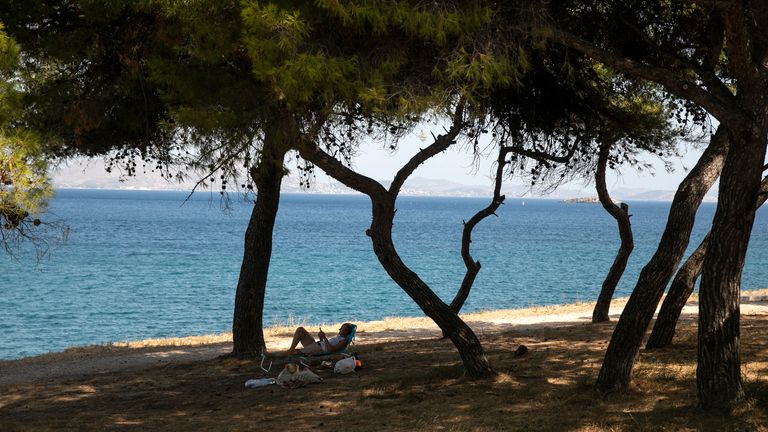 Azerbaijan has announced that it is sending hundreds of emergency responders to help with the effort, alongside helicopters and specialist equipment.
Russia and Ukraine have also sent planes to help tackle the fires from the skies, with neighbouring Greece offering its assistance.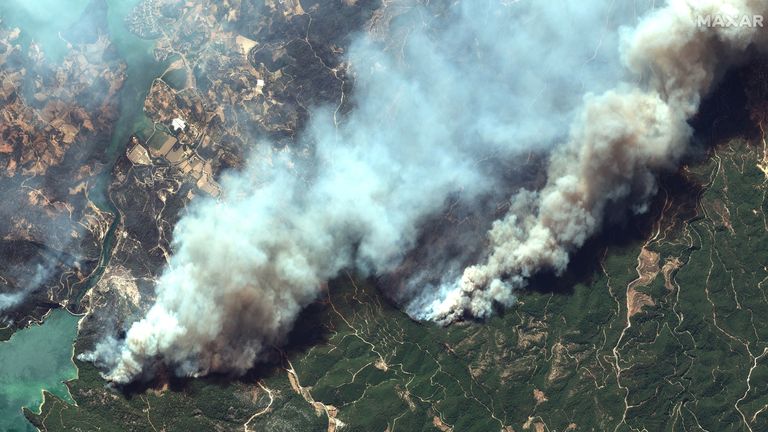 Authorities in Greece warned members of the public not to embark on unnecessary journeys on Friday as thermometers rose to 40C (104 F) in Athens.
Athens is the location of the hottest weather ever recorded in Europe, at 48C (118 F) on 10 July 1977.
Sicilian beach burned to ashes

Extreme weather such as the recent deadly floods in Germany and Belgium, and the unprecedented heatwave in Canada and the US are expected to become more frequent due to climate change creating greater instability in weather patterns.
"If we think more globally, we've had some very, very severe weather events recently, 49.6C (121.28 F), an all-time temperature record in Canada," said Mike Kendon, the senior climate scientist at the UN World Meteorological Office (WMO) said.
"When you see observations like that, they are taking us outside our own envelope of experience of what we have seen before. An event like that is simply not possible to explain without the human influence on the climate system."
The UN WMO says that 2020 was one of the three warmest years ever recorded, and the warmest on record for Europe.